HLS Architects designed the original Astra ski lodge in 1988, with Grant Amon Architects commissioned to design its upgrade in 2015, which is being approached in three stages. The brief is to bring it up to current interior standards, incorporating traditional heritage, landscape and the unique features of the ski lodge.
The first stage, now complete, involves the pool basement, spa, sauna, dining room, kitchen and bar. The walls to the upstairs bar area are fitted out with rough-sawn Western red cedar lining boards from Canada, environmentally sourced, matching the existing ceiling. Above the central bar hangs a striking 3D timber cut out of the mountainscape. It consists of four types of mountain-shaped boards that are dramatically backlit, inspired by the surrounding environment – the changing vegetation and the tree line. From the dark bark of tall, strong green trees to the silvery snow gums and to the burnt ghost sticks from the 2007 bushfire, it is a narrative of the surrounding environment.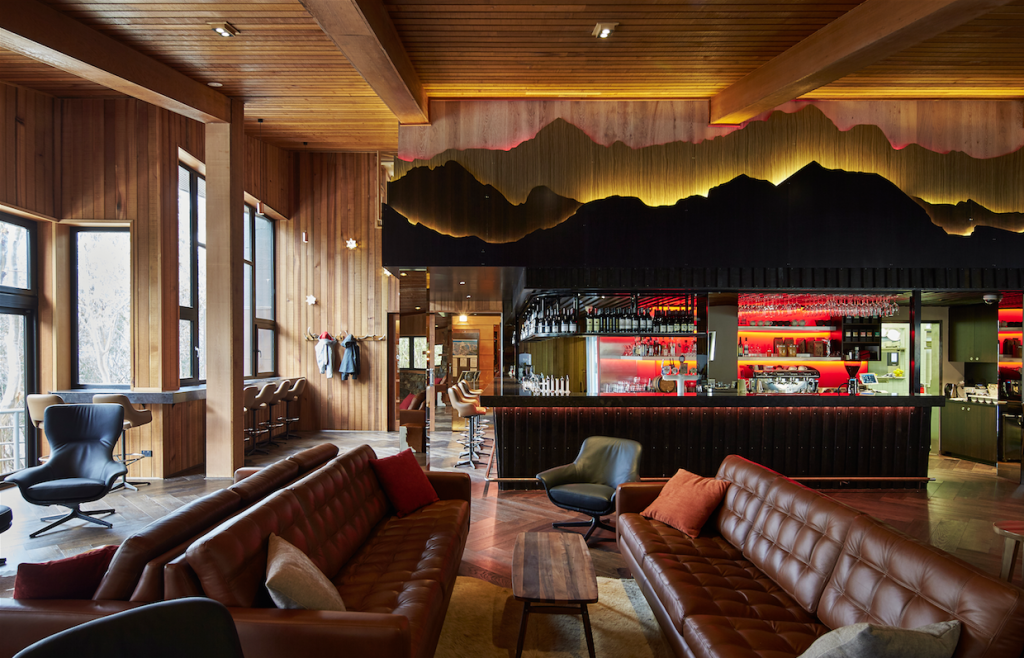 "The front bar cladding uses a traditional board and batten technique, reminiscent of early Australian and European ski lodges, finished in a dark stain," says Grant Amon.
There are several feature stonewalls, including a spectacular central stone fireplace. "The bar lounge area is a mid-century inspired fitout, with a nod to the European heritage of skiing of the 50s and 60s," adds Amon. Contemporary caramel leather sofas, high-backed armchairs and bar stools have been sourced to enhance this feel. Special custom-made pieces add a unique contemporary feel to the space.
A number of bespoke pieces are featured in the fitout, with craft, uniqueness and 'local meaning' a central theme in the project. A local leatherwork artist has wrapped and hand-stitched a cowhide onto the circular column, creating a one-off signature column cuff, while the deer horn coat rack is custom-made by Amon and his Austrian father.
The lighting is atmospheric. "The motif 3D cutout panels light up at night, suggesting a night ski run," says Amon, who engaged Noel Crombie and Sally Mill to create the striking feature chandelier. Made from recycled vegetable colanders and coated in silver and copper, the oversized excited snowflake droplet contains the energy and dynamic elements of this unique landscape.
Photography by Peter Bennetts.
Subscribe to MEZZANINE today through newsstands and digitally through Zinio.