The Museum and Art Gallery of the Northern Territory (MAGNT) has announced the winners of the 2023 Telstra National Aboriginal and Torres Strait Islander Art awards (NATSIAA).
The coveted 2023 Telstra Art Award, valued at $100,000, has been awarded to Thu' Apalech artist Keith Wikmunea from Aurukun, Queensland. A judging panel featuring Kelli Cole, Janina Harding, and Dr Peter Yanada McKenzie determined the winner. 
The judges were moved by Wikmunea's exploration of community and how the vividness of his master carving transports the viewer to "sitting under a tree in the shade – with the totem birds above always nearby".
Wikmunea's winning piece, a sculpture tilted "Ku', Theewith and Kalampang: The White Cockatoo, Galah and the wandering Dog" highlights his exemplary carving skills and deep connection to Country and his totem – the white cockatoo and goanna from his father's side, and the galah and frilled-neck lizard from his mother's side.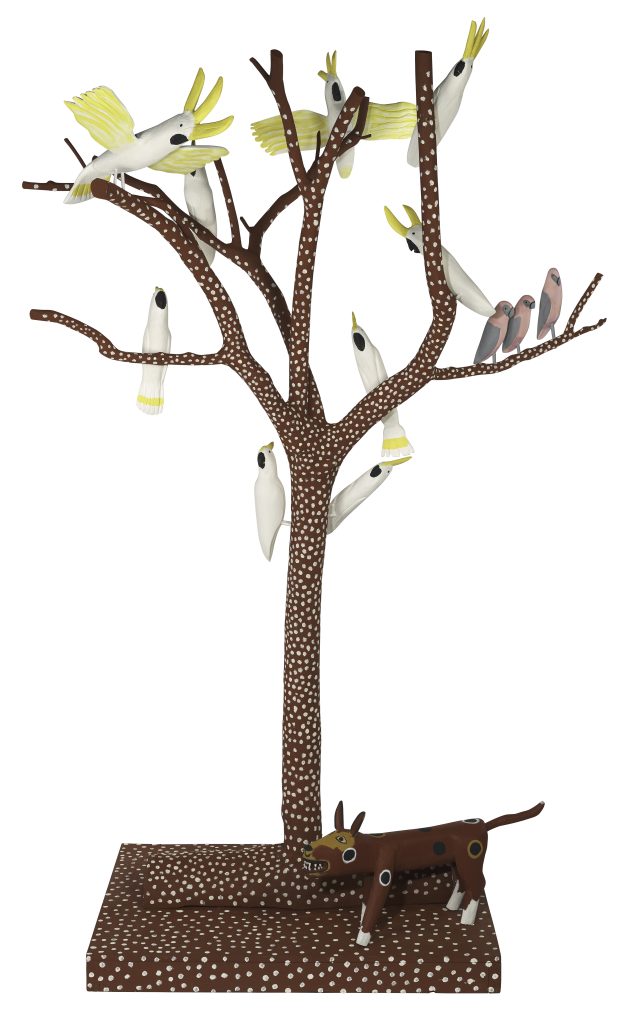 The Arukun-based artist expresses how thrilled he was to share his culture with the rest of Australia. The autobiographical nature of his work produced a powerful and heartfelt effect.
"My sculpture represents who I am as a Thu' Apalech man from the Cape York Peninsula. In Wik-Mungkan, my first spoken language, we call this tree yuk thanchal, and it's the same tree that my ancestors have been using since the beginning of time to create their artefacts," says Wikmunea.
MAGNT director Adam Worrall rejoices on how the NATSIA awards have grown and developed over the last forty years into a cherished cultural event.
"Over the past 40 years, Telstra NATSIAA has provided a snapshot of the magnificent artworks being created around the country. It's been a remarkable journey," says Worrall.
Other award recipients include Julie Nangala Robertson taking out the Telstra General Painting Award for her artwork 'Mina Mina' that portrays a significant ceremonial site for
Napangardi and Napanangka women. Robertson has a peerless visual language that is a fusion of bespoke experimentation and ancient narrative.
Kuninjku artist Owen Yalandja won the Telstra Bark Painting Award, Brenda L Croft took out the Telstra Work on Paper Award and chair of the Ernabella Arts Board Anne Nginyangka Thompson won the Wandjuk Marika Memorial 3D Award.
Erub-based artist Jimmy John Thaiday won the Telstra Multimedia Award for the second year in a row with his "ethereal and emotive" video submission titled 'Just Beneath the Surface', which examines his relationship to the ocean.
Newcomer Dhalmula Burarrwaŋa was awarded the Telstra Emerging Artist Award for her "playful" and experimentative piece "wanha, dhika, nhawi?" and Balwaldja Wanapa Munuŋgurr received a highly commended mention in the Telstra Work on Paper Award category for his piece 'Exile'.
Featured Image: 2023 Telstra Art Award recipient Keith Wikmunea photographed by Brian Cassey.
Photography supplied by the Museum and Art Gallery of the Northern Territory.
Read about leading art fair Sydney Contemporary returning for the seventh year.