Anne Nginyangka Thompson, the recipient of the Wandjuk Marika Memorial 3D prize in the recently announced National Aboriginal and Torres Strait Islander Art Awards (NATSIAA), possesses an unflagging desire to use art and design as a storytelling vessel.
Beloved chair of the Ernabella Arts Board in Pukatja, South Australia – Australia's oldest Indigenous arts centre – Anne Nginyangka Thompson has an undeniable passion for using art as not only a tool to communicate concerns pertaining to the current ecological crisis, but also to connect with her culture, her history and her future.
She was awarded the Wandjuk Marika Memorial 3D award in the recent Telstra-sponsored NATSIAA's for her piece Anangu History (2023).
Anangu History is a pair of clay vessels. The first pot is adorned with an almost monochrome-esque landscape of rivers, trees, rocks and shelters, and the second pot is layered with orange stripes representing bitumen roads, cars, people and health clinics.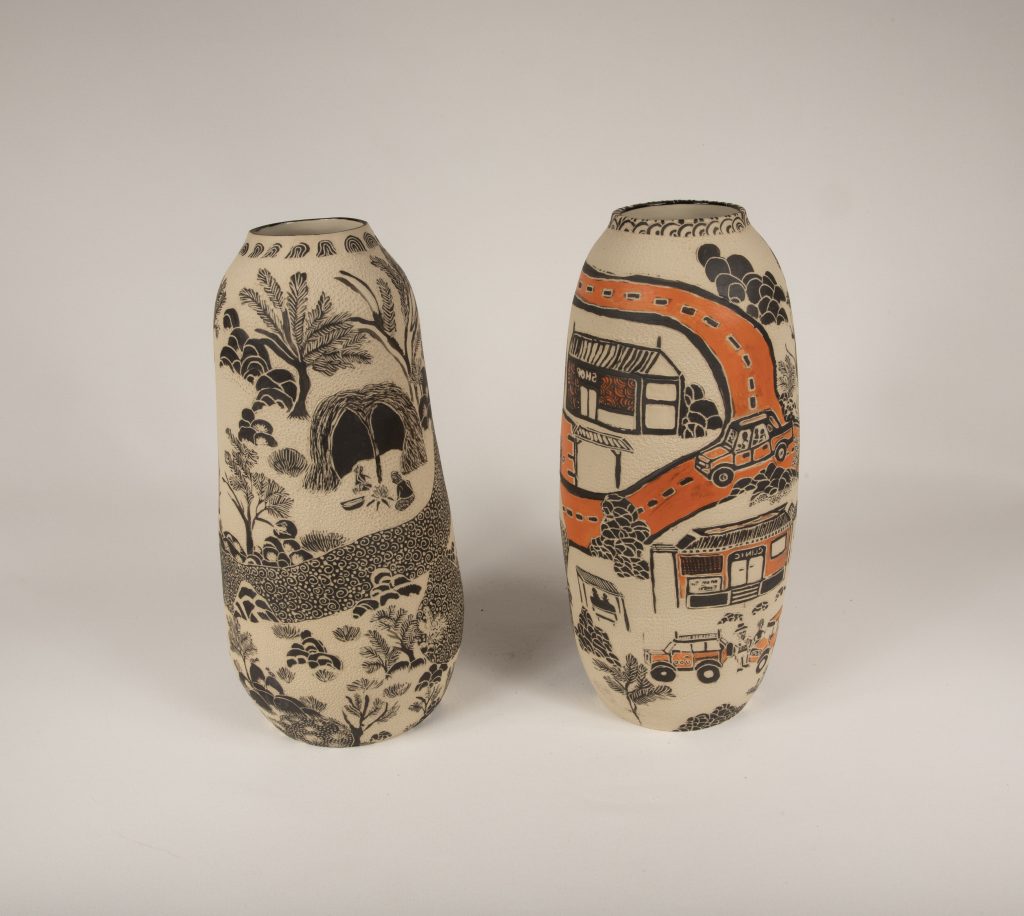 Thompson is no stranger to honourable accolades, having won the Indigenous Ceramic Art Award from the Shepparton Art Museum in 2014, however, she is committed to using ceramics as a platform in which to express concerns regarding the mistreatment of our flora and fauna and the omnipresence of technology.
Australian Design Review (ADR) recently sat down with Anne Nginyangka Thompson and discussed her creative journey, the history of Ernabella Arts and the intentions behind her creations.
ADR: Tell us about your creative journey and how you first started ceramics and art?
AT: Art has been with me for as long as I can remember. I was taught by my father and my granny. When I moved into school when I was 12, that was the first time I started sketching a building using paper. The other kids enjoyed playing sports, but for me, I just sat there doing sketches.
My family did illustrations. My father would do sketchings of the cowboys and horses and men smoking cigarettes. So I watched him do that, and when I looked at him, it amazed me and surprised me. I wanted to do something like that as well, but differently.  My focus then came to be a connection to the country. It was something I always did when I was growing up in the bush, connecting to nature and falling in love with the environment and animals, and then doing art at the same time.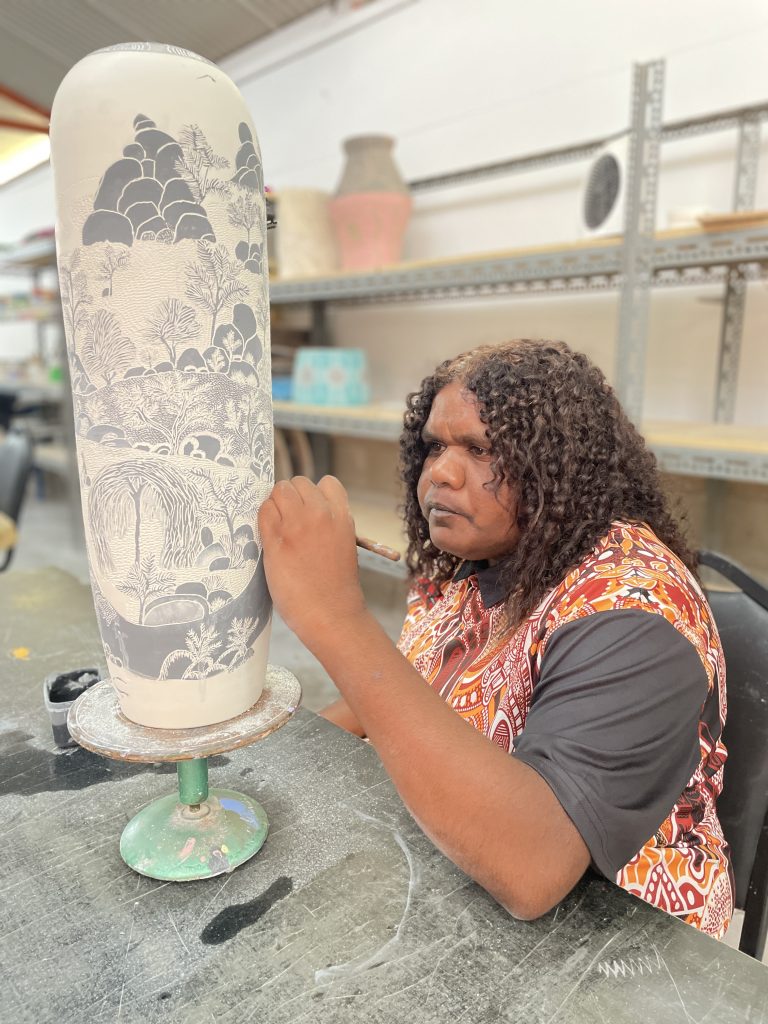 ADR: How do you use art to connect to nature?
AT: We belong to this area and then we have to look after it well – I always challenge people in the lands to look after everything, the lands of the country. Humans should be more careful and look after their animals because they're innocent animals just trying to live in the world like we are.
My art connects to the animals, the lands, and the environments, and the trees, and everything else is surrounding it – that's the thing that makes me feel happy. I'm putting myself into their place, just imagining and thinking what they're feeling.
ADR: The ceramics studio at Ernabella Arts just celebrated its twentieth anniversary. What does the studio offer to current members and newcomers?
AT: Our ceramics room is a room where you can sit down quietly away from other noises that make you concentrate on your work. And you tell stories as well, which is the best thing about the ceramics room – it has allowed us to connect and communicate again in a world where everyone is always on their phones and not looking up and speaking to each other.
We also have jewellery and floor rug making, and we always make sure that when someone new comes in to do ceramics, we tell them not to be ashamed or embarrassed if they find it difficult as it's their first time. It's a very supportive and connected environment. 
ADR: What is the purpose of your ceramics and art making?
AT: I use art to record what I see all the time in my mind. My work is an open world where you can see everything around – the trees, the sky, rocks, people, buildings. I climb up on the hills and I see these beautiful eagles soaring up in the sky. That is the reason why I do art – for the love of the land that I'm living in.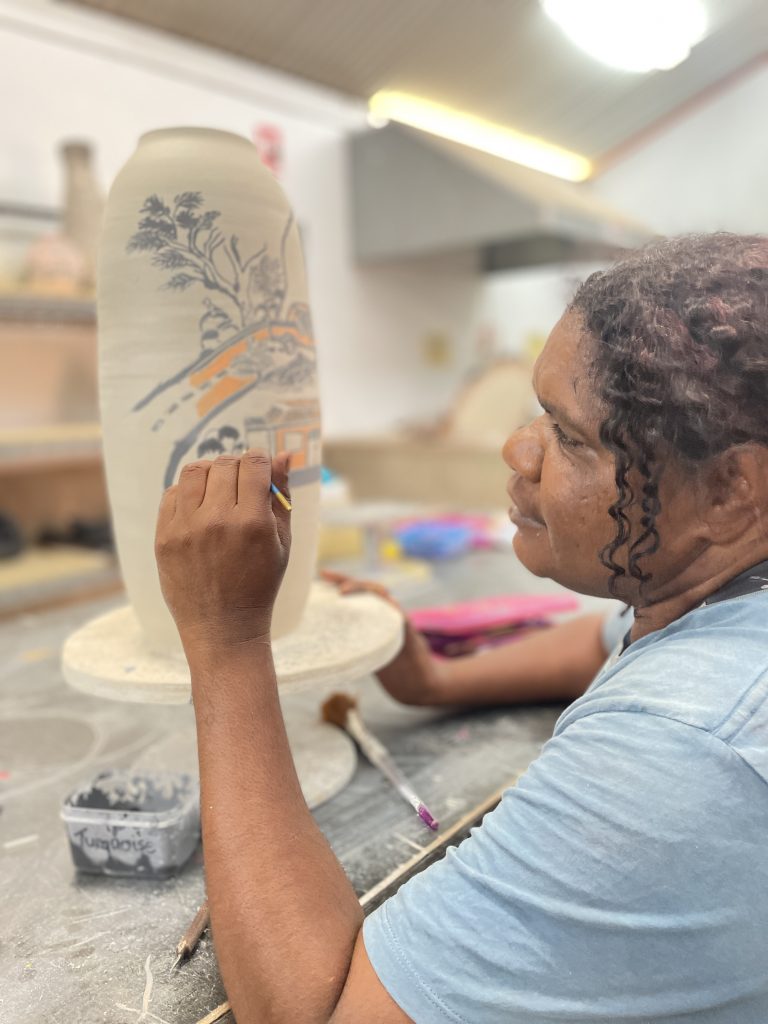 ADR: Tell us more about how you use art to communicate your concerns for the future around the environment, health and technology?
AT: I want to use art to teach the next generation behind me because they haven't experienced the life that older people lived in the past as technology has taken over our nature and our environment. What happened to the world where we used to be talking to each other and looking after the world?
My art tells everybody to take care of themselves and just be smart in the head. I also want my story to be heard by the government to let them know about how nature and the animals were affected after natural disasters, and also just not looking after the world. 
Featured Image: Ernabella Arts ceramics studio.
Photography supplied by Ernabella Arts.
Check out all the winners of the 2023 Telstra NATSIAA.