Above: The façade of Action Stations, photography by Brett Boardman.
Marking the centenary of WWI, the Australian National Maritime Museum (ANMM) has launched Action Stations, a $12-million dollar museum designed by multi-disciplinary studio Francis-Jones Morehen Thorp (FJMT).
Situated on Sydney's Harbour between the Museum's ex-Navy submarine and destroyer, the Action Stations building is a grand structure. Comprised a series of one-metre wide geometrical rotating panels, the building evokes images of Royal Australian Navy's ships, alongside graceful oceanic motifs.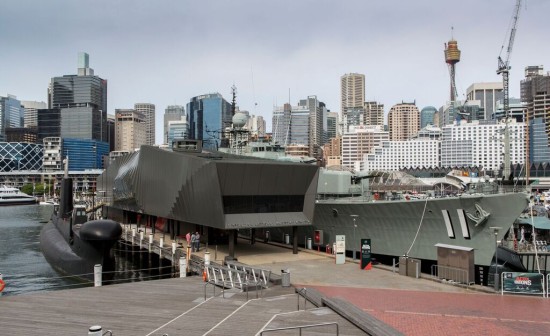 FJMT Design Director, Richard Francis-Jones teamed up with ANMM Director and CEO Kevin Sumption to make the contemporary piece of architecture come to life not only on the outside, but on the inside as well.
Kevin Sumption described its fluid and nautical themed design. "The building's façade was wrapped similar to a naval vessel, designed to look like steel hull plates over the ribs and then articulated by waves. The internal structure was inspired by boat building; the steel structure was akin to inverted ribs of a steel ship. The final design involved a process of extrusion and articulation," he said.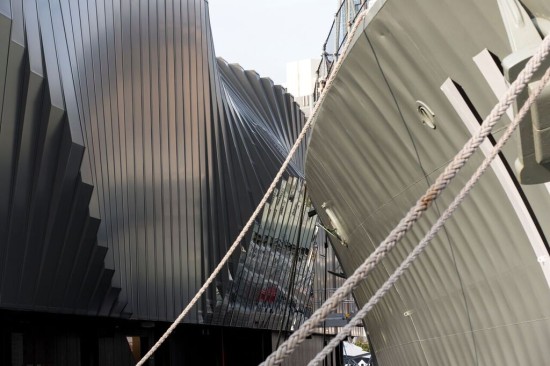 "Built on a narrow existing wharf structure, and to a tight budget, we sought to create an articulated façade to complement the scale, form, colour of the vessels and broader marine environment," James Perry, Senior Associate at FJMT, said.
Action Stations is the biggest public initiative the Museum has undertaken since it was opened in 1991. It provides an immersive experience on the history of the Royal Australian Navy and its people, including stories of Australia's involvement in the battle for German New Guinea, AE2 at Gallipoli, and Australia's first great naval battle – HMAS Sydney v SMS Emden.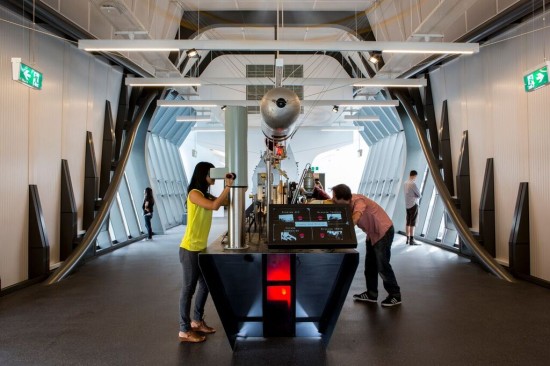 A new discovery and exploration space, audio-visual encounters that recall sailors' memories on board the vessels, and a cinematic experience are part of the exhibit. Catch a sneak peek of the cinematic experience and find out more about Action Stations via its website.