All images by Shannon McGrath
Investment management is not typically seen as high-fun or big-personality territory – but this new headquarters for equities manager Karara Capital seeks to offer a fresh approach and unexpected personality to coincide with the firm's relocation.
The functional brief was straightforwardly divided into two clear halves: the front-of-house zone features a series of four public meeting rooms accessed from a single corridor, while the back-of-house zone comprises an open-plan trading floor, kitchen and café-style breakout space, telephone room, printing and storage, lockers and showers.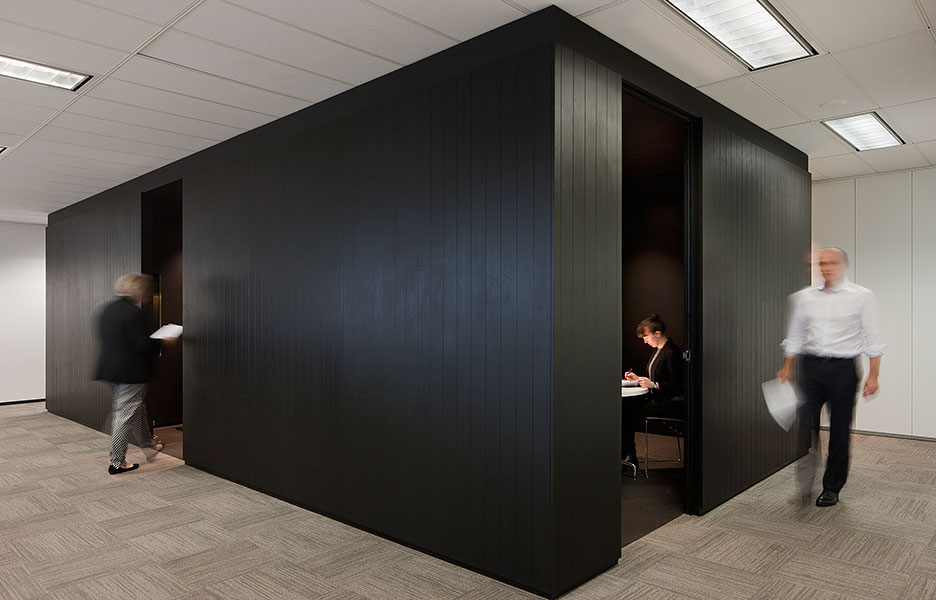 In many of Molecule's corporate interiors, client spaces benefit from exposure to the 'coalface' workspaces; the design challenge here was to ensure the project benefitted (rather than suffered) from the required separation of the two worlds. The resulting approach celebrates this dichotomy, creating a pair of contrasted and distinctive environments: the client zone is stimulating, interactive, layered and seemingly complex; by contrast, the work zone is singular, rational and almost platonic in its legibility.
In the client zone, where complexity was sought, a kinked glass wall that lines the corridor was treated with reflective film, employing angles of incidence as an exhilarating art form to transform a benign space into a beguiling Hall of Mirrors: no-one is granted a reflection of themselves to solve the riddle, but artworks hung on the white wall opposite are arrayed, while the corridor itself appears to fork in alternative directions as you walk. Natural light and framed views of the Domain beyond are also brought inside and bounced around.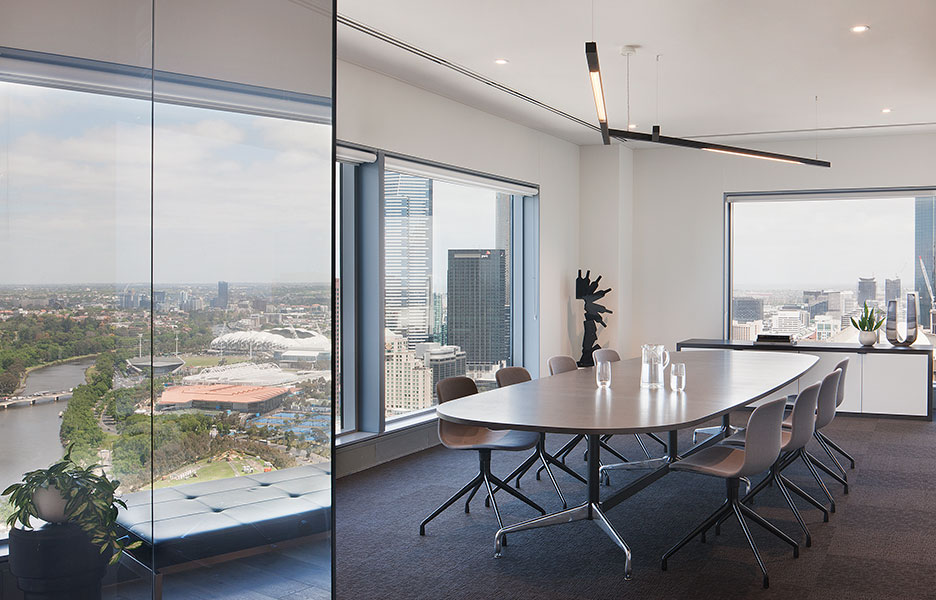 The vinyl window film, though reflective, allows light into the meeting rooms and displays the ghosted outlines of passers-by. The zig-zag setout of the glazed wall is recorded in oversized chevron floorboards alongside.
In the work zone, deliberately rational by contrast, the open plan trading floor is punctuated by a pure box volume that contains numerous functions. Clad in matte black plywood boards, the box is static and suede-like in its visual absorbency – the antithesis of the kaleidoscopic corridor adjacent. A legible layout, monochromatic workstations and crisply detailed joinery complete the pristine aesthetic of the utilitarian half of the fitout.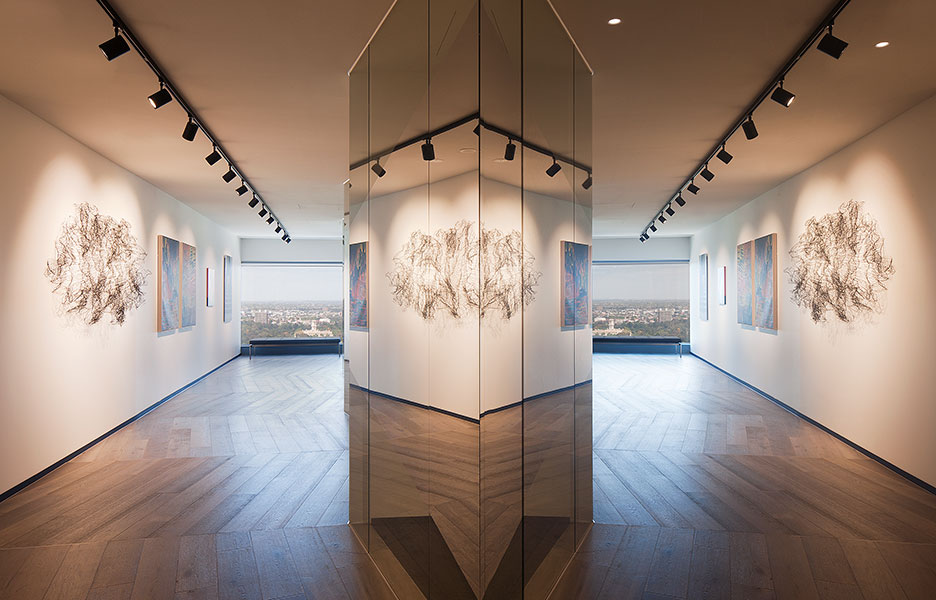 Corporate environments typically position their company values at the centre of the visitor experience; this project inverts the paradigm and, through the interactivity of the reflective zig-zag walls, instead positions the visitor as the protagonist in their own adventure through the space.