All photography by Jack Lovel.
Designing a home for flexibility and future requirements is an important task for an architect. Which is a factor that came into play for Davidov Partners Architects when they designed the LSD Residence for soon-to-be empty nesters. The design outcome features a spacious, open plan master bedroom that takes cues from a hotel suite.
The new house is broken up into three distinct zones – the entry and living space, the master suite and the guest/children's bedrooms. This is also a direct response to the irregular block that the house is built on.
The guest and kids rooms are situated on an upper floor at the rear of the first floor. This area was designed to easily be 'shut-off' from the rest the house when not in use, including the HVAC system which can be isolated from the rest of the house when not needed.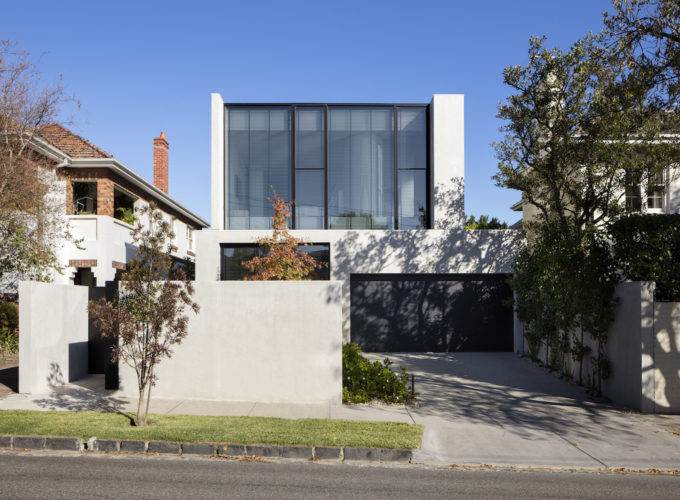 Each of the three zones is punctured by two glazed intervening spaces which allow the linear arrangement to be expanded and compressed for each consecutive zone. The kitchen island sits within the second glazed interstitial space, with cooking facilities and butler's pantry situated adjacent to the island and concealed from view. A simple black island and cabinetry tie all the kitchen amenities together in a minimal aesthetic.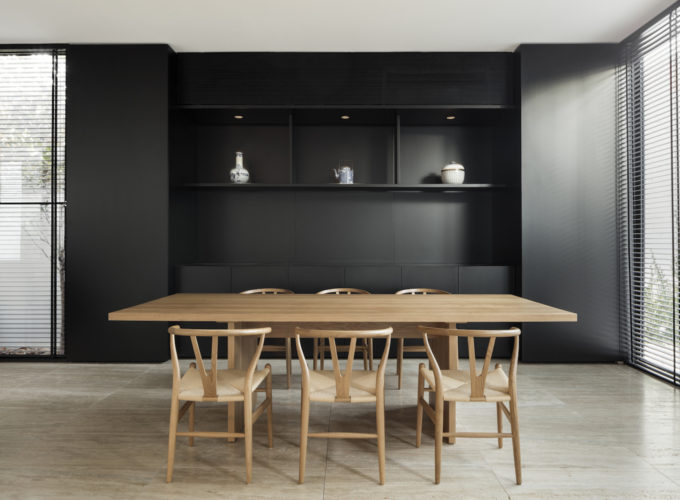 The masterwork of the whole home is the master bedroom. By responding to the future requirements of the clients, the result is a space that is open in a way most family homes would not be able to due to privacy or sound considerations.
The sleeping area and ensuite unfold in a single space, accessed from a semi-private dressing area that sits over the entry void. To bring a sense of privacy to the shower and WC, they have been positioned within a curved module. The curved insertion, which is rendered in the same cement as the exterior of the building, can be glimpsed from the street depending on the light inside and the time of day.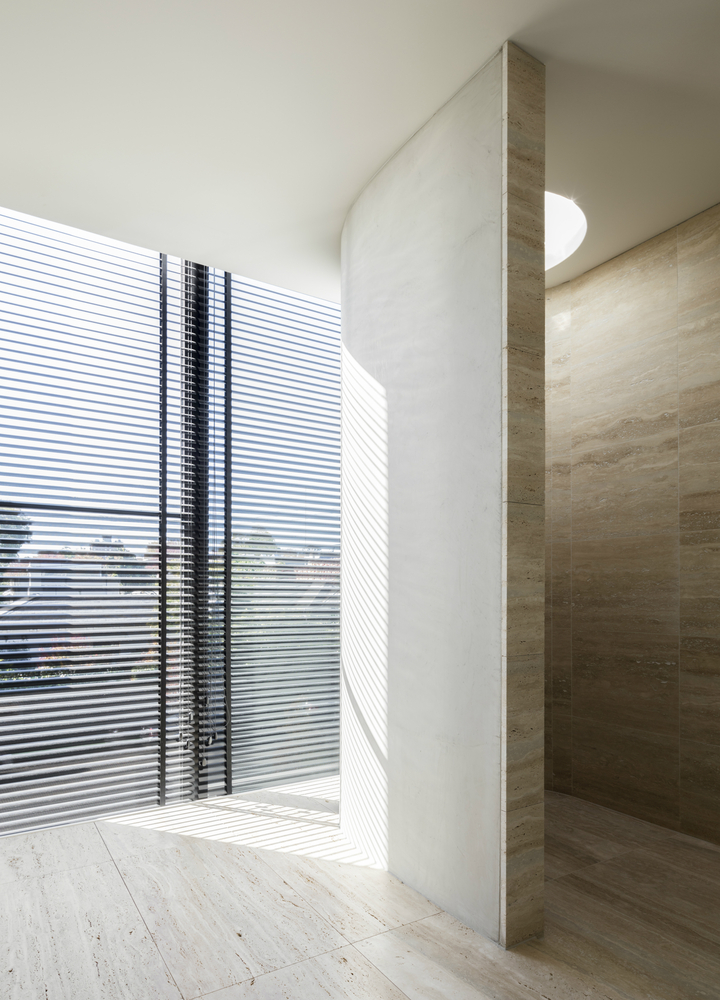 The two key materials used, both throughout the interior and on the exterior, are cement render and unfilled travertine, presenting a minimal palette of refined simplicity. These materials will age at different paces, showing character and patina over time.