Designed by Johannesburg-based practice Counterspace, this year's Serpentine Pavilion is inspired by places that are "particularly significant to the diasporic and cross-cultural communities" of London.
Set to open on 11 June 2021, the temporary pavilion in the city's Kensington Gardens features "abstracting, superimposing and splicing" elements that vary in "scales of intimacy" and reference the architecture of markets, restaurants, places of worship, bookshops and local cultural institutions.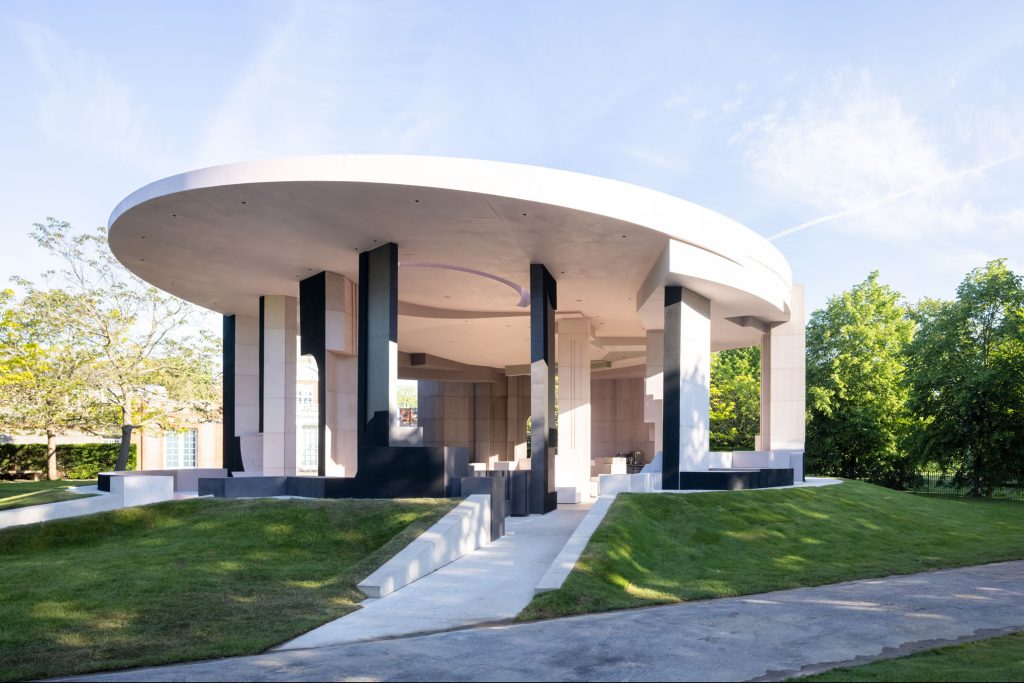 "Listening to and amplifying ways of recording personal and collective experiences, the Pavilion foregrounds stories of lost spaces that have been significant to the construction and continuity of [London's] identities," explains Counterspace director Sumayya Vally.
"This drawing on erased and exisiting community spaces recognises the architect's role in preserving and evolving the culture of a place and the connections people have to it."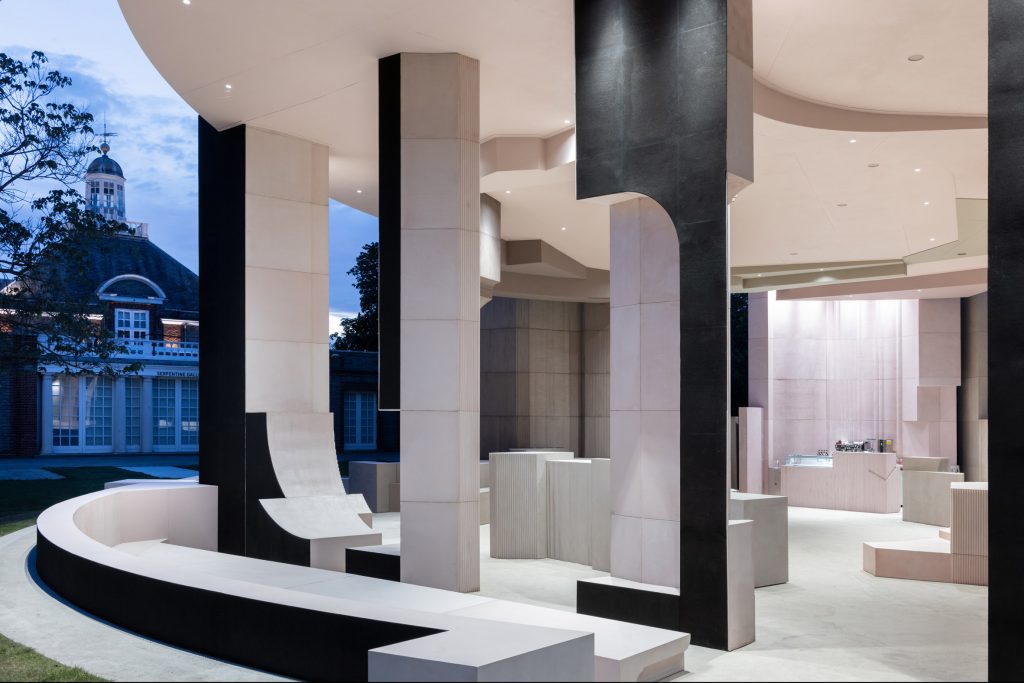 This is the 20th iteration of the annual architecture programme, which was inaugurated with a design from the late Zaha Hadid and has since gone on to feature international architects like Bjarke Ingels, Francis Kéré and Sou Fujimoto.
But this is the first time the Serpentine Pavilion will extend beyond its Kensington Gardens home with four "fragments" to be installed in culturally significant locations across London.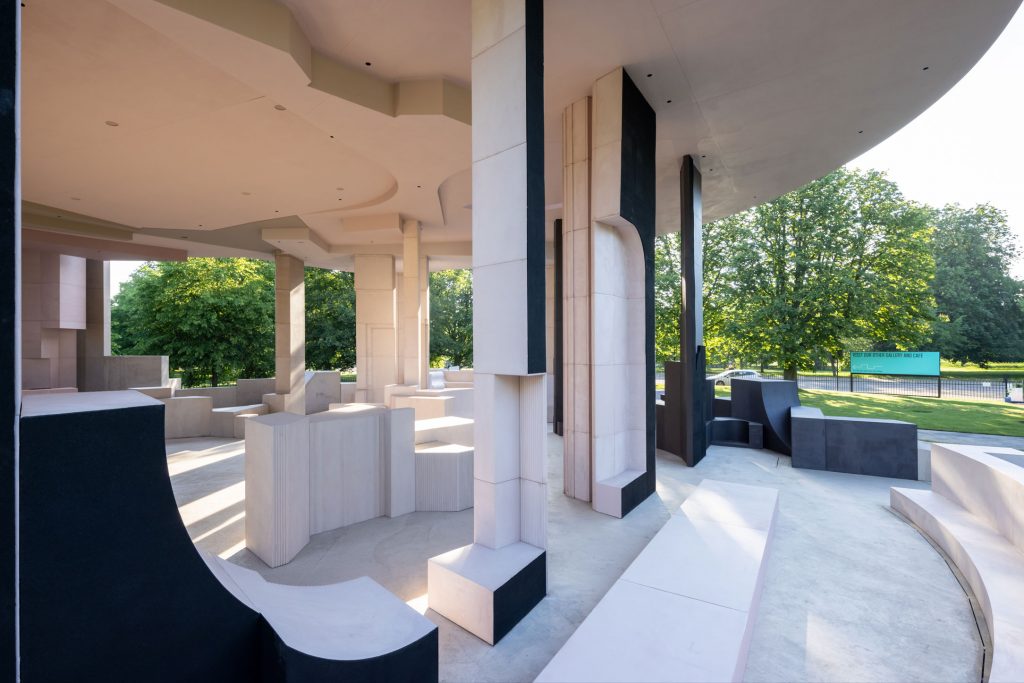 The youngest architect to receive the Serpentine commission, Vally says the sites, which include one of the UK's first Black publishers and the country's largest housing estate, were chosen to "physically and programmatically" amplify centres that have "held communities" over time.
"My practice, and this Pavilion, is centred around amplifying and collaborating with multiple and diverse voices from many different histories," she says.
"By engaging with stories of migration – the dis-placement and re-placement of people, the design symbolically folds London onto the Serpentine lawn to bring together a multitude of histories."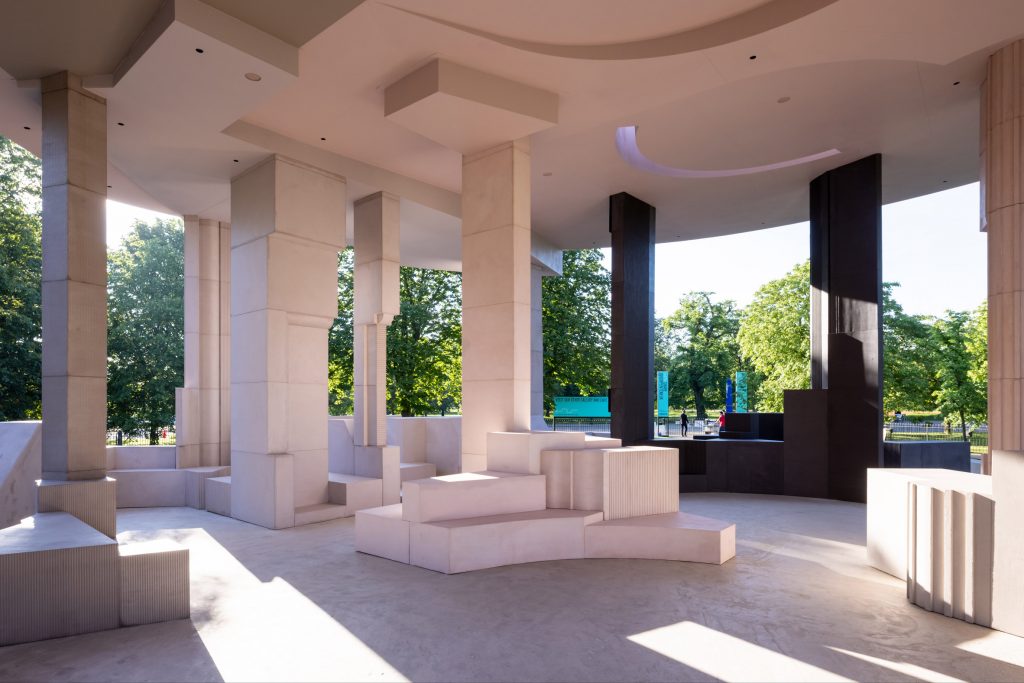 Carbon-neutral, the six-metre-high and 350 square-metre-wide pavilion is one of the largest in the programme's history.
It was designed, approved, planned and built in 20 weeks with recycled steelwork only being used where "dictated by structural requirements" with architects selecting timber pallets for the secondary framing and sustainability sourced plywood for the cladding.
The quasi-circular pavilion, which also houses a cafe, is decorated in hundreds of grey and pink imprints made from cork – a byproduct from the wine industry – and micro-cement made from lime and waste from marble production.
It is these imprints that materially "bring together" all the places referenced by Counterspace in its design brief.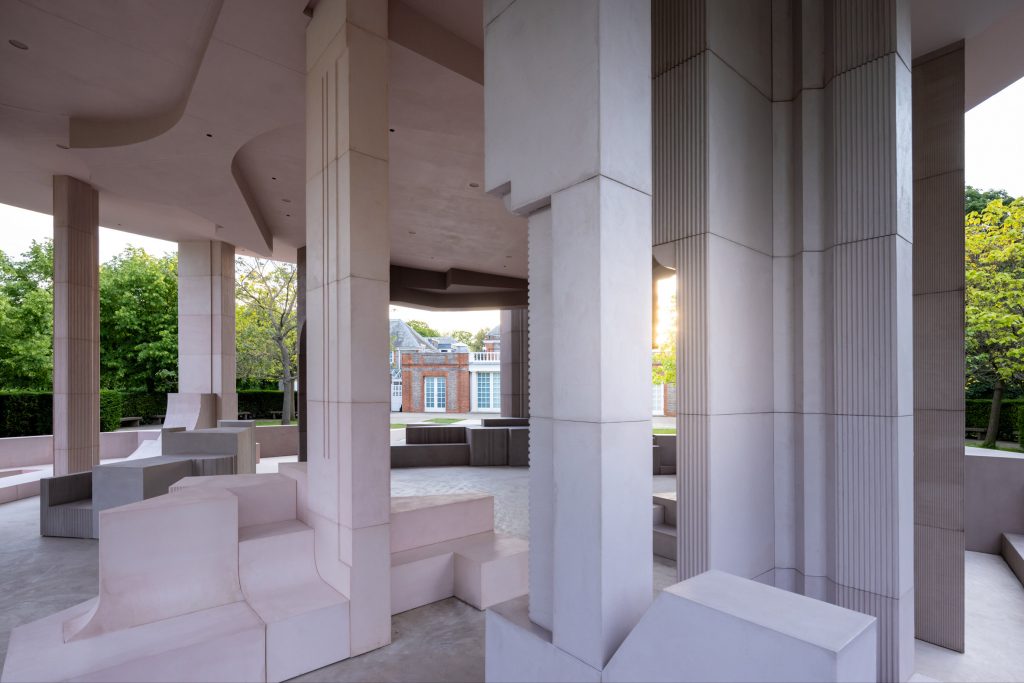 The South African practice, which was founded by Vally in 2015, also collaborated with organisers to create a new fellowship programme that will support up to 10 artists and collectives in London.
It's part of a wide range of experimental, interdisciplinary, live, community and family programmes planned for the pavilion until it closes on 17 October 2021.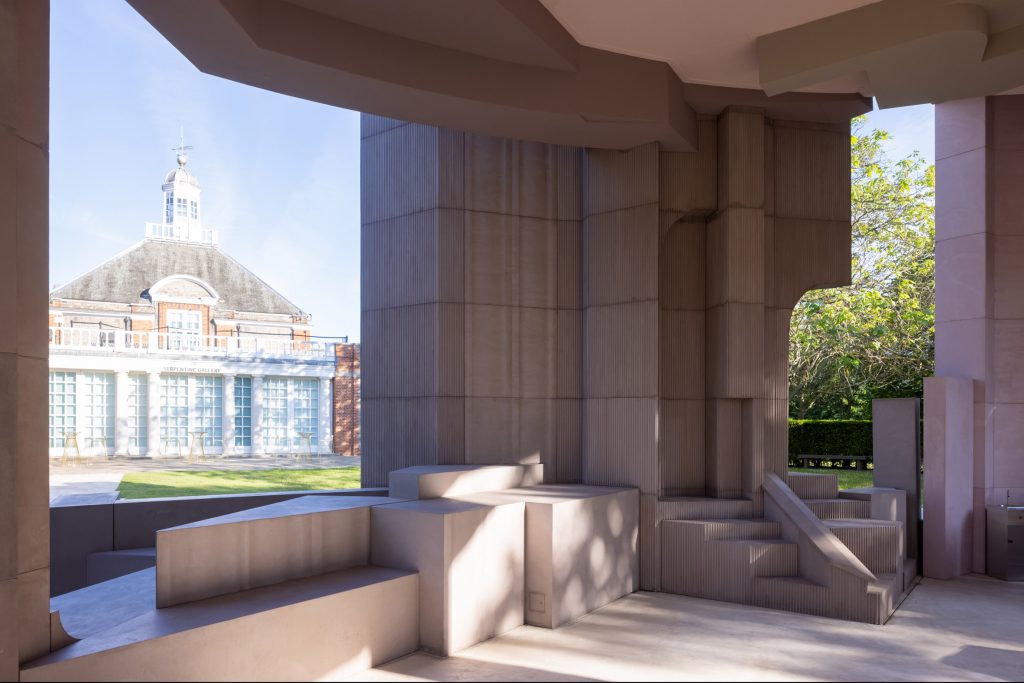 Meanwhile, Australia's very own architecture pavilion, MPavilion, is set to open in Melbourne's Queen Victoria Gardens on 11 November 2021.
This year's commission will be designed by Venice's MAP Studio, which specialises in urban renewal and the "sympathetic transformation" of existing structures and spaces.
Lead image of Sumayya Vally: Justice Mukheli. Renders courtesy of Counterspace.