A rhomboid-shaped, 55-storey tower designed by Woods Bagot is going up in Sydney's Parramatta. 8 Phillip Street will transform the 'second CBD' with its new twisting, mesh-embedded glass structure, which is due to be completed in 2020. Developed by Coronation Property, the building will scale new heights for Western Sydney residential living.
The mixed-use tower will comprise 314 residences of one, two and three bedroom configurations as well as studio and penthouses. The luxury apartments will incorporate high-quality joinery, track lighting and innovative windbreak balconies, which will provide residents with configurable outdoor living spaces. Residents will also enjoy an alfresco infinity pool on the 18th floor.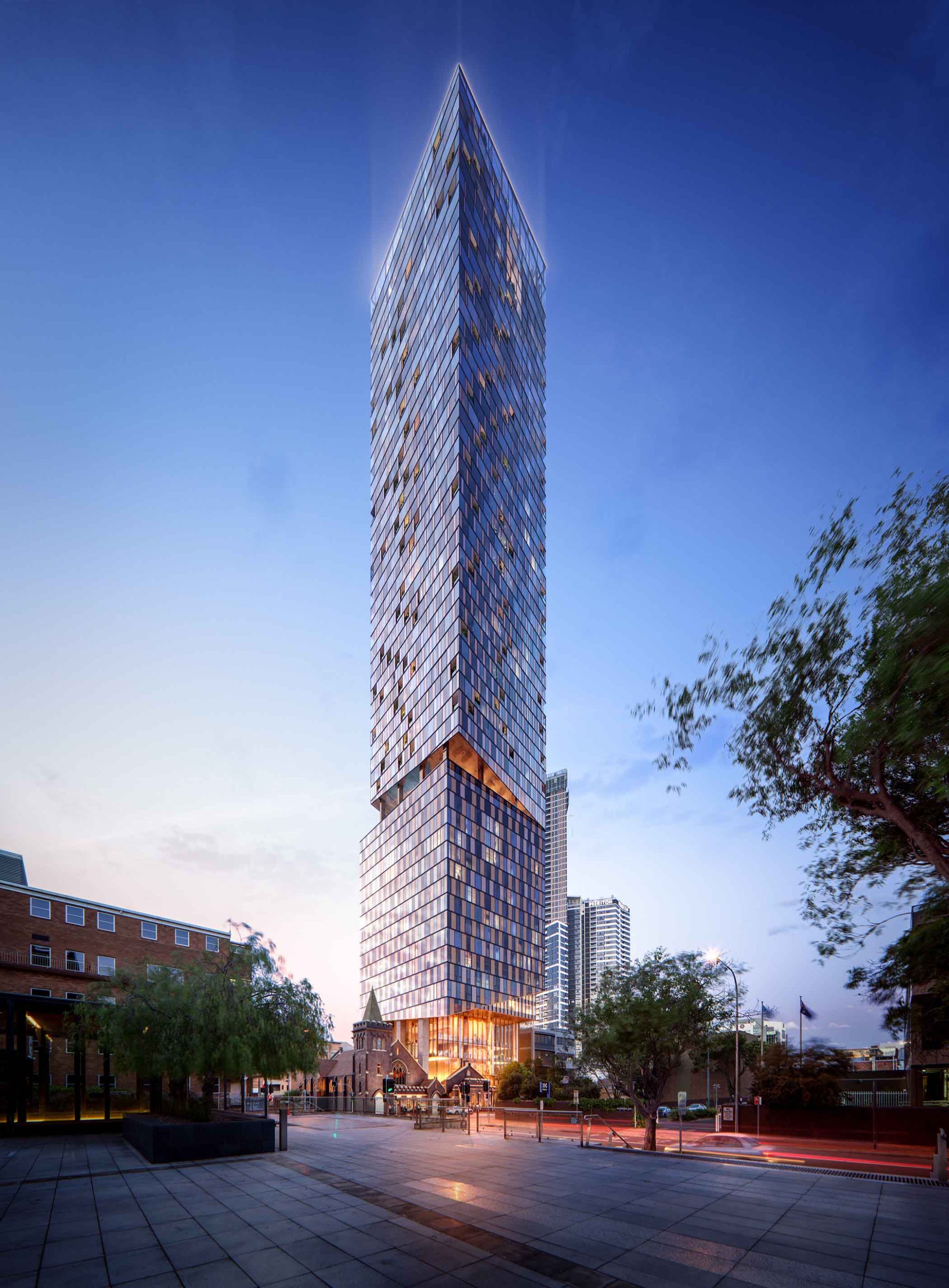 In addition to apartments, the project will also feature boutique QT Hotel accommodation on its lower levels – including capacity for 205 standard deluxe rooms, 50 executive deluxe rooms and two QT suites – together with a signature QT Bar & Grill restaurant, multiple meeting and event spaces, Spa Q, and a ballroom seating 200 people. The quirky designer hotel will feature a stunning three storey lobby void, with inspiration for the lobby's three-storey staircase drawn from Louis Vuitton's Vienna outlet.
Another feature of the tower will be its spacious 'Studio 54' rooftop bar, which is set to provide unparalleled views of the Sydney CBD skyline and accommodate 600 patrons. Inspired by rooftop bars in Bangkok, New York, Shanghai and Singapore, the venue will provide a contemporary and relaxed bar experience and once open, will become Sydney's highest rooftop bar.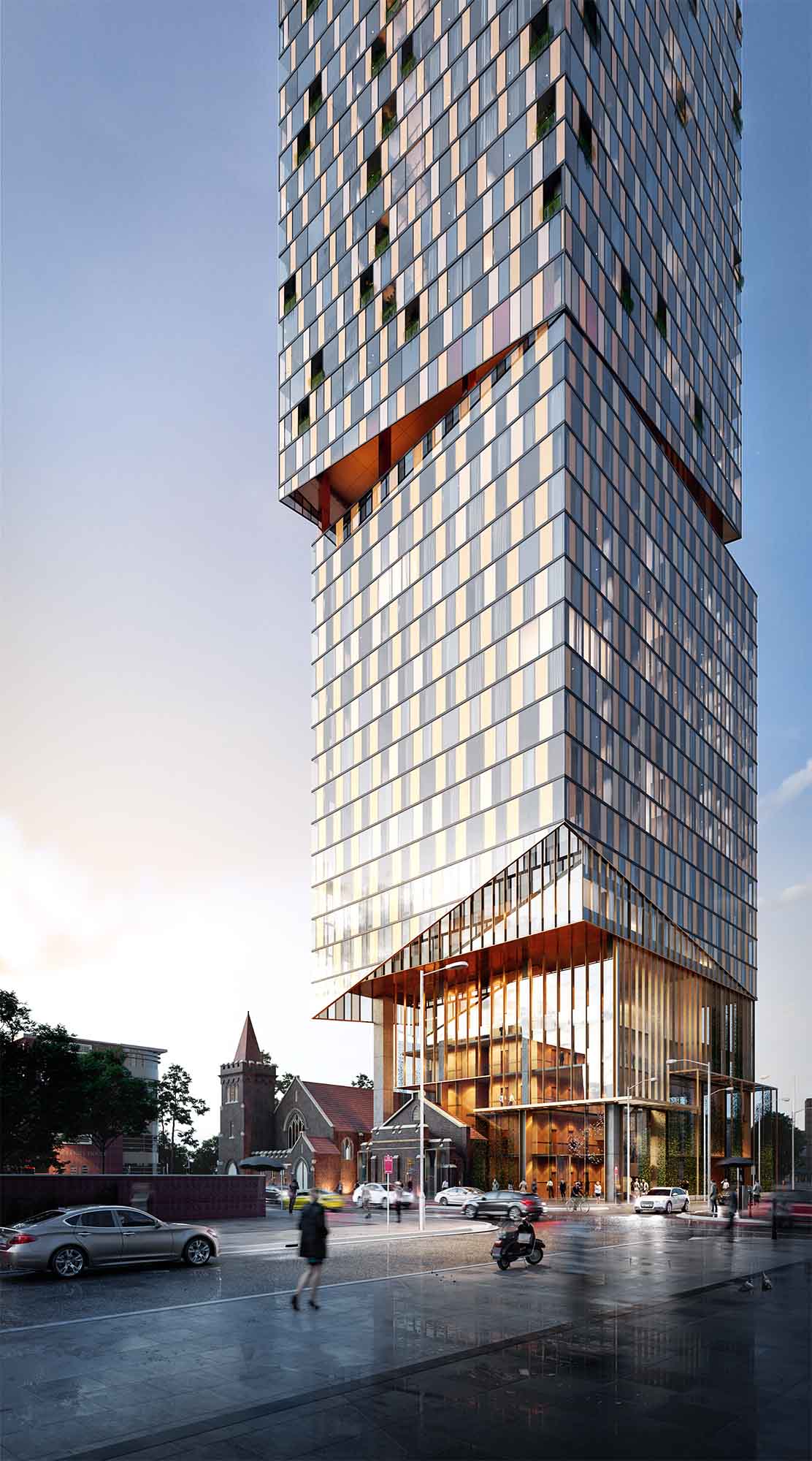 Residents can enter the building via the heritage-listed St Andrew's Hall, which was constructed in 1926.
According to Woods Bagot's director, Domenic Alvaro, resolving the challenge of how to successfully integrate the project with the existing heritage buildings has been one of the project's triumphs.
"We made the bold move of integrating St Andrew's Hall directly into this magnificent contemporary building, with the development poised to sit atop the existing hall, and its inherent internal structure to be the feature of a stunning new residential entrance," says Alvaro.
"Also, the spire of St Andrew's Church is reflected in the design of the building's lower levels and is echoed in views of the building from all approaches, thus making the heritage structure the hero of the area."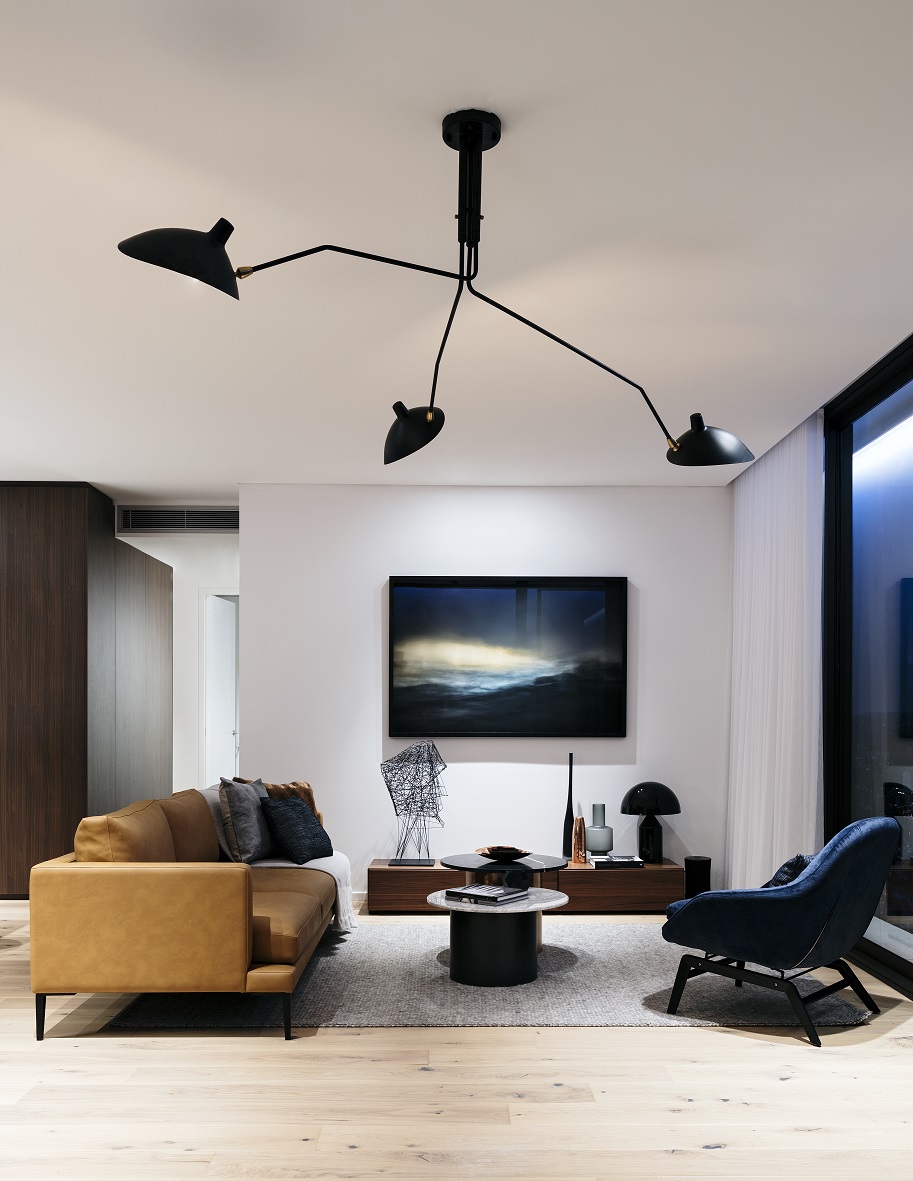 The inspiration for the project has been drawn from the designs of existing heritage integration projects in both the USA and Europe, added Alvaro, who also has responsibility for the tower's interior spaces.
Meanwhile, international landscape architecture and design business, Durie Design, has been appointed to deliver the landscape elements. Headed by award-winning designer and media personality, Jamie Durie, the company has completed commercial projects all over the world, including the Singapore Bay foreshore, Sheraton Salobre Resort Spain, Albarari in Dubai and Australia's own Hayman Island Resort.
Mr Durie said he plans to apply his 'transterior' philosophy to 8 Phillip Street, which involves creating a seamless transition between interior and exterior spaces.
"We'll be implementing this quintessentially Australian style of living in the tower's entrance, rooftop bar, pool terrace and streetscape," says Durie.
"At the tower's entrance, we will create a dramatic sense of arrival with our five-storey high trapeze garden, which will feature a series of brass and stainless steel cables and a suspended landscape."
The rooftop garden will feature contemporary native Australian species, planted to create a secret garden oasis with intimate gathering spaces, he adds.
"It will be a garden to live in, not just to look at, with mature trees creating a grove and intelligent plant selection with golden accents accentuating the building's brass tones."