"There is a real opportunity for WA practices to create a Perth vernacular," say Studio Roam directors Olivia Maxwell and Sally Weerts.
Despite its infancy, Perth-based emerging studio Studio Roam is bucking trends in favour of the unconventional.
The practice is led by local emerging architects Sally Weerts and Olivia Maxwell, and was launched in 2020.
Recently completing the design for Perth's newest state-of-the-art hospitality venue, The Beaufort, Weerts and Maxwell are far from being new kids on the block.
Both women have extensive and varied experience in the Perth design industry prior to taking the "organic" leap to form their own practice.
Keen to learn more about not only Weerts and Maxwell, but also Perth design, ADR speaks with the duo to fill in the blanks.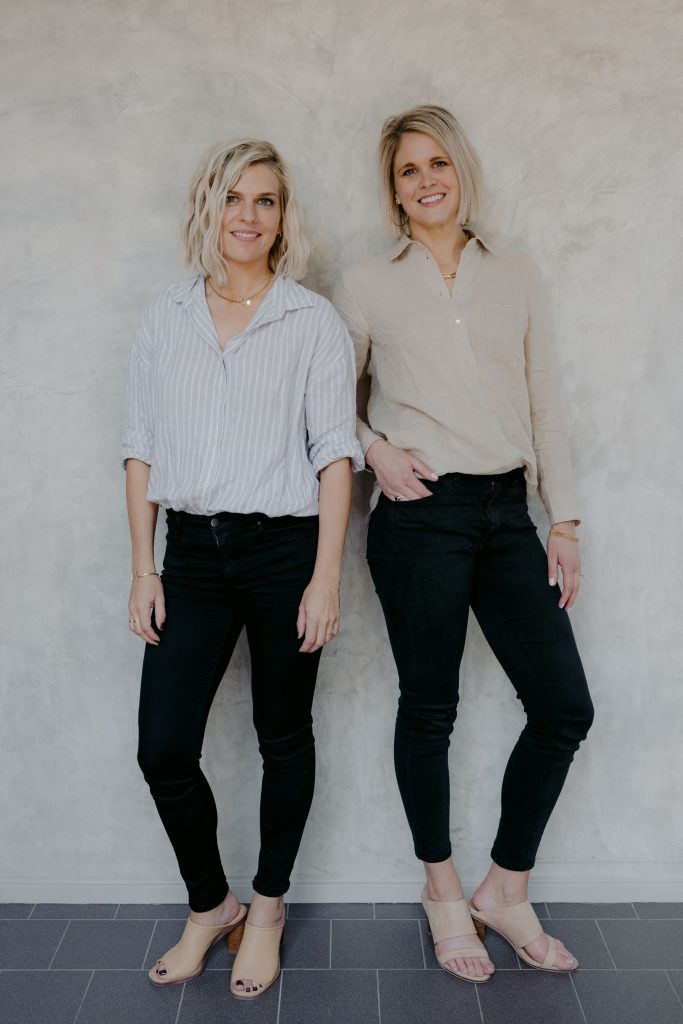 ADR: Tell us about yourselves; how did you develop your love for design?
Sally Weerts: Olivia and I studied together at Curtin University, so we've pretty much been Bonnie and Clyde ever since. Liv went off and worked for a number of years in a commercial practice in Perth and I worked for a small family-run studio in Fremantle. We went on different trajectories for a little while.
I always knew that I wanted to work for myself and have my own practice, so it wasn't long after – I think six years – that I started a business, which had a few ups and downs through COVID.
Olivia Maxwell: I left the big commercial firm and corporate world and was like, 'Yeah, I want to dabble in some residential and more hands-on projects in a smaller group of people', so I started working with Sally.
SW: That was for about a year, and then through COVID we closed that business. Liv and I were working from home at that point, and we were still closing out projects from the rollout of that business. And then that just kind of organically led into Studio Roam.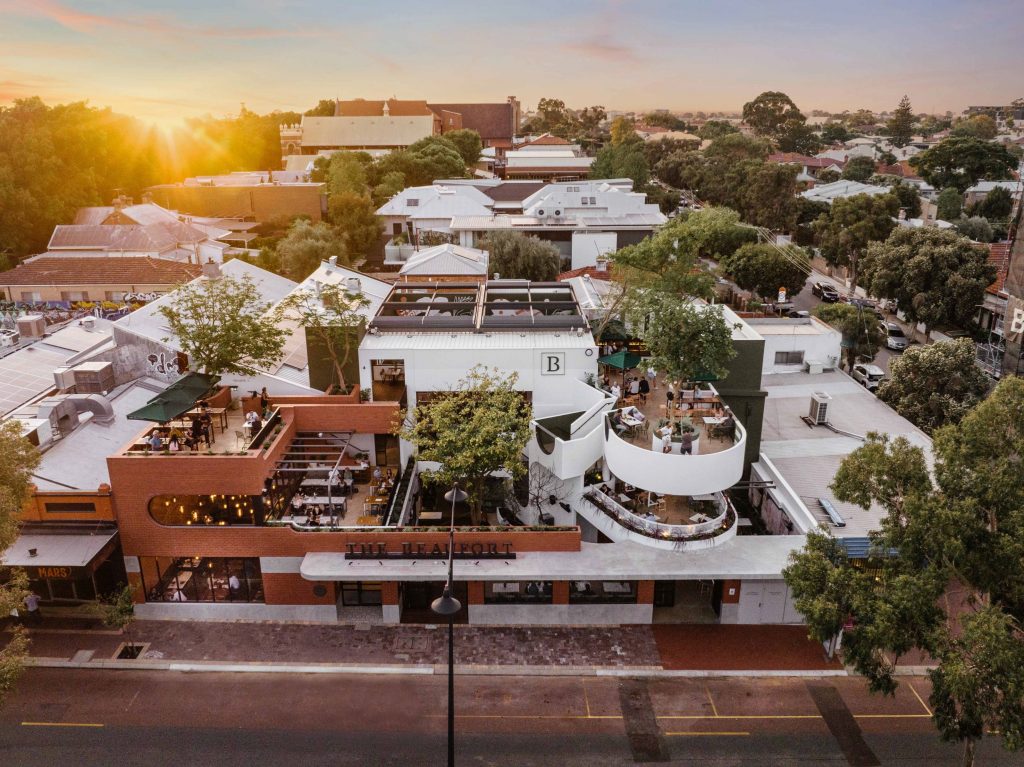 How does Studio Roam operate? What did you want from the outset?
SW: While Studio Roam was born quite organically, I think the origins of it were very much about us finding the right balance of being involved in projects in a meaningful way and having an impact. When you go off and work for somebody else, it's a little more challenging and that flexibility of family life just isn't there.
By working for ourselves, we've always been very clear about what we want to get out of the practice and that's doing meaningful work – choosing the people we want to work with, and keeping it small, so that we're both very much invested in the design process of every single project.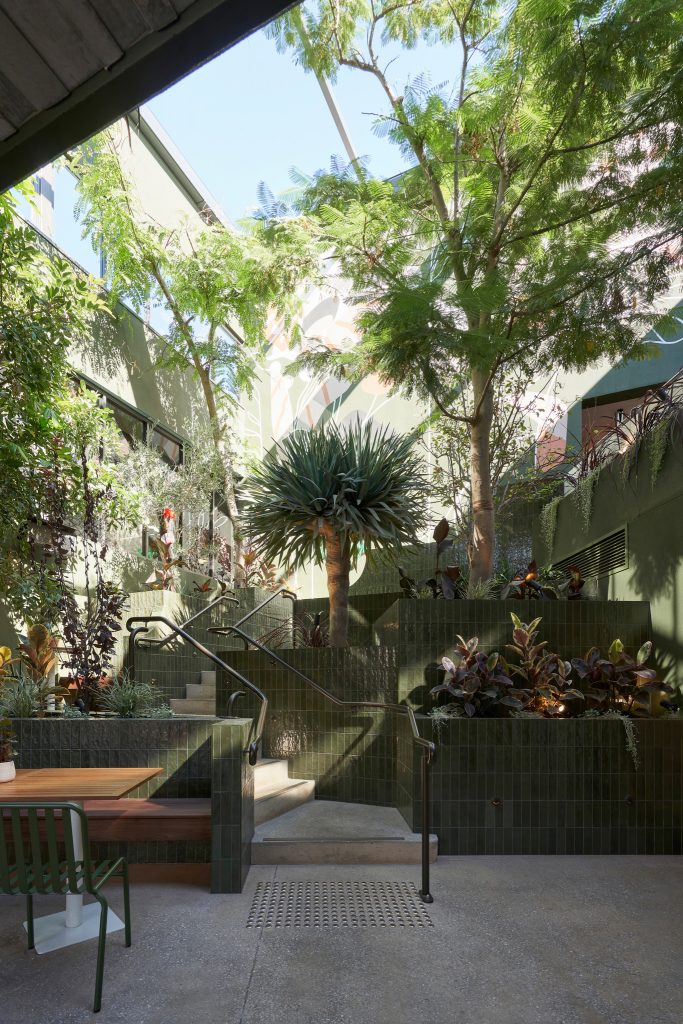 OM: It's just the two of us, but we do collaborate with other practices, and also individuals and colleagues that we either know or have worked with previously. This is so that we can keep our business model as it is.
We're not looking to grow, but we don't want to miss out on opportunities like The Beaufort and projects that we know we can't take on as just the two of us.
Opening earlier this year, The Beaufort is an inner city pub lying in the epicentre of the Highgate activity corridor. Designed as a labyrinth of shared landscaped terraces, The Beaufort is a curious architectural complex. Can you share the design process behind it?
SW: We always start a project with a very clear idea of what the vision's going to be and what we want the end thing to be.
It was partially from the clients, part of their brief to us was to reconnect with the street, and having lots of people hanging out windows on roof decks makes people want to go in.
So part of their management strategy for their venues is to create hype, and people will be attracted.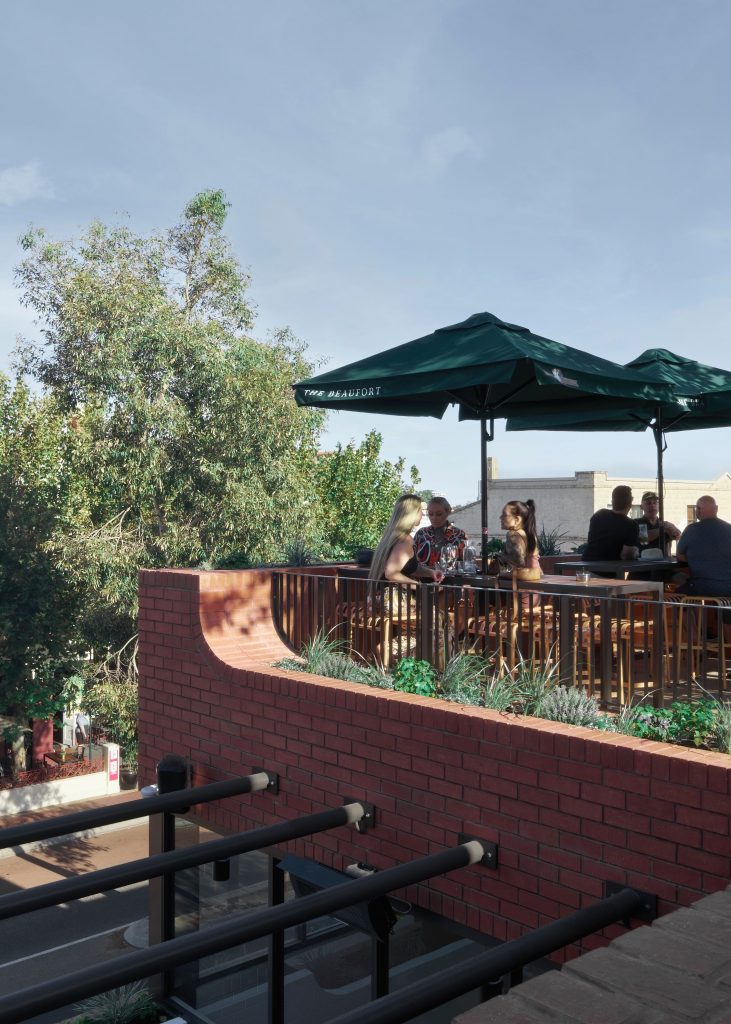 OM: The original site (a furniture store) had no garden and was set back (with a car park). In order to bring it forward, we referenced M.C. Escher's Relativity painting, because we liked the idea of this crazy topsy-turvy world where you could see into different gardens from one view. But nothing really makes sense, so you naturally want to know more.
There was a sense of curiosity about the image, wanting to understand it. And we thought the building innately had that kind of character about it. It had heaps of split levels and this idea of being able to see into other worlds and other garden spaces.
I think, for us, that image really sparked something that drove the whole project and the clients were on board.
We wanted to give that sense that there were all these crazy staircases and links and connections to different spaces that you couldn't quite understand or read, but you'd keep coming back to the venue time and time again for different experiences.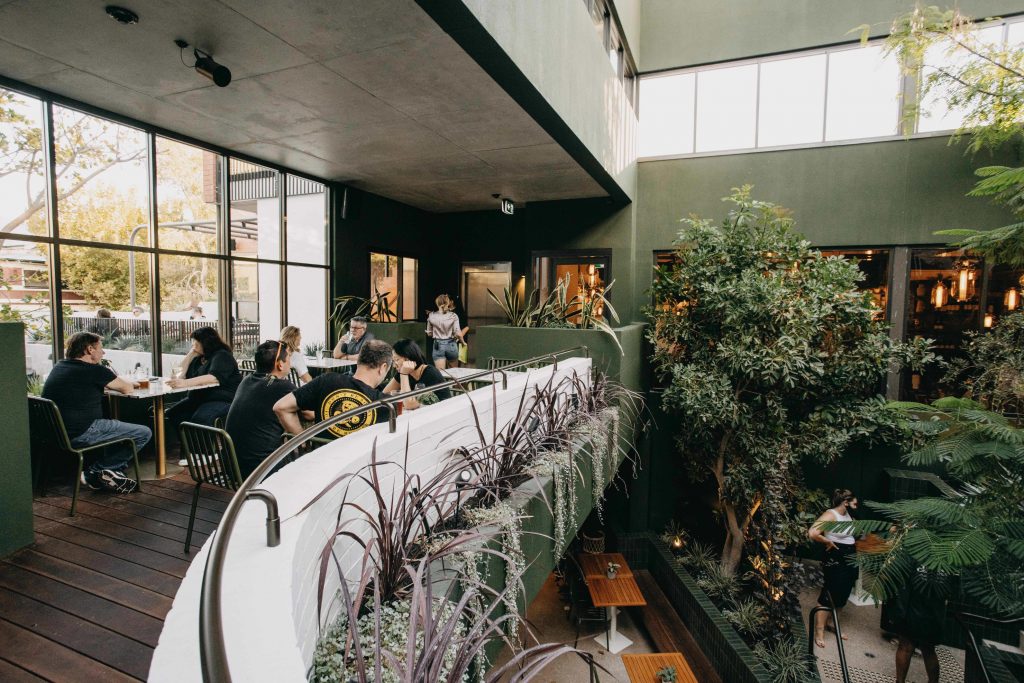 What does it mean to you to contribute to Perth's cultural scene?
OM: It's a nice feeling! I think it's very different with residential, where you have the family and people moving in and there's obviously a different kind of reward in that, versus something that's public, where you've got public criticism right at the forefront.
And everyone can go in and have a look. And everyone becomes an expert in design and what you should and shouldn't do. And there's something great in that because you don't always get everything right and it's nice to take on that feedback, and enjoy and relish the good comments as well.
How would you describe Perth's design? What challenges and opportunities do you think exist?
SW: I think we have a tendency in Perth to be quite safe. We're working with a new hospitality client, and they're very motivated and inspired by everything that's happening over in the east, and I think that's because people do what's familiar in Perth.
And it's a shame to see some of those big projects go to east coast firms because of that reluctance to trust a WA practice to deliver.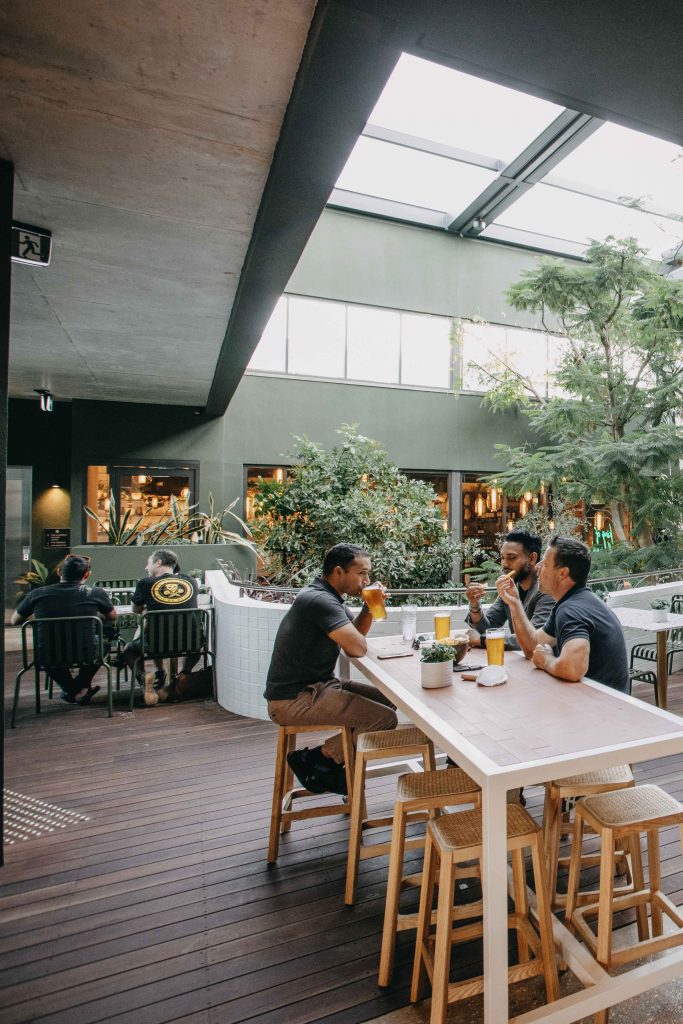 There is a real opportunity for WA practices to represent and stamp their own style on things, and create a Perth vernacular that we can be equally as well known for as the east coast. Hopefully, we're doing that in some way.
Also, it does come down to the client and the project. There has to be an appetite from the client to pursue something. It's not solely the responsibility of designers, but also the people who are commissioning West Australian practices to deliver projects.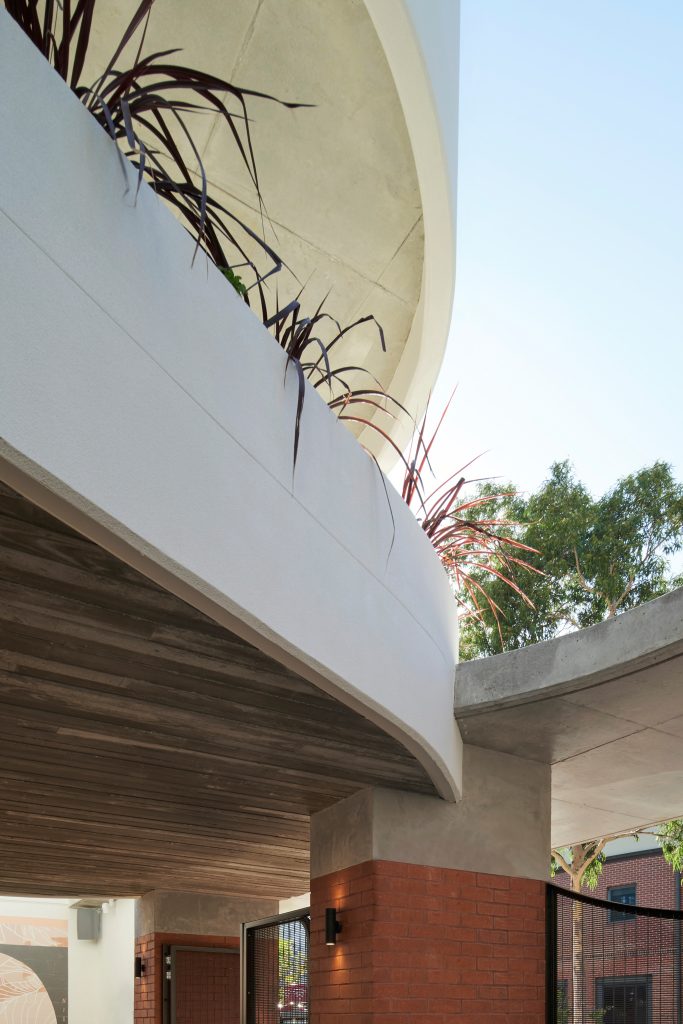 What projects are you currently working on?
OM: We've got a new build down south in Bridgetown, and a couple of little residential fitouts.
SW: We have another hospitality venue in an inner city suburb that is about to be lodged for a development application. That will be public knowledge very shortly.
That project is a joint venture with another practice and it has the potential to offer something back to the area, which is in dire need. It's got all the ingredients for something amazing!
But we have a history of working in places where they're on the decline and then there's an opportunity to turn it around. The Beaufort was like that. It was dead and now it's bustling
I think using these projects as an opportunity to reinvigorate, and revitalise places is something that has become a common fixture in a lot of our hospitality projects, so hopefully it goes well!
All photography by David Deves unless otherwise stated.
Also in WA, Hames Sharley has reactivated a previously vacant space for its Perth studio.