Sign up for our newsletter
All images by Andrew Wuttke.
On a suburban street in Northcote sits an intriguing house that somehow appears simultaneously old and new. As much as it looks perfectly natural in its setting, a closer glance reveals a uniquely nuanced contemporary character, somewhat at odds with other buildings in its vicinity.
The site Stonewood stands on is protected by a historical overlay, though as Jeremy McLeod of Breathe Architecture explains, it wasn't immediately clear why. "None of the buildings around it were particularly special," says McLeod. After researching the area's past and meeting with a heritage architect, a Victorian terrace of some significance was located two doors up from the Stonewood property.
The terrace itself was fairly unremarkable, until archives showed that the Victorian façade was in fact a renovation put up in 1906, in front of a two-story bluestone cottage built in the 1850s. In effect, "The entire street's heritage overlay was generated by this bluestone cottage that is actually hidden," says a bemused Jeremy. The irony inherent in the idea of "preserving a building that doesn't really exist any more" formed a key point of conceptual inspiration for McLeod, as well as the appeal of paying homage to the now invisible bluestone.
"Many people respond to a heritage overlay but don't go to the source to find out what it's all about," says Jeremy, too often "just putting a pitched roof on something to satisfy the requirements of a heritage architect". In their thorough research of the original historic property, Breathe were able to construct a modern building that retained a genuine heritage sensibility in direct response to the context of the street.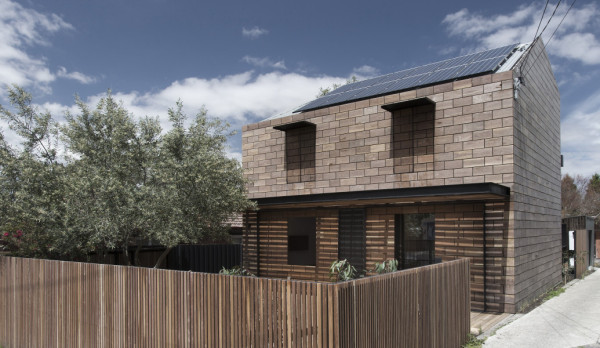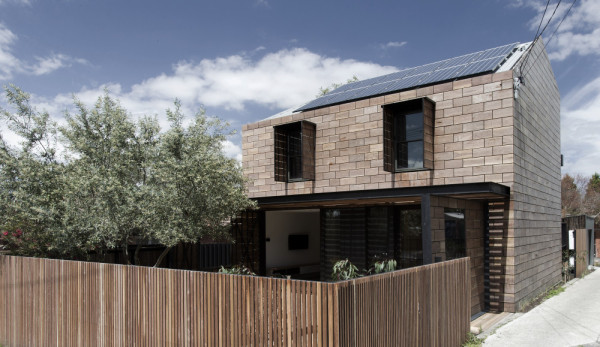 The form of the Stonewood house took its cues from the original cottage, with the façade and basic structure referencing the same scale and proportions. Old photos of the bluestone showed traditionally small Georgian windows on the top floor, which Breathe replicated on the northern facing façade – a departure from modern architectural practice, which would generally seek to maximise natural northern light.
Stonewood's cladding was also cleverly coordinated to reference the old structure, applying an innovative strategy to materials to achieve a similar effect. Continuing Breathe's fundamentally environmental ethos, McLeod says the approach at Stonewood was: "A modern sustainable take on stone. Rather than make it in stone, we'll make it with a sustainable timber, use a carbon store rather than a carbon user." Planks of Victorian sugar gum were cut into tiles to emulate the size of heavy bluestone cladding, which will turn a natural ash grey in time and further enhance the visual relationship between the new timber and the colour of the original stone.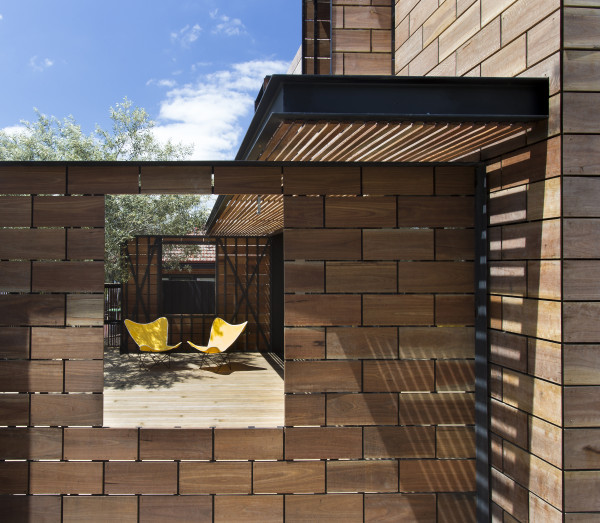 Beyond aesthetic and sustainable considerations, the Stonewood façade is also valued for its practical versatility. When closed, the house may appear to have limited access to natural light, however, the façade is built on large hinges, which unfold from the middle. With an open ground level, the family is able to dissolve the barrier between house and garden, creating an inviting private entertaining space. McLeod says that the clients at Stonewood "are incredibly generous people, they love their neighbours and their neighbourhood, and we wanted to give them the ability to not only welcome in the northern sun, but also welcome in their neighbours".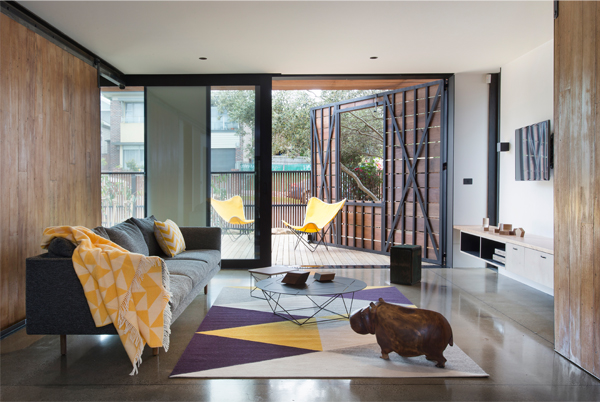 Behind the façade, the details of Stonewood's interior are tailored in many ways to the family living within. The lady of the house is an award-winning composer, and Breathe played her music in the studio as part of their initial research, finding a point of inspiration for the project. One track she composed particularly resonated with the architects, and on interviewing the client, the story behind the composition was brought to light.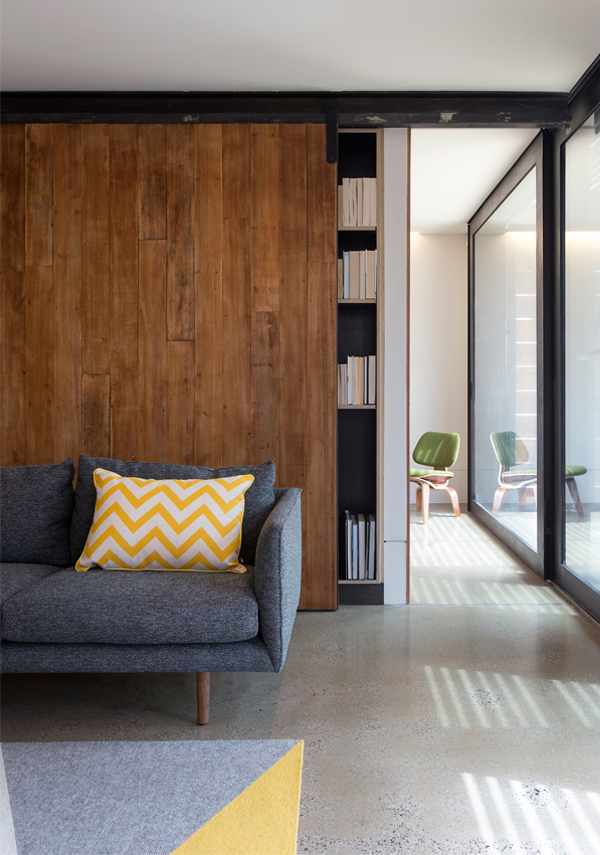 The piece was inspired by the composer's viewing of Michelangelo's sculpture Quattro Prigioni (Four Prisoners) in Venice, a powerful work depicting four figures emerging from marble. From this, Breathe gleaned the concept of "chiseling away at something solid to make something more beautiful," an idea which applied throughout the design of Stonewood.  One of the treasured design aspects of Stonewood is a dedicated composing room for the client. Hidden behind a sliding shelf, the panel aids acoustic management as well as affording a private creative space in the home.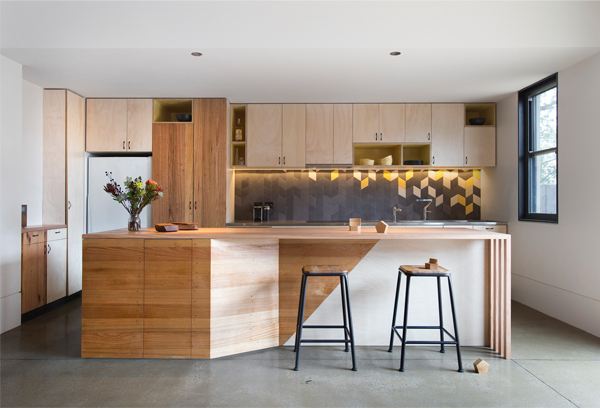 For a family with three boys, including twins aged 11 at the time of the design; functionality was a main priority at Stonewood. To maximise play space, Breathe pushed the building as far forward on the plot as possible in order to open up a larger backyard. Inside, shutters open a channel of play and communication for the twins' rooms either side of the stairs.
"They've strung up some string and made a little pulley," says Jeremy, "which not only helps to ventilate the rooms and the rest of the house, but also enables them to engage with each other. As they get older, they can close those shutters down if their want to study or they want their privacy." Such considered design ensures that the house not only responds to the family's current needs, but that it will also grow with its inhabitants.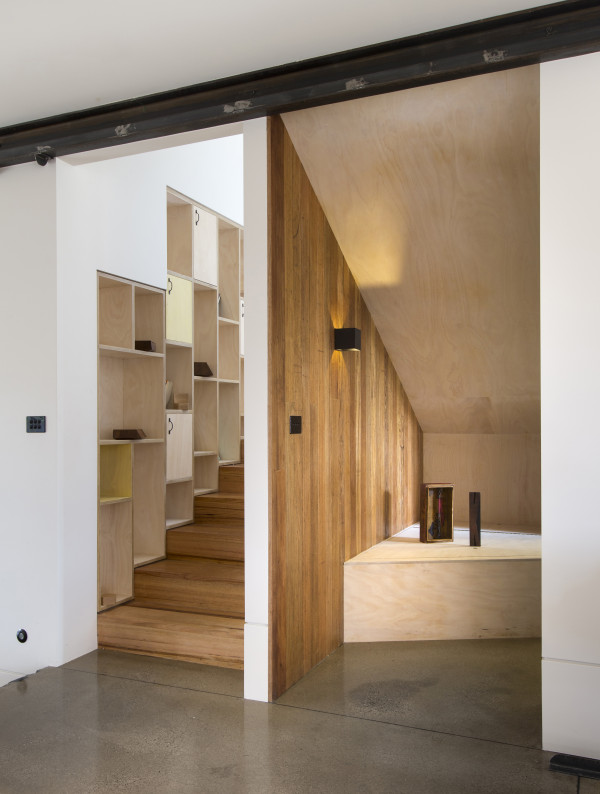 "The house is very egalitarian," says Jeremy, with all bedrooms being of a similar size, including the parent's master bedroom. At the top of the stairs, four recycled timber sliding panels enable flexibility between rooms. With all panels open, the top floor is transformed from the more traditional closed Victorian style into a contemporary open plan space. Downstairs, sliding panels alternately conceal laundry, a study area and amenities, compartmentalising the space in unexpected ways and providing solutions for passive management of heat and cooling.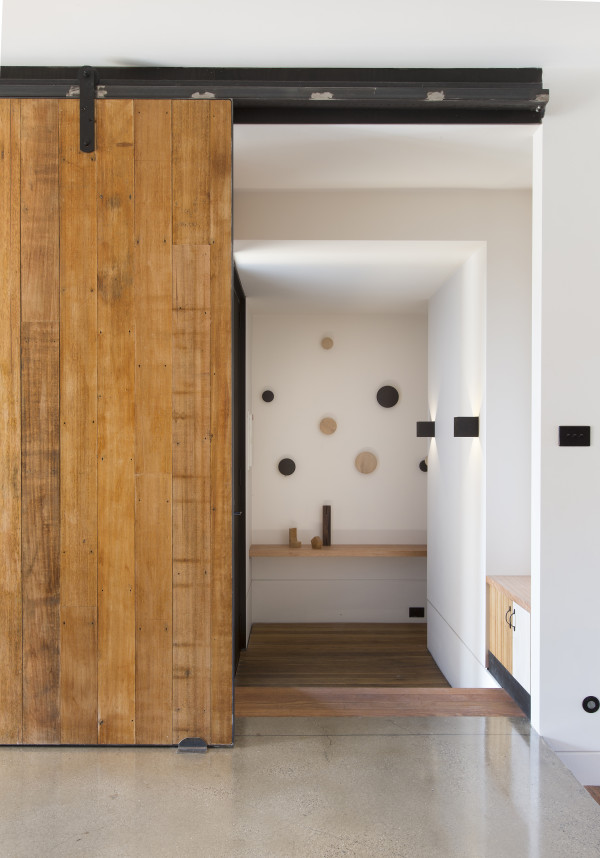 Stonewood successfully reintroduces elements of the old bluestone back into the streetscape, considerate of preserving a sense of local history while projecting a new style of its own, and catering for a modern lifestyle. Breathe's holistic approach to design is evident in the overall success of the project, as Jeremy explains, "Context is a big part of what we do. We understand that our architecture is a very small part of a much larger organism: the city. We don't propose to put a building there, standing alone as an icon or a beacon. Instead we think, 'How does this thing work within its city, within its context, within its suburb, within its street?' For us, it's important to understand how the building works within that whole patchwork."
All images courtesy of Breathe Architecture.
This interview is the 2nd ADR conducted with Jeremy McLeod, discussing his success at this year's Intergrain Timber Vision Awards. Read our previous interview on Breathe's work at The Commons.
Breathe Architecture is also nominated for a 2014 IDEA Award, click for your tickets to the highly anticipated Gala party!
This is a like-minded community of ILVENISTA's, who share a common bond of cooking for family and friends with their ILVE cookers.