Architectus senior team member Dan Solomon and Make Architects director Simon Lincoln explain how they restored Sydney's iconic Shell House clock tower as part of their collaborative Brookfield Place Sydney project.
Until recently, the 400-tonne clock on the roof of the iconic Sydney building, Shell House was hidden behind scaffolding, spending more than two years suspended 55 metres in the air while the building's façade was restored.
Engineers, TTW conceived an innovative system to transfer the almost 800-tonne weight of the clock and its tower onto steel columns using hydraulic jacks, while beneath, workers excavated and rebuilt the clock pedestal. Meanwhile the clock, which was manufactured by London clockmakers Gillett & Johnston in the 1930s, underwent a meticulous cleaning and restoration process.
When parts needed replacing, the design team searched, first, within Australia and, then, around the world for materials faithful to the originals; specialist tradespeople travelled from France to install new copper flashings, and replacements for damaged heritage glazed terracotta tiles were carefully coloured-matched and sourced from a factory in the United States.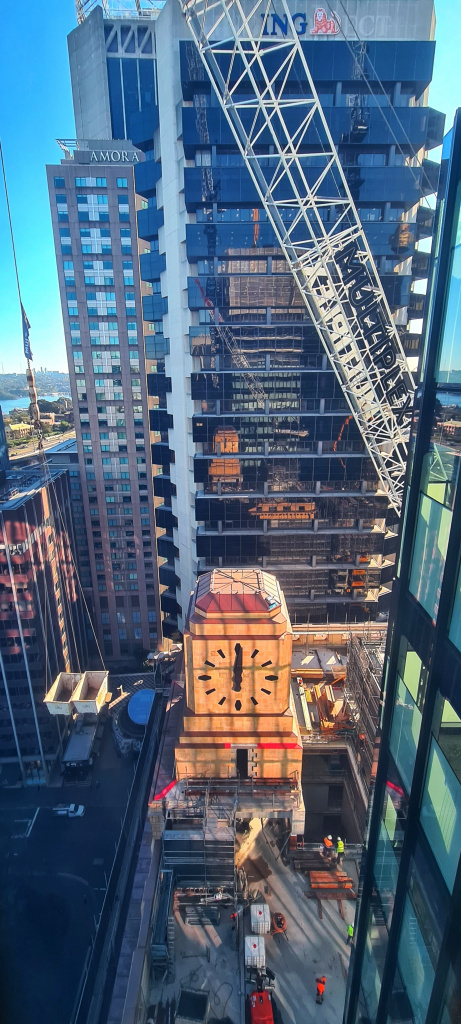 Today, people looking up at Shell House from Wynyard Park will see the architecturally unique building returned to its original beauty – the clock tower atop the building, the crown jewel of the Sydney icon.
Much like the building itself, the restored clock tells two stories. From the outside, it speaks of a specific era and style. Concealed within, a new high-tech mechanism that can be controlled digitally and remotely has been installed. The clock's original time keeping mechanism will now be permanently displayed inside the building.
This overlap of old and new, of age-old craftsmanship meets technological innovation, has come to define contemporary heritage restoration projects, the clock being just one example of how the past and present collided during the restoration of the Shell House façade.
Over the last six years our two practices, with Make as Design Architect and Architectus as Executive Architect, have been collaborating on the restoration of the Shell House façade and clock tower as part of a broader precinct project Brookfield Place Sydney – a development for Brookfield Office Properties for which Make won the 2014 competition to design a new 27-storey commercial tower, a transit hall connecting to Wynyard Station and the restoration of adjacent heritage facades, Shell House and 285 George Street.
One of the city's finest surviving examples of the Inter-War Commercial Palazzo style, Shell House was designed by Australian architect Spain and Cosh for the Shell Oil Company's Sydney Headquarters. First seen in Chicago in the late 19th century, the Commercial Palazzo style fused characteristics from Italian Renaissance architecture such as pillars and cornices with the pre-skyscraper buildings of the early century.
Shell House's structure comprises concrete encased steel columns and beams with glazed terracotta facings and details – an unusual material for Sydney buildings of the style. Indeed, Shell House is the city's only surviving Commercial Palazzo building clad in glazed terracotta.
More typical of the Commercial Palazzo style is the building's ornate base and top, and the repetitive simple geometry applied through intermediate storeys. The large decorative cornice on the upper storey gives the building an opulence that defines many classic buildings of the 1930s, while Shell House's clock tower reflects early modernist design.
Working under the advice of heritage consultancies, Adriel Consultancy and GML Heritage, the restoration process began with investigations into the condition of the more than 20,000 terracotta tiles comprising Shell House's façade. With sophisticated laser sensors installed to monitor the condition and stability of the existing façade throughout the demolition and construction processes, Arup Facades and Adriel Consultancy began the painstaking work of photographing, tapping and measuring every tile, determining that 2900 needed replacing.
Glazed terracotta tiles are no longer a common building material. No local factories had the resources to manufacture the larger number of tiles required within the timeframe that they were required. An American factory in Buffalo, New York was one of a handful in the world with the skill and capacity to fill our order. The architectural team provided six sample hues from the existing tiles; these were supplied to manufacturer, enabling them to supply new tiles that blend almost seamlessly with the original façade.
Other materials proved even harder to source. For example, sections of trachyte, an igneous volcanic rock that needed replacing along the building's base were salvaged from another Australian building of the same era in order to achieve an accurate tonal match.
Shell House's windows were another significant aspect of the refurbishment, as many of the building's original windows had been damaged during updates in the 1970s. Existing original windows were removed and transported to a factory in Saint Marys in Sydney's west. There, layers of paint were stripped back, rust was removed, and the damage assessed before original windows were restored, or, when damaged beyond repair, replicas of the originals were made.
As Brookfield Place Sydney opens for business, one of the precinct's greatest triumphs is the success with which historic and contemporary components have been respectfully integrated alongside each other. As important as historic buildings are to the fabric of our cities, they only have continuing resonance when they find a contemporary function to carry them forward.
While the Shell House façade was meticulously restored, internally the buildings non-original interiors were refurbished into modern office spaces for its new tenants. Elsewhere, Shell House's roof top features a new restaurant and bar surrounding the restored clocktower, creating a landmark hospitality destination for tourists and locals.
In a few short years, Shell House has been returned to its original purpose as a graceful office building whose warm and detailed façade speaks to a bygone time. For the architectural team, engaging with this historic building and carefully bringing it into the present day has been an informative and deeply fulfilling journey.
Founded by Ken Shuttleworth in 2004, Make Architects is an employee-owned firm pursuing a democratic design process. It is an international practice headquartered in London that also has offices in offices in Hong Kong and Sydney.
Architectus is an Australian architecture and design studio specialising in commercial, education, interiors, public, residential, transport, urban design and planning. The practice operates as a single studio with a creative team based in Sydney, Melbourne, Brisbane, Adelaide and Perth.
Lead render courtesy of Make Architects and Architectus.