Principal of her eponymous architecture practice, Sydney architect Eva-Marie Prineas takes us inside her 130-year-old Heritage terrace home, which she describes as an "opportunity to highlight timelessness and endurance, rather than trend."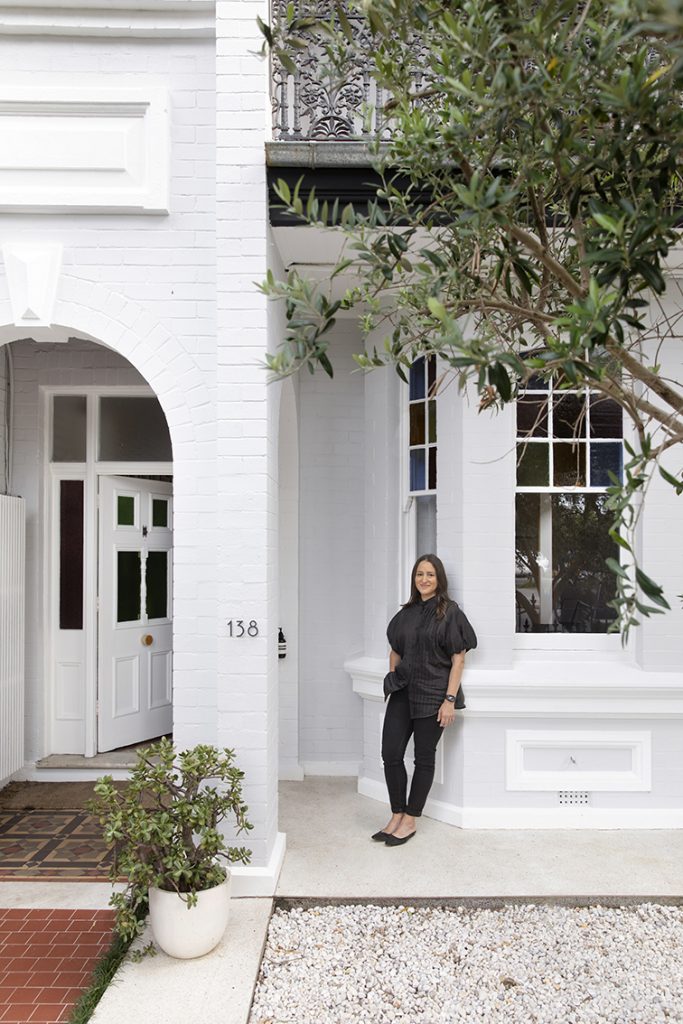 ADR: How long have you lived here and what drew you to the property?
Eva-Marie Prineas: An 1890s Victorian Italianate house nestled in Sydney's inner west, our house is an uplifting family home balanced in charm and liveability.
Unlike most terrace homes, the property is detached on both sides, inviting northern light and natural ventilation, which is very rare in properties of this nature.
On one side, we have a generous 1.5-metre setback, which gave us plenty of scope to reimagine the house throughout the restoration process.
With two teenage boys, it was essential for us that the home could take the knocks of daily life while offering flexibility to suit our family's changing needs. We were really looking for a project that had a strong and authentic character, as well as room for us to add our own layering.
We lived here for nine years and — with mixed emotions — recently sold and moved on to a new chapter and challenge.
It was difficult to part with the physical space, but also the emotional connections and memories we made in this house. That said, we are very excited by the opportunities to design our next home and continue our creative and experimental collaboration.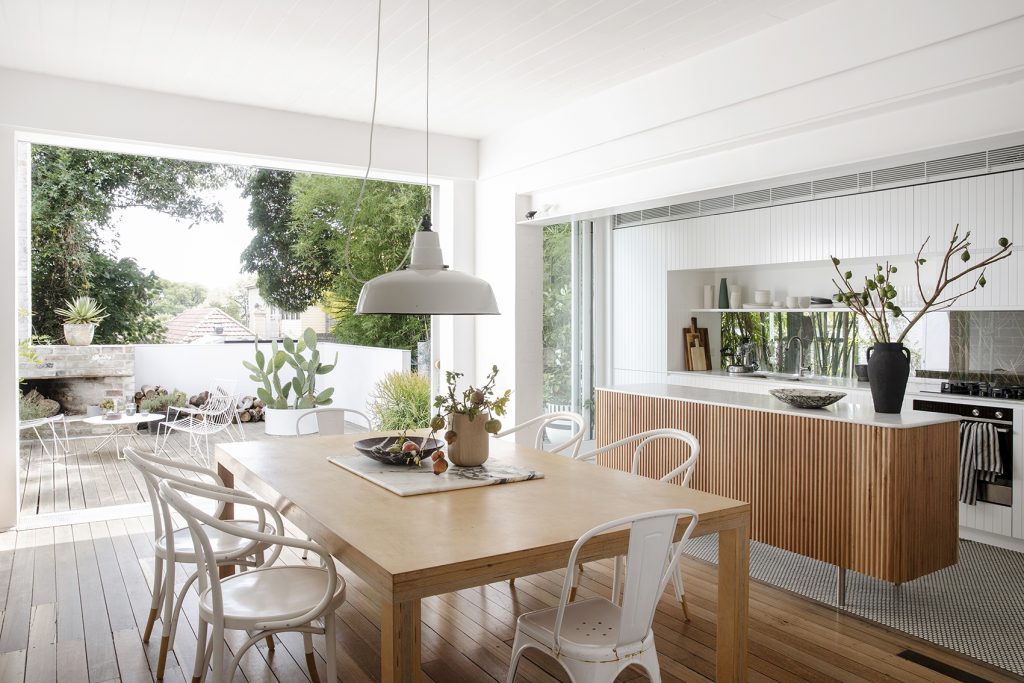 You mentioned that it was important to build on the existing layers of the home's storied past. What are some of the ways you did that?
Prineas: Our restoration aimed to reflect the longevity of architecture, through bold choices and considered problem-solving. Having owned and run Studio Prineas for the past 15 years, the restoration of our own home was a rare and special opportunity to test our designs in real-time and get a very close understanding of what our clients go through in bringing their own projects to life.
The empathetic layers we've added over the past nine years gently blend the classical and the contemporary in a way that celebrates the history of the building.
The grand rooms with high ceilings at the front of the house were always key spaces for us. We restored the archways and their connection to help reignite their former glory. We were always mindful of the home's existing narrative and sought to preserve and build on what was already there.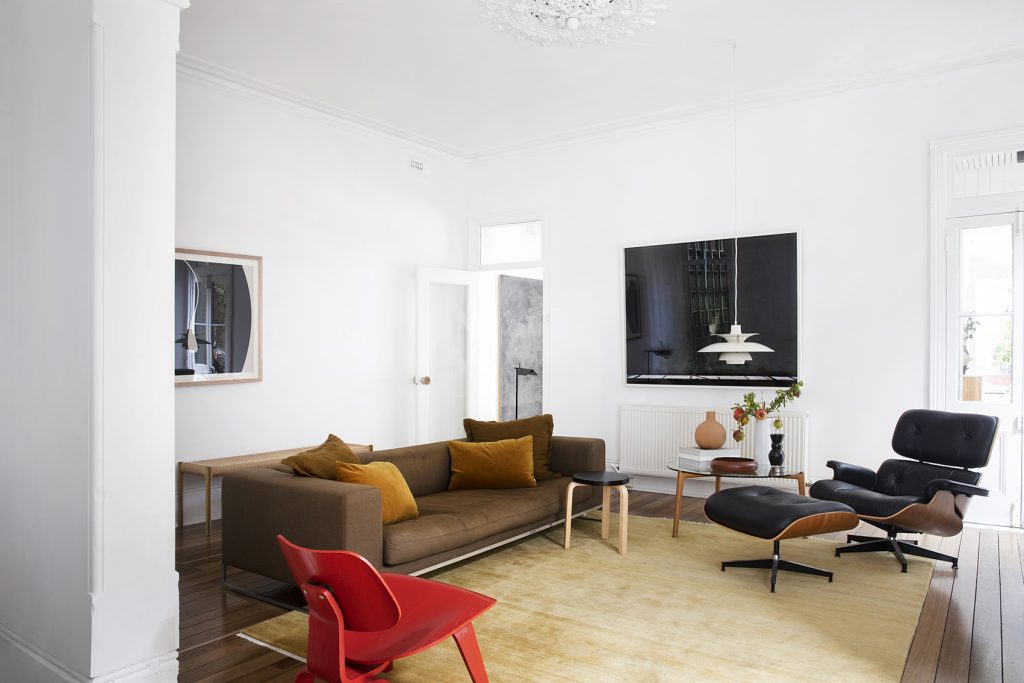 Despite its narrow footprint, the house was strategically planned to give a greater sense of clarity and purpose extending the impact of the renovation beyond aesthetics. We removed a number of additions, revealing the true scale and proportion of the original building through a series of living and dining spaces that continue from the street right to the back garden.
The change in level at Westbourne Lane allowed for a third level and internal stairway. This area can actually be closed off to create a self-contained living space in line with the garden.
Upstairs, there's a welcome surprise in the generosity of the original home. We've incorporated a walk-in robe and ensuite to create a master suite at the front of the house that includes an original cast iron lacework balcony.
There are two other bedrooms on that level that have great proportions and connections to the garden — these are our children's bedrooms. Between the two rooms is a generous connecting space that we've used as a playroom, study and gym.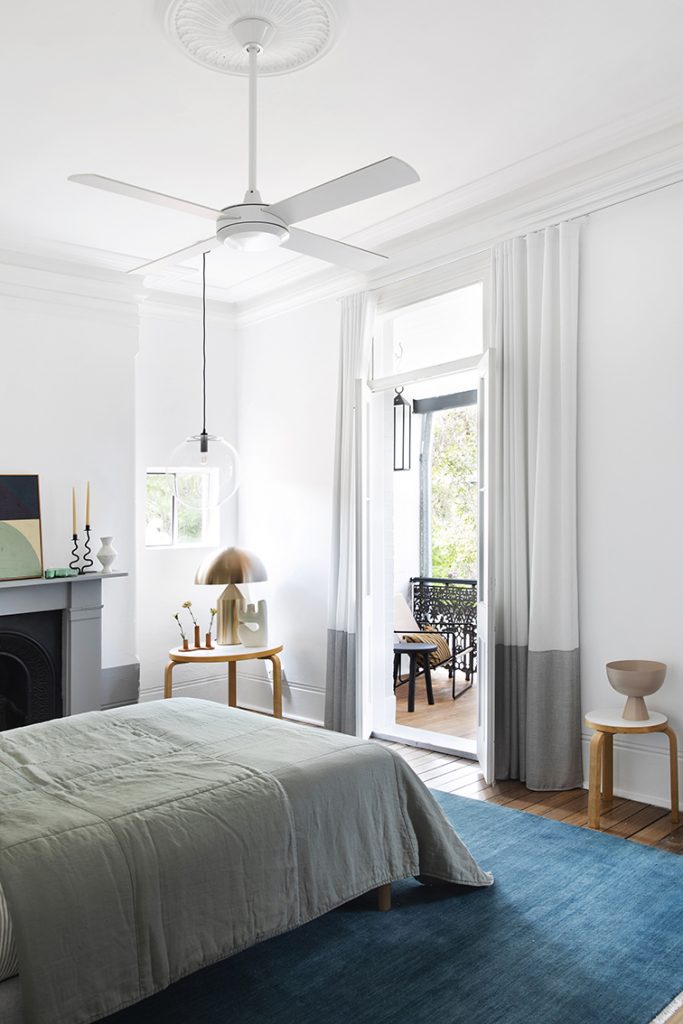 You were seeking a house that could stand up to the knocks of daily life. How did your material selection inform that?
Prineas: Eliá House is 130 years old — so it can certainly take the 'knocks of life' — yet it continues to be a relevant model for habitation now as much as ever before. Our work aimed to create a truly liveable home, but also reflect the longevity of architecture through bold choices and considered problem-solving.
Existing brick walls were lightly bagged and painted and one hue was used throughout to ensure re-touching is simple. The existing timber floors were sanded and re-painted, and we used rugs rather than carpet because they are much easier to replace. The tiles used on the kitchen floor and in the rumpus room and second living space are also high durabilities and very easy to maintain.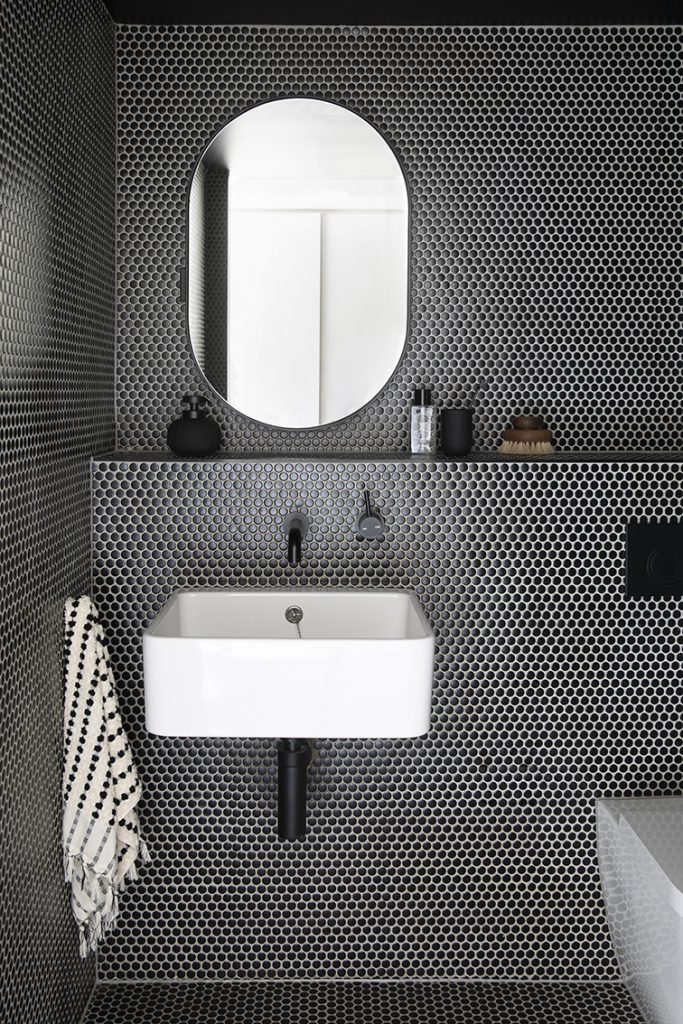 Which is your favourite room and what makes it special?
Prineas: The kitchen, dining room and deck all work together in unison, making this area a much-loved space. A favourite pastime is opening up the doors on a weekend morning to invite the sun inside, and enjoying a lazy brunch at home, all together.
What was it like working with such a Heritage home?
Prineas: I like to think of our work as adding layers, and this is how it was with our own home too. We are fortunate to work on many projects with a rich history and we find joy in uncovering and celebrating these discoveries throughout the life of the project.
We really love working on Heritage homes because doing so presents us with an opportunity to highlight timelessness and endurance rather than trends. Our purpose is to enrich the layers that already exist by adding our own.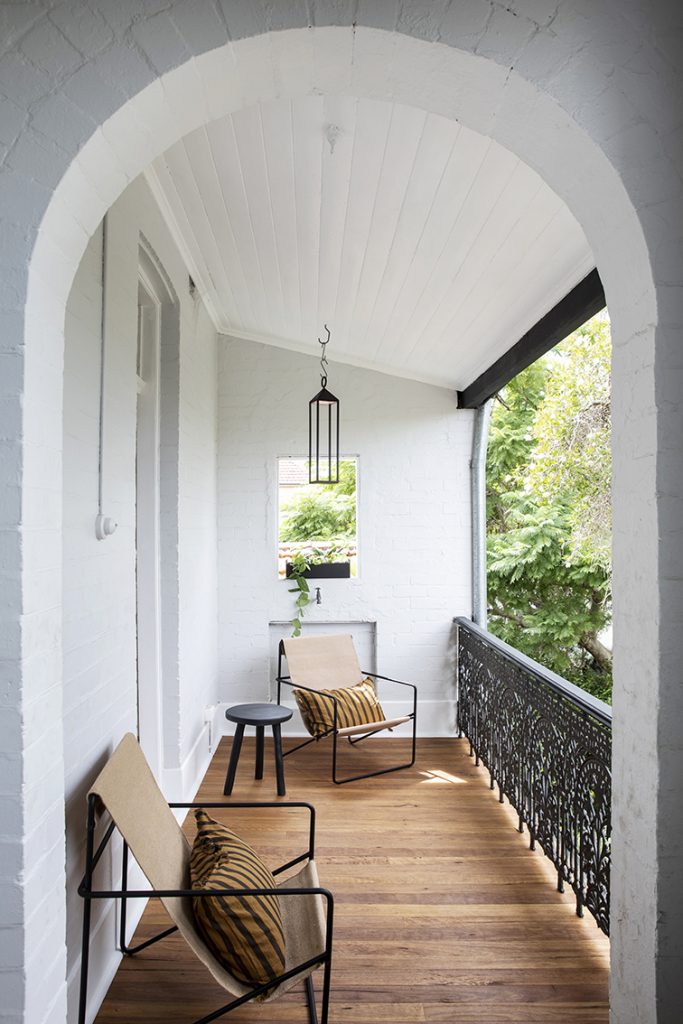 The garden is a really beautiful feature of the home. Can you tell us about it?
Prineas: The garden is such an important part of Elià House, both from an aesthetic and practical level. Practically it needed to provide space for occasional off-street parking, outdoor dining, our chooks, vegetable garden, compost and clothesline. Aesthetically, it provides another layer to the home that acts as a contrast to the classical and curated interior.
We wanted to embrace a wild, verdant garden that provided privacy through tall boundary planting, layered with water wise succulents as sculptural features and frangipani for their quintessentially Sydney fragrance and flower.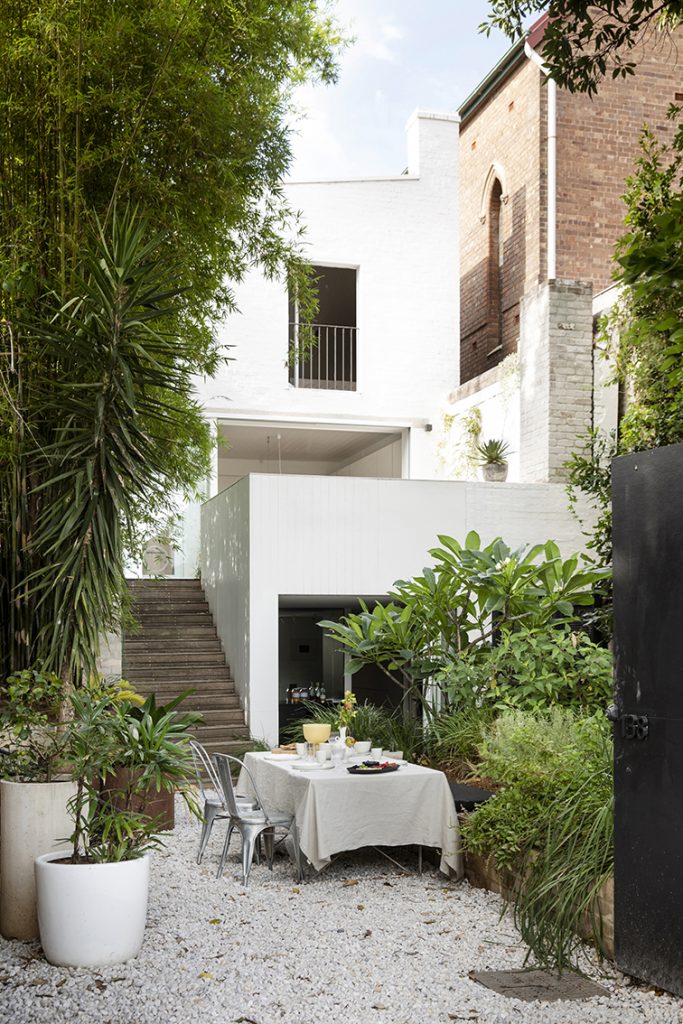 What is your favourite thing to do at home when you're not working?
Prineas: Playing some good music, lighting the outdoor fireplace and firing up the pizza oven on the deck is an incredibly relaxing way to spend a long afternoon and evening. For quiet time, retreating to the master bedroom and curling up with a book on the deck provides the perfect respite.
Are you a good client?
Prineas: I like to think I'm a good client as I have exacting standards but am a great believer in trusting the experts around you to execute the project at hand perfectly.
Photography by Chris Warnes. Styling by Anna Delprat.
Earlier, Eva-Marie Prineas spoke to ADR about how helping emerging architects "enriches your professional growth".