Gurjit Singh Matharoo has architecture in his DNA. His great-grandfather worked as an architect for the British during the 19th century. And for 26 years he has been running his own practice in Ahmedabad, in western India.
'When in doubt, reduce' is the first line of the motto Matharoo Associates lives by. For the record, the second line reads, 'When not in doubt, surely reduce'. The mantra's playful tone but serious intent gives a great insight into the practice and the way that Matharoo runs it.
Travelling to Australia in early October to present at a sold-out session at the Sherman Centre for Culture and Ideas' Architecture Hub program, Matharoo was accompanied by one of the practice's senior architects, Trisha Patel. A genial and jovial presence, Matharoo is self-deprecating and modest about his achievements, but there's a gravity and perhaps even a steely will lurking beneath the charming façade.
When asked if he demands a high level of discipline from his staff, Patel jumps in and jokes, "He stands with a whip!" But then she belies the idea that he's tough to work for by addressing him directly. "You're very eccentric like that – a very hard taskmaster and then, at the end of the day, we're all cooling off in the pool together." We'll talk more about that pool later… First, a bit of history.
Matharoo says architecture and design were always in the background for him. There was his great-grandfather, of course. "We still have some drawings from him," he says. "Drawings of beautiful palaces and doors." And the construction industry was home to several other members of his father's family too. It was no surprise to anyone when he enrolled at CEPT (Centre for Environmental Planning and Technology) in Ahmedabad, the largest city in the state of Gujarat.
He followed his studies with a job in Switzerland, working for Luigi Snozzi, which cemented the way in which he knew he wanted to work. "After seeing a sketch of one of his projects, I was so mesmerised that I just wanted to be there and learn under him," he recalls. "I was very fortunate to work under one of his assistants in the same office and be part of that legacy. This had a very, very positive impact."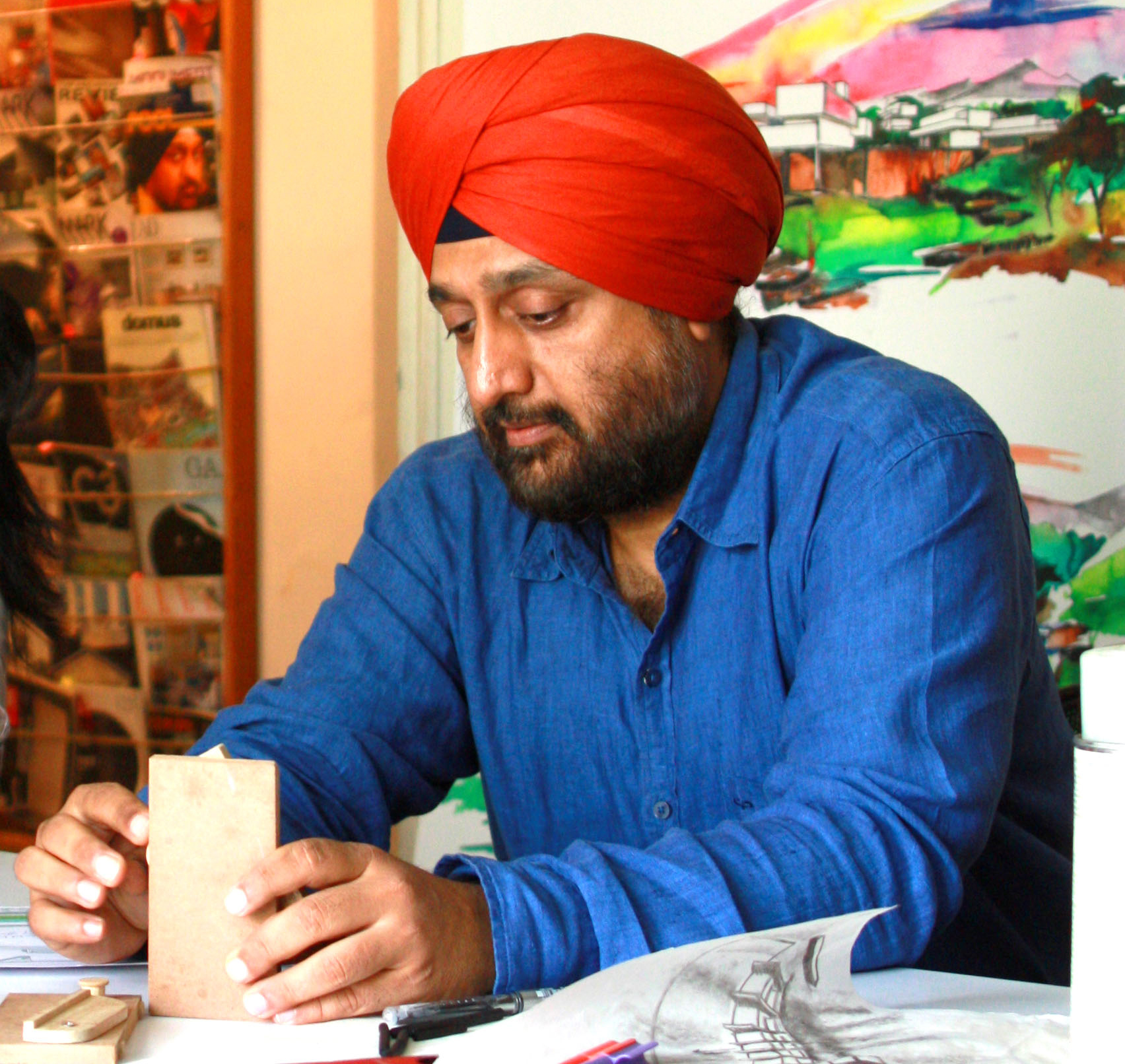 Before he could start to implement what he'd learned in his own business, however, he received an invitation from the dean of his old college to start teaching there. And this side of his career has continued, augmented by teaching, lecturing and conducting workshops around the world.
In 1992 he established Matharoo Associates, a studio that currently comprises between 15 and 20 staff. "I am the sole owner," explains Matharoo. "We actually began in a small rented room, about 10 feet by eight feet, with two drawing boards and a bicycle."
One of the problems during the early days was that the studio found itself with no completed buildings, and grew by entering and winning competitions. But there was a good lesson in this, says Matharoo, remembering a senior architect who described his own similar struggle and later thrived by taking any projects that came along, in whatever style was requested.
When one day he was given carte blanche on a design, he found he had no idea of what to create. His advice to Matharoo then was to stick to ideas and not let them filter away, rather than building something he didn't believe in. "So this I carry with me," says Matharoo now. "I tell my students, don't lose your good ideas, because one day [clients] will come back to you and say, 'OK what do you think is a good building?' And at that time you should know what you have to offer."
Matharoo certainly knows what he has to offer. The practice is thriving, despite the particular challenges of working in India, where the idea of strategic growth is impossible, he says. "To be frank, we have never planned it a particular way. India is a very unpredictable place. You have a recession and the work is completely out."
In keeping with the 'when in doubt, reduce' motto, the practice used to take on staff project by project, as the work came and went. But this wasn't sustainable and for the last 10 years Matharoo says he has tried to keep staff numbers constant.
"I realised that we had to build up on human resources and continue with the people who are trained and now run the office." And he means this literally. One of the most intriguing aspects of the Matharoo Associates business model is the way the administration and office management is handled.
"Our strategy is to distribute the different departments, like the housekeeping, the IT, the accounts," he says. "Each architect takes on one of these responsibilities and feels like a most integral part of the studio. Maybe it is not the most efficient way, but we are very happy with it. I think it's the most interesting too."
He tells a story of one young architect who was assigned the hospitality role, which she wasn't happy about. "She had a boyfriend who convinced her that food was perhaps the most important thing for me as a Punjabi and only meant that she was very trusted.
She eventually began to have respect for this additional responsibilty, as is the case with almost everyone." Patel has something to add to this. "They're actually the responsibilities that we're good at," she notes with a smile. So various departments are shared, stresses Matharoo.
"If you're handling the accounts or publications, it's for the entire office, and not just your own part. So that keeps everybody very involved in the process." Compounding the 'all in this together' ethic is the practice's current home, which was designed and built by the team as an open place space to foster a collaborative culture.
"I don't have a designated cabin or a place for myself," says Matharoo. "I sit at the table that's at the centre of our studio and doubles up as a space for discussion, so I am right in the middle of everybody, and all the mess. That is where the action is."
There are also strict rules about the structure of the working day. Matharoo has a neat incentive to get his staff into the office punctually: if they get there before 8.30am the company pays for their taxi fares. Matharoo gets in early and spends the first hour looking at drawings – and, channelling the spirit of his Raj-dwelling forebear, beautiful watercolours remain integral elements of the design output.
He is the man with the red marker, correcting and commenting on the work from the previous day. This is part of the reason for the practice remaining small. "I want to keep a size where I can actually see drawings being done and they all pass through me," he says.
The first two hours of the day for the staff are called the design hours (no emails, no phone calls), while he sometimes heads to school after the first break of the day, before returning to look after administration, make drawings and troubleshoot.
He loves to sketch and always has a sketchbook to hand, but the office utilises CAD throughout. All the design work is done in-house – plenty of study and sketch models – before the last wooden model is outsourced. "We pride ourselves on saying that we make some of the best drawings in the country. Maybe not the best designs, but surely the drawings," says Matharoo with a smile.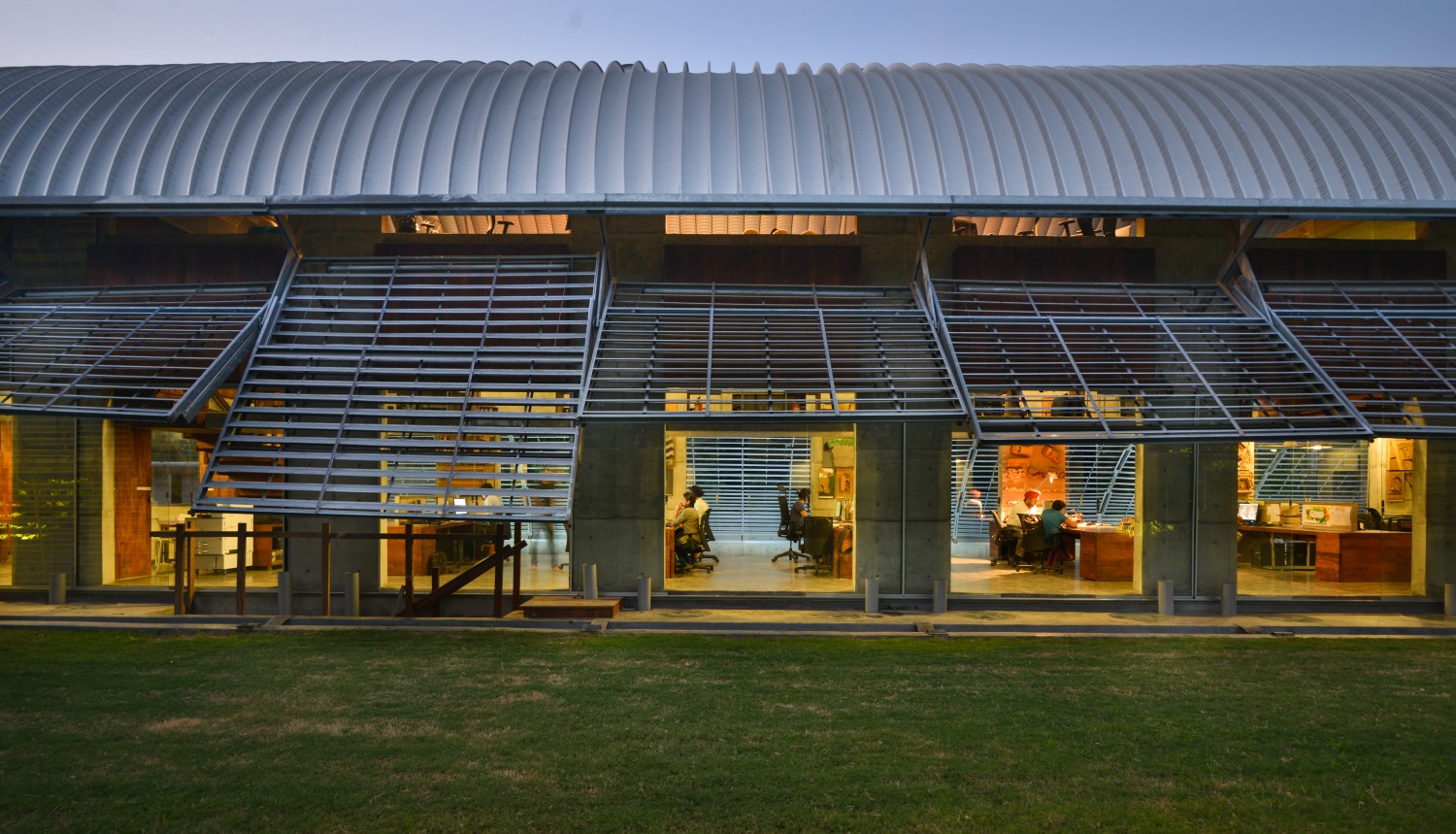 The projects are distributed between the architects, while the senior members also work on the overall strategy for the practice. "We sit together and ponder on how to go ahead with everything," explains Matharoo. That leadership team includes his wife Komal, who has been with the practice since the beginning, taking a few years off to be with the children and also work for another practice.
Matharoo says working with your partner is good but not always easy. "It's difficult to draw the line, so what we have done is to divide the projects. I work as an adviser on her projects and discuss when my input is required."
Matharoo says he's not thought about a succession plan consciously, "but I think the senior people will slowly become associates". As for the rest of the staff, this is where Matharoo can be known to crack that whip.
When tasks are allotted he always asks how long they will take to complete. "When an intern says 'a day', I make them count the number of lines that they have to draw and multiply it by the time to draw one line, so the time to be taken usually comes down to even as low as 15 minutes. And with some extra consideration in time, the work is complete in an hour." To assign the projects in the first place, the practice runs internal competitions.
"People come in with their ideas thought over one night, as we firmly believe in the first gut reaction," says Matharoo. "These are discussed openly and there is a secret vote. We take the first two winners and develop them into a design to present to the client." But the company that works hard can play hard too. Back to that pool in the office… "When there is pool time, you're not supposed to work. This time is more important than any work," says Matharoo.
"Architects always fight, because they have their individual work to finish. "Similarly for food. When the lunch or tea is served, that has precedence. Everybody stops work." Talking is encouraged though, says Patel.
"We break three times a day and we aren't allowed to have tea or coffee at our individual tables. We all sit together at Gurjit's table, to talk about architecture or anything else in general." "Anybody can initiate a discussion," adds Matharoo. "It could be project related, an important letter or email that's come in or just a department discussion. It all happens during the tea hours and the lunch hour."
This article originally appeared in AR158 – available online and digitally through Zinio.