NAB has announced a $2 billion commitment over three years to address the shortage of affordable and specialist housing in Australia.
Currently, more than 189,000 people are on public housing waiting lists across Australia. In New South Wales, Victoria, South Australia and Queensland, that wait can stretch to more than a decade.
The funds announced are yet to be allocated. Instead the bank invites not-for-profits, housing accommodation providers and developers to approach them with projects for sustainable housing projects, disability housing and build-to-rent properties for people experiencing domestic and family violence and other vulnerable circumstances.
NAB chief customer officer Corporate and Institutional Banking David Gall calls the country's lack of affordable and specialist homes a significant social issue.
"Currently, there is a lack of long-term funding options for specialist housing providers, which is contributing to a shortage of appropriate accommodation and shelter for Australians in need," he says.
"We don't have all the answers, but we have a deep understanding of the housing market, financing expertise and the right relationships to have a positive impact. We are up for the challenge."
The announcement makes NAB the first Australian bank to lend at scale to crisis accommodation providers, starting with loans of up to $5 million.
One of the beneficiaries of the $2 billion commitment will be Launch Housing, an independent community agency.
Launch Housing provides high quality housing, support, education and employment services to thousands of people across metropolitan Melbourne through initiatives like the Harris Transportable Housing project.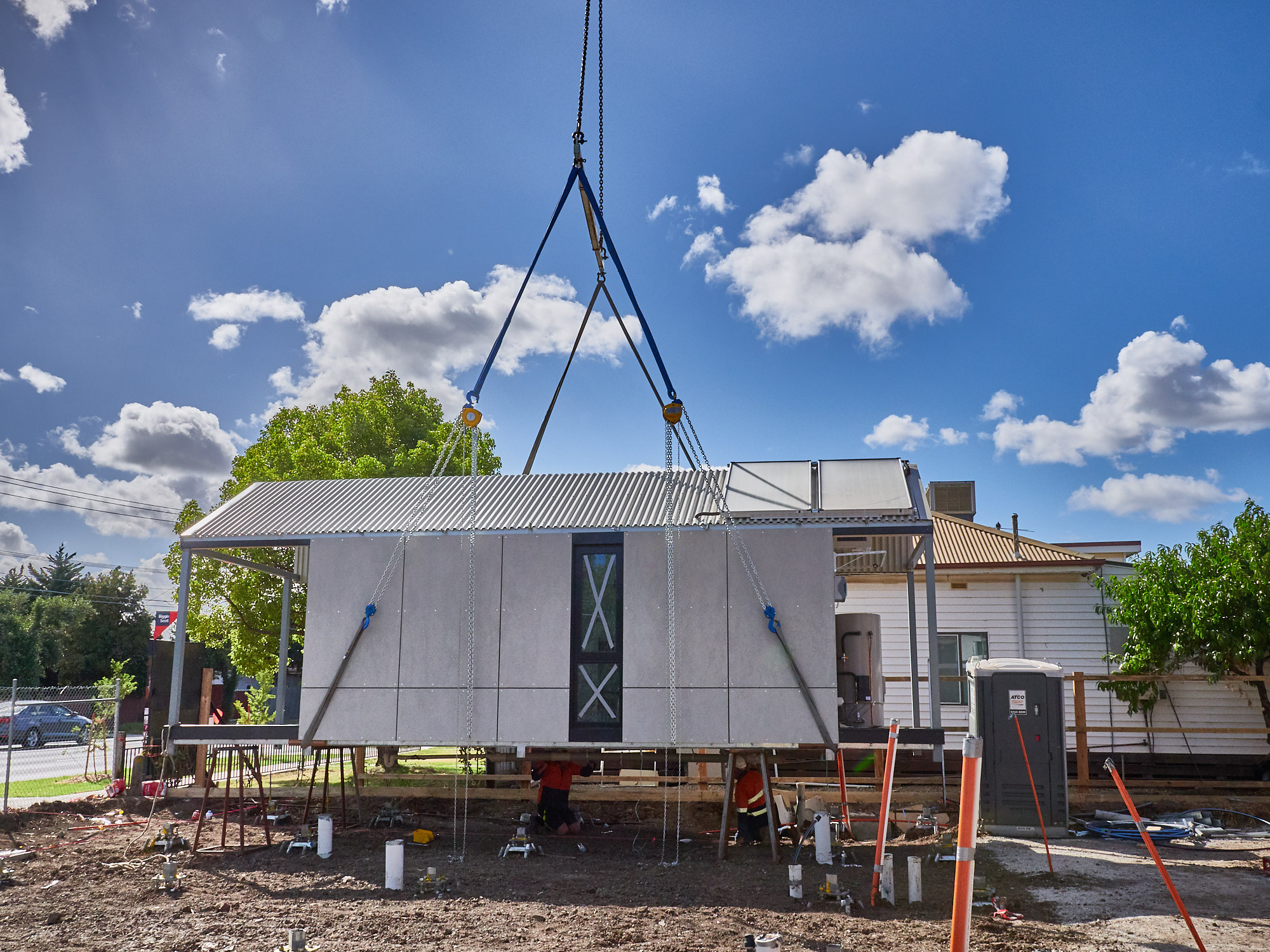 Dubbed the 'Tiny Home', the Harris project is working to install studio-sized portable and affordable housing units on surplus government land in Melbourne's west.
The first six went up in August this year with plans to build another 51. The sites are owned by Vic Roads, which has leased them for a five-year term.
The units were originally designed in 2012 by Sophie Dyring of Schored Projects for a design competition run by UK-based charity Building Trust International, but were made a reality with a $4 million donation from Flight Centre founder Geoff Harris and his son, Brad Harris, in collaboration with Launch and the Victorian Government.
Sophie Dyring says the project is the perfect example of how architects can play a role in designing the best possible built outcomes for those most in need.
"Competitions like these are a great starting point for envisioning a solution to a real and very imminent problem. With a lot of hard work and collaboration, we were able to develop a design into something physical, which was extremely rewarding."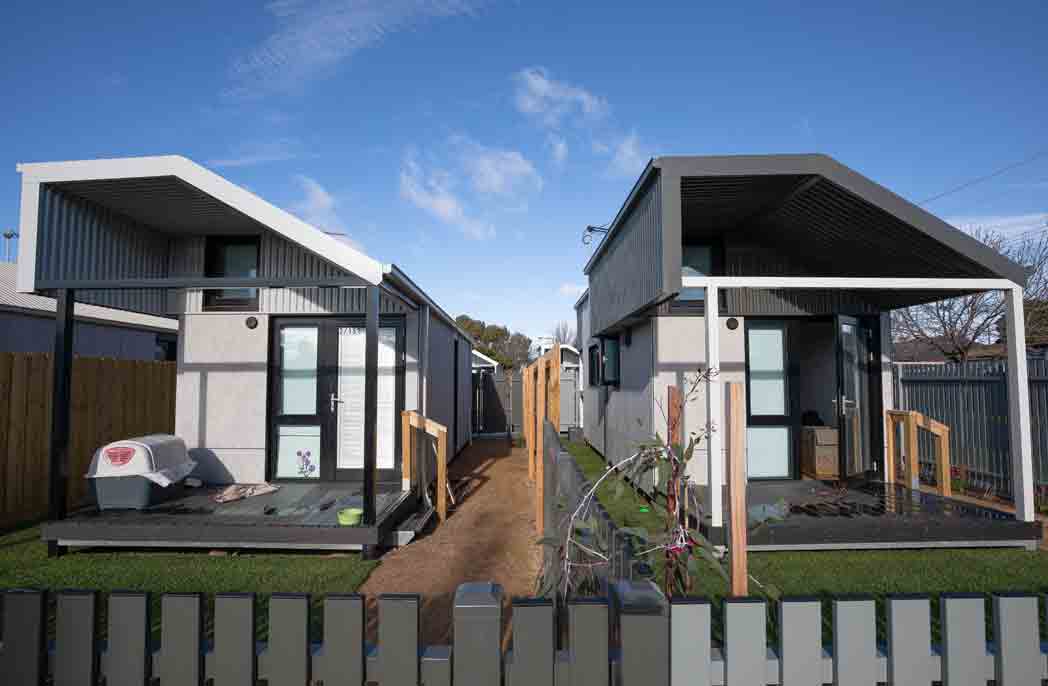 Each of the units measures 20 square metres internally and features a kitchen, bathroom with shower, lounge/living area, foldaway bed and eight to nine metres of deck at the front and rear.
The low-cost, rapidly built and compact dwellings are made in a factory and then assembled on a removable surefoot footing system that makes relocation over their 50-year lifespan quick and painless.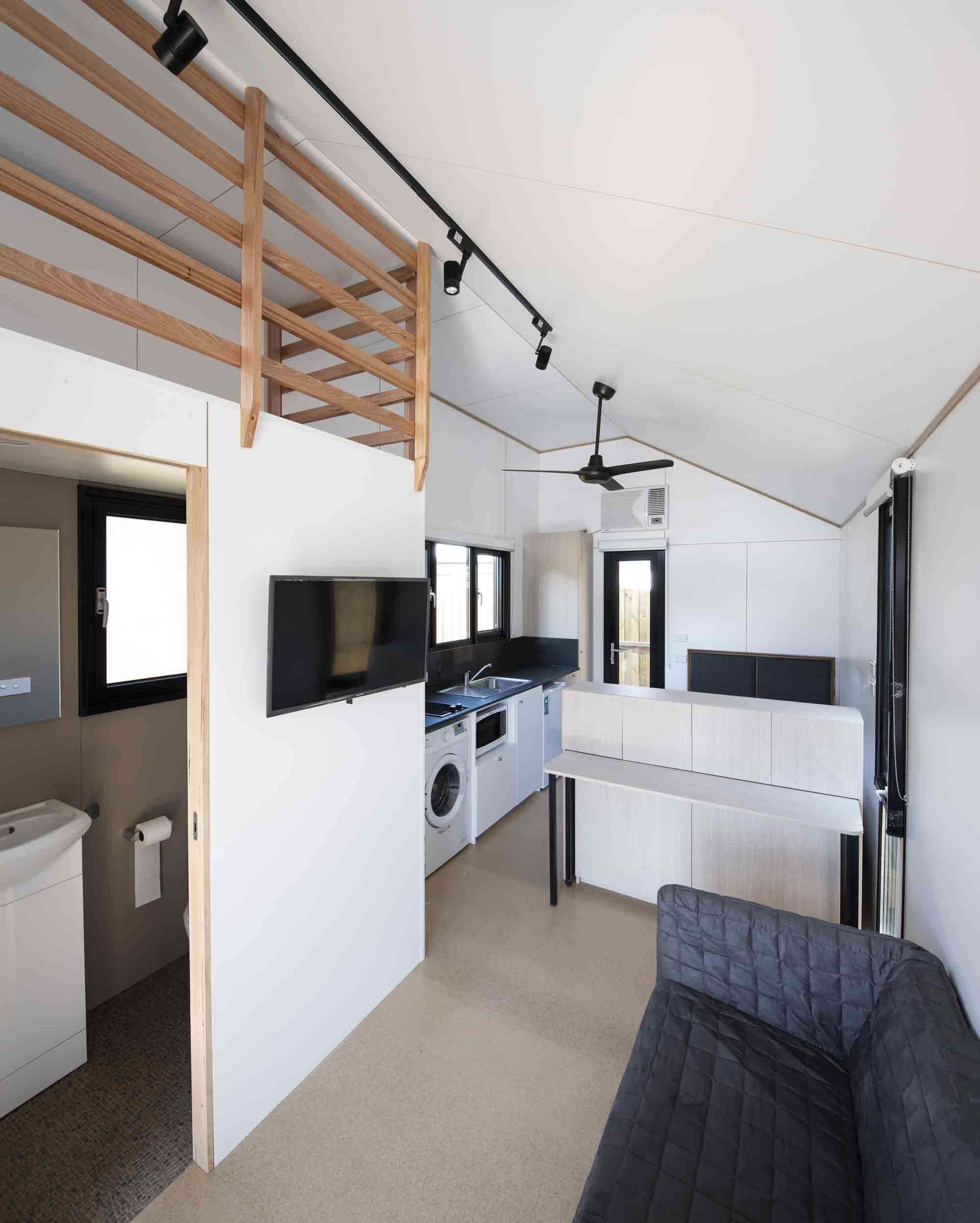 "Housing is a basic human right and too many people lack this basic necessity. We work in the community and social housing sector because good design should be available to all, not just the few that can afford it," says Dyring.
"On the back of this announcement, the sector has the potential to grow since a critical piece of the affordable housing puzzle in terms of delivery is the funding streaming available to the community housing sector."
However, the issue of affordable housing isn't limited to Australians in need.
A recent report by the Australian Institute of Health and Welfare found 67.5 percent of households owned their own home, down from 71.4 percent over the past two decades, with many young people finding themselves eternally priced out of the market.
Matthews and Scavalli Architects director Sally Matthews says any contribution by any sector be it public or private to affordable housing in all its forms is welcomed.
"We are currently working on a state-funded affordable housing project and when the overheads of project management, project procurement, the realities of the cost of construction, land value and desired amenity outcomes are combined, the cost soon mounts up," she says.
"Thus creative solutions to this complicated problem need to be able to be explored and the ability to access secure ongoing funding with reasonable and not onerous requirements is essential," she says.
One of the ways in which architects can do their bit, Matthews suggests, is to continue to lobby government and industry to improve communication and to put their hands up when roles within the local council are offered for collaboration and consultation.
Read more about the challenges of designing affordable multi-residential housing in our Q&A with Michael Hermans, managing director at Hub Property Group.
Photos supplied by Launch Housing and Schored Projects. Find out more about the VicRoads Launch Social Housing project.