If two heads are better than one, then surely three heads are unstoppable, right? AR talks to one third of swiftly rising studio TRIAS, Jennifer McMaster, about the ins and outs of creating and running a successful emerging practice.
Much like the city in which it is based, Sydney architectural studio TRIAS is a melting pot of experience, education and interests, thanks to the three creative minds at its core. Jennifer McMaster, Casey Bryant and Jonathon Donnelly each bring a unique and diverse set of skills and experience to the young practice. TRIAS was established in 2016, when the trio came together and founded the studio on the principle of creating buildings that are solid, simple and beautiful.
"We all came to architecture from different backgrounds and sets of interests," says McMaster. "Architecture sits at the nexus of so many fields – society, culture, history, psychology, science, making and technology – so I think we were all drawn in by a distinctive combination of these things. We all find a lot of satisfaction in pursuing the more humanistic side of architecture, the act of making culture, of building societies and of contributing to a place."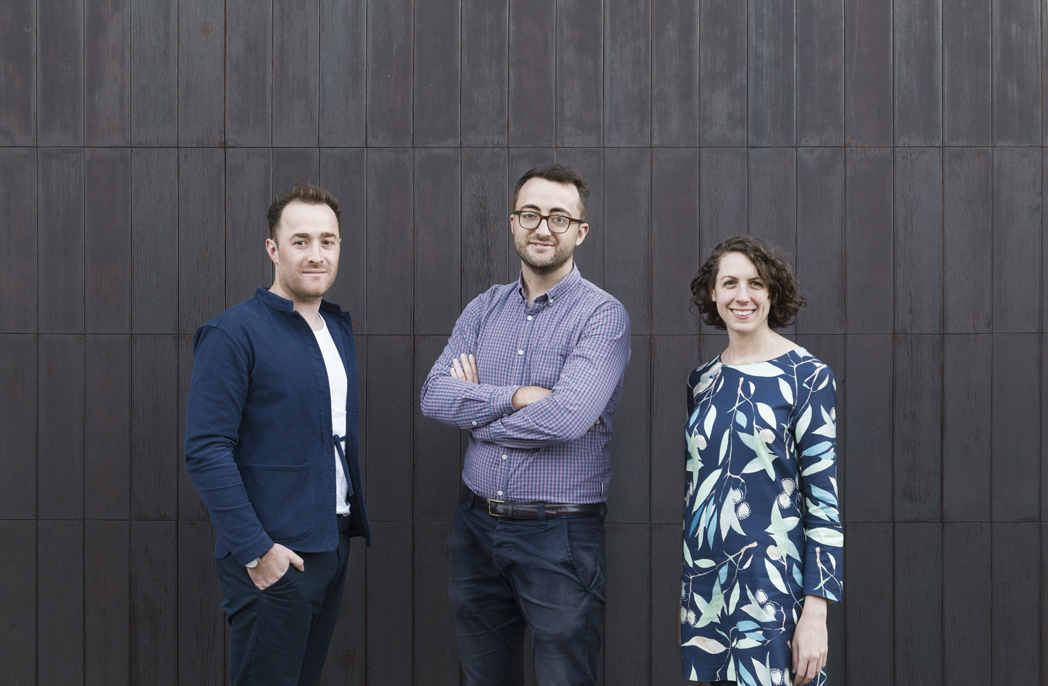 Genesis of Trias
McMaster, Donnelly and Bryant began their respective careers in different places, contributing to the vast array of experience they bring to the practice.
"When we were starting out, we moved between studios and cities, gaining a variety of experiences and insights. We also travelled a lot to open our eyes to work around the world," McMaster says.
Donnelly has worked across both small- and large-scale practices and has also spent time in the furniture and graphic design industries. He was one of the first members of Grimshaw Architects when it moved to Sydney and was involved in much of its early competition work.
Meanwhile, Bryant worked for practices in both Sydney and Melbourne, including Peter Stutchbury Architecture and McBride Charles Ryan, and spent a significant period of time collaborating with local NSW architect Andrew Burns. It was here, in Andrew Burns' office, that Bryant and Donnelly crossed paths and collaborated on several projects.
Of her own early experiences, McMaster says, "I worked for a range
of local practices, including Peter Stutchbury Architecture and Scale Architecture, and then completed a short internship in Copenhagen. My graduate roles were all based in Sydney, where I had the opportunity to work with some truly wonderful people – namely, the team at Tribe Studio and the amazing Polly Harbison.
"All of these people were instrumental in inspiring us to start TRIAS. We really were fortunate to work for such great leaders and designers in our early years," she says.
The trio's passion for architecture has been fostered and nurtured by their surroundings. "We are all really interested in our city – in
the way it is changing, and in how we live," McMaster says. "This is a passion that we nurture to this day through constant research, reading, discussion and debate.
"Travel has played such a critical role in exposing us to different ways of living, thinking and being in the world. Our studio is inspired by the architectural and cultural practices of Japan, Scandinavia and the UK – though we really draw inspiration from anywhere and everywhere."
McMaster also cites the trio's educations as critical in tending their love of architecture. "For us, this began at university and was nourished by the places that we worked. These days, and in our practice, our education remains constant and continuous. We learn from our clients and their projects, and from academia through teaching and industry involvement. We also learn from and support one another in our individual interest within the practice."
Running a business: the commandments according to TRIAS
For such a young company, TRIAS has an impressive portfolio and a number of awards under its belt. McMaster discusses the details of setting up and running a practice.
AR: How did you form TRIAS? What is the story behind starting your own studio?
Jennifer McMaster: TRIAS evolved quite organically, over many years and many conversations. At its heart, TRIAS is a studio founded by three friends who share a common interest in architecture. We all studied together at Sydney University and, over the years, would meet up and talk about work, life and buildings. This gradually morphed into a desire to work together and share a practice.
We often say that TRIAS began at the end of 2014, with our first commission, Three Piece house. The project came completely out of the blue. At the time, Jonathon and I – who studied in the same year – were still students completing our master's degree. In our mid-semester break, we had entered a housing competition (27 Smith Street) and won the student category. As a consequence of this, our project was put on public exhibition and a couple, Leisha and Helge, saw our entry, found our details and asked us to design them a house. This project represented our first commission – which was startling considering that we'd only just graduated!
For the first year or two, we balanced working on this project with roles in local studios. When we had free time, we also entered lots of competitions, which allowed us to test ideas and refine our values and aesthetic. We would often get together after work – or on weekends – and make dinner, drink wine and talk through ideas. Slowly, we grew our portfolio into something that we felt represented the kind of work we wanted to do.
In early 2016, we were at our clients' house, sharing a meal
after a long design meeting. We were discussing what we might call our practice, if it were to eventuate. We all threw names around but nothing stuck.
The next morning we woke up and found a long email from our client, Leisha, titled TRIAS. In it, she described the link between the Vitruvian Triad – or Trias – and the way we had worked together. Suddenly, it all began falling into place. We took this idea of Trias – and the associated ideas of solid, simple, beautiful – and developed a framework for our practice.
Amazingly, Three Piece house is now built. We like to say that we gave our clients a home, but they gave us so much more, in gifting us our name, and our first commission. They are really remarkable people.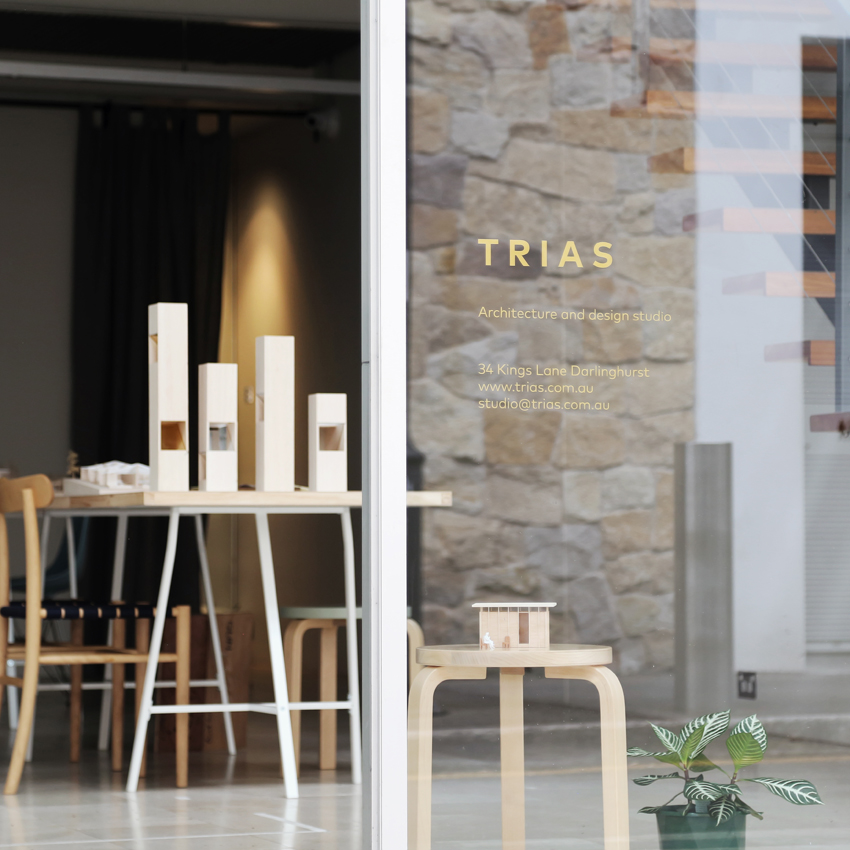 Had any of you had any experience in starting up a business or studio before?

No! We had none at all. Any experience we had came from making observations and asking lots of questions. We were all lucky to have worked in great studios, so we had some excellent mentors who offered advice and insight.
Casey was also fortunate enough to participate in the 2015 Dulux Study Tour, which gave him incredible exposure to the way different architects were practising around the world. He came back from that tour so inspired, and it prompted all kinds of discussions about how – and why – we wanted to create a studio together.
All references aside, though, TRIAS has also been a huge leap
of faith. We've approached business with a healthy curiosity and a spirit of trial and error. We've had to educate ourselves on so many disparate things. This is where it really helps having three heads, and three pairs of hands – everyone has their interests, talents and skills within the collective.
But needless to say, we now have a generous swathe of business books weighing down our bookshelves! And a bit too much business jargon for our liking…
Tell us about running an architectural practice. What's involved in the day-to-day?

It's such a cliché, but no two days are the same. We three have quite different routines and roles within the practice, so we are in and out all day. We are all involved in teaching and advocacy, so we might be at a local uni, or popping by the Institute [of Architects].
A typical day probably involves a healthy mix of design time, chatting with each other, touching base with our clients and making – whether it be model-making, drawing, writing or producing marketing content. We try to keep our time as free as possible so we can concentrate on design tasks, so we might bookend the day with admin, business development activities or meetings.
Within all of this, we try to keep a few key routines in place. First, we sit down every week to meet and touch base about our projects and key deadlines. We also do a lot of business planning. This covers both the technical stuff – financials, business management and systems development, and the experiential – client interactions, marketing and brand strategy. Fortunately, we are all interested in different aspects of running the business, so we play to our strengths across these areas.
What were the biggest challenges you faced in starting up the studio, and how have you dealt with them?

We've faced a lot of challenges, but they've all been surmountable.
I think one of them has been letting go of the idea of sole authorship, and learning how to genuinely work as a team. Last year, when RCR Arquitectes won the Pritzker Prize, Carme Pigem described their collective process by saying that: "It's not a question of one person; it's all three. Sometimes we say six hands, one voice." This is something we pursue at TRIAS, but it takes a lot of work. True collaboration involves learning to be a good listener, letting go of certain assumptions and stepping up to take responsibility – things that sound super simple, but are actually very hard! So while we work really well together, we are always looking for ways to improve our collaboration.
The other key challenge has been around growth and timing. When we started TRIAS, we had no idea what to expect. But, in reality, we have garnered work and attention so much faster than we anticipated. At times, it's been challenging keeping up with the pace of the practice.
To counter this, we try to make decisions in a manner that is calm, thoughtful and steady. We're learning that this requires a degree of steadfastness – of sticking to your values – that is countered by a spirit of opportunism and flexibility.
So really it's a constant challenge, but a fun one, as we're pretty consistently operating outside our comfort zone.
What do you find most difficult about running a business and how have you overcome these challenges?

There are a couple of really big challenges. One is reconciling the relationship between creativity and cash flow. We started TRIAS in quite a typical way – with low overheads, working from our living room, and pouring our heart and soul into every ounce of our work. This is a great way to get started, but it's just not sustainable. At some point, things have to balance out and find a rhythm that supports daily creative practice.
In our industry, creativity and cash are often seen as mutually exclusive, but we find they are completely symbiotic. You need to have a healthy business to produce great work. This also gives us the time – and permission – to design things well, explore ideas and really get our projects right. Working out how to make this happen is something we are constantly revising and refining.
The second challenge is related to timing. The nature of project work is so unpredictable and unknown that things – new projects, unplanned opportunities and competitions – are always cropping up. You need
to be so resilient to this sort of unpredictability. You need to have the courage to say ′yes′, and sometimes to say ′no′, and to take risks.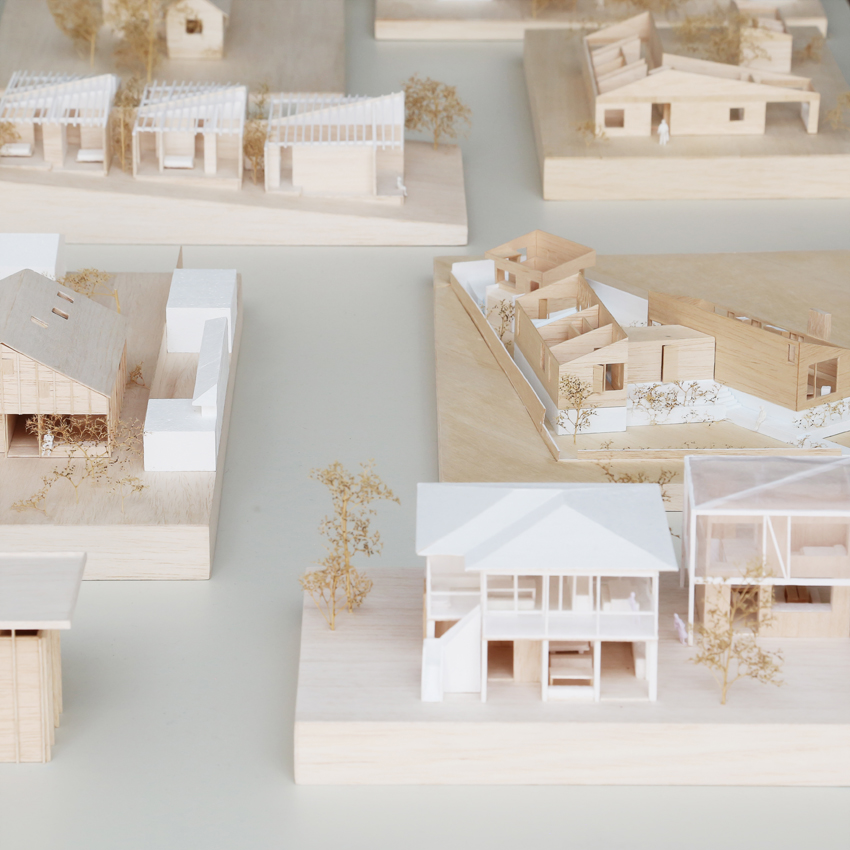 What do you find to be most rewarding about running your
own practice?

So many things! It is fantastic to be the master of your own routine, and to have certain flexibilities and freedoms. It is also exhilarating to be at the frontline of so many things – client interactions, business decisions and design debates.
I also think that TRIAS has given us the opportunity to pursue our personal values. As a trio, we have a very strong design ethic, and a particular focus on ideals of 'quality over quantity' and 'less but better'. It is so satisfying to find like-minded clients who also believe in these things, and to create projects that interrogate and investigate these things together.
The ultimate joy of practice, though, is in making things with others. Nothing beats the satisfaction of making buildings that will change, age and become more beautiful as our clients live within them. We make architecture for people, and if they are happy within the spaces we make, then we've done our best work.
What advice would you give to up-and-coming architects who are trying to break into the industry?

Every job you take on – or role you adopt – should be with someone you admire and respect. This will nurture your passion and ensure that you learn from people you want to emulate. It's so important to start the way you wish to continue, so try to work in a way that keeps you inspired, critical and fresh.
When it comes to running your own practice, we would love to
see more young people starting studios, particularly women. If this is something you want to do, the best thing you can do is – do it! Figure out the absolute minimum you need to start – be it money, time, projects or space – then figure it out as you go along. You will make mistakes, loads of them, but you'll learn super fast by doing it day-to-day.
We've also found it great to seek advice and support from our mentors and peers. Architecture attracts the most amazing people and, if you participate in its community, it lends you such strong support.
Whatever path you take in our industry, it is so important to remain curious and open-minded, to be generous and kind, to show humility, and to be forthcoming about what you don't know. It's also vital to stay hungry, creatively inspired and grounded.
Revelations – of the present and the future
The TRIAS team works flexibly and fluidly, both independently and collaboratively – working together to develop and refine design ideas while managing projects individually. McMaster says, "We all have our strengths within the design process, so we also go to particular people to seek their advice and input. In many ways we handball the projects back and forth, with one key person remaining present through the process to keep things consistent."
Starting up their own studio has encouraged McMaster, Donnelly and Bryant to sharpen the focus of their work, to refine their values and focus on pursuing the practice's ethics of 'solid, simple and beautiful'.
"It has made us much more cognisant of the enormous human effort that goes into making architecture," McMaster says. "Having a business exposes you to everything that goes on behind the scenes – you see the energy it takes to manage budgets, staff, clients and all the challenges of building.
"Starting TRIAS has reminded us to see architecture as a process, where intelligence and integrity aren't always self-evident."
Since its inception, TRIAS has impressed the architecture and design industry, winning numerous commendations and awards for its creations. In 2017 TRIAS was included in the Wallpaper* Architect's Directory, a catalogue that positions the studio as one of this year's top 20 emerging architecture practices from around the globe. McMaster cites this honour as being among the proudest moments in TRIAS' history.
She says, "We are passionate designers who firmly believe that well-designed spaces enrich people's lives. We believe in quality over quantity, and advocate for less but better in all that we do.
"Our work aims to inspire its occupants, and to quietly provoke change in our cities, suburbs and landscapes."
For TRIAS, the future looks bright. The studio plans to grow its team over the next few years, which will allow it to take on more ambitious projects. McMaster acknowledges, "This will no doubt be challenging, but we feel it will allow us to make a greater contribution to our cities and culture. We're also excited about the prospect of nurturing staff and giving them the opportunity to grow, learn and evolve as people."
And it's all onwards and upwards from there. "Over the next five years, we would like to be experimenting more within our projects and processes. We want to start making and prototyping more rigorously and regularly, within our daily practice," McMaster says.
"We would also like to become more actively involved within advocacy – writing, speaking and campaigning through the framework of TRIAS."
This article originally appeared in AR155 – available online and digitally through Zinio.