The March/April issue of inside magazine is on newsstands now and includes all the projects that won IDEA 2021.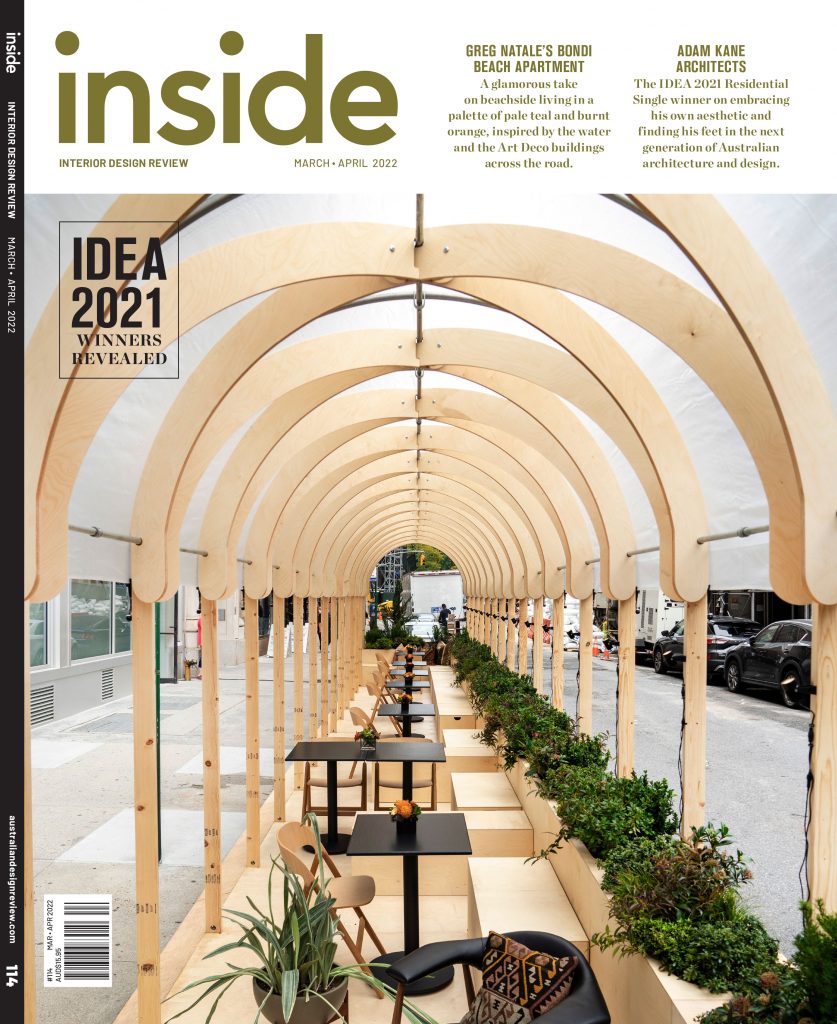 Robin Boyd had gotten it right in The Australian Ugliness when he said our architectural landscape was a bombardment of confused style and mixed ideas.
But if the architect were still alive today, I know he'd think differently. Or at least, I believe he would.
The COVID-19 pandemic may have slowed us down, but it has not knocked us out. In some ways, it has forced us all to look inwards, to call on local practices and studios rather than international ones.
The Australian identity is so beautiful in its diversity, in its broad scope and in its multitude of voices and interpretations that I cannot think of a better way to begin 2022 than with a simple, unabashed and wholly amoralistic ode to Australian handsomeness.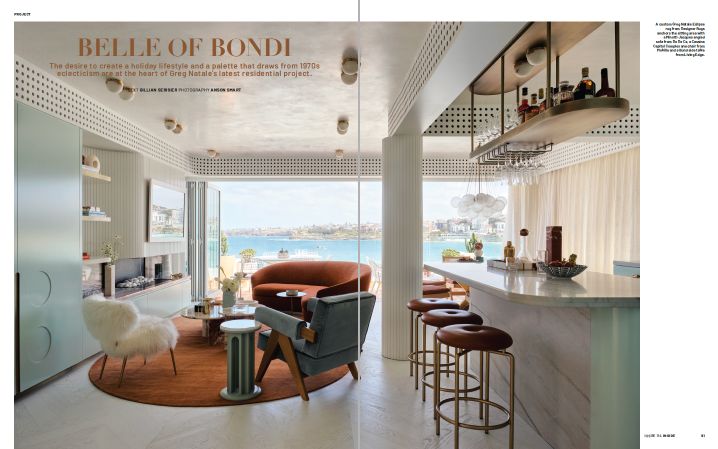 In this issue, we celebrate 1970s eclecticism with Greg Natale's latest Bondi project and get all tickled pink with Esoteriko's Manly boutique.
We throw a few more colours at the wall in the baby blue and magenta fever dream that is Wowowa's Presto in Melbourne and bring a Slim Aarons' photograph to life in Technē Architecture + Interior Design's Tippy Tay.
Then we take a breather with Kate Nixon's pared back studio and retail store in Sydney before diving right back into expressionist architecture at its best, blurring the lines between the discipline and it much fairer cousin, Art with a capital A, with Kavellaris Urban Design's Billy Kavellaris own World Architecture Festival longlisted home.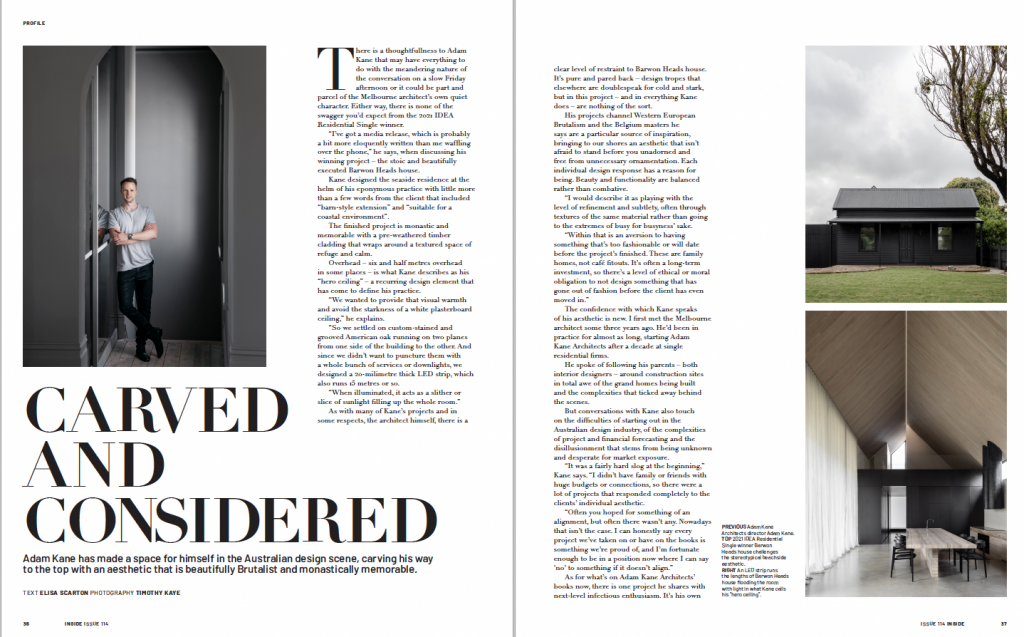 This issue of inside wouldn't be complete without a shout-out to Adam Kane, who is not only the IDEA 2021 Residential Single winner, but also a force to be reckoned with, unafraid to pursue his vision, trends be damned.
Fellow nonpareils, Simulaa Architects, may only be at the beginning of its career, but the Melbourne studio is similarly committed to forgoing compromise in the spirit of conscientious and ethical design.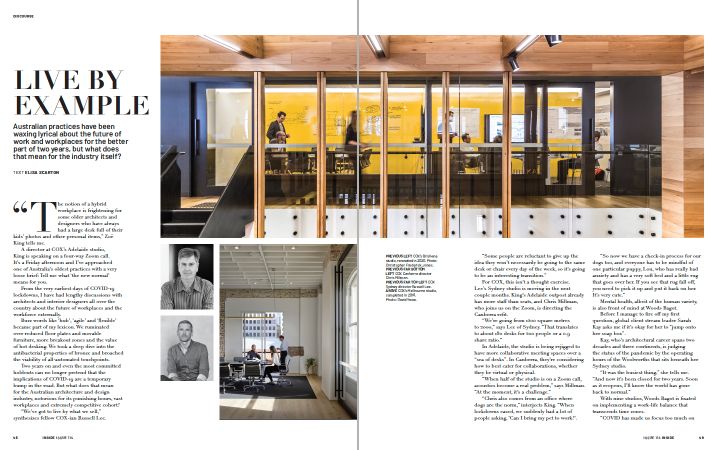 Flexibility, however, dominates this issue's Discourse as we sit down with three of the country's oldest and largest practices to discuss what impact the COVID-19 pandemic has had on workplaces and the A&D workforce internally, wondering aloud if the experience will put to bed, once and for all, the notion that architects and designers must work backbreaking hours to excel at their craft.
This issue of inside is also a particularly special one, not just for its inclusion of the winning projects and practices for IDEA 2021, but also because it will, for the first time, feature the traditional names for the land on which all these stand.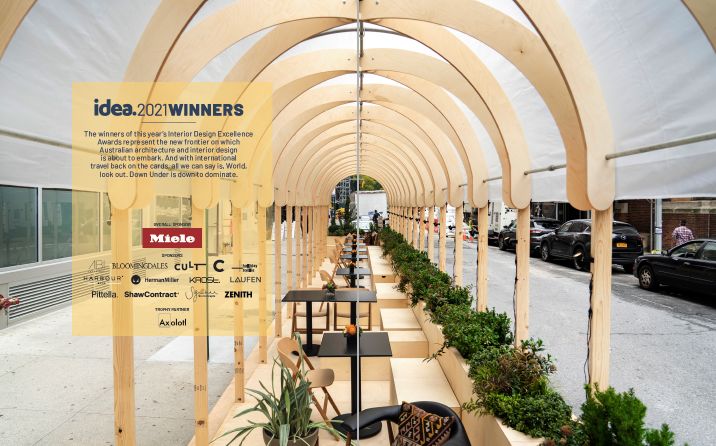 While this gesture is small in the grand scheme of things, it is another step, for us, for IDEA and for this publication, towards acknowledging the traditional owners of this land past, present and future.
I thank each and every person who entered the 19th edition of our awards program and congratulate all our highly commended and winning practices.
Pick up a copy of inside in newsagencies or online now.