The GPT Group has engaged Kerstin Thompson Architects and BVN Architecture to transform Melbourne's famed Gothic Bank precinct into a 'city within a city' that will challenge long-held workplace conventions.
The Queen & Collins redevelopment will integrate and transform three buildings on the corner of Collins and Queen Streets, delivering 35,000 square metres of A Grade office space to the market in Q2 2021. 
The project will feature a series of explorable laneways and intimate courtyards, known as campiellos ('Venetian little squares'), in tribute to the precinct's existing Venetian-gothic architecture and with the intention of turning the traditional concept of the corporate lobby on its head.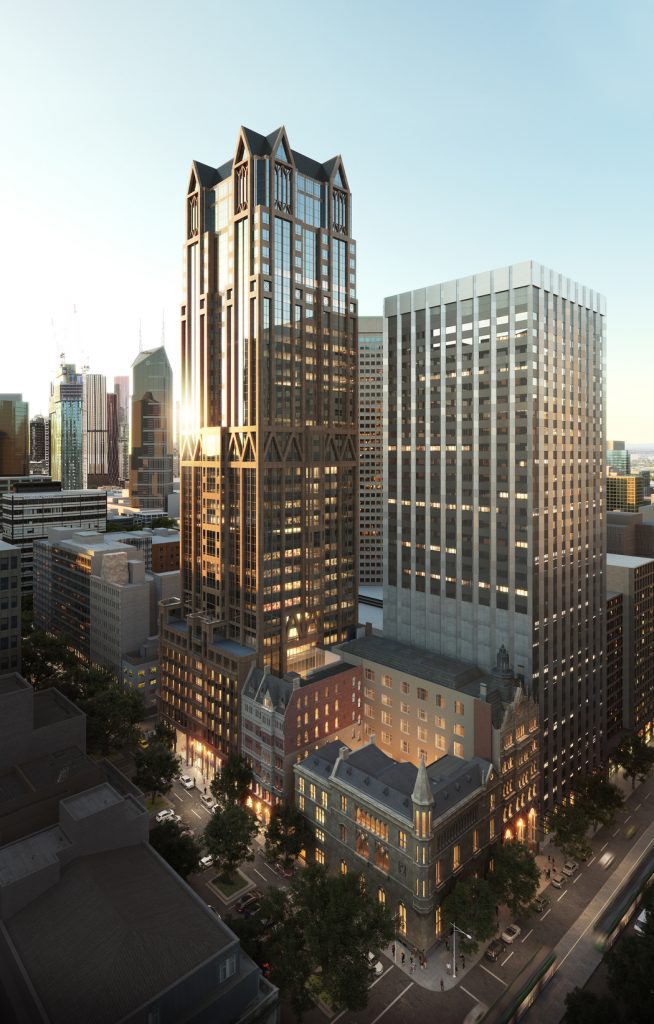 It's an ambitious reimagining of the 34-storey former world headquarters of ANZ, to birth the 'Queen & Collins Tower'. Originally built in 1993, the building has been affectionately dubbed the Gothic Tower for decades because of its distinctive architectural features. 
It will also deliver an upgrade of two heritage buildings: The Safe Deposit Building, located at 90 Queen Street, and 380 Collins Street, the former Stock Exchange Building, both significant examples of boomtime Melbourne architecture. 
Kerstin Thompson, founding principal of Kerstin Thompson Architects, says central to the architectural vision was a revitalised entrance experience creating multiple 'civic gates' to the precinct and a ground plane that will incorporate a series of laneways and public squares to enable pedestrian traversal.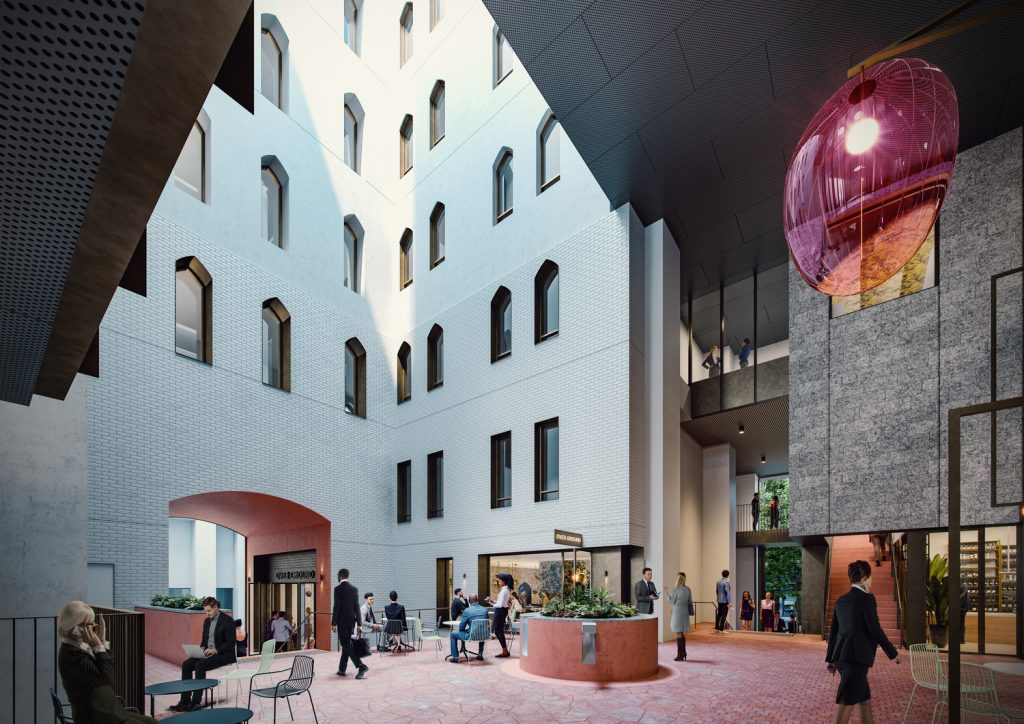 "The transformed space will be the antithesis of the conventional corporate office block – eclectic and unapologetic, it will be a celebration of its neo-gothic heritage, diversity of architectural characters and historic layers," Thompson explains.
"The ground experience will feature four campiellos, opening the site up to the city and transforming it from a fortress, to an open community – generous, vital and active." 
Ninotschka Titchkosky, Co-CEO of  BVN, said Queen & Collins would be a richly textured and diverse environment to promote discovery, curiosity and creativity. 
"An eclectic yet single-minded selection of interior treatments and tactile inclusions will manifest a peculiar charm throughout the precinct, delivering an evolving experience, fine grain urban moments and an expressive, exuberant personality," Titchkosky says.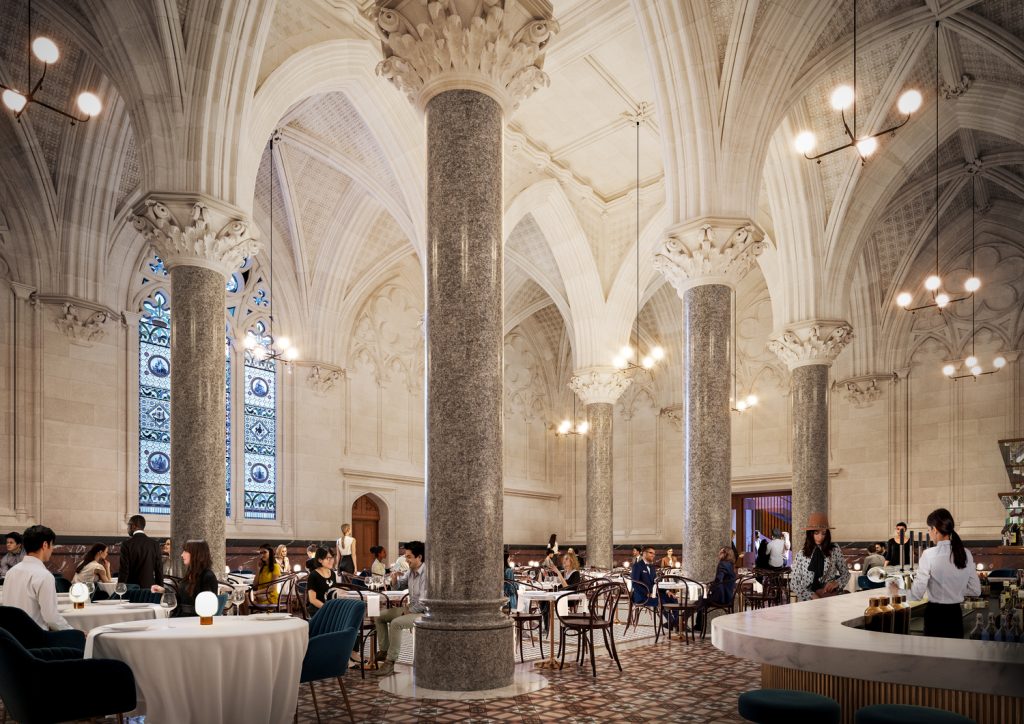 A further signature inclusion will be a high-end restaurant occupying the trading floor of the former Stock Exchange Building. Usually off-limits to the public, the anti-chamber space features soaring ceilings and stunning stained-glass windows. 
Martin Ritchie, fund manager at GPT, says the design team has created a 'city within a city' that  capitalises on emerging demand for smaller, bespoke floorplates and thoughtfully designed  amenity that responds to changing workplace requirements.
"Queen & Collins will focus on providing flexibility and personalised service to help our tenants navigate what the future looks like for their business. It will be a considered workplace responsive to the demands and opportunities of the new normal," Ritchie says. 
The Queen & Collins Tower will offer 1,300 square metre floorplates on podium levels and 900 square metre floorplates on mid-rise and high-rise levels. 
To assist tenants plan their future workspaces, a progressive fitout concept dubbed 'The Clubhouse' has been developed, to be used as a starting point for floorplate design and layout conversations. It has been conceived based on predictions that the future workplace will have a greater focus on connection, creating a sense of community and collaboration.
Earlier in the COVID-19 pandemic, workplace specialists Unispace released their propellor model that predicted what office design will look like post-pandemic.
Renders courtesy of GPT Group, Kerstin Thompson Architects and BVN.