Melbourne institution Brunetti has unveiled its flagship inner-city emporium – a commanding venue designed by Technē Architecture + Interior Design – with multiple zones spanning almost 850 square metres.
Connecting Collins Street to Flinders Lane, the ambition of the new emporium, which replaces Brunetti's City Square venue, demanded an architectural design that honours Brunetti's tradition and heritage, while also celebrating a new chapter as one of Melbourne's most iconic eateries.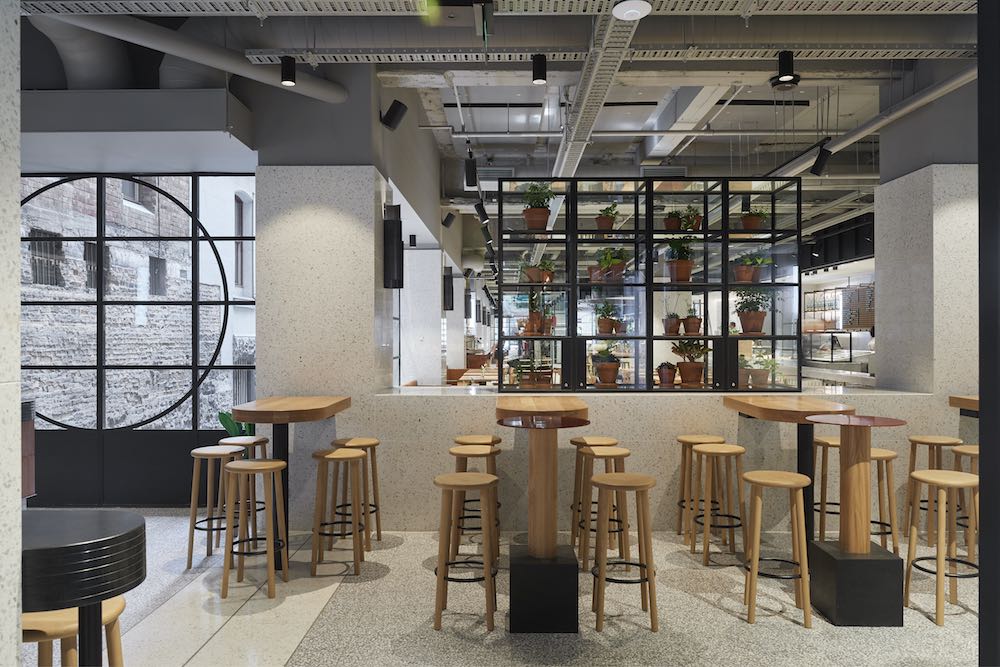 Nick Travers, director at Technē Architecture + Interior Design, says that modernist Italian design of the 1950s and 60s was the key inspiration.
"Brunetti is an iconic institution and is quintessentially Italian. Its new Flinders Lane space presented an exciting opportunity to pay homage to some of the great hallmarks of Italian design. There were three key designers that we drew inspiration from: Ettore Sottsass, Carlo Scarpa and Angelo Mangiarotti," Travers says.
Solid volumetric forms and geometries feature throughout the Brunetti emporium, which contrasts with lighter fine steelwork on facades and display cases.
Honouring the Italian tradition, there is a liberal use of terrazzo, marble and cut stone, with the design built up through blocks of contrasting materials.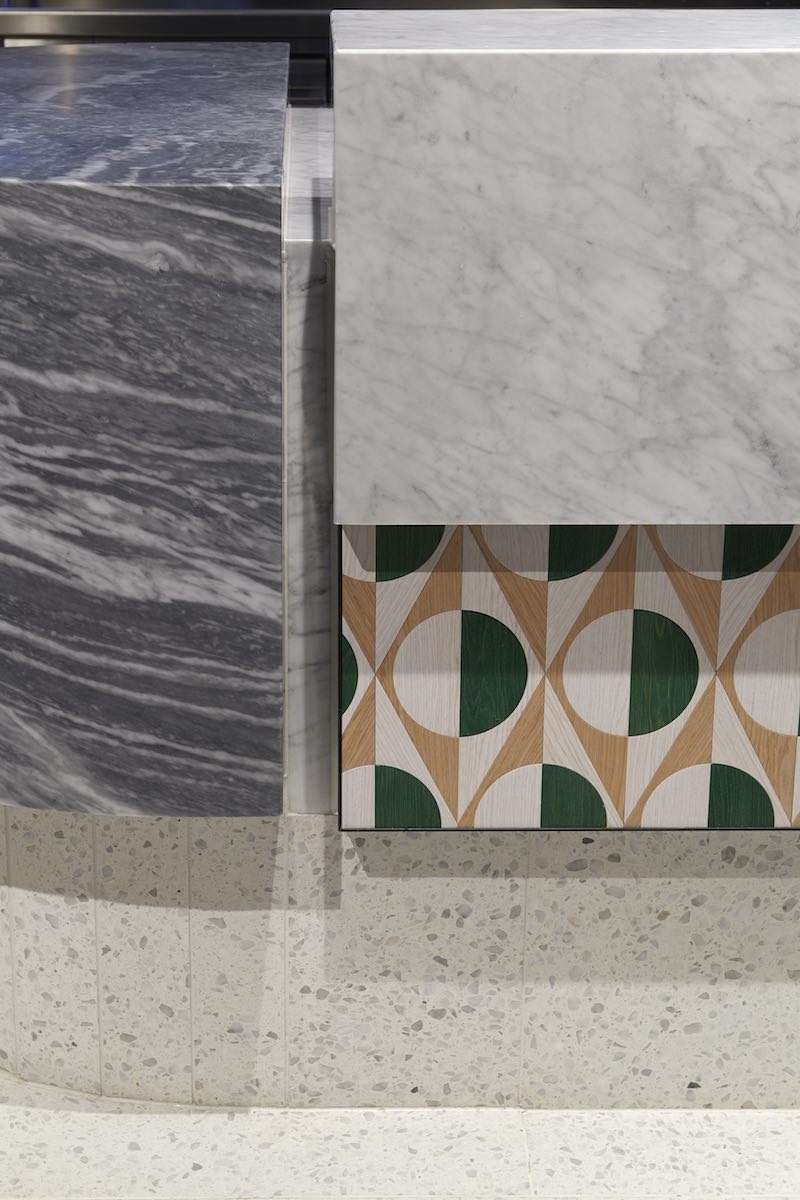 "We sought to explore materials with textural contrast, juxtaposing refined and raw materials," says Anja Grant, senior interior designer at Technē Architecture + Interior Design.
"The forms are articulated through contrasting materials–red-figured marble against concrete, brass against timber, and so on. The predominant finish throughout the space is terrazzo, which is used on both floors and walls, tying the project to the material's Italian roots."
As the hero material, terrazzo runs up the walls to a datum line that provides a visual anchor. "The ceiling is four metres high, which affords a generous sense of space, so we've taken the terrazzo up to a datum line at 2.7 metres, which gives it a more human scale," Grant says.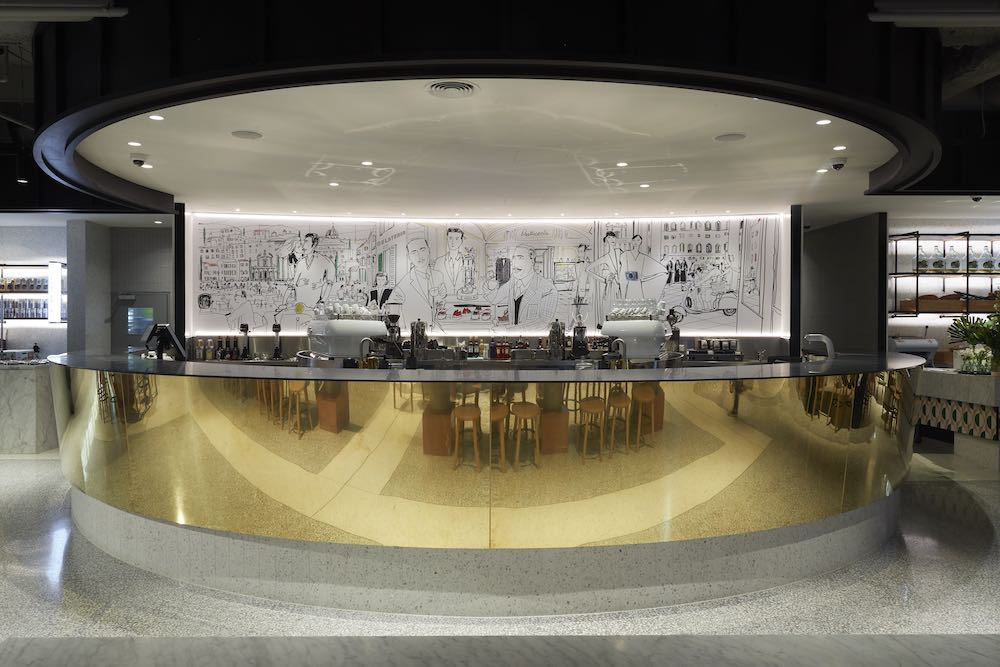 Brunetti's iconic history and proud Italian heritage were important to both client and architect. The design took a 360-degree approach to the Brunetti brief, bringing onboard multi-disciplinary design studio Fabio Ongarato Design to reimagine the iconic Brunetti graphic identity and logo.
"Fabio Ongarato Design has developed a contemporary, streamlined approach to the classic Brunetti logo. It's a big change and one that, along with its refreshed graphic identity, has also informed elements of the interiors, for example, the commissioned artwork behind the central coffee bar," Grant says.
Through environmental graphics and signage used throughout the venue, Fabio Ongorato Design has helped create a seamless visual experience, continuing the modernist Italian design language deployed by Technē Architecture + Interior Design.
The design response for Brunetti emphasises Italian design influences and materiality while providing a highly theatrical hospitality experience.
Customers will be able to watch the preparation of pizza, which is cooked in a giant wood-fired oven suspended from the ceiling and choose from a range of bars, food areas and services.
The new space also features an all-weather alfresco coffee area and a horseshoe-shaped coffee bar serving espresso from two four-group La Marzocca machines, while a heritage bank vault in the basement has been converted into a private bar and dining area.
Project design: Technē Architecture + Interior Design.
Photography: Earl Carter