ADR catches up with Anatoly Mezhov and Irene Polo, co-founders of development and design practice Future Cities, to discuss the couple's design background and recent projects including Contained and River St.
ADR: tell us a little about your design background, what inspires you?
Mezhov and Polo: We are most inspired when we travel and see and experience timeless architecture and interior design. We are most inspired by designs of beautiful hotels; we would live in one if we could.
We draw inspirations from timeless designs in the US – New York, San Francisco, Chicago, Southern California and in Holland and Denmark. We love spaces that are soulful, calm and beautiful.
Being in an age where the rules of how we live, work and play have no bounds, we love to innovate and create spaces for people that are just right and not overwhelming or unsustainable, both in lifestyle and with respect to the environment.
How did the idea for Contained (pop up hotels created from converted shipping containers) come to mind?
From selfish reasons. We love to travel, however more often what we found is that Australia has been lacking boutique hotels in destinations we would like to explore; particularly regional and nature getaways. Hence we created a hotel room that we would be delighted to stay in whilst exploring regions.
How have they been received in the market?
Our pop up hotels have been overwhelmingly well-received by a wide demographic from design enthusiasts fascinated by container architecture, to millennials looking for a unique escape, to baby boomers driving their fancy cars across the state to experience Contained. Over 90 percent occupancy and overall great feedback have been a great testament to that.
It's a big leap from transient spaces like Contained to established home design, what are the similarities that bind the two projects?
We have been working in the real estate development field all our lives and we have done previous projects that were fitting to the ages and markets at the time. Our ethos now is to push boundaries and work only on developments we are passionate about and would want to live in ourselves.
Similarities that bind the two projects of River St and Contained are creative use of real estate that is relevant to how we live, work and play in present and into the future. We love high end and timeless finishes in both applications.
Naturally, River St is about large, beautiful, vertical homes that have been designed in response to a demand to live in an activity area but without compromise on space and amenity. What binds the projects is our vision for our guests and residents who work hard and want to live a life filled with amazing experiences.
In the case of Contained, it is the experience of waking up next to vines and reconnecting with nature, environment and oneself.
In the case of River St, it is being able to walk to all the amenities this incredible part of Melbourne has to offer, and the ability to then come back to your own sanctuary space and when needed, to jump in your car, hop on a freeway and escape to anywhere you need to for the weekend with ease.
Tell us more about 94 River Street and the process of designing with Hecker Guthrie?
Designing with Hecker Guthrie has been amazing, dynamic and fun. We firstly love their aesthetic and timeless designs they create from hotels and wineries to homes. We shared the vision, pushed some boundaries and created something truly unique, beautiful and just right.
What do you think, sets 94 River Street apart from other 'luxury' projects in the market at the moment?
'Luxury' is used way too often these days and what it truly means is different to a lot of people. Together with the Hecker Guthrie team, we wanted to design homes of understated elegance that will remain relevant and beautiful years from now. Our focus in developing River St has been on quality of finishes and materiality, lifestyle and environment.
The offering is just three whole floor homes each designed as an individual residence, each with unique features and landscapes.
It is located on the crest of Forest Hill wrapping around to heritage, tree-lined Victoria Street and Tivoli Road. You are within minutes walk to Chapel Street, Toorak Road, Como Park, Yarra River and Cremorne. Each residence is that of a house, only without the wasted backyard space but with thoughtfully landscaped terraces and gardens.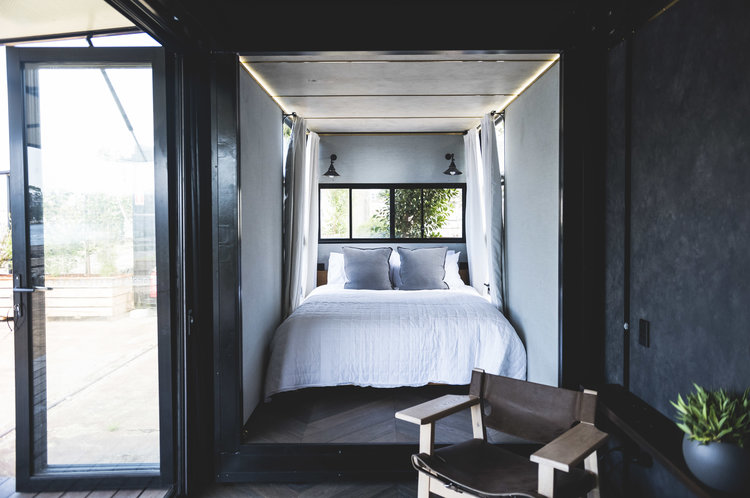 As a professional couple, how do you divide roles and responsibilities? Is there something that Irene has a natural flair at? Or vice ser versa? Or is it an integrated process with both of you sharing the same visual language?
We work really well as a team and have a very similar taste in design. We bounce ideas off each other to make our vision come to life.
Who has been your greatest architectural design inspiration?
We are, naturally, big fans of our interior designers Hecker Guthrie and are so pleased to work with them on developing our perfect spaces and trust others will also enjoy them.
Other design inspirations are drawn from travelling through the US and Europe. We are never short of ideas and are always working on something. River St is a project of great significance to us coupled with the pop-up hotel experiences of Contained. We feel lucky to follow our passion and profession.