The winners of VIVID 2018 were announced at a special awards ceremony last week at the Decor + Design exhibition in Melbourne.
Selected from over 50 finalists, this year's VIVID award winners include Eamon Riley (Furniture design), Thomas Cohen (Object design), Kirsten Wang (Concept design), Pauline Tsolos and Darcey Zelenko (Lighting design), Dustin Fritsche (Judges Choice) and Marta (Colour and award).
ADR caught up with the winners to talk about design processes, inspiration and challenges.
Eamon Riley: Furniture design for Bar-code Drinks Cabinet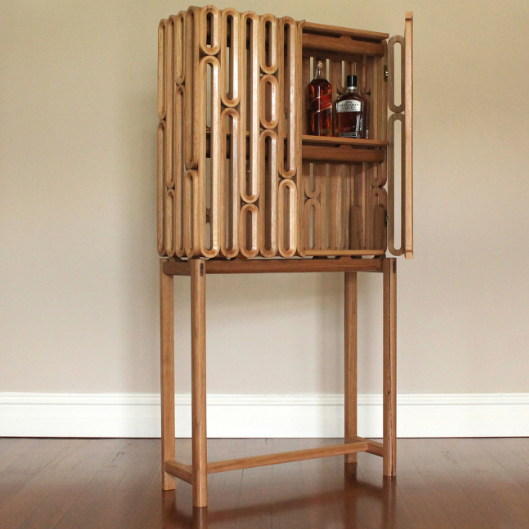 Consisting of sixty-two individually cut and cored pill shapes, the playful cabinet sees light peer through the columns and dance off the contents inside.
ADR: Talk us through the thinking behind the design and the process?
Eamon Riley: The initial idea came from a barcode on the back of a whiskey bottle. The play on the word barcode being a bar in a drinks cabinet, so that's where it started and I began playing around with it.
Did you encounter any challenges in the design and making process?
The main issues and challenges were actually machining the timber and working out the best ways to produce the piece where it wouldn't split the timber and cause the need for redos in the piece. The main issues were also working out how the whole thing could actually come together in a way that it would look like it is almost suspended, holding itself up. How light would play with it, how you would be able to see what it inside it, make it more of a playful furniture piece rather than just something that can be used, it's got multiple functions as well as it looks like an art piece.
Thomas Cohen: Object design for column 0001 CANDELABRA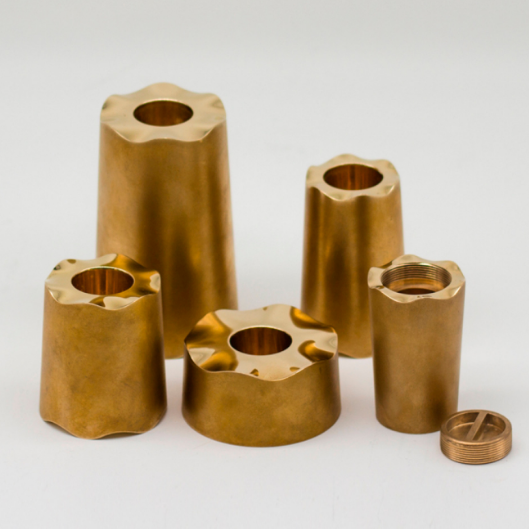 Featuring six components, each time a segment is separated from the column, the undulating inside face is revealed and the flicking flame casts a golden light across the rippled, polished internal surfaces.
ADR: Talk us through the thinking behind the design and the process?
Thomas Cohen: It was a collaboration between Max [Maxam Whiteley] and myself and at the beginning of the process we wanted to choose a product that we could produce ourselves as a small design studio. Then we thought about dining and how we could develop something that could last; something that people could collect rather than something that would be replaced.
So the candelabra being stackable and modular was about being in people's lives for a long time. You can build it up and increase the size of the candelabra on your table over time.
Did you encounter any challenges in the design and making process?
It took us over a year and a half to develop the product just through different iterations. We did come across a few different materials that we couldn't use and a few different surface finishes that weren't reacting very well to the design we produced.
Kirsten Wang: Concept design for Bean Coffee Stool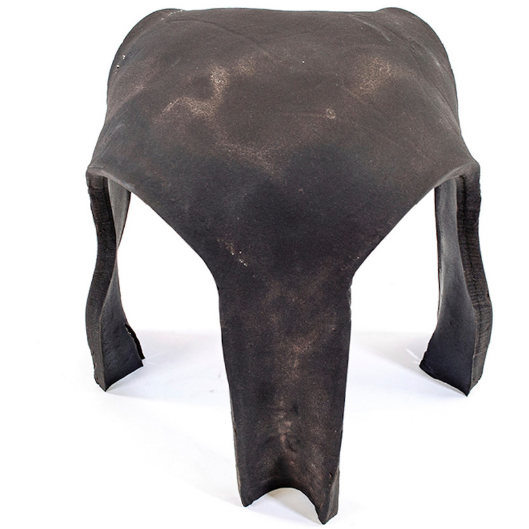 Featuring a brand-new sustainable material, Bean Coffee Stool is made from 100 percent biodegradable locally sourced ground coffee waste and other coffee industry waste.
ADR: Talk us through the thinking behind the design and the process?
Kirsten Wang: The inspiration came from when I was a university student. I was drinking an enormous amount of coffee and seeing all the grinds falling away from the machines, which would always be thrown away and sent to landfill. Given the current fight against plastic, and as a designer, I wanted to provide new solutions to these issues. Throughout the research I did, there are many so-called bioproducts, but they still contain lots of chemicals or even toxic materials or even cooperate with some non-biodegradable materials like steel.
So my idea was to create a 100 percent biodegradable piece.
Did you encounter any challenges in the design and making process?
The biggest challenges were the materiality of it, the fabrication process and the functionality of it. In terms of the material, it is a brand new material that I have been researching for a long time. I tried every single material and every single one failed.  I kept going until one material worked out and I started developing and prototyping on a larger and larger scale and finally into a furniture scale.
Then it comes to the fabrication process; so with this unique material, the challenge was 'how can I create it without using a standard way of fabrication?'.
There were a lot of features that were different, so, for example, the curves tended to curve by itself, that is why there is a lot of curvature within the design. The material reaches a soft, flexible stage, which is why it is cast flat and then bent into one piece. It is not a press process, it is a cast and bend process that makes use of the curvature to give it strength so that it is functional and can be sat on.
Pauline Tsolos and Darcey Zelenko: Lighting design for (OUYSE) / brass wall sconce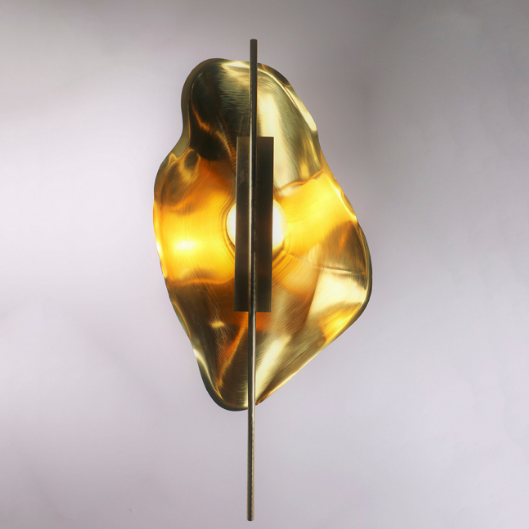 The (OUYSE) / brass wall sconce is a jewellery-like piece of functional sculpture and collectable design individually crafted in Melbourne. The oyster-like form takes from nature, a wild beauty that is art by day and light by night.
ADR: Talk us through the thinking behind the design and the process?
Darcey Zelenko: The design is a collaboration between myself and Pauline Tsolos, so from Pauline's side, she created the design and wanted to have a sculptural piece by day and a light by night. The design was being informed by the shapes of oyster shells, drawing on how every single one is similar but different in many ways.
My side was the fabrication side, so I worked out how to make a lot of it. The backplate takes elements of traditional metal forming and digital fabrication and combines them together to do it efficiently and affordably. That allows us to make them as similar or as different as we want, but still produce them at an OK price without having to use a sheet forming machine.
Did you encounter any challenges in the design and making process?
As refined as our knowledge of designing products along with the digital fabrication side of things is, what you don't know is still what you don't know. Pauline and I aren't traditional metal fabricators, so while we can work out the design in its intricate form, the issues are, 'how do we detail the rest of the light and do the electrics on it?'.
So trying to go to different people who for who that is their trade and get costings off them was a challenge. If you are a small collaboration wanting to do a one-off there are a lot of people that don't want to talk to you as a lot of the work you do is fiddly for them and might not make them money.

Dustin Fritsche: Judges choice for Clearer coffee table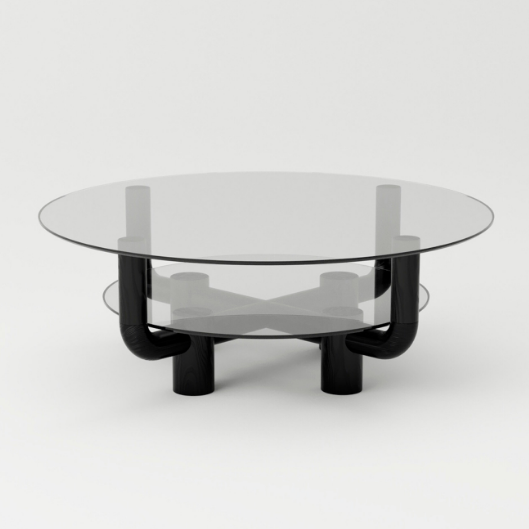 Made from tinted toughened glass and stained American Oak, the frame of the table uses intricate joinery methods and appears tubular in form. It is a playful approach to a sophisticated and practical coffee table design.
ADR: Talk us through the thinking behind the design and the process?
Dustin Fritsche: Basically the idea just came as a rough sketch, followed by playing around on some CAD. Then I really wanted to incorporate some new materials into my range, which is mostly made from timber, so the glass was an easy one because I didn't really have to do anything, I just order it and it's done.
But I also wanted to keep it pretty fresh, so just trying to get a new idea for a coffee table and just have my own spin on it too.
Did you encounter any challenges in the design and making process?
Finding time to develop new products when you are already working for yourself and to get an idea into reality is probably the biggest challenge.
Marta Figueiredo: Colour award for TOTEMS: C&Q and Candy N.2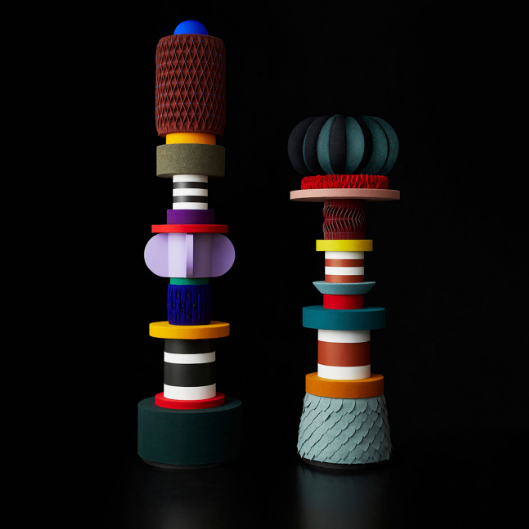 The ottoman and two sound-absorbing sculptures were conceived as expressive tactile pieces covered in vibrant colour of wool fabrics. Playing with human scale, the sculptures are interactional and playful.
ADR: Talk us through the thinking behind the design and the process?
Marta Figueiredo: The idea behind the totems came from the material itself. The materiality that I knew very well was the Burel fabric, which is a Portuguese material. I am from Portugal and so I started to work with a factory there five years ago and I was introduced to the fact that the fabric is a recovery of something that has existed in Portugal since the 13th century. It has been developed by this factory in the last 10 years to a range of 65 colours, which I completely fell in love with.
I have been working with other interior designers because I started to introduce the fabric to Australia and through that process, I did some designs around two years and the totems are a result of an experiment with the colours and the textures. I really wanted to show the best way to the client and inspire designers on the usage of the fabric.
[Initially] they were just set pieces that I kept photographing as elements and then suddenly I thought, 'well I have a concept that I am developing of a collection' and I called it the Totem collection. The concept was inspired by the Bauhaus and I looked at how I could play with shape and proportions.
Did you encounter any challenges in the design and making process?
I had to communicate with the factory in Portugal, which can be a very difficult process because of the different time zones, and also I had to express my designs very well in my drawings. So I had to send sketches and if there were any problems I had to consider how can we sort this.
The core of the elements are all separable elements, so each ring can be separated from the totem so that you can stack them differently. Because I finished the materials myself, the challenge was fixing the material to the rings and doing it for the first time as I wanted the joints to be seamless.
ADR is a media partner of VIVID