Above image credit: Andrew Worssam
Pritzker prize-winning architect Frank Gehry will grace the Sydney launch of his first building in Australia, the recently completed Dr Chau Chak Wing building at the University of Technology Sydney (UTS) on 2 February.
The $180 million building has garnered both praise and criticism for its striking exterior.  Its undulating façade, which has been compared to everything from a crumpled paper bag to wet cardboard, consists of 320,000 bricks that were mostly laid by hand.  Brickies could only lay 100 bricks a day instead of their usual 500, but the building was still completed on time and on budget, according to the University.
The fluid appearance of the brickwork was created through a complex construction process, where five custom-designed bricks from Bowral were arrayed and arranged by hand, then bolted to steel frames.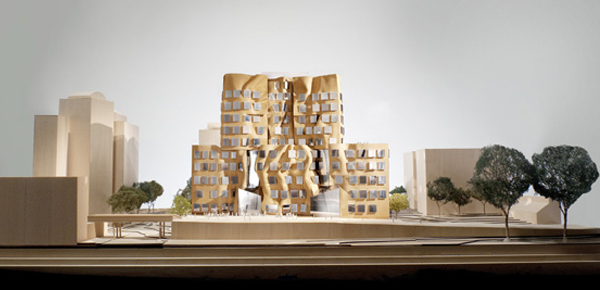 The Dr Chau Chak Wing building will house the new school of business at UTS.  Its carefully constructed interior reflects the latest thinking on how students learn, and incorporates smaller classrooms and more open-plan spaces.
The building is part of an urban revamp around Sydney's Chinatown precinct, including the Goods Line, a pedestrian thoroughfare similar to Manhattan's High Line, and a new residential district at the south end of Darling Harbour.
Gehry will speak at the event, along with benefactor Dr Wing, and UTS leaders.
Check out the video timelapse of the building's construction.