The latest collaboration between Esoteriko and Australian brand Coco & Lola is a celebration of local fashion, beachside living and the luxury of in-person shopping – all in an unforgettable shade of custom pink.
Esoteriko, the award-winning, emerging interior architecture studio based in Sydney and founded by Anna Trefely in 2017, was engaged by leading Australian fashion retailer Coco & Lola to design its new retail concept. Located in the beachside Sydney suburb of Manly, the new boutique was not only intended to seek inspiration from the relaxed, yet sophisticated coastal locale, but importantly to reflect Coco & Lola's already established brand, while adding a fresh, elevated perspective to its aesthetic.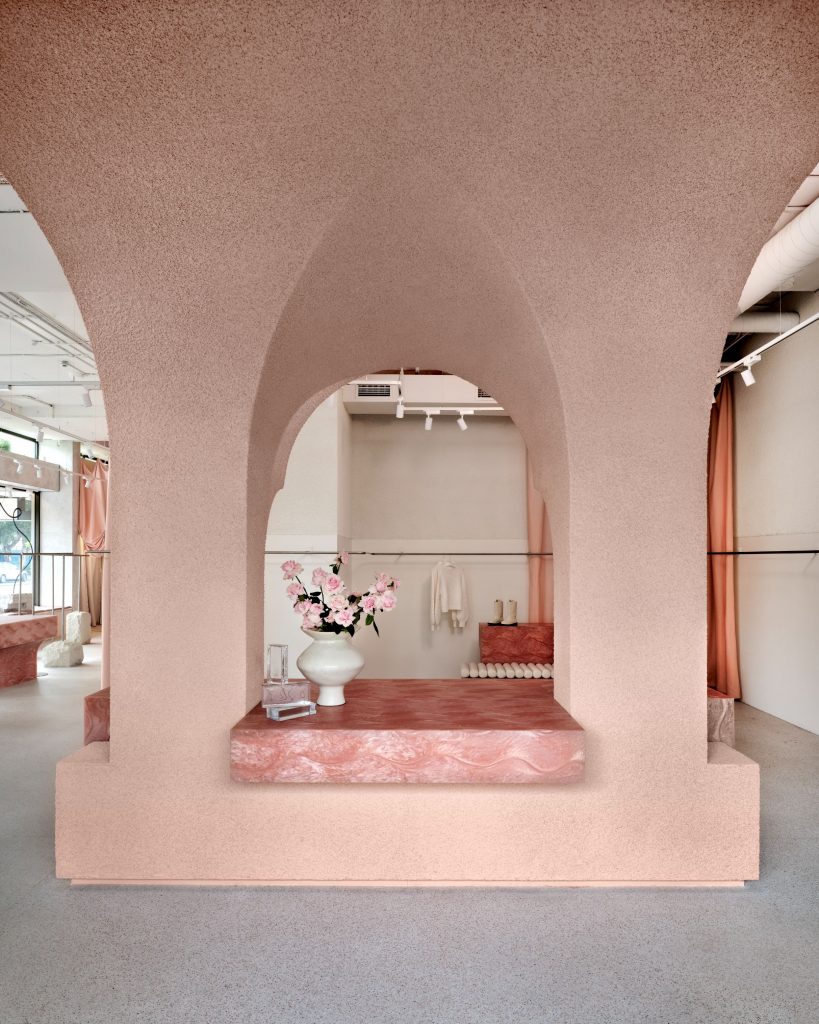 "As Coco & Lola's first store in Sydney's Northern Beaches, the concept needed to speak to the place and particular client base," says director Anna Trefely. Connecting the interior architecture and brand to the local area was critical to the design. "Light-filled, sophisticated yet casual," adds Trefely. "Echoes of French-meets-Italian Riviera influenced our choice of materials and design decisions including baroque drapery, curved archways and textural, tonal elements. Being a five-minute walk from the beach, it needed to suit the location, not feel intimidating and appeal to a diverse clientele."
Established in 2010, Australian-owned Coco & Lola is a leader in the Australian fashion industry, featuring over 40 of the most sought after emerging and established womenswear brands. With boutiques across Sydney, Melbourne and Perth, Coco & Lola understands its clientele and the desire for a visual and sensory retail experience, paired with excellence in customer service and styling. Despite being a digitally-savvy business, Coco & Lola chose not to eschew bricks and mortar, selecting a second Sydney location in Manly to complement its initial Double Bay offering.
Coco & Lola's brief was open. Trefely says, "While still maintaining the distinct flavour the company had worked to achieve for over a decade, we were asked to explore a different perspective for its brand. The interior colouring, a particular shade of custom pink, was to be a strong feature. This was non-negotiable.
"The space needed to feel like a boutique fashion experience and look like one. With the incredibly heavy foot traffic, it is more like a department store. Coco & Lola, being so experienced in this field, is very aware of its clients' needs and behaviour, the type of shopper it engages, and how to best manage this traffic flow."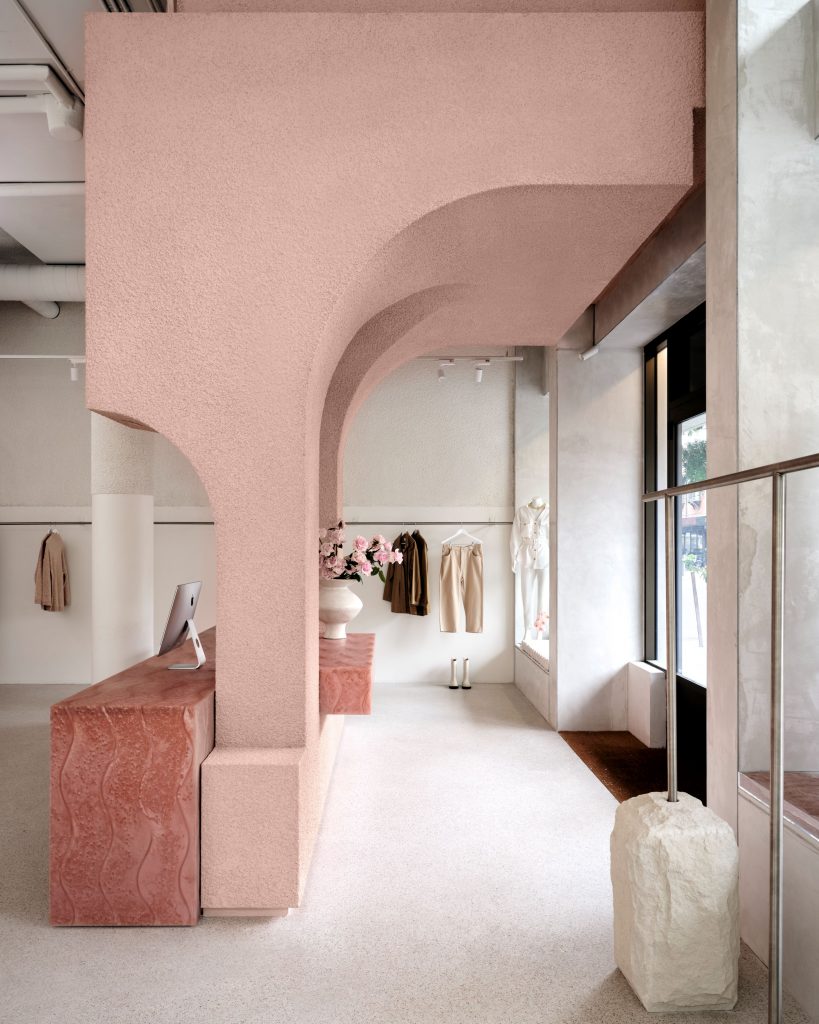 In terms of the site, Esoteriko inherited a recently completed base build by CHROFI, which was engaged by Grocon to undertake the design of a mixed-use residential, retail and industrial development that would act as a transformational and highly visible gateway to central Manly.
"We were given a clean shell comprising two retail shopfront sites that were combined into one 165-square metre retail space. We were the first fitout to go in, and the project was completed in May 2021," says Trefely.
Describing the design process, she adds, "We wanted to retain the base build elements – the significant shopfront window area, the open ceiling, semi-industrial highlights and embrace the exposed surfaces, adding a certain layer to the space.
"Materials were a central component of the design, as both a textural backdrop and as significant insertions. Our intent was to maximise, soften and highlight the industrial shell of the building through utilising its scale to the fullest."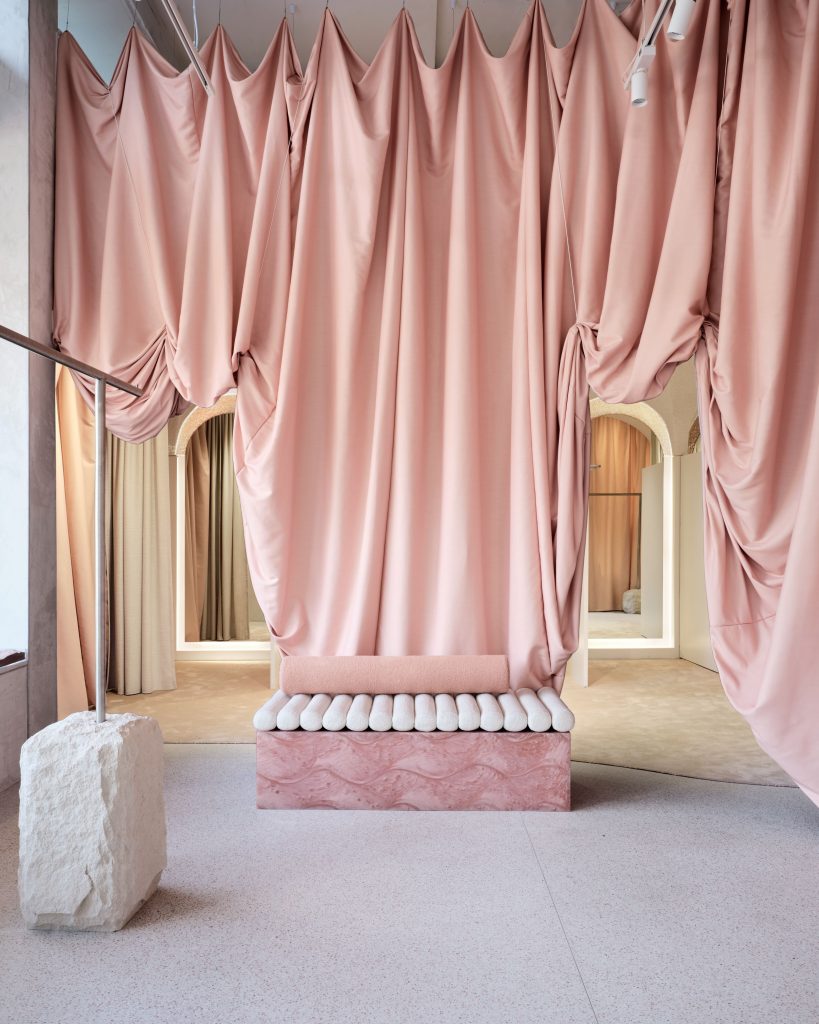 Upon entering Coco & Lola, one is immediately immersed in a feminine fantasy. Enveloping chromatic choices of blush pinks, creamy whites, deep rose hues, warm marbled sandstone and elegant flashes of clean silver and mirrored surfaces seduce the shopper. Material selections of sandstone, marine grade stainless steel, textured render, upholstery, dyed sand, plaster finishes and Marblo Pearl surfaces provide texture, warmth and speak to the eastern coastal aspect.
"We were most excited by the materials we chose and could play with, adding a freshness and elevation to the brand," says Trefely. Additionally, airflow and hygienic surfaces were of the utmost importance in the design of the space for shoppers and staff alike.
Esoteriko was careful to get the elements right from the very beginning, says Trefely. "The project really started with the flooring; it is very important, to the point of servicing the extremely high traffic, to be able to cope with it and not look messy or mark easily."
Accordingly, an in-situ pour was developed comprising a pink marble aggregate from Queensland (matched to Coco & Lola's custom colour) and set within an alabaster white terrazzo overlay, which created a warm, tonal effect. While the surface is robust, it also adds cohesion to the space, softening the retained industrial shell. The terrazzo further transitions into an irregular shaped carpet in a natural shade, leading shoppers into the changerooms, and adding a further layer of texture and contrast.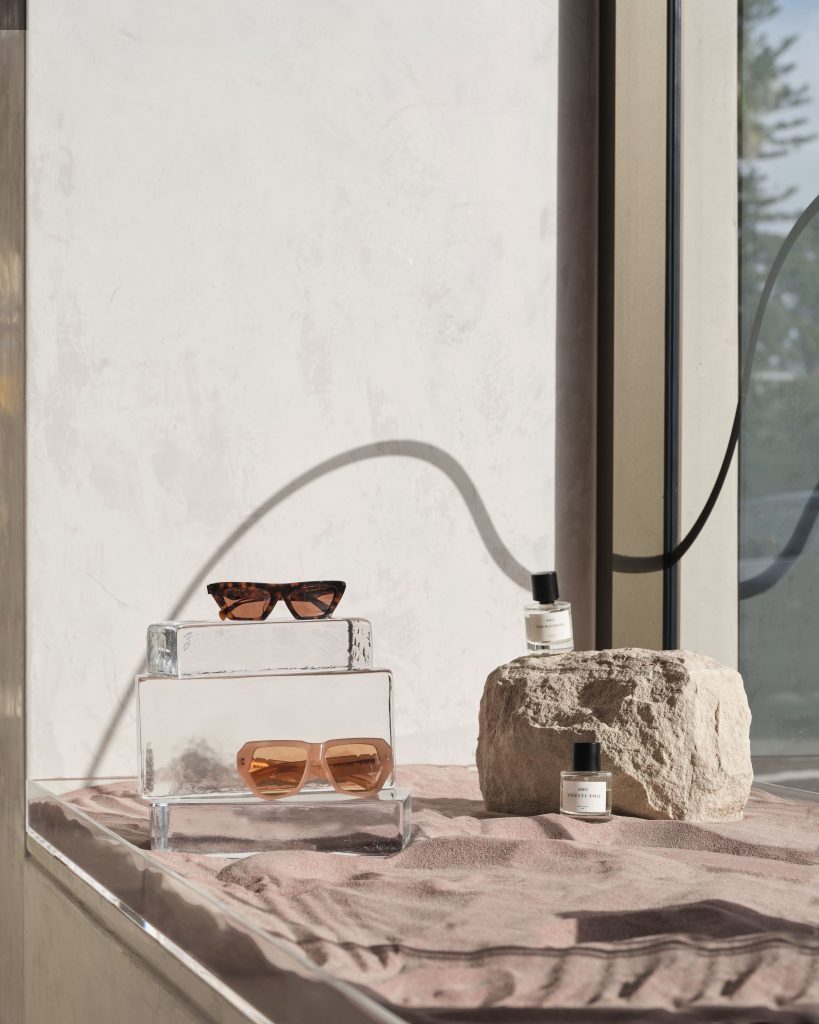 Located in the entrance area is a dominant floor-to-ceiling interior arch feature – a strong design insertion. It is intended to be grounding – a moment of pause, to anchor the space. The arch structure is rendered in the Coco & Lola 'blush pink' and incorporates vermiculite to add texture. Laid within is a functional surface area in which sits the point-of-sale system. Trefely says, "The arch acts to provide the shopper with a pathway – you can go right or left. The arch also has a functional quality containing storage, effectively hiding the computers and technology from sight."
The playful inclusion of pink sand in the shopfront window displays further grounds the boutique in its location, while acting as a functional device to cleverly balance and hold the ever-changing mannikin display. The addition of a floor-to-ceiling drapery curtain to delineate the changeroom areas and provide privacy adds a strong sense of theatricality. Not only softening the acoustics, it also amplifies a touch of baroque drama. Free-standing, overscaled sculptural objects rendered in Marblo Pearl deep rose finishes assist in the display of accessories throughout the store.
In order to fulfil Coco & Lola's business requirements to turnover a large quantity of stock on a consistent basis, Esoteriko consciously designed 35 metres of hanging space, with 22 metres of linear run. Being able to fully understand the mindset of the retailer and not sacrificing on aesthetics for practical reasons, Esoteriko ensured a high amount of clothes racking was incorporated – both in the form of a marine-grade stainless steel perimeter located at eye height and separate, free-standing racks atop dramatic sandstone boulders. These sculptural interventions add weight and a sense of grounding to the light-filled, open space.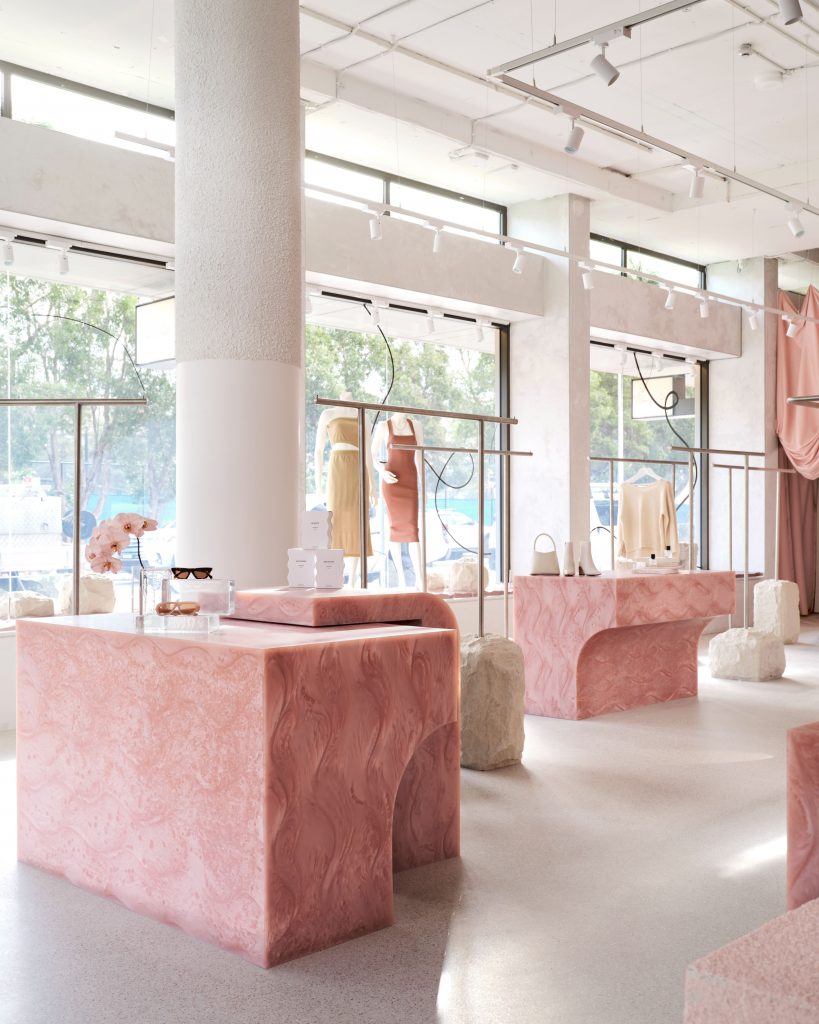 Lighting choices were of the utmost importance. It is essential to not only highlight the fashion product, but also ensure clients have an enjoyable experience throughout the store, and in changerooms. Interestingly, the expansive shopfront display faces south-west and, at certain times of the day, the natural light floods the space, requiring tinted glass floor-to-ceiling windows. Track lights were placed throughout the ceiling for versatility, and to ensure the clothes and accessories could be seen from outside during the day.
Recognising the irreplaceable experiential nature of retail shopping, where one's senses are enlivened, Coco & Lola has successfully ensured its clients' needs are met by fulfilling renewed cravings for an in-person connection. Trefely says, "Coco & Lola's point of difference is you can see all of these leading Australian brands together in a curated, high-end shopping experience. The clothing is not inexpensive; however, the boutique feels accessible and comfortable."
The result is an immaculate balance of light, airiness, textured elegance and refined femininity. Textural finishes, seductive surfaces and a relaxed cohesion create a stress-free, pleasurable and high-end retail oasis – a true celebration of a leading brand committed to promoting Australian fashion.
Photography by Dave Wheeler.
This article originally appeared in inside magazine, which is on newsstands and available online now!