Larki is a new software that provides exceptionally detailed three-dimensional files – point cloud surveys made up of millions of site data points, ensuring greater accuracy than via traditional two-dimensional surveys, writes Haley Hooper.

TheLarki software was created with the intention of making architects' lives easier. The start-up's founder Simon Cookes (who is also an architect) sums its appeal up simply: "More design, less monkey work."
Establishing the metric parameters of the existing site and buildings is critical to every project, and can take considerable time, effort and project budget. LARKI offers detailed surveying, and site and building information in three dimensions (point cloud) and BIM (building information modelling) formats that can be downloaded online and directly imported into design models.
It's a new process and concept that is working to better support architects through the laborious pre-design work of establishing the site and existing conditions. All architects want this side of the pre-design to be faster, more accurate and, if possible, cheaper.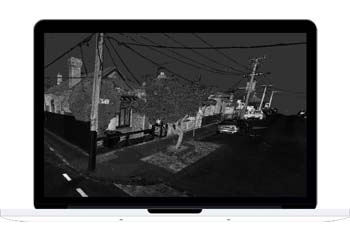 Using Larki to acquire site information, the actualities of the site and existing context are represented in x, y and z dimensions (3D), with millions of point references. This is a highly descriptive way of ensuring it's clear exactly what the site conditions are, from Heritage detail to site quirks, wonky existing walls, irregular curves, sloping surfaces/falls or organic forms.
Once these aspects of the site are captured, geo-located and situated in a model, they can then be precisely managed and addressed inside the project constraints. The advantages of accurately understanding the complexities of a site upfront, in detail and in three dimensions, are invaluable, in terms of both design integrity and time/cost/delay.
The aim for Larki is to empower built environment practitioners to get the basics organised with ease. This enables developers and architects to direct their attention towards design, where their time is best invested. "As architects, our passion is for doing design and making beautiful buildings that enhance the lives of as many people as we can," says Cookes.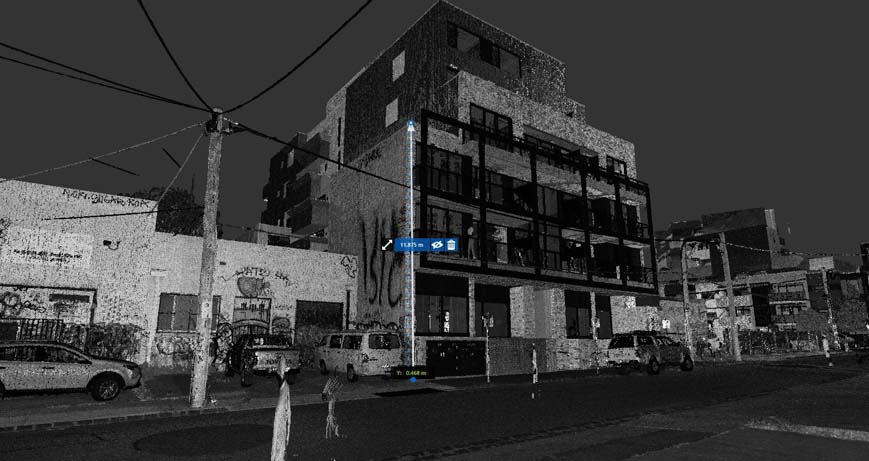 Larki lets designers focus on design, and trusts the metrics of recording a site to machine exactness, which eliminates much of the human error that is possible in a traditional survey. Three-dimensional scanning, photo- grammetry technology and such types of digital advancements are undertaken to produce a sophisticated level of assessment and comprehensive data sets. Cookes advocates letting technology do the job it does best, allowing architects to focus on looking after the areas that need their human touch – the creativity, the empathy and the exploration of design. Cookes describes LARKI as offering "reliability, affordability and efficiency".
Nightingale village
Architect Shannon Furness recently left Breathe Architecture to return to New Zealand. Before he went, however, he used LARKI on the recently approved Nightingale Village project due to be constructed this year in Duckett Street, in the inner north Melbourne suburb of Brunswick. Furness rates the importance of establishing the site context for this neighbourhood at "precinct scale".
He says Larki was able to deliver this context in three dimensions and provide a "consistent, common starting point" for six different architecture firms all working within the site.
Larki provided site information to all of the various architecture studios in "a bunch of differing file formats" to suit each architect's workflow, including SketchUp and Revit, among others. "It provided us all with an actual 'moment in time' snapshot of the entire site, even the graffiti on the walls," says Furness. "It's great to be able to understand what's going on in the area to that degree." This is information that will be continually referred to for the life of the project, and sets a solid foundation for the project going forward.
Cookes refers to Larki as "a 3D urban optimiser" and says he believes that, sooner rather than later, these three- dimensional translations of reality will be an integral and standardised part of the architectural process.
Innovation in action
Start-ups like Larki are making the most of real world/virtual world data-sharing. These technological data-sharing interfaces are emerging rapidly and starting to influence the Australian three- dimensional digital built environment market in very beneficial ways. Working and submitting documentation in three dimensions will one day become the norm, across architecture and planning. Currently, governance frameworks are being developed to support this industry, deciding on the best ways to capture, hold and integrate data, while realising the benefits for the property sector at large.
Cookes describes Larki as being like a 'data bank', a source for convenient withdrawal and secure, trusted site information. He has worked on formulating a concept that makes a set of site information available for common and multiple use, avoiding the single-use, repetition of a traditional process. It's "easy sophistication," he says, with a typical architect's tendency towards dualism. "It's dealing with complexity in an easy way."
Alongside that digital efficiency, Larki is a platform that provides a three-dimensional sharing economy – a powerful network effect spanning our changing and growing geospatial environments. For architects, it optimises and complements the way they already work – in three dimensions, in detail and with a future focus.
This article originally appeared in AR159 – available online and digitally through Zinio.