The extraordinary ways advanced technologies and manufacturing are shaping our near and distant future is at the heart of the new NGV exhibition Sampling the Future, which opens this week.
Running from 5 November 2021 to 6 February 2022, the free Melbourne exhibition features works from speculative architect Ronald Snooks, Alice Springs-based designer Elliat Rich, Sydney-based duo Kyoko Hashimoto and Guy Keulemans and Melbourne duo Georgia Nowak and Eugene Perepletchikov, among others.
RMIT architecture lecturer Dr Leanne Zilka and Associate Dean of Fashion and Textiles Technology Dr Jenny Underwood will also be at the exhibition with Knitted Architecture.
Exploring the future potential to use textiles to reclad and reuse existing buildings, the installation features intricate and towering tubes printed stitch by stitch (pixel by pixel) on large scale industrial knitting machines.
Combining the scale of architecture with the whole garment technology in textile design, each piece expresses shape using different yarns and threads that have the potential to perform as structures.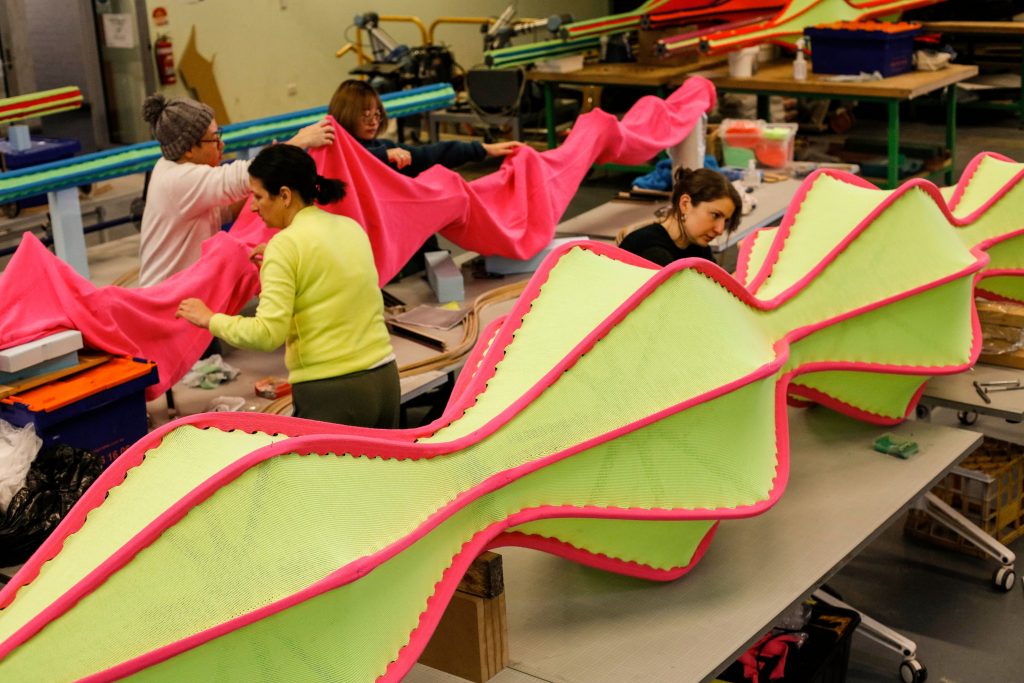 "We've been working together for quite a while trying to bridge architecture and textile design," explains Dr Zilka.
"In this installation in particular, we're exploring how to retrofit building facades so they can have a green profile.
"So plants or small microorganisms would actually hang on the textile skin much more easily (than the naked building), and because yarn is so lightweight, it's perfect for a retrofit."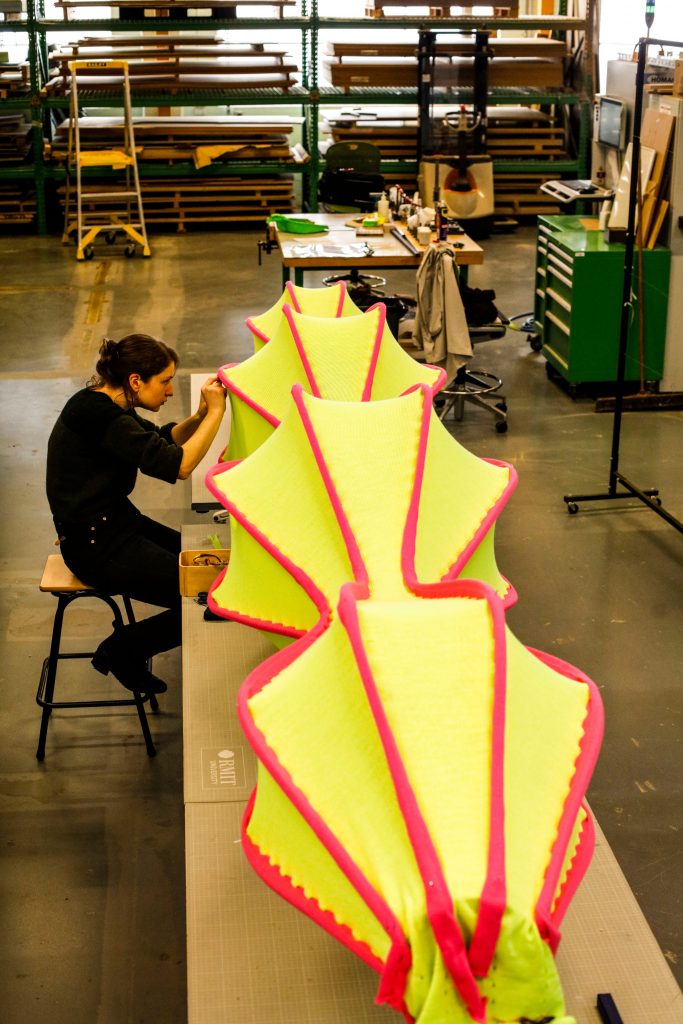 Eleven tubes ranging between 4.6 and 5.1 metres will be on display at the NGV for Sampling the Future.
Made from brightly coloured wool and acrylic, the structures are designed to inspire wonderment in visitors, encouraging them to use their imagination to see how out-of-the-box solutions could solve existing and future problems in architecture.
"It's a weird sensation because you recognise the knit – we all have jumpers with that pattern – but on that scale, it's quite bizarre," adds Dr Underwood.
The choice of tubes was both a necessity of the industrial knitting machines – "It's tube based because the body is a tube and the whole garment comes out in one process," explains Dr Zilka – and an effort to address industry-wide wastage.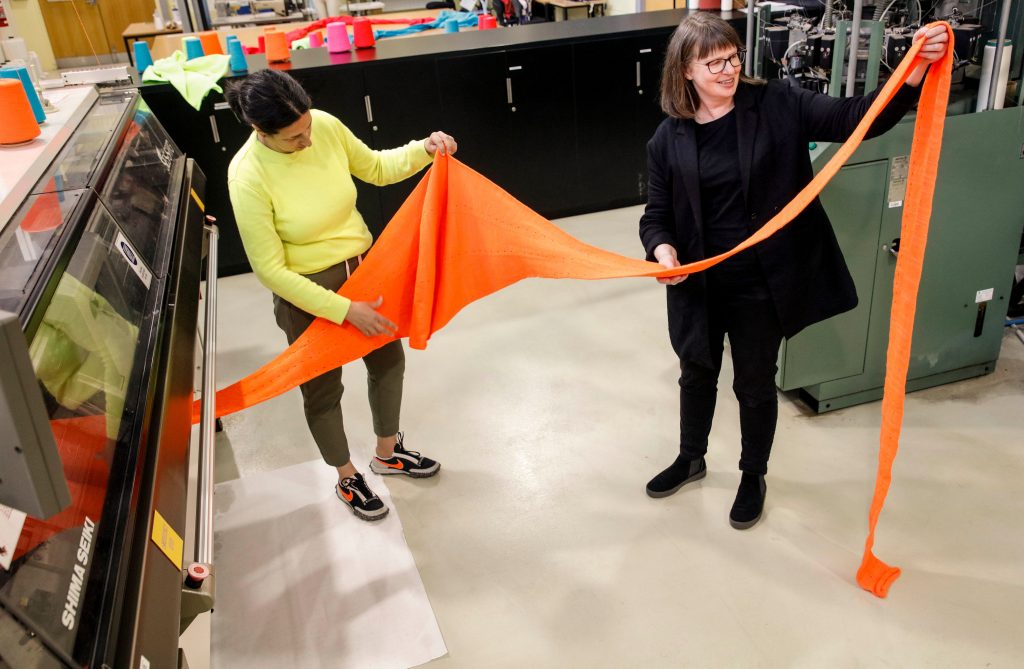 "These columns can look incredibly simplistic, but still quite elegant. To try to replicate that in other forms; the amount of cutting, seaming and joining would become incredibly labour intensive and complex.
"Then you start having conversations around material efficiencies. A shape like this has virtually no waste and Jenny is not sitting there with a needle trying to finish it off.
"There's so much wastage in the building industry and not a lot of it is recyclable, so in this case, zero waste is incredibly appealing."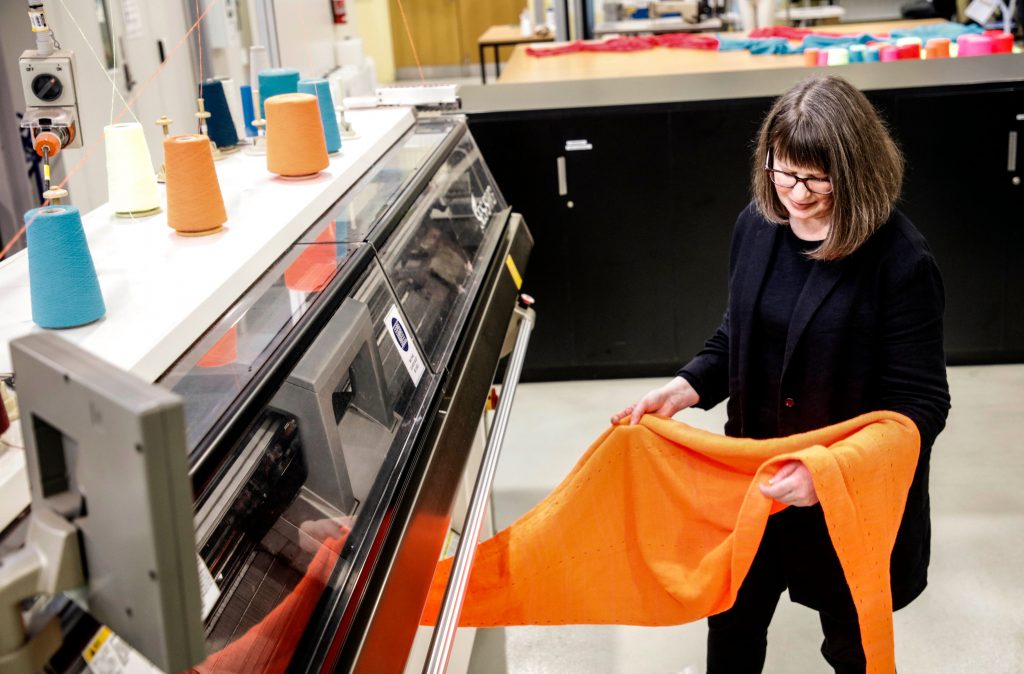 Knitted Architecture is part of an ongoing research project, dubbed Reskinning the City, which is looking to provide possibilities for our climate challenged future.
Prototypes, the pieces on display are the first steps towards more than just retrofitted green facades.
Textile technologies are far more advanced then building materials. They can harvest energy and provide passive lighting through soft solar cells, can be stronger than steel with the use of Dyneema yarns, record data through embedded sensors and be part of a more environmentally friendly cooling and heating system.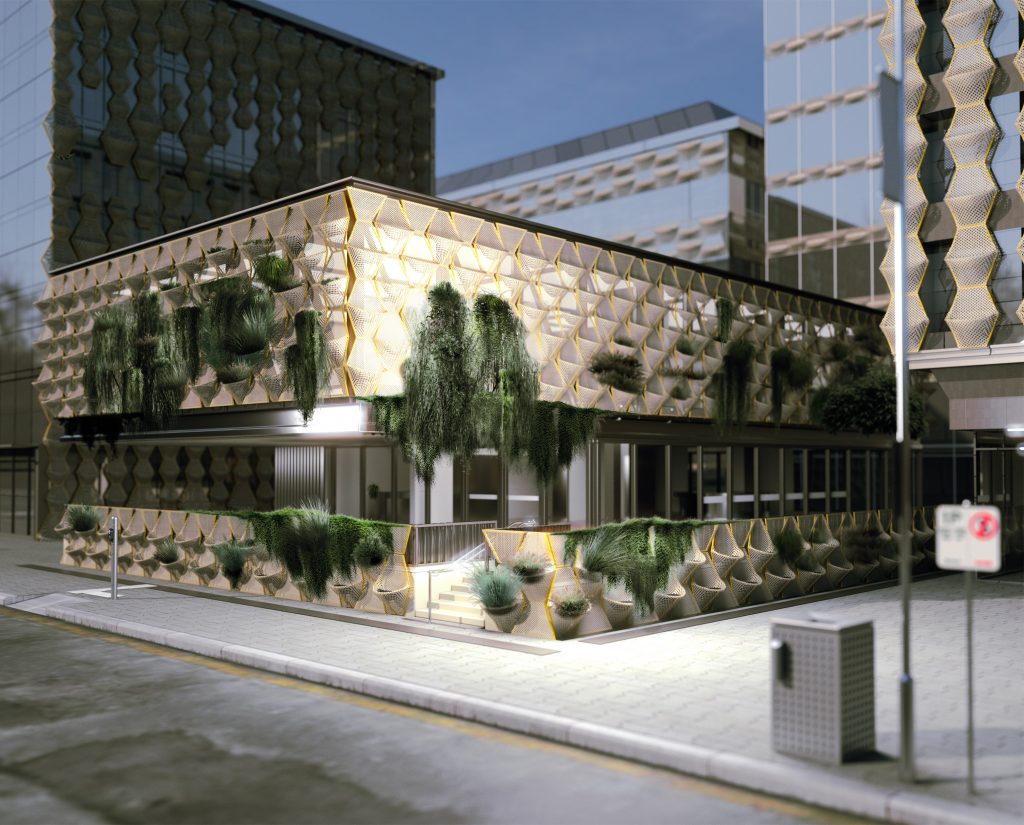 The greatest challenge, conclude Dr Zilka and Dr Underwood, will be printing the skins to fit.
"When you're knitting garments, who cares if it's a couple of millimetres bigger or not? You can never have a skintight knit," says Dr Zilka.
"But when you're doing it over a structure, it absolutely has to be accurate."
And with a little help from RMIT's architecture students, the professors are confident that this perfect fit, at least, won't be too far off in the future.
Sampling the Future opens at the NGV's Ian Potter Centre in Melbourne on 5 November. Find out more about the free exhibition on the gallery's website.
Lead photo: Dr Leanne Zilka and Dr Jenny Underwood at the RMIT workshop. Photography: Julian Kingma.
Also set to open next month is the much anticipated 2021 NGV Architecture Commission. ADR spoke to its designers Taylor Knights and James Carey about the intent behind the competition-winning pavilion, as well as what visitors can expect.