One half of Amsterdam-based designed studio Scholten & Baijings, Carole Baijings is renowned for her innovative use of pattern, colour and graphic elements. As she launches her ColourForm sofa collection with Herman Miller & Maharam, ADR spoke to Baijings about design inspiration and what excites her about the industry. 
ADR: You have collaborated with Herman Miller & Maharam a number of times now, how has the relationship and consequently your designs evolved over time?
Carole Baijings: Many of the brands we work for have a unique history, which is also the case with Herman Miller & Maharam. We are in a position to produce fabulous quality that is consistent with the principles of Herman Miller & Maharam, where love for quality and design are always key priorities.
Nowadays, we have the good fortune that the quality of our products is widely recognised. Our clients appreciate our design process and are willing to invest that little extra!
Can you talk us through the design thinking and inspiration behind the new ColourForm series?
Increasingly, our work and home environments are merging. These days, a sofa like ColourForm can be a universal design — you could find it in the home, or in an office, or in a hotel. Actually, I think we brought our European notions of comfort to bear on this project! There's a huge difference in comfort in the United States, I find. There, the sofas seem hard to me, at least that's my experience from hotels. In the US, I feel there's a wider gap between the home and the contract markets, a gap that has been closing in Europe for some time now.
We wanted to do a wood-framed sofa from the start — we love working with wood — and we wanted the upholstery to have a draped look, as though blankets have been folded over the frame.
Once we got off the drawing board, we went through about six model stages. We also made mock-ups to show Herman Miller how the textile panels should look on the frame. That was before we even got to the prototype stage — prototypes are expensive, so we wanted the design to be as worked out as possible before then.
Simplicity is always the key thing with any of our products. We emphasise colour, so we always produce designs that are quite minimalist, which allows the colours and details to come into focus. With simple designs like ours, the colours and the details have to be perfect. So for the sofa, we created a new fabric, Tracery, for Maharam. Tracery combines a single-colour look with the texture and interest of pattern.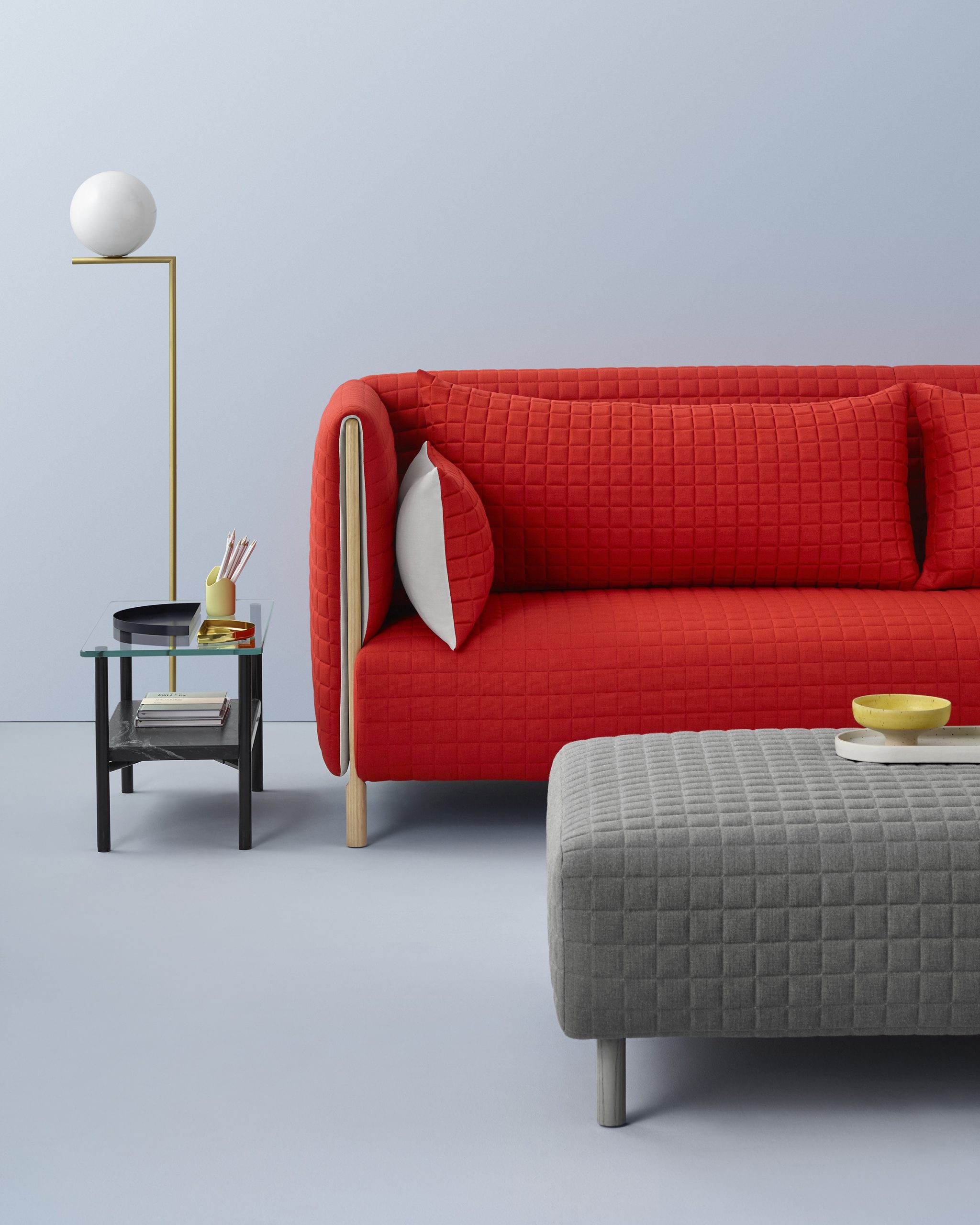 You have a real fluency with colour that sets you apart in an industry that is largely afraid of using it. You have previously said that colour is the starting point of your work: can you talk me through how that works and how that informs the design process?
We think it's important to show people the complexity behind the simplicity. We work like artists almost, making our own colours and textiles. Colour is always the starting point. It is never an afterthought. We start by trying out lots of colours with paint on canvas and that matte, chalky look is something we try to keep as well.
For the Pare textiles for the ColourForm Sofa Group, we began with 44 colours. Too many, but we knew they would be edited down during the design process. So, we've ended up with 17 Pare colours, 5 different colourways for the quilted Pare fabric, and 11 options for Tracery. We also added some colour options for the sofa's wooden frame — we felt these also needed to be matte and still show the grain in the wood. Now, these are part of the permanent range of wood finishes at Herman Miller. That is quite an achievement!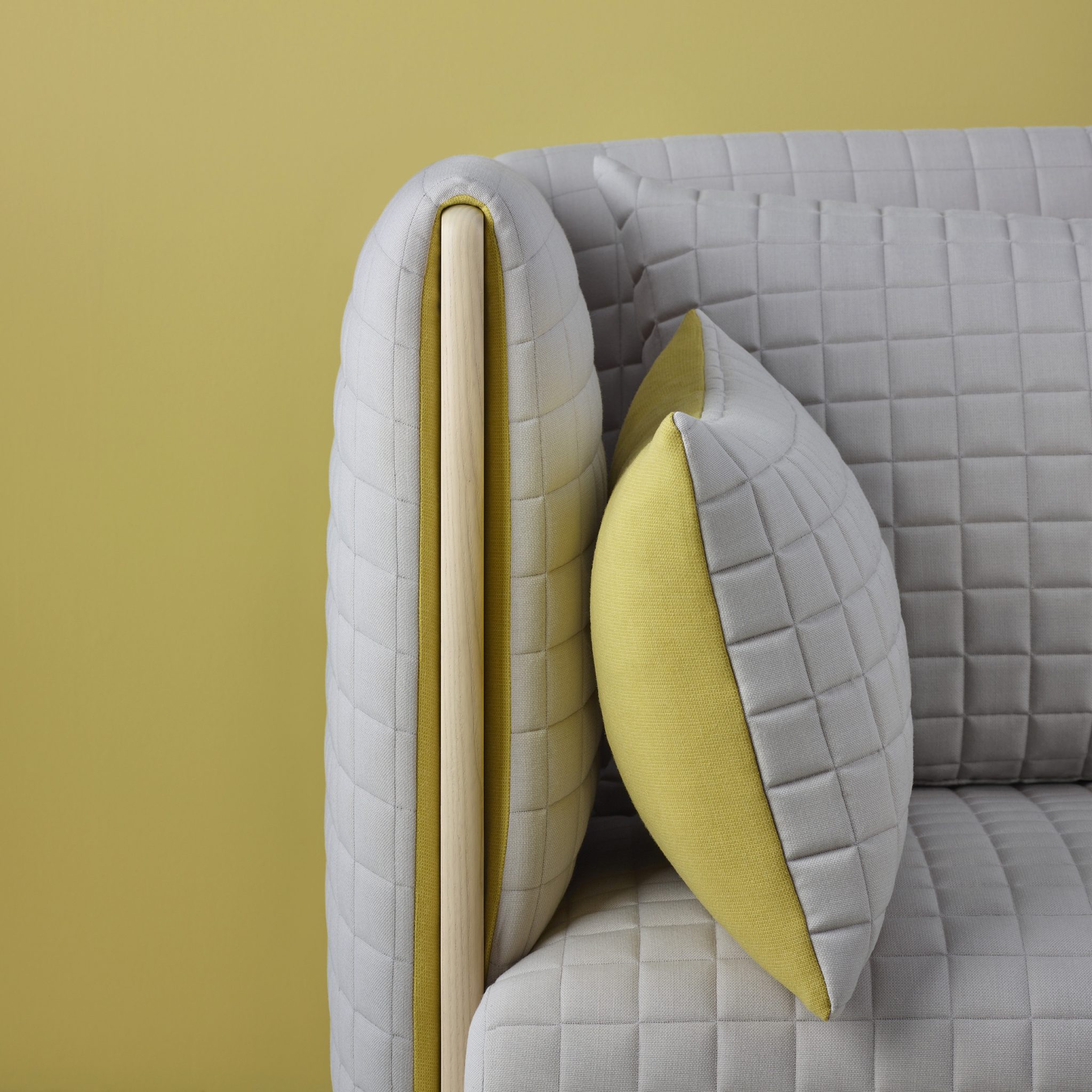 What excites you most about working in the design industry?
Our country is very small, but working with industry is extremely important to us and, in our opinion, inherent to design. We think that this is where the greatest restrictions lie, but also the greatest opportunities.
By creating designs – from limited editions to mass-produced products – we learned to collaborate with the industry, but of course not only the industry; our aim is to arrive at a product together, which will hopefully contribute something unique to the world.
Image courtesy of Living Edge