Renders courtesy Woods Bagot
The rapid development and densification of Melbourne's eastern suburbs continues, with construction beginning on a $77 million multi residential apartment block atop Doncaster Hill. Designed by Woods Bagot with landscaping by Jack Merlo, the Gardenhill project aims to foster a sense of community, a concept not customarily associated with newly built apartments.
After a 36-storey apartment tower was given the green light in Box Hill earlier this year, questions persist as to how communities will adapt to the effects of high-density living, as suburbs evolve to accommodate an ever-increasing population. Now more than ever, architects and designers are tasked with replicating the conditions associated with the Great Aussie Dream.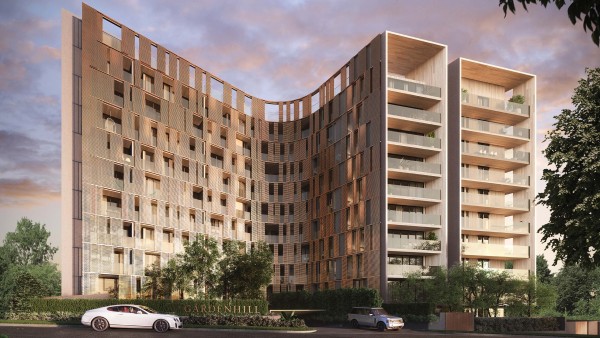 Much of the current design zeitgeist is a reaction against a sense of overwhelming urbanism particularly relevant to inner city dwellers relegated to restrictive yard or balcony space. Naturally, in a climate of high density, society's yearning for the outdoors grows ever stronger. Many move away from city centres in pursuit of an idealised suburban lifestyle, purchasing homes with the whole package – room for the family and a backyard for the dog. But man's best friend is largely overlooked by the development of shiny new apartment blocks.
"Melbourne's population is growing at an incredible speed and the amount of people living in apartments is higher than it has ever been before. Apartment living should never be seen as a compromised lifestyle and we understand that pets are an important part of many individual's lives," said Adelene Teh, Beulah International director.
Gardenhill's enclosed dog park is one strategy attempting to address the dismal lack of green space afforded to high density apartments, as compared to the front lawns and backyards featured in traditional housing.