Demonstrating inventive, adaptive reuse of an existing warehouse shell, Bira Bira Early Learning Centre by R Architecture presents an exemplary learning environment for both children and staff.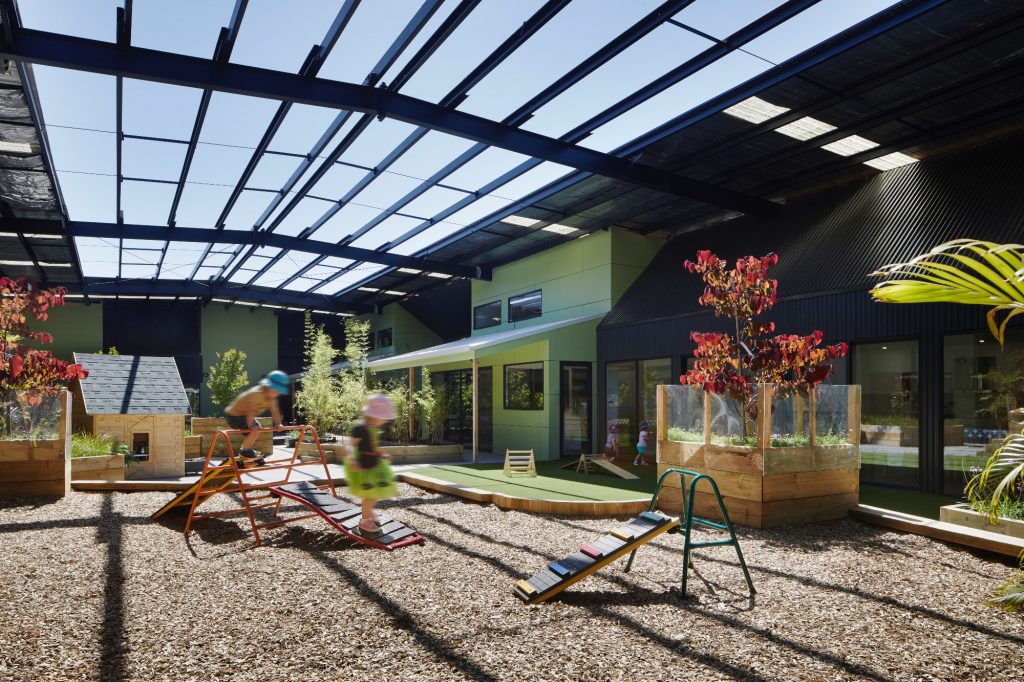 Bira Bira Early Learning Centre design outcome demonstrates how early learning educators and carers can be better supported in the workplace, with the strategic inclusion of areas that foster collaboration and knowledge-sharing.
Incorporation of these fit-for-purpose spaces enables engagement with external specialists and service providers as well as appropriate areas for withdrawal and respite during the workday.
The U-shaped floor plan features diverse learning pods sharing a central 1000 square metre playground, which offers a range of engaging areas, including a large sandpit and custom climbing wall.
This plan maximises connections between the internal and external, providing all learning areas and many of the support spaces with access to natural light, views and increased flexibility with the ability for activities to flow between indoors and out. 
The practice's empathetic design of Bira Bira Early Learning Centre fosters an environment that is dignified, valued and encourages collegiality among carers and children and parents.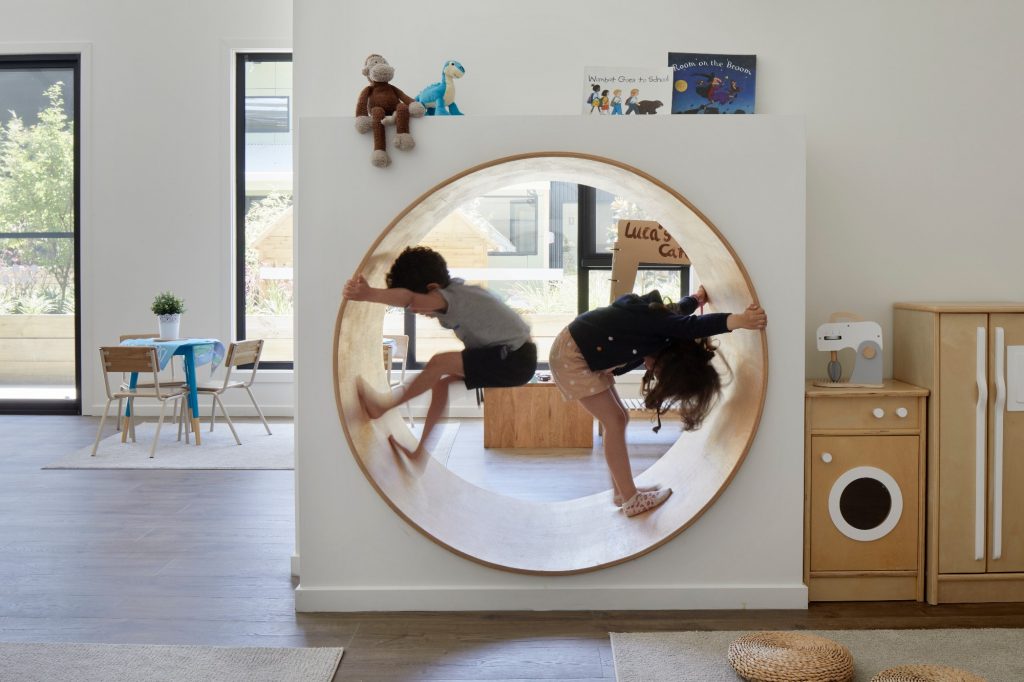 With a strong education vision to create an enhanced learning experience, the client brief was a layered and ambitious one.
It required the design to accommodate an emphasis on education during the early years, support children with special needs and provide an environment that better nurtured childhood development overall, as well as the role of parents and carers. 
Realising this vision necessitated generous learning and support spaces that exceeded the legislated standard for floor area and ceiling height.
Specific areas that supported their educational vision included a dedicated dining room and a library, both of which are unique features in the Australian early learning landscape.
The practice responded to the nuanced brief by questioning the fundamental structure of early learning centres and conducting multiple investigative feasibility studies.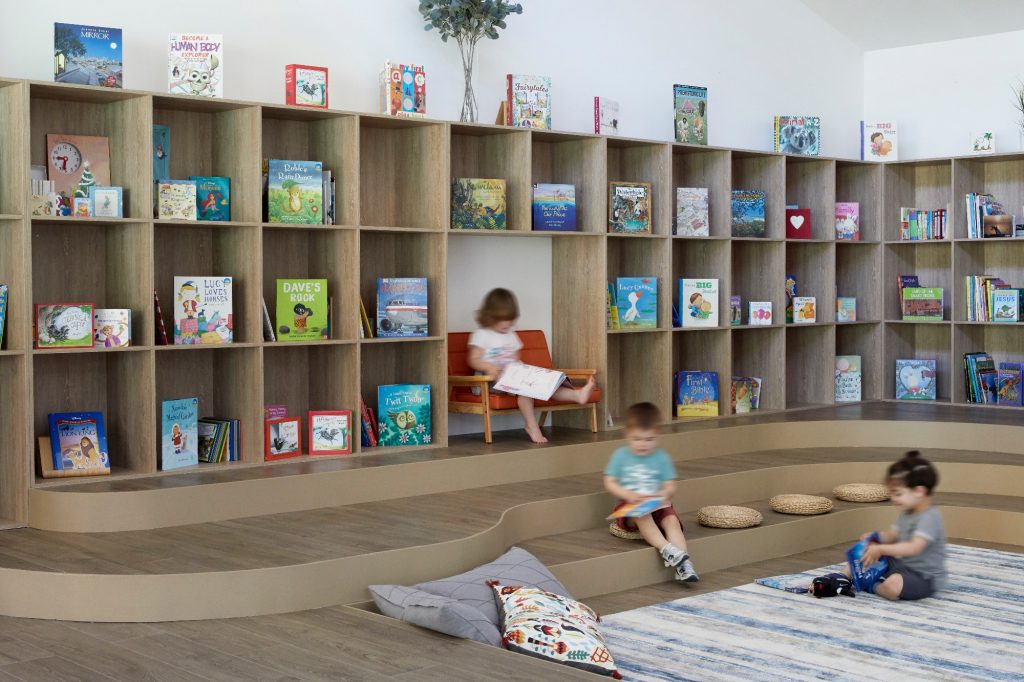 "Out-of-the-box thinking led us to reimagine the potential of an industrial warehouse, repurposing its expansive volume, height and light into a form fit for the dynamic brief requirements," says the R Architecture team.
"Although a complex repurposing in the first instance, the warehouse is a readily available asset with fairly standard floor plates facilitating our design to act as a blueprint for future early learning centres.
"By utilising an existing warehouse shell, greater amenities and gross floor area were provided for a cost that would be similar to a typical, free-standing early learning centre."
While offering an ideal expanse of flexible space, the warehouse shell presented some initial challenges, requiring the installation of many new services and facilities to meet the increased amenity demands of its new context.
To provide the legislated outdoor area within the warehouse footprint, R Architecture opened up the roof along its central spine, effectively illuminating spaces within.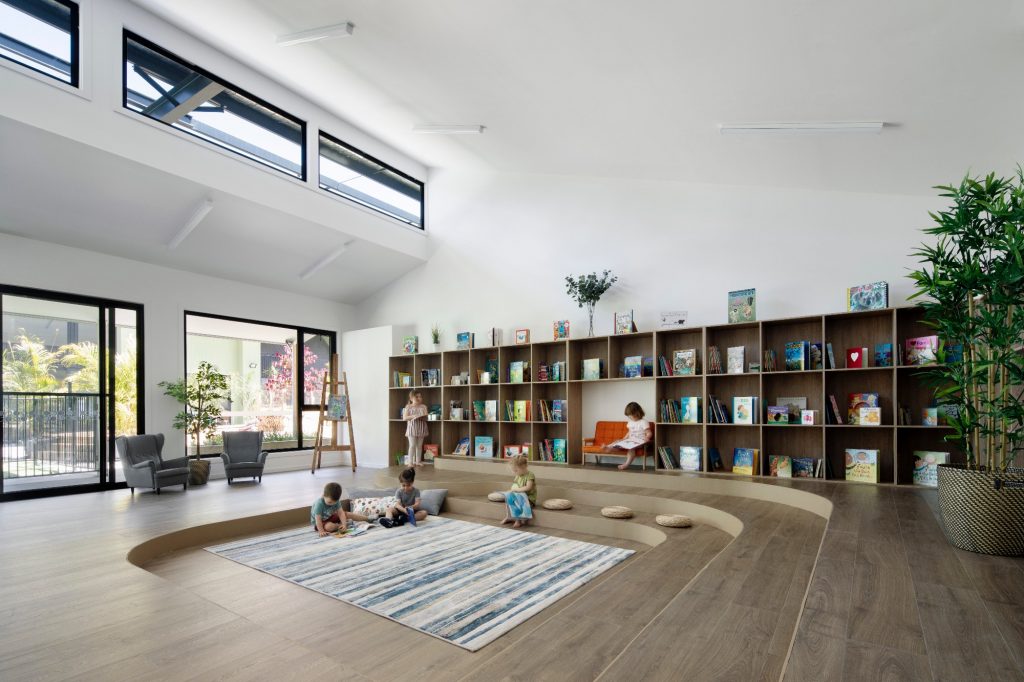 "We undertook site investigations and feasibility studies over many years to identify an appropriate site for an early learning centre," shares the team.
Internally, industrial space gives way to an empathetic design, recognising the diverse experiences of its end users: children, educators and parents.
Seamlessly delineating private spaces from main areas, the varying needs of each group are accommodated.
Sustainability came first at R Architecture throughout the design process.
Multiple sustainable and energy-efficient initiatives are integrated into the structure of the building, including inbuilt rainwater harvesting and solar panels.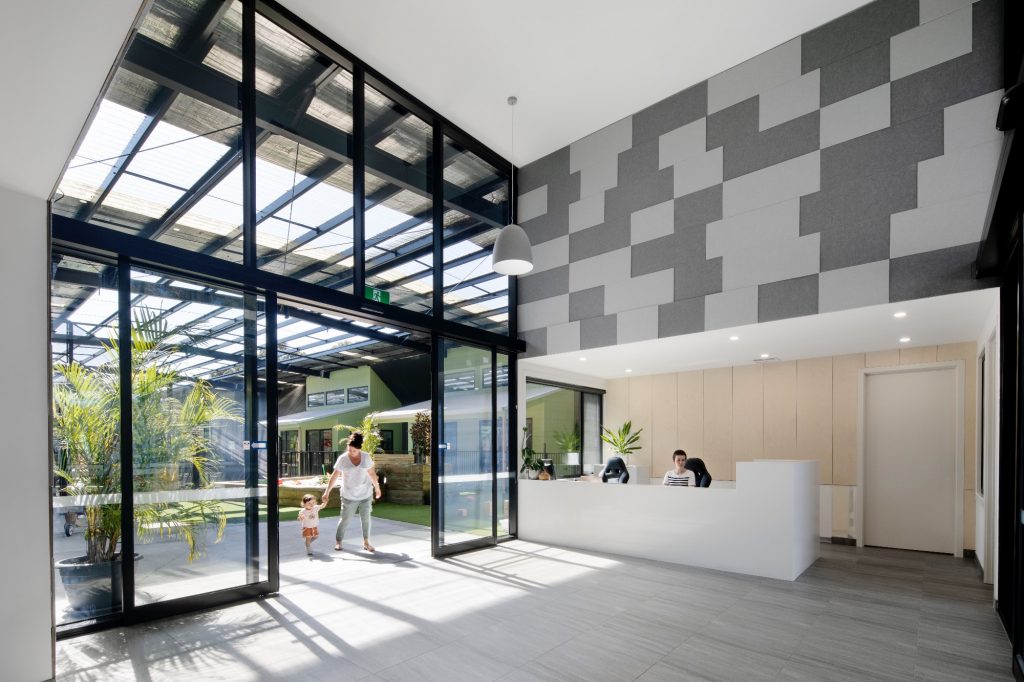 Demonstrating a synergy between design and purpose, these ideas are reflected in the centre's teachings, with children taught to recycle and repurpose materials in their creative play.
In this way, sustainable practice is not only reflected in the design approach but is inherently woven into the educational fabric of design use, contributing to an environmentally conscious future generation.
Natural ventilation and passive cooling are incorporated via the configuration and indoor/outdoor connectivity of the courtyard opening which also provides a superior level of flexibility that supports a highly education-focused and activity-based approach to early learning.
Discover also how Steelscene and Badge Constructions partnered on Insight Early Learning Centre.