Location: Queenstown, New Zealand
Architect: Domenic Alvaro Architect
Review: Michael Holt
Photography: Peter Reynolds
There is a small but intriguing project in the rural context of Dalefield at the Wakatipu Basin on New Zealand's South Island. With the Coronet Peak ski resort at its apex, Domenic Alvaro Architect's Balfour Cottage is located in an historic and preserved location. It is an expansive and awe-inspiring landscape that removes all sense of proportion, rendering the surroundings almost scaleless. The building is a tiny dot on the picturesque plateau, but an exquisitely finished blemish. And, given that the local building requirements stipulate certain preservation demands, it was necessary to only build to the existing cottage's footprint.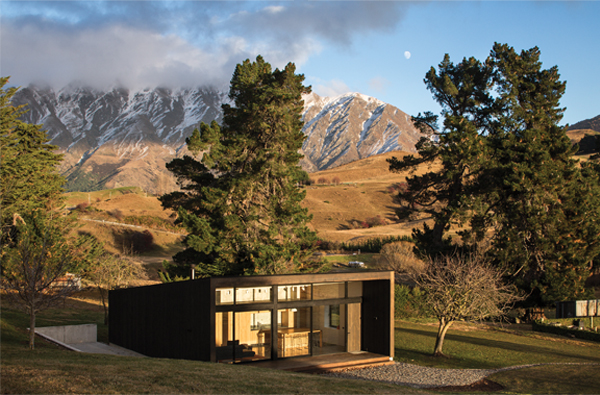 The fully glazed north-eastern elevation maximises the cottage's sun exposure and view to Coronet Peak, but also addresses the proposed masterplan, which includes a new residence among existing sheds comprising parking and workshop facilities, as well as the conversion of a chicken shed into a study and sauna.
Given the site was settled in the mid-19th century by pioneers (just 15 years after being discovered by the Pakeha traditional owners), it is noteworthy that its stables are one of the oldest intact original buildings on the South Island. But, as architect Domenic Alvaro (principal at Woods Bagot, Sydney) suggests, it is much more than "a restorative exercise with extensive use of schist stone in the landscaping, as it is about providing a new family home within a spectacular rural setting".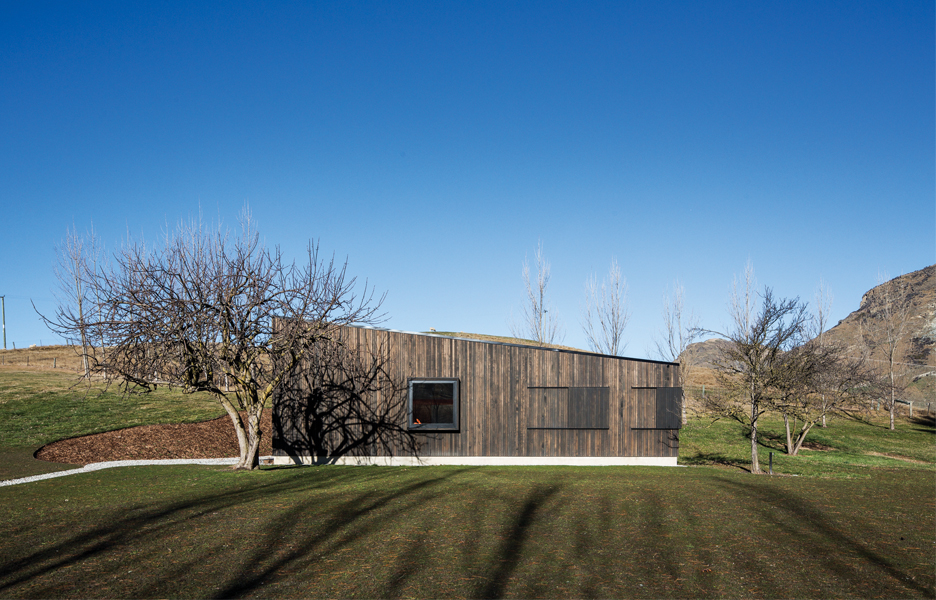 The proposed masterplan is a collection of buildings, acting more like a community than an individual plot with a single residence. Indeed, the cottage provides visitors with two bedrooms, a shared bathroom and kitchen/dining area, which will actually become the living quarters for the client's two children at a later date. It is a unique approach to a family home, but also offers a curious architectural perspective on the notion of existing and tradition. While many projects in rural settings intensify the individualised paradise of their own plot, it is novel to then disperse the program, making use of existing buildings as new programmable parts to a scenic whole.
Alvaro is an established architect, one known for his attention to detail with a sleek, masculine aesthetic. And, although this is a modestly sized project, his full armature is on display. For instance, the external timber cladding subtly dissolves among a number of small barn-like buildings scattered across the surrounding context, while the shuttered concrete finish for the load-bearing walls divide living space from communal areas and the polished concrete floors with under-floor heating provide a stark finish that is at once industrial and homely.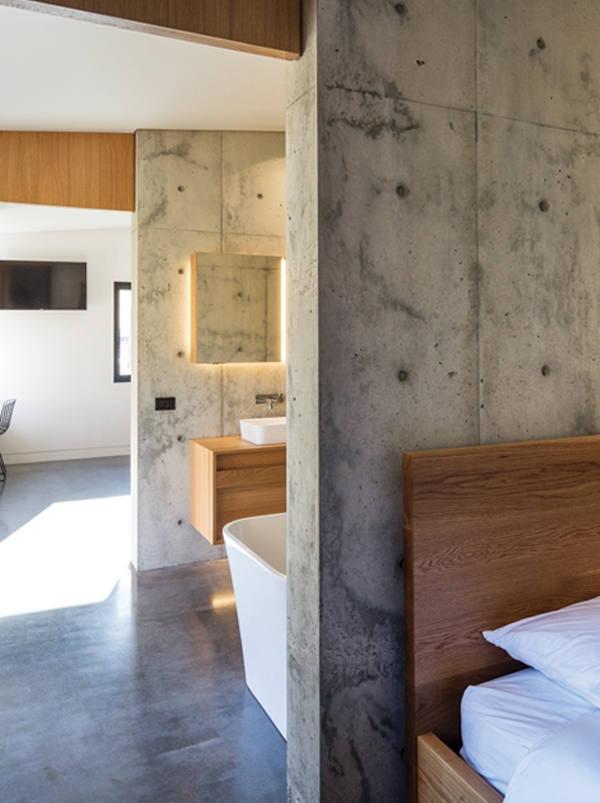 Overall, the detailing is typically concise and considered. An example is at the connection between the service program components of kitchen and dining – two spaces joining in plan at the building's centre. Both programs are wrapped in timber joinery panels that create hidden pivot doorways, dividing the bedrooms and living areas and enabling a combination of components, whether they are programmatic or architectonic.
Although the barn-like building is minimal in its aesthetic, it is worthy to note the shrewd use of window treatment to distinguish different programs on the external elevations. A popped-out extrusion on the building's north face accounts for a communal living area beyond, while the in-laid windows at the building's western corners – at the angle of each bedroom – suggest private space. Indeed, there is a pleasing play on the barn typology as the apertures can be closed off with operable shutters, leaving the building envelope as a single entity.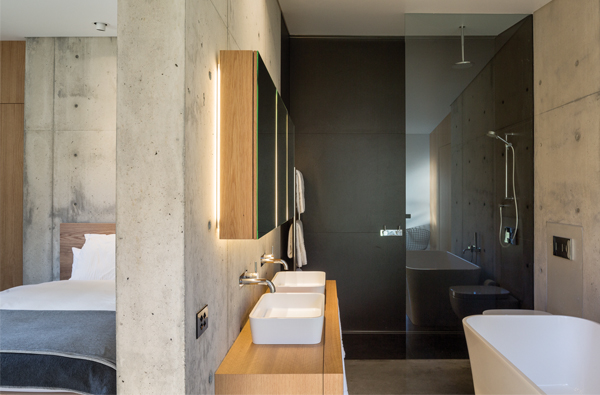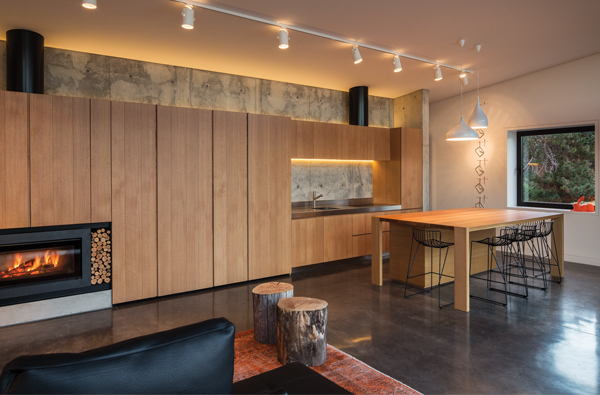 Just as the proposed masterplan will be a dissemination of programs and a continuation of traditional plot arrangements, promoting shared space both inside and out, the bathroom is also a luxurious shared space. It opens out to its rural context with a main access door to the landscape and also separating the two bedrooms. This shared territory may have been a result of spatial limitations of the existing building footprint, but it does offer an intriguing position on understanding architecture in a large site. Instead of simply highly detailed, singular buildings as architectural moments, can the profession begin to present an argument on the collection of buildings as a strategy for architecture operating as a community?
Project Details
LOCATION: Dalefield, Queenstown, New Zealand
ARCHITECT: Domenic Alvaro Architect
TOTAL FLOOR AREA: 115sqm (95sqm house, 20sqm terrace)
COMPLETION: August 2013
BUILDER: Justbuilditnz – Geoff McNee