Above: Tree In The House by A Masow Architects, image courtesy A Masow Architects.
For some of us, nothing beats the city life. Bright lights, busy streets, a convenience store on every corner and a coffee shop always only minutes away. However, no matter how much we love the city, tall trees and a starry night sky will always remain a sight for sore eyes.
In an attempt to get back to nature, many architects have developed impressive and imaginative homes among the trees. A Masow Architects has developed a speculative design for a tubular glass house with a fully-grown tree at its centre, a design that was completed two years ago which resurfaced online after recent talk of new investors for the project. Completely independent of traditional connections – gas, water, electricity – the home is designed to generate its own. Its four levels are connected by a central spiral staircase, completely enclosed in glass.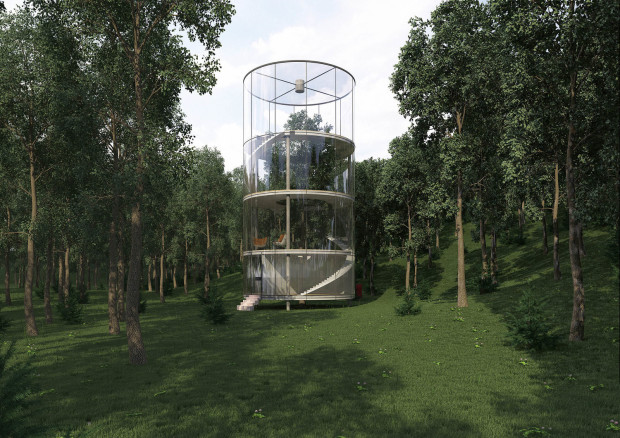 Sustainability Treehouse is a grand structure designed by US-based studio Mithun, and built for the Boy Scouts of America/Trinity Works. The steel and timber multi-level construction wraps around and is encircled by trees within the Summit Bechtel Reserve. Tapered structuring allows for minimum impact on the immeditate environment, and at its higher levels, provides expansive observation oppertunities of the surrounds. Within the Treehouse, a viewing gallery and immersive facilities allow educational opportunities in regards to sustainable technologies. "The Treehouse provides dynamic educational and gathering spaces for exploring and understanding the site and ecosystem at the levels of ground, tree canopy, and sky," Mithun said of the construction.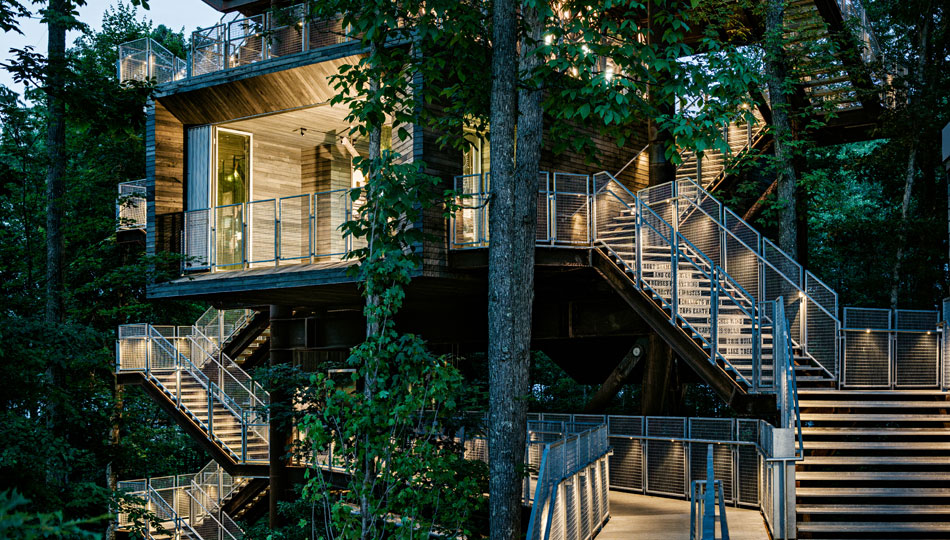 Known for his work on sustainable and environmentally conscious homes, master builder Lionel Buckett created a home that is a treehouse in every possible sense of the word. Situated right in the heart of the New South Wales' Blue Mountains, the home is truely at one with its surrounds – almost every part of the structure encorporates trees, sitting high up in the canopy. Tree branches wind underside the ceiling and along the balcony railing, while raw timber makes up window frames, doors, and furniture. Edged by full-length windows, the home offers an unprecedented view of the forest, and is available to stay in on airbnb.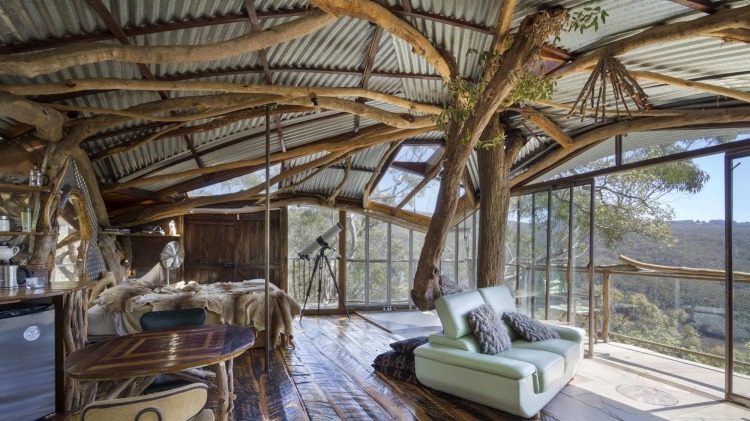 This pod within the trees came to fruition after the then 26-year-old Joel Allen's job as a software developer fell through and he soon after met a man who inspired him to pursue carpentry. His passions ignited, Allen soon began development of the Hemloft, an egg-shaped refuge that hangs on a slope in a forest in Whistler, Canada. After three years of construction, during which Allen fell in love and landed a job as a lead carpenter, the vision was complete. A little home built of recycled materials, cosy and quaint, high and subtle amongst the Canadian treetops. You can read the inspiring full story of the Hemloft here.