Australia's oldest First Nations gallery, formerly Cooee Art, relaunches as Art Leven to rein in a new era under the leadership of beloved owner and director Mirri Leven.
Cooee Art was established in 1981 with a founding goal of representing and promoting artists in an ethical and sustainable way, and since then has hosted auctions and exhibited some of Australia's premier artists.
This next chapter for Cooee Art, now named Art Leven, will see the gallery exhibit artwork by non-Indigenous artists for the first time.
The new gallery direction involves facilitating partnerships that extend beyond the traditional commercial relationships between gallery and artist by encouraging open exchanges between non-Indigenous and Indigenous artists, curators and art centres.
Art Leven will host the inaugural exhibition for the rebrand on 27 July at the renowned gallery space in Gadigal Country, Redfern.
The exhibition, curated by Gadigal artist Kate Constantine (Konstantina), will feature work created in the Northern Territory Warlpiri community of Lajamanu – eight hours north-west of Alice Springs. This artwork will showcase the skill of landscape painting and interrogate the different concepts of Country.
Over the last month, Art Leven and Sydney-based artist Neil Ernest Tomkins travelled to Lajamanu for a weeklong painting workshop at Warnayaka Art with Warlpiri artist Kitty Napanangka Simon.
Tomkins is known for a painting style that distorts imagery and perspectives, and has been involved in commissions, murals and residencies in Portugal, India, Peru and Mexico. Napanangka Simon possesses a recognisable, singular aesthetic, and had her first solo exhibition at Cooee Art in 2013.
Director of Art Leven Mirri Leven – who first joined the team as a gallery assistant nearly 20 years ago – reminisces on how Kitty was the first artist she welcomed to the gallery when she was a novice co-owner and director of formerly Cooee Art.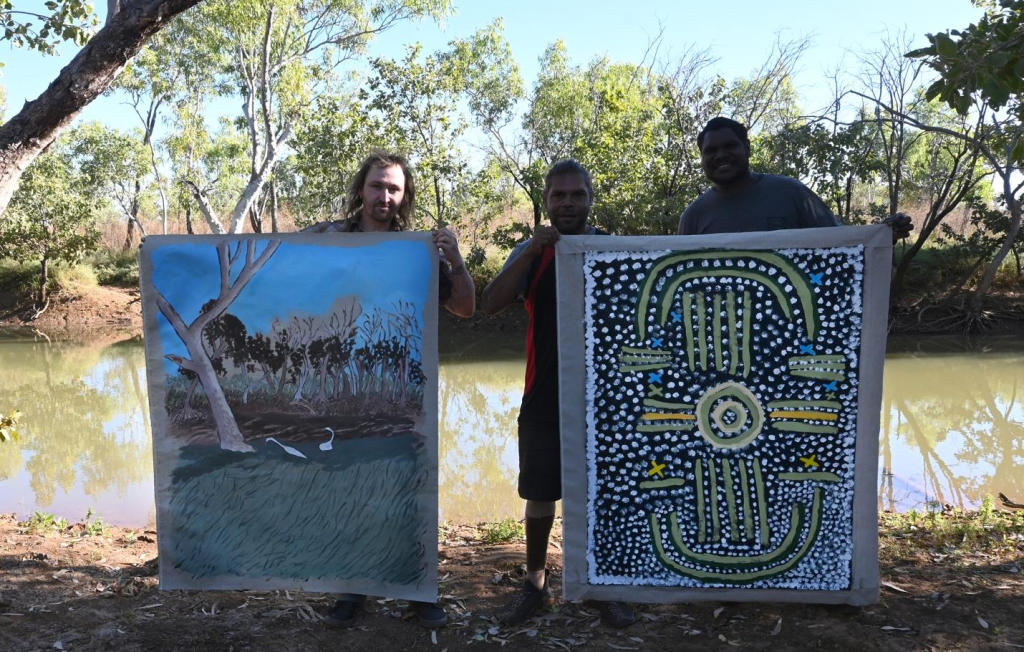 Additional Warlpiri artists who participated in these workshops included Annie Napanangka Simon and Biddy Napanangka Timms, Robin Napurrurla Lawson and Isaiah Tjungurrayi Lewis.
Warnayaka Art's Warlpiri owners effectively opened a common space by inviting Tomkins and Art Leven staff onto their country, where artworks are encouraged to communicate with each other during the creation process.
The dialogue and interactions that develop in this shared space are devoid of crossover interference, and instead evolve organically – akin to a process of osmosis sparked by mutual inspiration.
Leven ensures the gallery's rebranding will not distract from the unflagging efforts to amplify the voices of First Nations artists.
"We are inviting audiences of the wider Australian and Western art world into a more intimate and understanding appreciation of our First Nations' artists – past and present," says Leven.
Leven is eager to positively redefine what an artist should expect from a gallery or representative to attempt to correct the mistakes from the industry's occasionally "murky past".
"Art Leven means to embody the evolution of Cooee, providing a pathway to new ways of working together and bridge the gap exchange between Indigenous and non-Indigenous artists," says Leven.
Featured Image: Artists Kitty Napanangka Simon and Neil Ernest Tomkin by Mirri Leven.
Photography by Mirri Leven.
Read about how Lindi Mlambo reimagines traditional Zimbabwean homewares.