Architectus and Hecker Guthrie have woven subtle references to the Hoddle Grid and the city's iconic laneways inside and out of the new Hyatt Centric.
An Australian first for the global hotel chain, Hyatt Centric Melbourne reflects the brand's localised focus.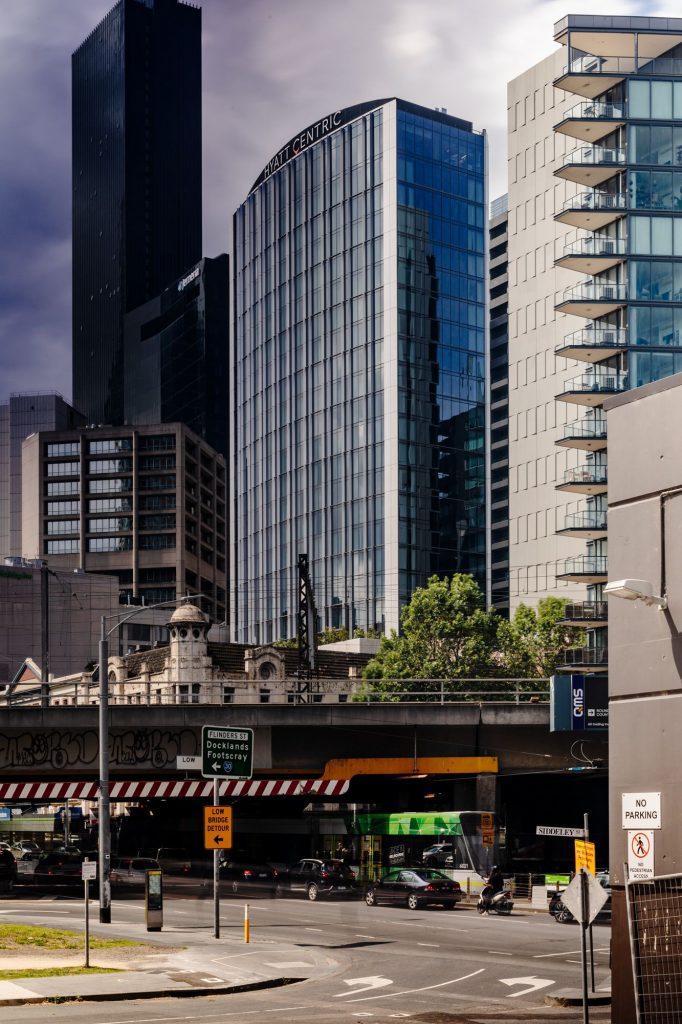 "The Hyatt Centric is different from the main Hyatt brand," Architectus principal Matthew Smith tells ADR on a tour of the hotel recently.
"It's not bound by brand constraints, but rather is inspired by the city it finds itself in and the culture that defines it."
From the street, the new hotel, which opened in December 2021, is unassuming – or as unassuming as a 20-storey tower at the southern end of Flinders Street can be.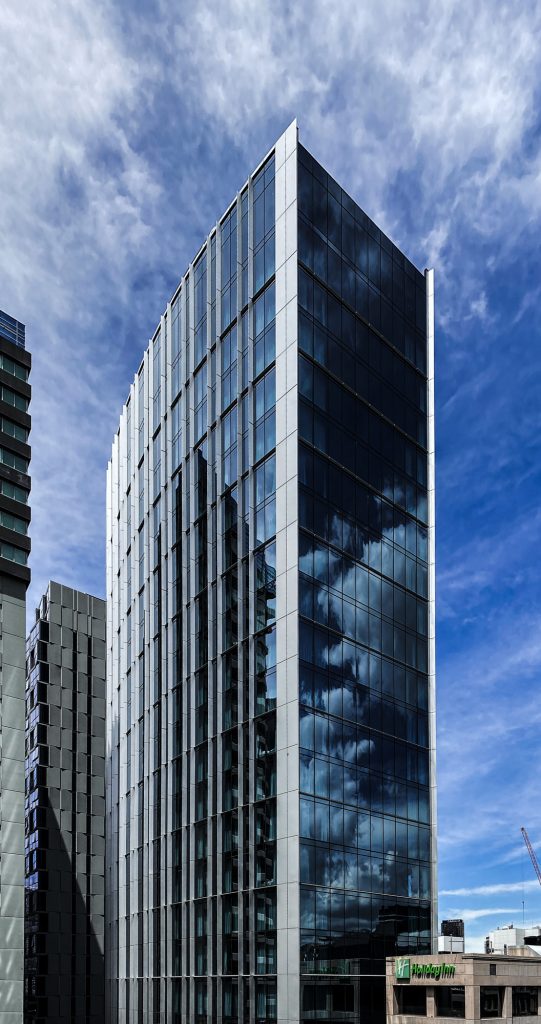 When Architectus came onto the project, another tower had already been approved for the lot and recently introduced planning regulations meant architects had to make a number of changes.
The original multi-angled proposed building was softened into an "elegant, curved expression" that addressed east and west aspects and was better suited to the hospitality venture.
Vertical blades of varying scales provide solar shading and modulation, while also referencing the Edwardian Baroque style of the nearby Sir Charles Hotham Hotel.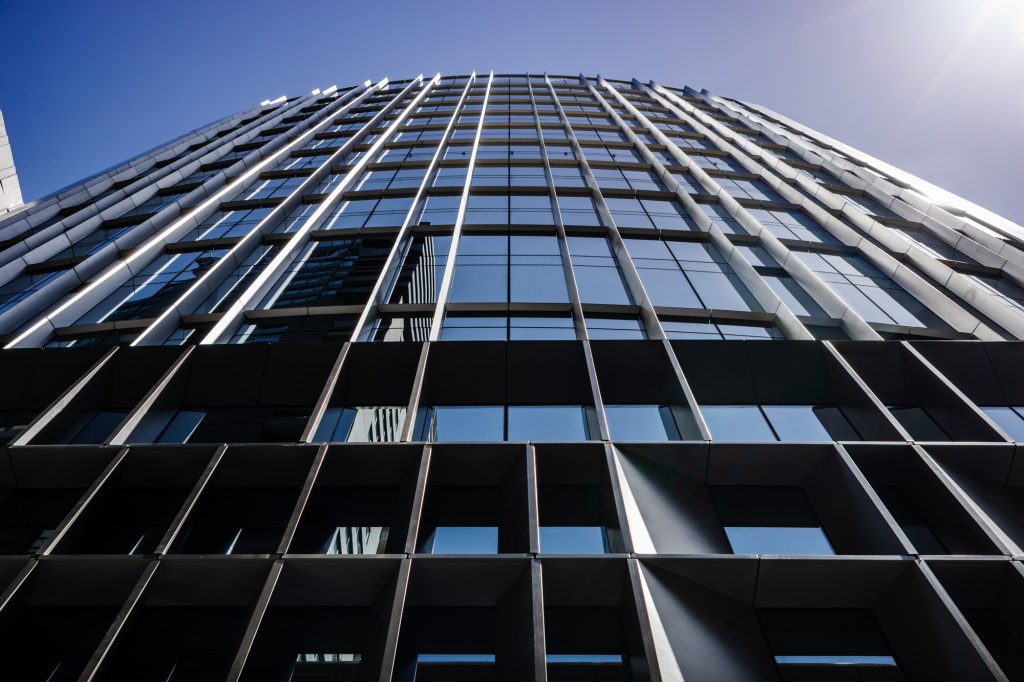 The six-storey podium touches the laneway lightly. On the ground, the hotel is wrapped in glass and sandstone brick – a deviation from the original plans, which featured floor-to-ceiling glass alone.
"We wanted to do something different from the all-glass facades you're seeing increasingly often throughout the city," explains Smith.
"The podium level in particular picks up the scale and rhythm of Melbourne's Heritage masonry buildings. There was a certain desire for it to feel as if the hotel had been around for a lot longer than a couple of years. We wanted it to blend in and sit comfortably among its neighbours."
Architectus also set the building further back than originally planned with the goal of reactivating its laneway.
A spacious sidewalk now provides ample room for bench seats and planters, which, on our visit, are filled with hydrangeas positioned beneath the black metalwork window frames by a local blacksmith.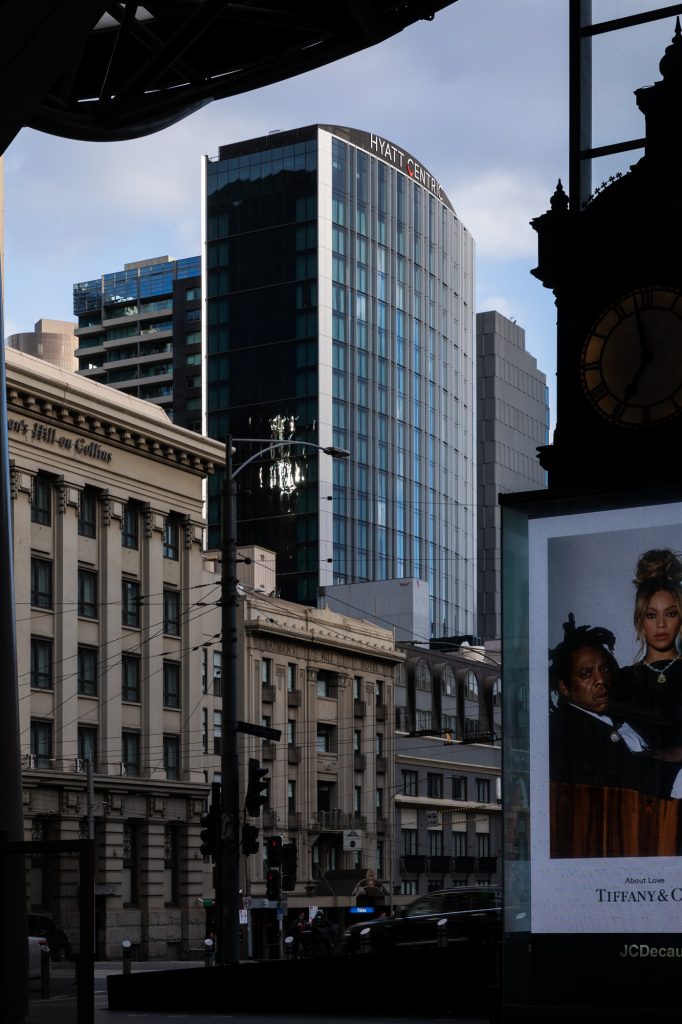 The Hyatt Centric guest is "curious and savvy" – something that's immediately apparent on walking through the towering timber front door.
Swinging open as we approach, it unveils a short tunnel – the first nod to Melbourne's laneways – that transitions into an expansive lobby.
From the street, only glimpses of this interior are permitted. It's an intentional move by Architectus that engenders mystery and allure, but also a sense that the hotel is a "hidden gem" – something to be discovered by the intrepid Hyatt Centric guest.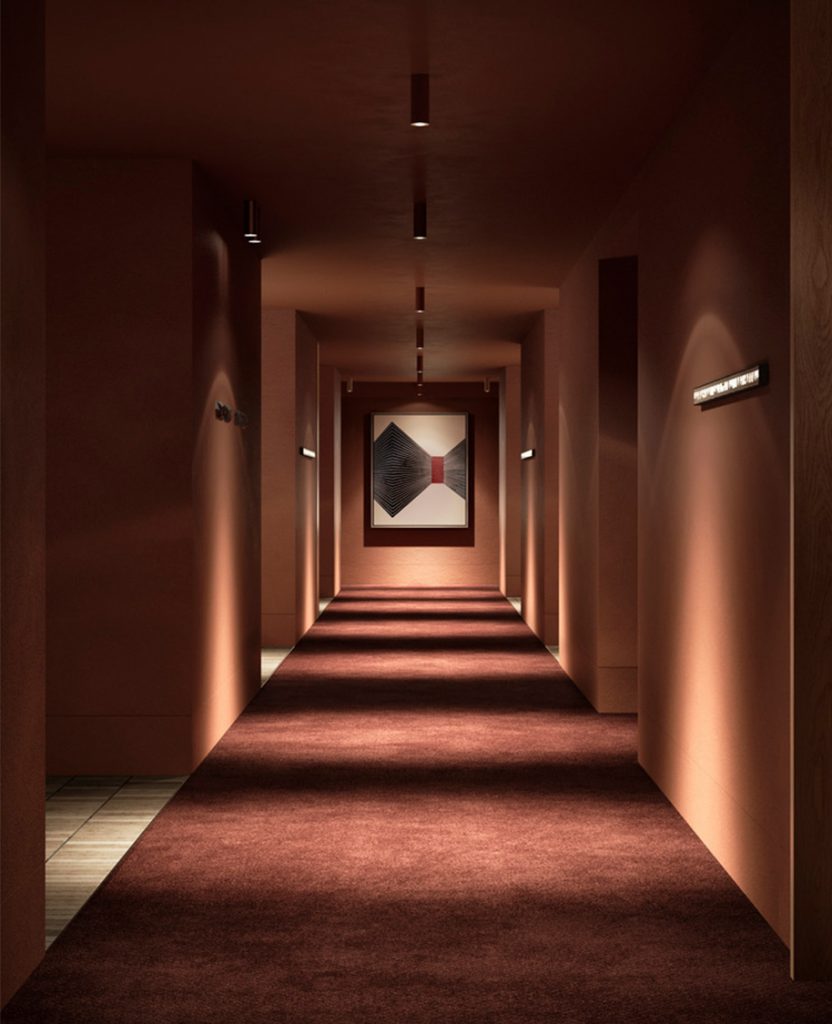 Hecker Guthrie took the lead on the hotel's interiors, eschewing the futuristic, ultra-modern spunk of recent hospitality projects for a look inspired by Melbourne's urban fabric and industrial roots.
The lobby is softly lit with rich earth tones and plenty of plants. The sandstone brick from the facade is woven throughout the space in homage to local Victorian-era buildings.
The art, which includes pieces by street art Damian Cazaly, references the Hoddle Grid, and in what is known as The Corner (a feature of all Hyatt Centric hotels), guest can flip through books about Melbourne while sipping on coffee from local family-owned roasters Cottle Coffee.
"Paul Little [chairman of Little Projects Co, which delivered the project] is a great patron of Australian art and artists," adds Smith.
"So there was definitely a focus on working with local craftspeople, makers and artists on the hotel interiors. Even the staff's uniforms are locally designed [by PAGEANT]."

Plush pieces like the Joy Armchair by Jardan are a nod to the city's history in wool production, and every so often, you catch a glimpse of the golden Australian animal statues crafted by Melbourne artist Suzie Stanford.
Ornate and unexpected, these custom pieces are scattered throughout the hotel, in the elevators and on the door handles in the function rooms and restaurant.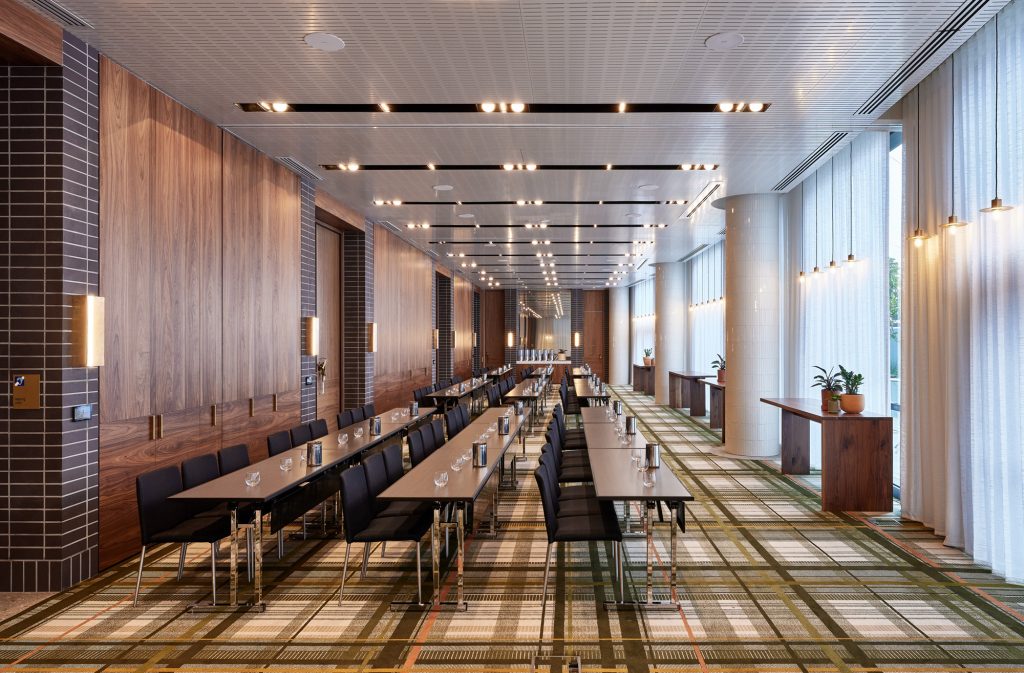 Wool returns to mind with the intricately woven rugs that line walls in the lobby and restaurant – another custom feature and one that Smith says is particularly popular with guests.
"They keep asking us where they can buy them," he says. "They're always disappointed once they learn they can't be found in stores."
The lighting is also a standout in the public spaces. Bright white, papier-mâché-esque pieces from Anna Charlsworth and Volker Haag's burnished bronze references to Melbourne's Gold Rush leave an impression in a space that is awash with visual stimulation.

As you transition up through the hotel's levels, there are more references to Melbourne in the red memorabilia cabinets of the lift lobbies and back-lit polaroids of the construction process in the corridors.
There's a Melbourne, I Love You coffee table book in every room, and a closer look at the rugs designed by local graphic design studio Pop & Pac reveal the names of icons like the Queen Victoria Market among the grid lines.
The rooms themselves are refreshingly pared back. Two hundred and seventy seven in total, they vary in size, but all feature richly grained timber detailing, black marbled bathroom fixtures and boucle (another nod to local wool production).
"Hecker Guthries excels, I think, in bringing that sense of residential to these big commercial projects," explains Smith.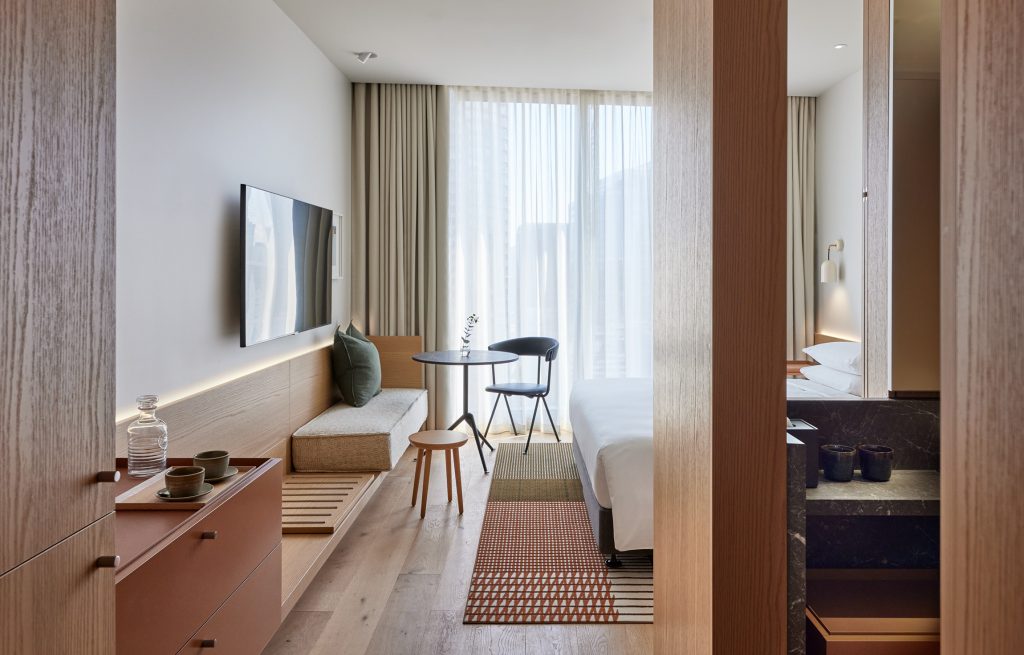 "There are all these beautiful touches you'd expect in someone's home interwoven into every space and every floor.
"Something as simple as the bedside table, for example. Hecker Guthrie has gone to the extra effort of not just specifying the same one. Instead it has mixed and matched green tile pieces (the Hisky side table by Porcelain Bear) with simpler timber ones.
"The effect is more relaxed and less structured, like a well-designed home."
The Hyatt Centric Melbourne culminates with TOMA (short for Taste of Melbourne) – a top floor restaurant and bar serving sustainably-sourced, Mediterranean-inspired menus featuring Victorian produce from Chef Jordan Monkhouse.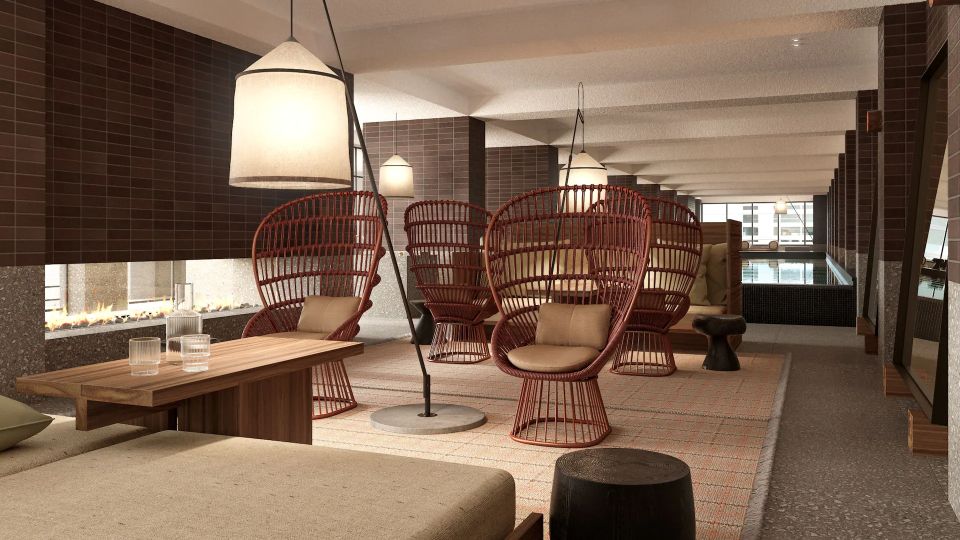 Architectus never considered giving the rooftop over to a pool and lounge setting.
Instead it tucked the 25-metre body of water on level six in a space that is moody and intimate, replete with high-backed rattan chairs, more brickwork and a black marbled wash station and drinks tap.
"We always knew the pool would be this hidden space," says Smith. "It just felt right to have it tucked away as a bit of a surprise for guests to discover, while the rooftop was perfectly placed for a restaurant."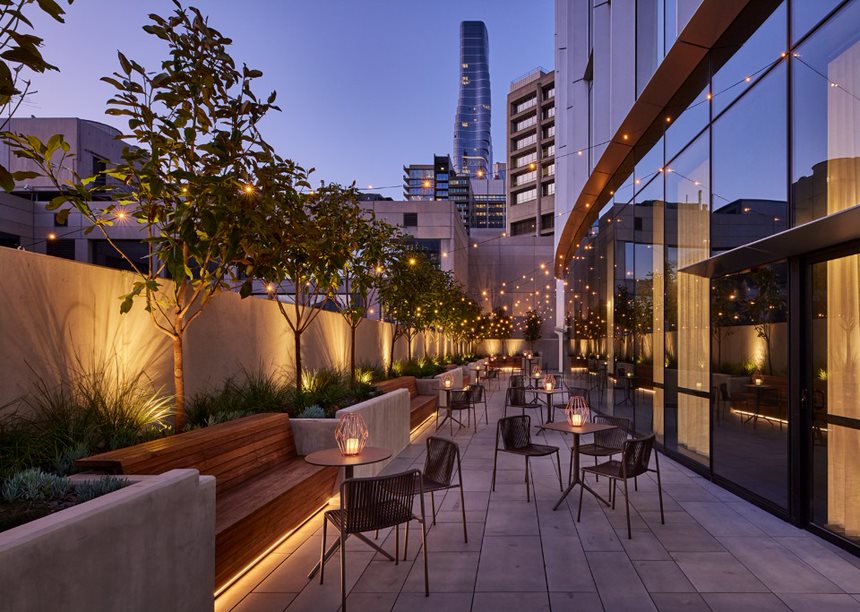 Smith says he was surprised by just how vast the views from TOMA are.
Guests from inside and outside the hotel can soak up the atmosphere that stretches across Port Phillip Bay and the grittier port and transport precincts.
"While we were working on the project, we tried to think of other rooftop restaurants in Melbourne that have this sort of view, while also offering a cool and contemporary atmosphere.
"We couldn't really think of many. There's Vue du Monde, of course, but it doesn't really have the same vibe as TOMA. When things pick up in the city again, we know this space is going to be a local favourite."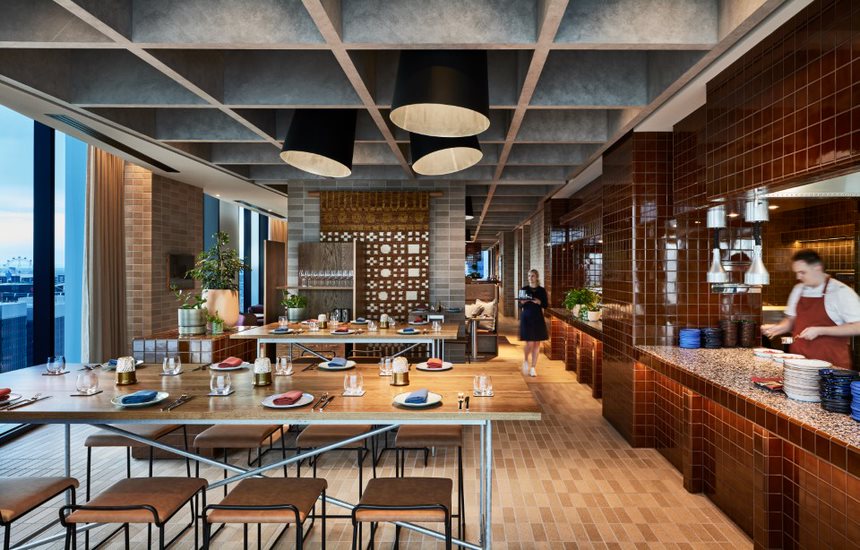 The restaurant serves to tie all of Hyatt Centric Melbourne's interiors together.
The Jardan seating and Volker Haag lighting return here, as do the custom grid rugs and brickwork. Both the show kitchen and bar are lined in the same glossy tiles as the bedside tables from Porcelain Bear.
The effect is cool and curated, trying hard not to look like it's trying hard in a spirit that is familiar to all Melburnians.
"This really is an ode to all things Melbourne. The unique and definable characteristics that make it such a go-to destination," adds Smith.
"Like Melbourne, the design is neither brash nor ostentatious. It is subtle and sophisticated and waiting to be discovered.
"There aren't a lot of boutique hotels in the city at the moment, so we're hoping this one become synonymous with our cultural life as it welcomes visitors, local and not so local."
Photography: Trevor Mein unless otherwise specified.
Architectus is an architecture and design studio with offices in all the major Australian capital cities. Late last year, it completed the $60 million City Campus revitalisation for Bendigo TAFE.