Australian architecture and design studio Architectus champion TAFE's continued contribution to regional prosperity in completed educational precinct.
The $60 million project has delivered new, state-of-the-art educational environments where students and staff can forge strong learning partnerships with industry and each other.
The revitalised campus home to multiple diverse students cohorts from Hair & Beauty, Hospitality and Creative Industries through to Adult Migration English.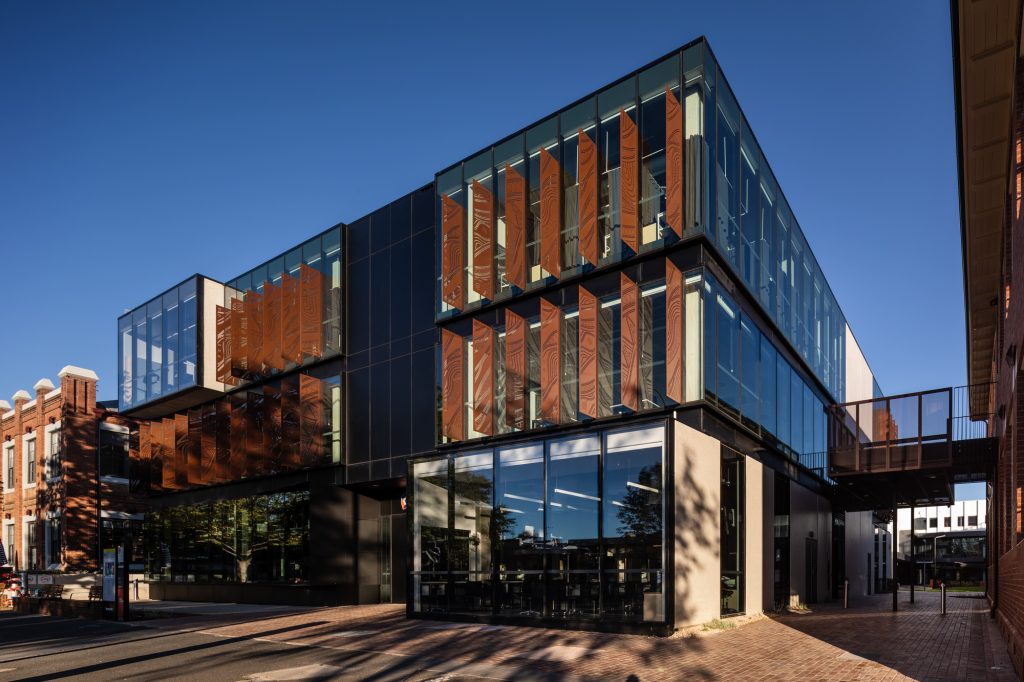 With each cohort possessing specific learning needs and spatial requirements, Architectus facilitated bespoke learning settings and collaborative environments where all students feel comfortable and supported.
Partnering with Six Degrees Architects and landscape architecture and urban design studio SBLA Studio, Architectus led on the delivery of the new campus infrastructure including two new buildings and connecting spaces.
Architectus associate and Bendigo TAFE alumni, Jayden Peacock led the project from conception to completion.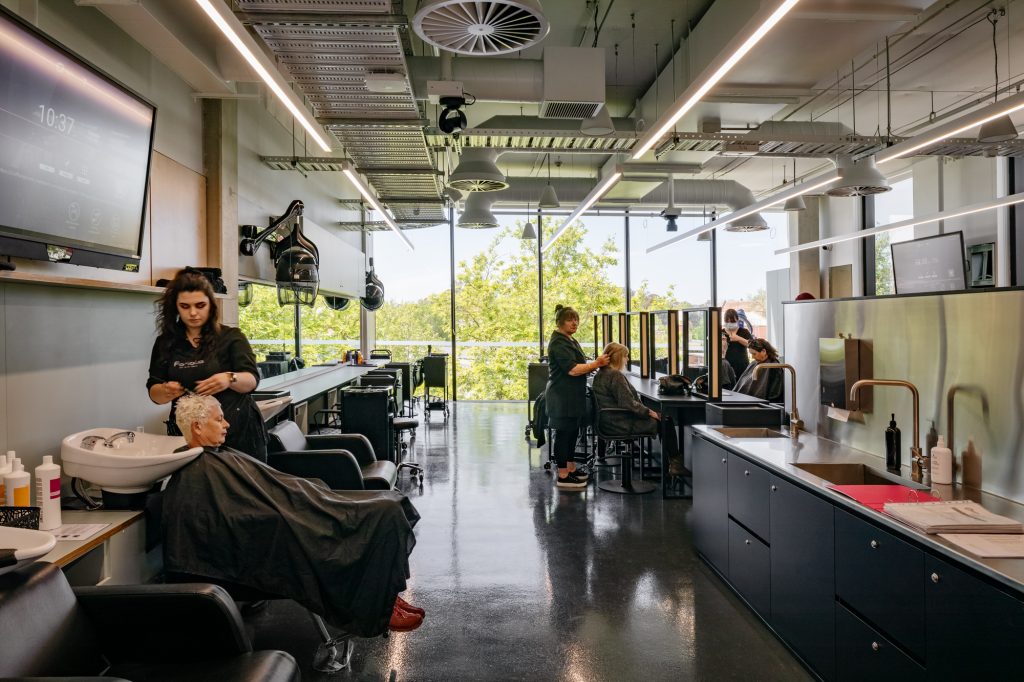 Peacock says the revitalised Bendigo TAFE City Campus empowers students to become agents in their education, training and careers "by expanding choices around how, when and where they learn".
"The design team has created a range of stimulating new spaces that cater to all kinds of learners – from hands-on practical environments, to high energy collaborative settings, and quiet zones.
"Having lived in Bendigo for most of my life and as an alumnus of Bendigo TAFE, I'm excited for students and staff to experience the new uplifting and energising education environments at the revitalised City Campus. It has been enormously rewarding to lead the design of a project that is both knitted into the historic fabric of Bendigo and firmly focussed on the future of the region and its people."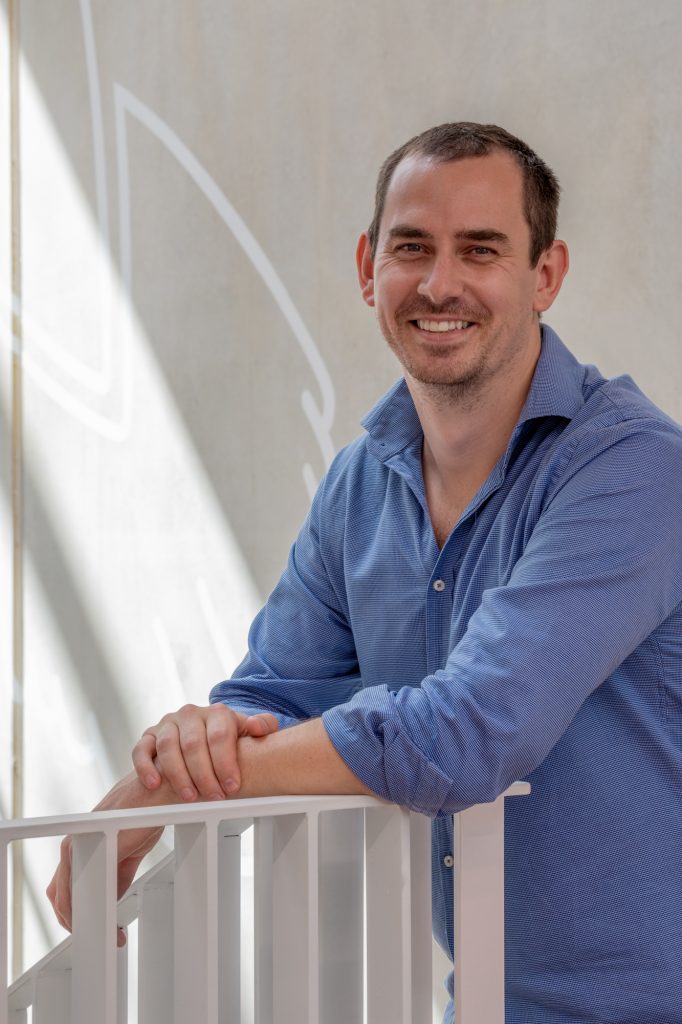 The design of the revitalised campus places enhanced self-paced learning and social capabilities at the centre as new functional spaces promote authentic hands-on learning experiences. In contrast, quiet zones offer students space that supports individual study and reflection. 
New AV systems and equipment have been incorporated throughout the campus to support remote learning online and in-person teaching with multiple diverse student cohorts – each with specific learning needs and spatial requirements.
On entry to the campus, students will be welcomed by Waa, the wise crow of the Dja Dja Wurrung – one of three artworks on campus by Wurundjeri, Dja Dja Wurrung and Ngurai Illam Wurrung artist, Mandy Nicholson.
Waa and Bujil are the two primary moieties that make up Dja Dja Wurrung cultural and belief systems, brought to life in filigreed metal work on the exterior of the building and in a dramatic hand painting in the atrium of one of the new Building G.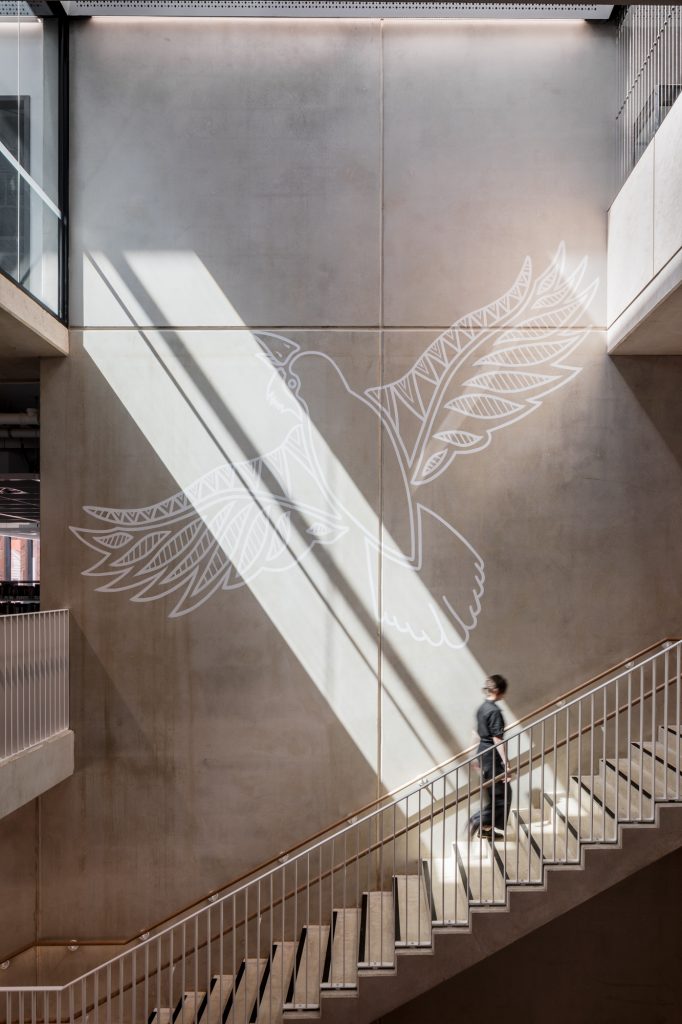 Bendigo TAFE Chief Executive, Sally Curtain says the refreshed campus embraces the rich history of Bendigo TAFE in the community and its continued vision to train and skill a workforce for the future.
"This campus has been a vibrant feature in the heart of Bendigo city for 167 years. We are proud to deliver an improved educational precinct that continues to embrace its strong heritage in Bendigo city, while providing state-of-the-art, fit-for-purpose facilities to train the workforce of tomorrow," Ms Curtain says.
As the fourth most populated city in Victoria, strengthening the connection of TAFE's City Campus with the wider Bendigo community was key to the project.
Located at the eastern-edge of Bendigo, the redeveloped campus plays a vital role in welcoming visitors from Victoria's north and celebrates Bendigo's industrial heritage. It champions TAFE's continued contribution to regional prosperity with students to be welcomed to the campus from 2022.
Photography by Trevor Mein.
Architectus is a top-tier architecture and design studio specialising in commercial, education, interiors, public, residential, transport, urban design and planning.
Earlier this year, Sydney's busiest transit hub, Wynyard Station, was transformed into a "sweeping new front door for commuters" as the revitalisation project led by Make Architects with Architectus as executive architect came to a close.