ZINTL® by HVG Facades isn't just a cladding – it's the secret sauce transforming Coolangatta's Flow Residences on the Gold Coast.
Flow Residences: a coastal masterpiece
The Australian-made and owned aluminium cladding system has not only elevated the aesthetic appeal of this beachfront development, but it has also seamlessly addressed various challenges, setting a new standard for coastal living.
The Flow Residences in Coolangatta, Queensland, designed by Cottee Parker and developed by S&S Projects, embody the dynamic ebb and flow of the ocean. This 22-dwelling beachfront development, overseen by S&S founding director Paul Gedoun, sets a new benchmark for luxury apartment living on the Gold Coast.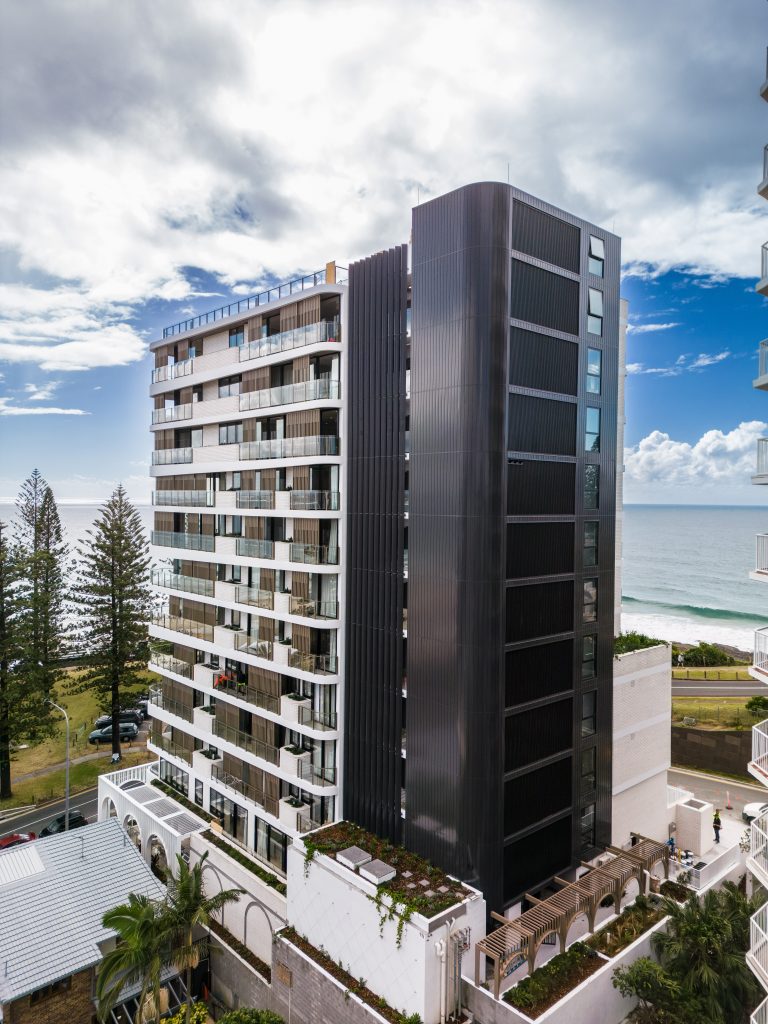 Flow Residences features a two-level penthouse and a combination of full-floor and half-floor apartments. In addition, the exclusive residents' club level on the ground floor features a private pool and a barbecue area, a guests' entertainment and dining room, a wine cellar, gym and wellness room, plus a surfboard locker room.
ZINTL® achieves architectural brilliance
The architectural vision behind Flow Residences seeks inspiration from its geographical context, mirroring the foamy surf with organic volumes and dynamic shapes. The development ensures panoramic views of Rainbow Bay and Snapper Rocks, offering residents an unparalleled beachside living experience.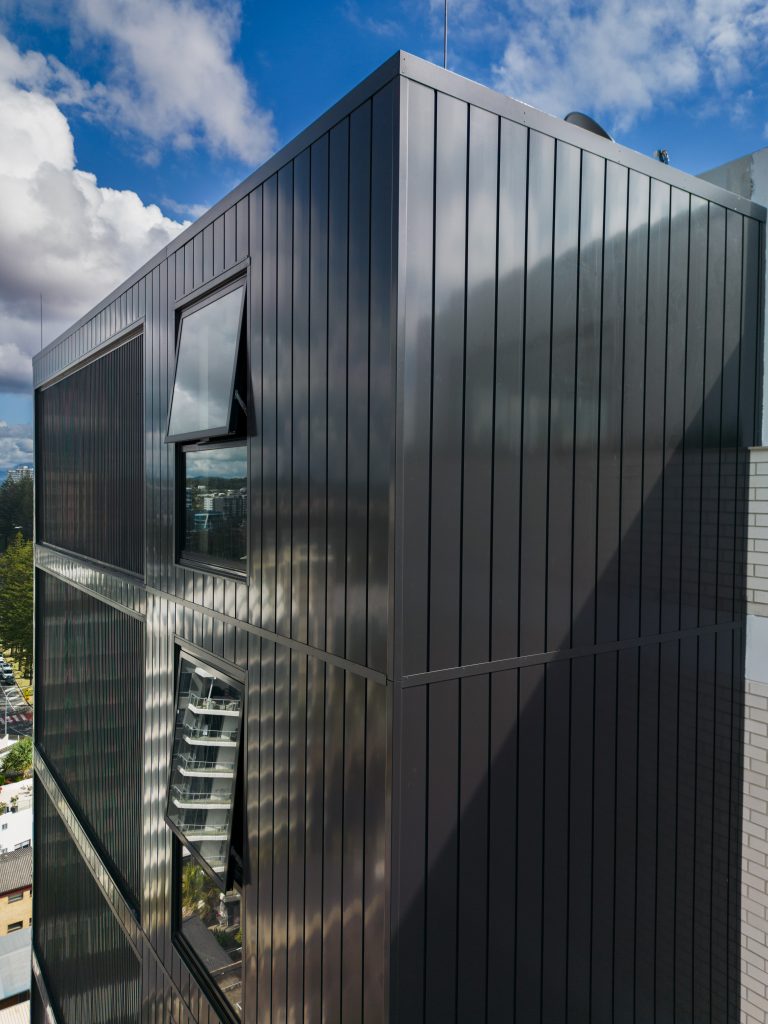 Harmonising form and function
Creating a streamlined, visually cohesive exterior for the building presented several challenges. Achieving a uniform linear aesthetic, considering trims and flashing around windows and parapets, and withstanding high-risk wind and environmental influences were paramount.
ZINTL® Shadow 200: a tailored solution
To overcome these challenges, the design team selected the ZINTL® Shadow 200 board. Its male/female interlocking system allowed for a tighter radius, ensuring a seamless, uniform linear finish without visual obstructions. The product's flat, continuous board with negative detail, available in various lengths, facilitated superb alignment and corrosion resistance.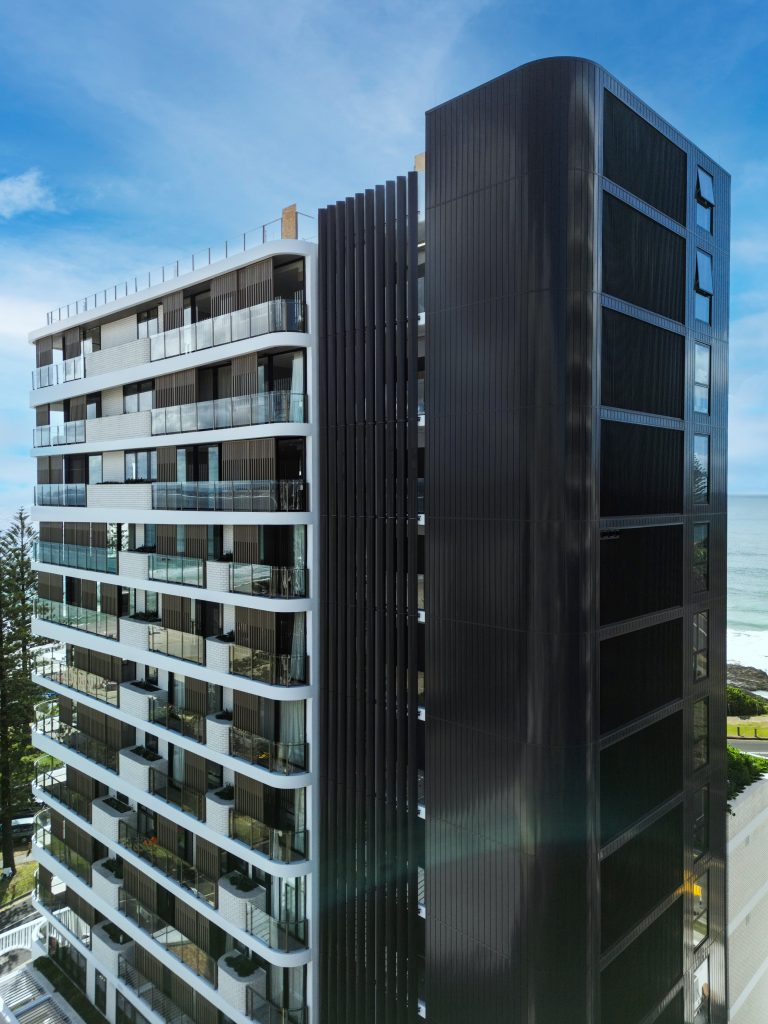 Meeting aesthetic and practical needs
Specified in Monument finish, the ZINTL® Shadow 200 seamlessly enhances the coastal palette of the Flow Residences. The product not only met the aesthetic requirements of the project, but also addressed the practical challenges posed by the building's proximity to the surf. ZINTL® incorporates ezy HD² technology, making it suitable for coastal and tropical environments, areas exposed to high humidity, pollution and salinity. This feature extends its application to buildings situated at the water's edge, regardless of height or the Building Code of Australia (BCA) class, which made it a natural choice when specifying for the unique architectural and design needs of Flow Residences.
Architect: Cottee Parker | Property Developer: S+S Group | Builder: McNab | Installer: Cladding Creations
Product: ZINTL Shadow 200 in Monument
Interested in ZINTL for your new project? Visit the HVG Facade website to learn more about ZINTL premium aluminium cladding, or other premium cladding products.
Photography by Mark Duffus