The Australian Trellis Door Company (ATDC) has recently participated in a high-profile project at Changi Airport's newest terminal, Terminal 4, by supplying its unique security grilles to eight tenancies at T4's Heritage Zone.
The zone showcases Singapore's local culture and flavour to international passengers. Situated in the transit area, the Heritage Zone gives a glimpse into the evolution of shophouse architecture from the 1880s to the 1950s.
Part of the job description included installing security grilles that would complement the replicated traditional façades of shop houses built before the Second World War. Below the shop houses sit the retail shops, while the second and third stories are residential units. A further requirement was that the security grilles were to occupy as minimal an amount of storage space as was physically possible when unlocked and opened.
With the above objectives in mind, Changi Airport specified ATDC's S07-2 side-by-side retractable security grilles, which are among the most space efficient commercial door systems currently available on the world market. By installing the top tracks of these security grilles in a parallel tandem top track configuration, ATDC was able to offer a lock up solution to its client, which occupied a mere eight percent of the daylight opening spans of these tenancies.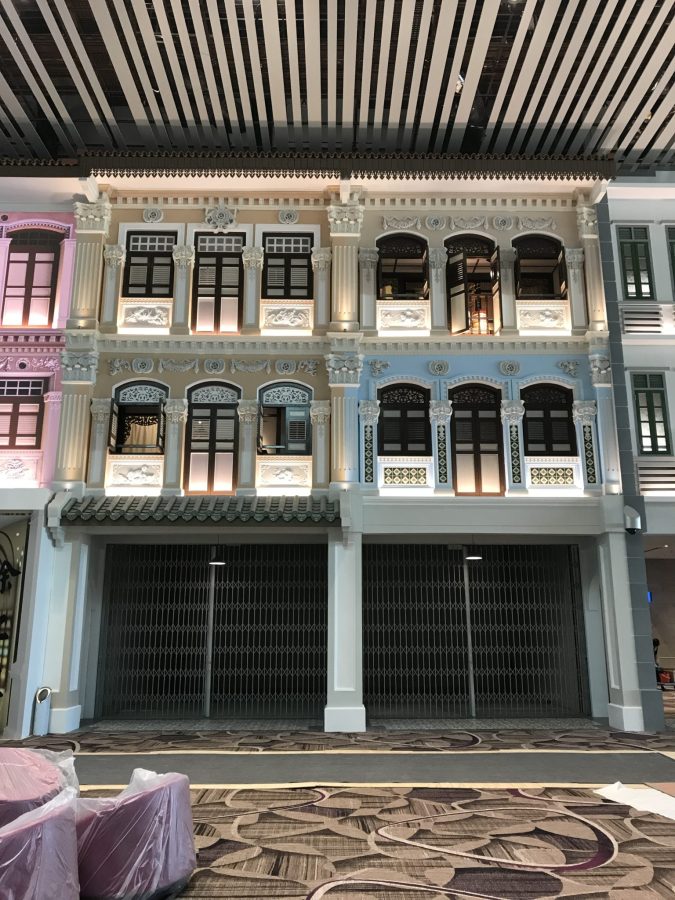 Furthermore, through the use of its seamless up/down locking mechanisms, ATDC was able to provide a lock up solution over considerably wide spans without the need for any cumbersome removable mullions and without the need for any floor tracking to contain these doors. A further requirement was that the locking mechanisms on the security grilles had to be key-able to the specific master keying system at Changi Airport.
A special precious silver pearl powder coated finish was applied to blend in with the general finishes of the immediate surroundings of the Heritage Zone. Standard ATDC stock finishes include pearl white or satin black, although any Dulux powder coat finish can be achieved to match any individual colour scheme.
The security grilles were all customer designed and fabricated to specific sizes from dimensions that were detailed on architectural and engineering drawings and they were then attached to structural support frames designed in advance by JEB Asia in conjunction with ATDC. The installation was successfully completed and Changi Airport is a very satisfied customer.
For further information on ATDC's comprehensive range of quality commercial and industrial  security grilles,folding doors,lockable plantation shutters and roller shutters please contact ATDC toll free from anywhere in Australia on 1800657435 or visit ATDC's website.