When Tope Adesina came across the Graduate Certificate of Public Art at Monash University, it opened the door to a new trajectory for his professional practice.
After establishing a career in architecture, Tope Adesina felt he had reached a point of frustration with the industry. He was ready for fresh opportunities.
"Based on the timeframe and scale of things, it was hard to integrate ideas meaningfully into any project," Adesina says.
"It became more about maybe regurgitating form or formalism rather than really looking on a microscale [at] how it affects the public space, and perception of space."
Adesina was already eager to explore interaction with space beyond habitation when he came across the Graduate Certificate of Public Art at Monash University, which would open the door to a new trajectory for his professional practice.
With a firm focus on the realities of designing, proposing and producing public art, this half-year course led by Monash Art Projects director Callum Morton balances a practical studio unit with a theoretical and historical context component, and one specialised elective.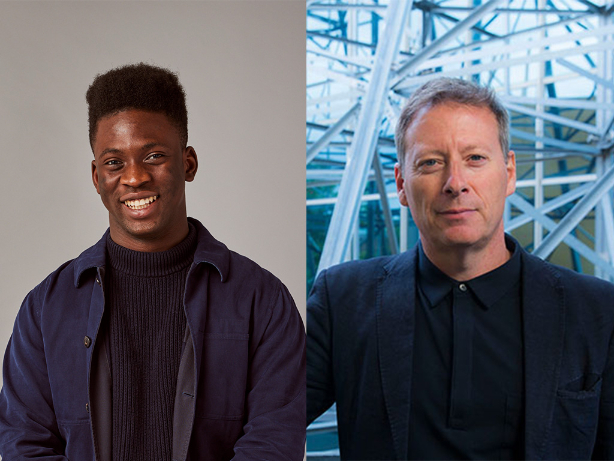 "I think those combinations were really helpful in the sense that they gave me a bit of a grounding in understanding public art and understanding the responsibility of the artists, but also seeing the lineage of how this art form has progressed and the agency it has in public space," says Adesina.
He seized the opportunity to diversify his design practice, having previously been worried about proposing temporary work and applying for funding without a background in the responsibilities and processes behind public art.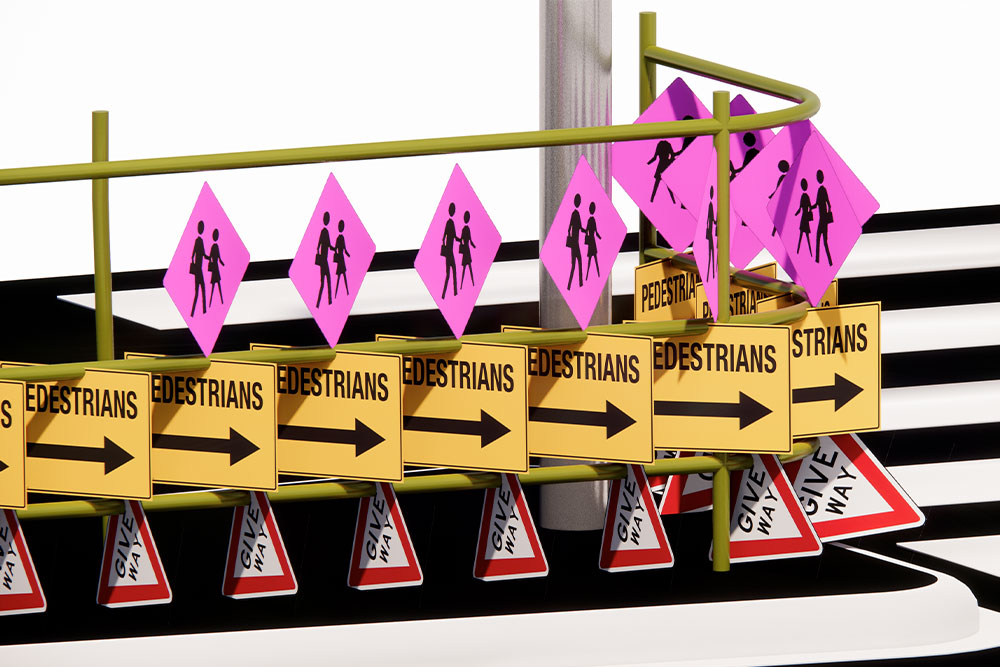 Adesina had previously crossed paths with Morton while working at Monash Art Projects with architect André Bonnice as a design assistant. He recognises their existing connection as a key influence in enrolling in the course for its inaugural year, finding the experience enriching.
"The cohort was quite small, or intimate, which meant that we were able to have really deep discussions about deeper meaning and almost debates in class," Adesina says.
"And the common thread especially in the later essays [was] one: what is public, who is the public, where is the public? And how can you take these kinds of concepts and apply [them] to something that exists in space physically?"
It was back in the Monash Art Projects lab for the studio unit that Adesina discovered the interactions he wished to explore – delving into how public spaces like train stations, museums and infrastructure are programmed.
"One common thread I found is that because of the publicness of these spaces, a lot of the interaction is done through visual signage," says Adesina, describing his desire to manipulate these communications to facilitate moments of delight or pause.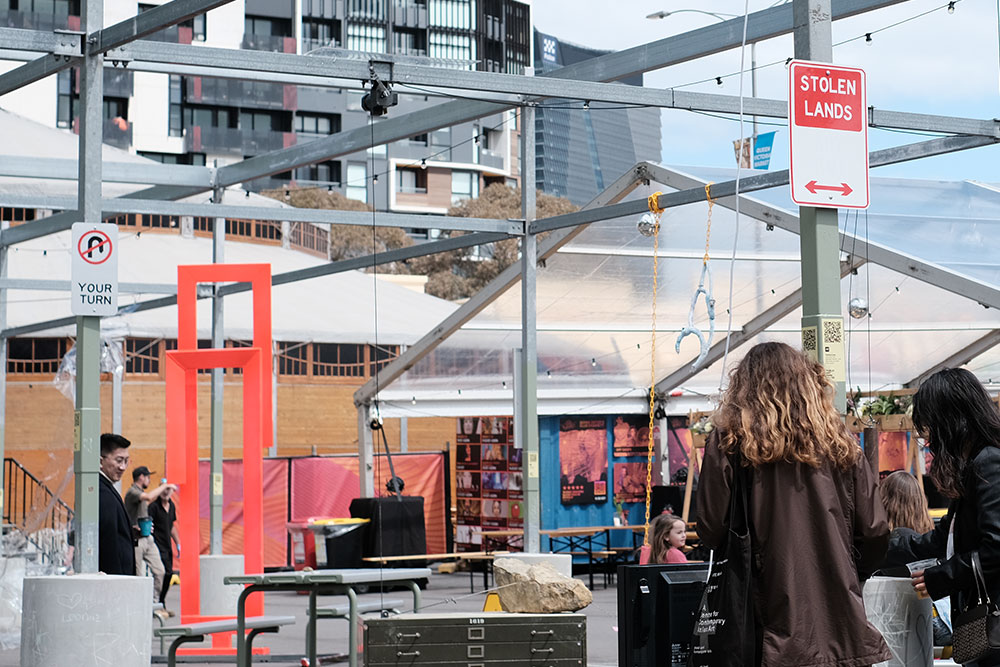 As a keen photographer, Adesina had already fostered an interest in transient moments of interaction in public spaces. Morton celebrates this as having enabled Adesina to enter another discipline with "a really good eye in terms of art practice".
Morton too came to art from a start in architecture. He describes the graduate certificate as a "catalyst" for professionals like Adesina looking to work in hybrid spaces, where the iterative design of constant studio work allows individuals from varying backgrounds to produce compelling ideas and learn from highly experienced practitioners.
For his final project Adesina focused on signage in the specific context of Melbourne's Swanston Street precinct, with capacity for disruption through reuse of familiar forms in engineered contexts.
Interpreting the project, Morton says, "by all accounts it looks like a familiar sign, one that might appear there, but it's saying something else."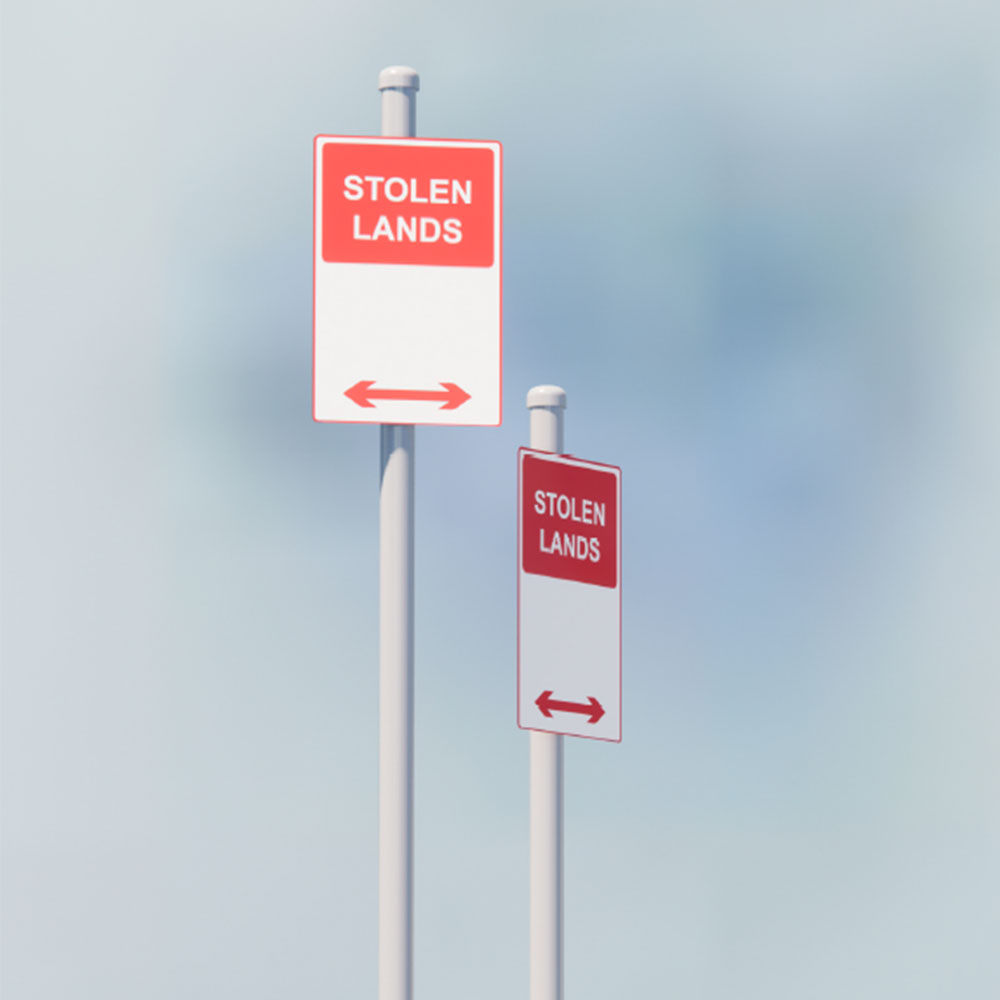 Following his completion of the graduate certificate, Adesina continued to hone the design and application of his signage artworks in a professional capacity.
In 2022 an opportunity arose at Testing Grounds, a creative practice space supported by the Victorian Government and the City of Melbourne, to physically produce and display his work. This led to the creation of eight individual signs for display in the prototype environment, with more still to come.
Monash Arts Projects also invited him to submit proposals for two further programs, one for McClelland Sculpture Park and Gallery, and another for the Oxley site of the Prosecco Road Public Art Project, for which he was shortlisted.
Accumulation had already been a theme in his signage manipulations, but with these projects he presented grand aggregations of signs natural to the more rural contexts.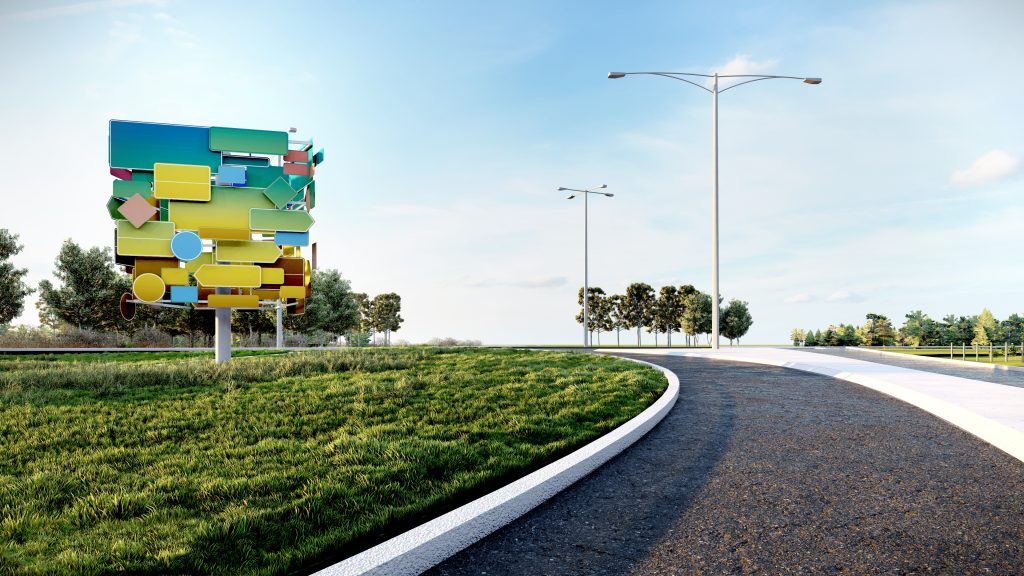 Adesina points to familiarity with the development processes of actualised projects from the Monash University course as having instructed his approach to these opportunities.
A fascination with public space has also shaped his architectural career. Even while pursuing his graduate certificate Adesina was employed full-time at an architecture firm, but he has since transitioned to Sibling Architecture, attracted by a greater focus on the public realm.
"The reason I moved to Sibling was because of the integration of public art into the work, or integration of maybe a more expansive mode of design," he says.
Photography by Tope Adesina.
Head to the website to learn more about studying public art at Monash University.