With its roots firmly grounded in the philosophy of radical design and the artistic framework established by the late Massimo Morozzi, since 1987 Edra has successfully bridged art and industry to create an international furniture brand that today is still willing to take risks.
Working with Edra from the start, Italian designer Francesco Binfaré has produced some of the brand's classics, from the early days and the launch of L'Homme et la Femme at the Cologne Furniture Fair to the Flap sofa that he describes as 'an invention.'
"It's the form of Flap that makes it communicative and successful. It reminds me of the atmosphere of the Hollywood pools in Hockney's paintings… Upholstering is like painting group portraits: seeing how people are seated, and translating behaviour into an image." — Francesco Binfaré
Like the Flap sofa, Francesco's newest collection, Pack and Chiara, provides a landscape for living. Never one for shying away from the political power of design, here Francesco has created a sofa featuring a reclining, almost life-size, polar bear laying across an 'iceberg' that appears to be cracking, putting into focus the habitat plight of the Arctic environment.
"I believe the sofa is today one of the most meaningful objects on the domestic scene… The sofa relates to the cultural aspects of living: conversation, loving, relaxing… Its complexity is not technological but functional: the sofa is a portrait of contemporary humankind." — Francesco Binfaré
Manufactured by Edra, the Pack and Chiara sofa features both a polar bear and a black bear and provides a landscape for lounging.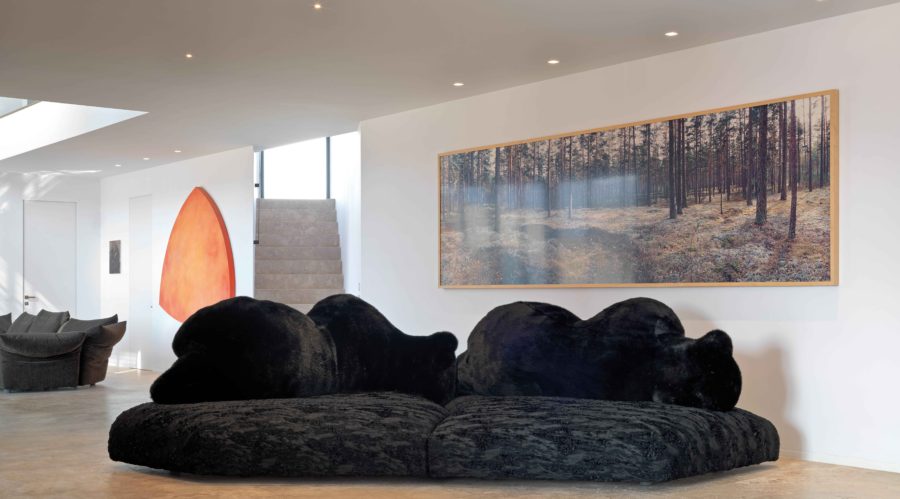 One of the few pieces released during the Milan Furniture Fair that addressed the environment beyond the living room, the Pack and Chiara collection also includes a shimmering black bear, both sofas offering Edra's alternative to the conventional all wrapped up in a poignant design statement, a daily reminder of the world around us.