"We might not have the planet in 30 years, so what is the true cost of sustainable design?" This was just one of the thought-provoking questions discussed by the panel last Thursday 20 July when Australian Design Review (ADR) partnered with Tongue and Groove to host a captivating panel event titled 'Greenwashing vs. The Real Deal'.
Tongue and Groove showroom manager Iv Hout Kuoch moderated the panel held at the Brisbane showroom.
The panellists included:
Annaliese McCarthy – an architectural undergraduate from BVN. She is a proud, queer Gadigal woman who recently returned from Japan where she was selected for the prestigious New Colombo Plan scholarship. McCarthy was part of the BVN project team working on the acclaimed Alice Springs National Aboriginal Art Gallery and her unique perspective in architecture contributed invaluable insights to the panel's discussions.
Blake Hawthorn – a highly talented interior designer, currently making a significant impact at BVN, and one of the ADR 30UNDER30 alumni. Hawthorn's exceptional portfolio and innovative approach have earned him admiration from clients and peers alike, positioning him as a rising star in the interior design world.
Kayle Butterworth – an architect from SJB. Having worked on numerous urban and architectural projects, Butterworth possesses a keen understanding of adaptive reuse and the importance of designing for inner-city urban dwellings.
Mel Johnson – an interior designer from Gray Puksand and ADR 30UNDER30 alumni. As an advocate for sustainable design practices, Mel has consistently incorporated eco-friendly materials and energy-efficient solutions into her projects, ensuring that her designs not only inspire but also contribute positively to the environment.
Sophie Kebbell – an interior designer for Hassell, renowned for her expertise in sustainable design and historical preservation. Kebbell played a pivotal role in the multi-award-winning regeneration of the iconic modernist Birch Building at the Australian National University in Canberra.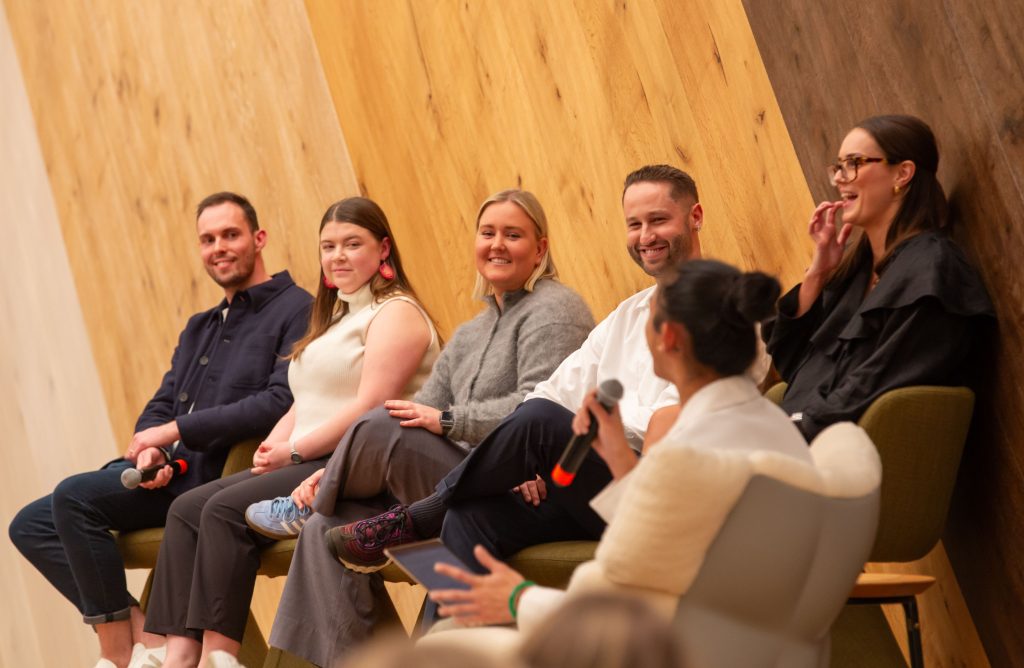 Greenwashing – a prevalent problem in the industry
The panel began by acknowledging the widespread issue of greenwashing in the design and architecture sectors. Hout Kuoch's example involved Absolutely Fabulous' fashion maven Eddie pressuring her daughter to slap some 'sustainable' stickers onto mass-produced sunglasses, which drew laughs from the audience and kickstarted an important conversation.
The panelists emphasised that greenwashing not only misleads consumers but also undermines the efforts of genuinely sustainable designers and their quest for a greener future.
The role of certifications and standards
To address greenwashing and promote transparency, the panel explored the importance of certifications and standards in sustainable design. The discussion highlighted how legitimate eco-labels, such as the Nationwide House Energy Rating Scheme (NatHERS) and Green Star, play a crucial role in certifying buildings and products that meet strict sustainability criteria.
These certifications provide credibility and assure consumers that they are supporting authentic sustainable practices.
Hout Kuoch discussed the sourcing of Tongue and Groove's oak. 
"At Tongue and Groove our oak is European Oak, it is sourced globally. Because of our inherent structure, we use 70 percent more of the harvested timber – not just the pretty bits. We have partnered with the Forest Stewardship Council® (FSC®) Chain of Custody Standards for the last 14 years and held that distinct global certification."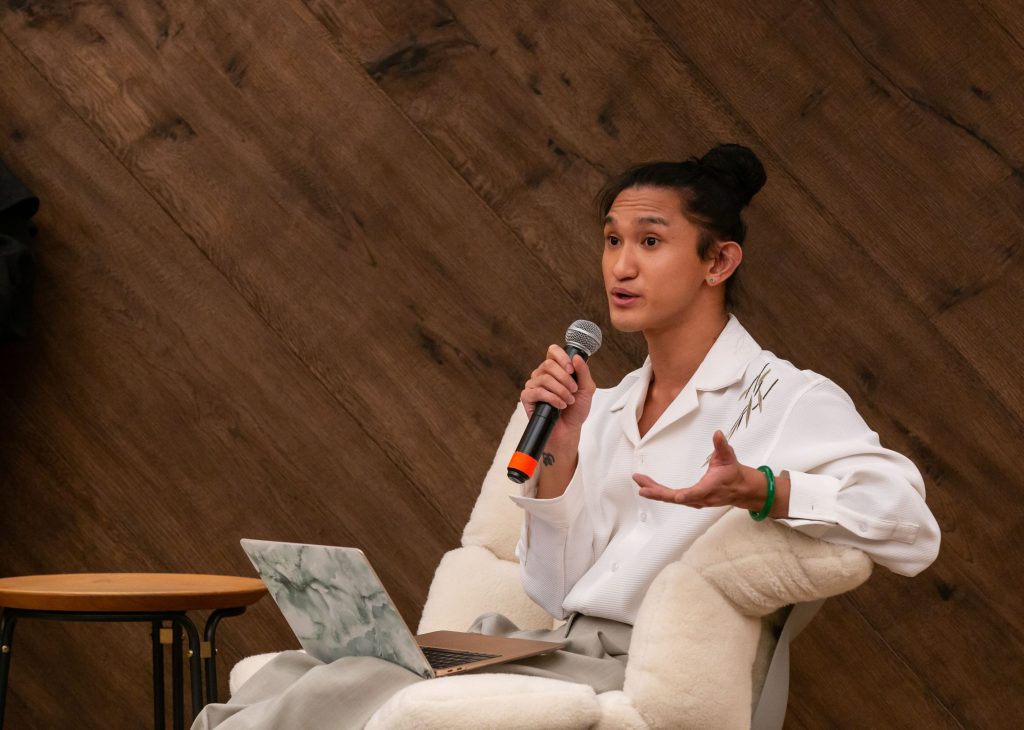 Balancing client budgets and expectations within sustainable design
Gray Puksand interior architect and ADR 30UNDER30 alumni, Mel Johnson discussed balancing sustainability, functionality and budget as a central consideration in design.
"Our purpose is to provide design knowledge across all facets of the design process but also provide educational decision making based on what we know about the industry," Johnson explained.
"Examples include specifying low-viscosity paints, looking at the materials on a laminate board, and working out if it's recycled content – all the things that don't affect key client expectations around functionality, design aesthetic and practicality around cost.
"A recent example for us was repurposing workstations and using task chairs in a fitout which have a lifetime warranty.
"It helps with the value engineering stage of the project – being open and transparent and having those up-front conversations with a client is really important."
Using truly local materials – designed and manufactured in Australia:
Another key focus of the panel was a discussion led by BVN interior designer, Blake Hawthorn on the value of using materials that are not just designed but entirely manufactured in Australia.
"It's the social sustainability side of it. If you can support local companies, local manufacturers, especially if you are working on a larger scale project – it's not just the environmental layer, it's the social impact," said Hawthorn.
Although he acknowledged it's not always possible to source locally when it comes to balancing sustainability versus budget constraints.
"Often if we're talking about social sustainability and buying locally it is often more expensive than buying internationally depending on the product or the brand. We tested the idea of reuse on workstations and it was actually more expensive to dismantle, reuse bases and provide new tops than it was to procure new. In the context of the project it was balancing the financial outcome with the sustainable initiatives as well. So we partnered with Eagans which is a reuse furniture company so they could be reused in the future, they didn't go to landfill, but it was just going to be too expensive to repurpose and reuse in that instance for the client."
Circular design and adaptive reuse
Circular design emerged as a key concept during the panel event. The discussion centered around the principles of circularity, which aim to eliminate waste by designing products and buildings with the intention of reuse, refurbishment, or recycling.
The panel also delved into the challenges and opportunities presented by adaptive reuse. SJB's Kayle Butterworth discussed an example of transforming an 18th-century dark Victorian inner–city Sydney dwelling into a modern, light-filled space.
"It's quite amazing seeing how Sydney's built vernacular with terrace housing is quite British and doesn't take into consideration things like orientation, ventilation, or the sun. They've just been literally plonked there!
"Once you reconfigure the internals you can redesign for the modern standard of living with usable private open space, sun and ventilation, which can convert something dark into something quite amazing."
Hassell interior designer Sophie Kebbell discussed her work as an architect on the conservation and restoration of the 1968 ANU Birch Building as a testament to Hassell's commitment to creating spaces that honour the past while contributing to a greener and more resilient future for all.
She discussed how Hassell took great care in preserving the original structure, façade, staircase and skylight of the building, which not only minimised the use of raw construction materials but also contributed to a substantial reduction in its carbon footprint. By doing so, they were able to enhance the building's modernist character while maintaining a strong connection to its past.
Through efforts to promote a circular approach, Hassell embraced the concept of reusing and recycling materials wherever possible. Terrazzo, travertine and timber were salvaged and repurposed, allowing us to extend the life cycle of these resources.
It took on the task of safely removing hazardous materials such as asbestos and a considerable amount of Mercury, in compliance with rigorous safety and environmental standards.
Finally, the interior was designed with flexible modules, allowing for adaptive re-planning and enabling the School of Engineering to evolve and extend its life cycle. This forward-thinking approach ensures the building remains functional and relevant for years to come.
"The reason it was so successful was due to our relationship with the client throughout the process and making sure that our values and vision aligned from the get-go"
Designing with Indigenous communities:
McCarthy talked about working on the Alice Springs National Aboriginal Art Gallery project with BVN. She acknowledged that by involving Indigenous knowledge, culture and traditions, designers can create spaces that are not only sustainable but also respectful of the land's original Custodians. By embracing sustainable practices and Indigenous knowledge from the outset, BVN's project respects the land's natural resources and minimises its ecological footprint.
"Working on our project in Alice Springs, a lot of the international alternatives might be ahead of their times in terms of innovation. However, purely based on the cost of freight and transportation – materials being driven halfway across the country – it proves to be ineffective, really expensive and it's not as good for the environment to go with non–local materials. In that case, it's better socially, environmentally and economically to go local."
McCarthy ended her case with a powerful outtake: "Being the Gen Z in the room, it depends on what you are talking about when you talk about the cost (of sustainability). We might not have the planet in 30 years. So what is the cost? Time? Money? Or the planet?"
Overcoming challenges and inspiring change:
The event acknowledged the challenges in implementing these sustainable design practices, such as navigating cultural sensitivities, design budget constraints, and logistical hurdles.
But the panelists emphasised that overcoming these challenges was essential to drive positive change in the industry. By fostering a collective commitment to sustainable design, the panel agreed that designers, architects, suppliers and developers can lead the way toward a more environmentally responsible and culturally sensitive built environment.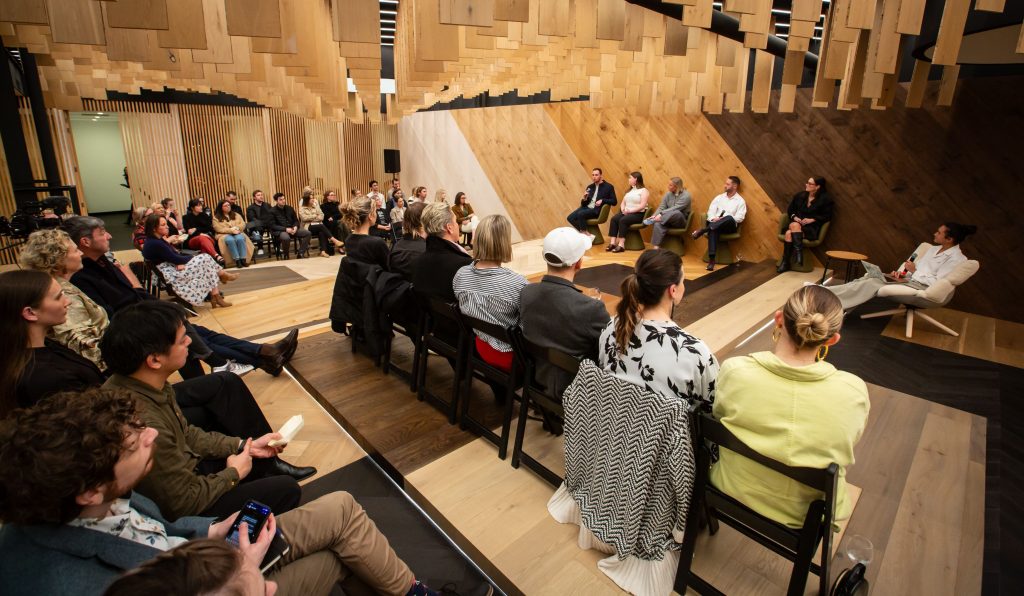 Photography supplied by Stephen Henry.
30under30 is sponsored by Neolith, Mielie, OwnWorld, and Tongue and Groove and bought to you by BVN, Gray Puksand, Hassell, SJB and Billard Leece Partners