Image above (L-R), Martin Tauts and Priscilla Tan of furniture design studio Red Block. All photos by Edwina Richards Photography.
Red Block is shortlisted in Zenith's Emerging Designer category at the 2016 IDEA Awards. The winners will be announced at the exclusive Gala Party on 18 November at Dockside Pavilion, Sydney.
To join us for a night of celebration with this year's winners, secure your tickets now.
In support of emerging talent with our category sponsor, Zenith, ADR is running a Q&A series with the shortlisted people and practices making up some of the brightest lights on the local design landscape.
Red Block is a Newcastle-based industrial design studio headed up by Priscilla Tan and Martin Tauts. Aleesha Callahan speaks to the designers about what work is on the horizon and how Australians should be trend setters, not just consumers.
ADR: Can you give an insight into the challenges and highlights of your work in an emerging practice?
Priscilla and Martin: Our challenges, as most 'emerging' practices face in any creative industry, is juggling your time, finances and patience until you get 'discovered/spotted' and given a fair deal.
The silver lining is you get to develop many other important life skills along the way. The highlights would definitely be all the kind and genuine people we have met and continue working with.

Where do you turn for inspiration, and which architects or designers have had the biggest influence on your work?
For inspiration, we like looking at systems design, graphic design, fashion, geology, and nature. It keeps us objective and stretches our problem-solving brain cells.
Designer/architects that we obsess on are Alvar Aalto, Ronan and Erwan Bouroullec and various Japanese minimalist furniture designer-makers.
What excites or frustrates you about the current state of Australian architecture and design?
The main frustrations are rip-offs within the local design industry and the ever growing pressure to move manufacturing to Asia. It is also rather frustrating when IP laws and regulations in Australia do very little to protect designers. It seems a more reactive rather than proactive approach is adopted and this does not protect designers very well.
Also, the Australian furniture industry that constantly seems three years behind the international markets baffles us. We need to aim to be trend setters, not just consumers of sure-fire, crowd-pleasing designs.
With all that said, though, every day is still exciting when you get the opportunity to do what you love.
What has been the proudest achievement of your career to date?
We are pretty pleased with setting up our first shop-front this year. Overall, 2016 has been a good year for us, with both of us receiving academic awards as well as being given various opportunities to exhibit our work.

What is your favourite project from your own body of work and why?
So hard to choose. Our practice is so young that we still have the liberty to mostly work on things we love. Scrolly – a toy we designed to aid the learning of Braille for young children with vision impairment is always close to our hearts. It has been a very fun and challenging project to work on and, although it has taken much more time and resources than predicted, it has been a rather rewarding experience.
Can you tell us about the Pac Pendant project you entered into IDEA this year? e.g. How long did it take from concept to completion, what drove the design concept?
The PAC Pendant took about six months, three manufacturing revisions and two design revisions to perfect the simplistic form of matching timber and aluminium with a precise radial curve. The idea that drove the design was that we wanted to produce a form which is both fun and distinctive, but also simple enough to be adapted to any mood or colour. The PAC Pendant is intended to be a versatile product, which enables the mixing and matching of materials and colours to tailor this product to fit into any desired environment.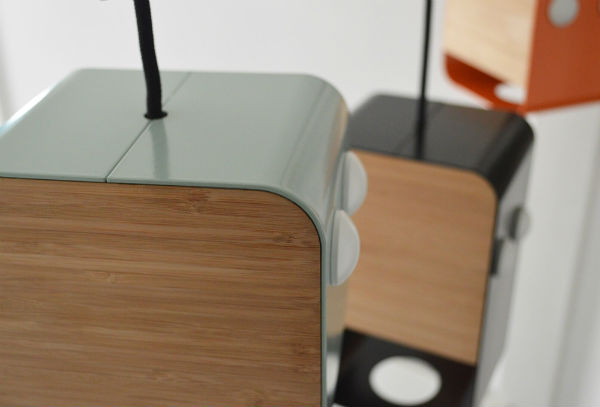 What are you working on currently, and what are you looking forward to?
This week, we are involved in some charity work for a women's refuge. We have volunteered to design and build some outdoor furniture for the children's playground area. On-going projects include designing and making furniture commissioned by the University of Newcastle. We are really looking forward to extending our furniture and lighting range while also finalising a few industrial design projects we have been working on over the past year.