Unique materials, earth-drawn colours and stunning, statement stone – kitchens are fast becoming the most luxurious place in the home. Today, Neolith marketing manager Kate Deakin-Bell reveals five of the biggest design trends we can expect to see in cooking spaces in 2023.
Neolith, a global architectural surface expert, predicts we will have earth-drawn colours and materials fill our kitchen spaces.
From statement stone with bold colours and dramatic veining to multi-use stations with integrated charging hubs and drawers to dark rich timbers and naturally ageing finishes, these trends are showing kitchens are fast becoming the most luxurious place in the home.
Earth-drawn colours and materials
Mother Nature will continue to inspire kitchen design in 2023 says Deakin-Bell.
"The new kitchen trends are more thoughtful and considered than ever, and are all about enhancing the time you spend in your cooking space. The focus is on comfort and longevity, using beautiful-quality materials that will age gracefully and stand the test of time.
"Expect to see unpainted wood cabinetry, natural stone benchtops and splashbacks, and muted, natural tones inspired by the outdoors such as sage, olive and buttermilk, which combine to create a sense of calm."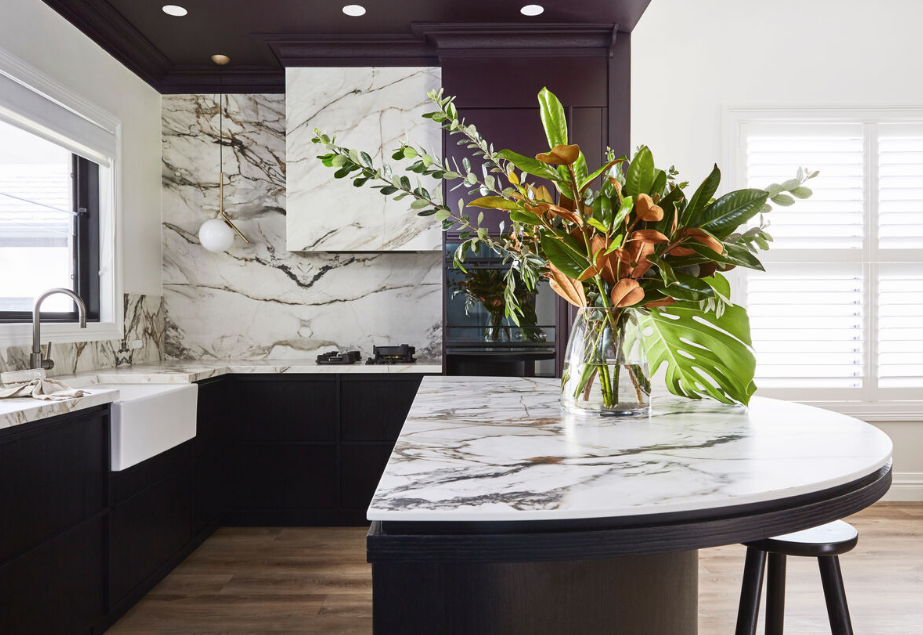 Luxurious stone surfaces
Characterful stone benchtops and splashbacks are a key trend for kitchens in the year ahead says Deakin-Bell.
"Homeowners are becoming braver with their stone choices, increasingly using it to express their personal style in the kitchen. While soft, understated stone colours and patterns will remain popular in 2023, expect to see stones in bold colours and with dramatic veining trending alongside them. Applied to benchtops and splashbacks, they look incredible paired with 2023's rustic timbers and organic metal finishes.

"Another trend to look out for is shapely stone splashbacks – think curvaceous silhouettes that can double as a work of art in your kitchen."
Neolith-sintered stone surfaces provide homeowners with a superior way to incorporate the look of natural stone into their homes. Unlike natural finishes such as marble, which chip, stain and require ongoing maintenance, Neolith surfaces give you all the beauty of the real thing, but in a high-performance and highly versatile material that can be used on benchtops, splashbacks, joinery, barbecue areas, flooring and more.

Luxurious and highly durable, Neolith surfaces have almost zero porosity and are designed to withstand heat, scratches, stains and UV radiation – an ideal choice for busy kitchens. Neolith surfaces are environmentally friendly too, crafted from 100 percent natural materials in a way that is kind to the environment.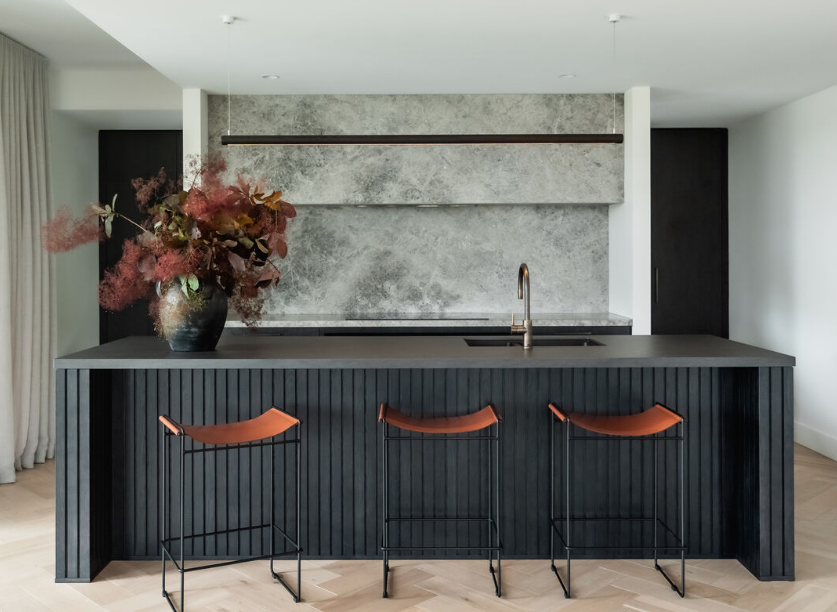 Statement Islands
Forget boring kitchen islands – 2023's iteration will be multi-use and packed with personality says Deakin-Bell.
"The island is the hero of today's kitchen, so it makes sense to see it receive the decorative attention it deserves.
"Next year, expect to see islands that feel less 'kitchen-y' and anything but off the shelf, including ones that resemble a piece of custom furniture, designs with curves, and islands with matchstick legs in powder-coated steel that give you space to tuck a few bar stools underneath – ideal in a compact kitchen.
"With more of us working from home and taking up new hobbies over the pandemic – often at the kitchen island – you'll also see more tech features, such as integrated charging stations, charging drawers and places for devices to sit while they're being used."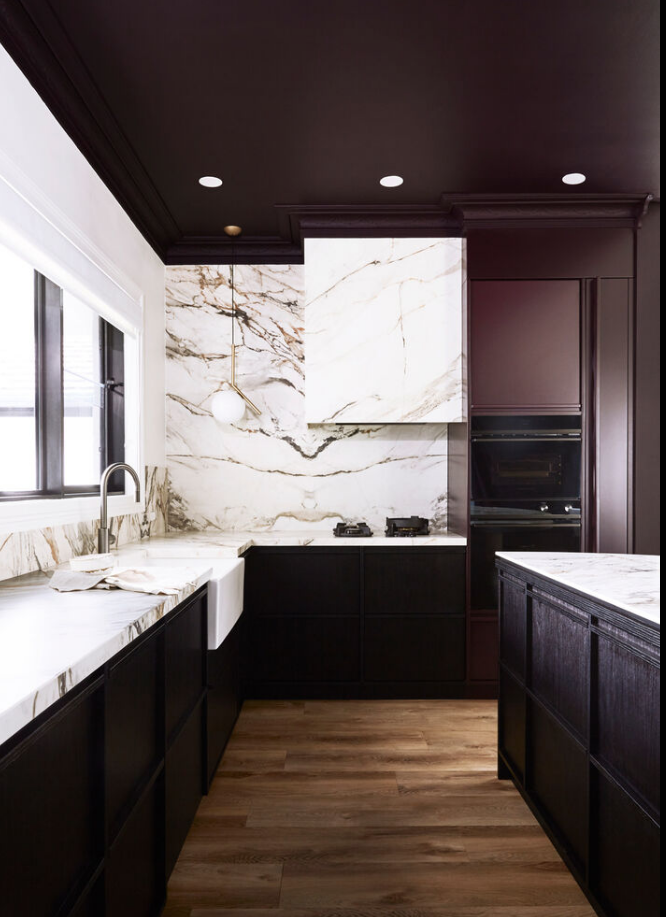 Dark timbers
Dark timbers are liveable, luxe and exciting – and they're coming to a kitchen near you in 2023.
"Rich timber species such as walnut and blackened oak have been popular for a while now, but they'll really come into their own in 2023," says Deakin-Bell. "And what's not to love? They are wonderfully versatile and suit everything from modern rustic, contemporary and eclectic to industrial-style kitchens. Dark hues are also incredibly forgiving in a family home".

"Expect to see rich timber used in ever more creative ways in cooking spaces – pair it with dramatic, veined benchtops and splashbacks to create a show-stopping colour contrast, add dark floating timber display shelves to personalise your kitchen, consider integrated joinery handles, or bring in texture with contoured panelling."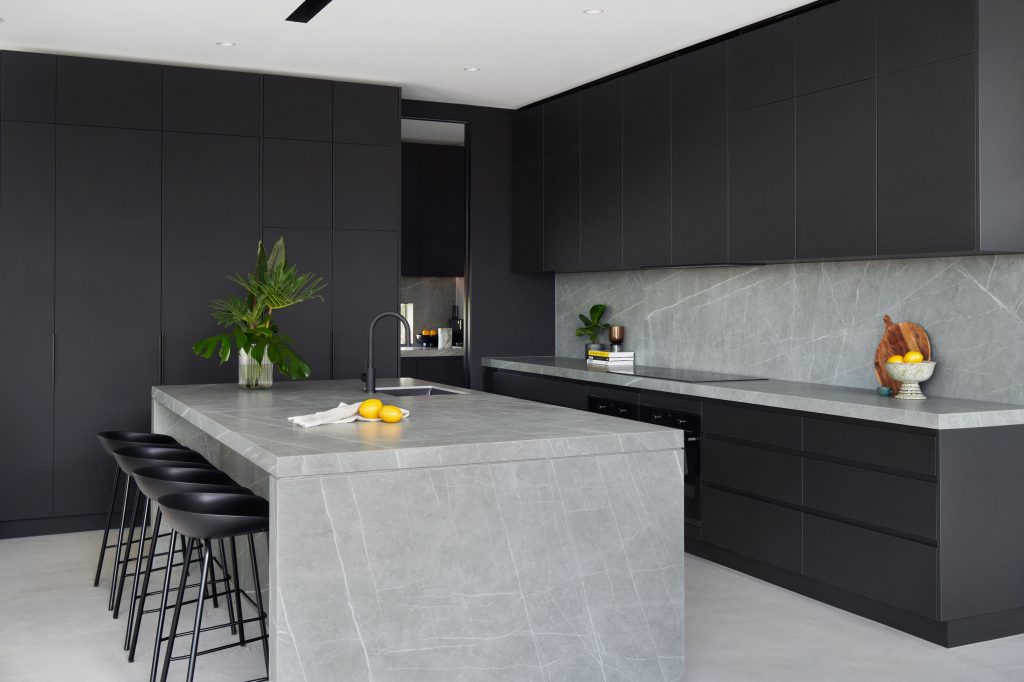 Naturally ageing finishes
While sleek, modern finishes such as chrome and stainless steel tapware and handles will never really go out of style, expect to see a growing trend for finishes that embrace the natural ageing process in the year ahead says Deakin-Bell.
"Weathered brass tapware, which has a living, organic finish, is designed to show the patina of time, bringing warmth and character to your kitchen," she says.
"Add touches of weathered brass to create an appealing contrast against streamlined, contemporary joinery and benchtops, or use it to bring rustic charm to modern-country cooking space.

"Watermarking and spotting are normal with a weathered brass finish. You'll find the areas you touch most frequently will develop a light, golden colour while those you interact with less frequently will age and darken."
Discover more on Neolith's website.
Product photography by Neolith.