Article by Online Editor
Designer
Above: Kintsugi vessels, designed by Matthew Sheargold
Taking the concept of peculiarity, eccentricity or deviance as a starting point for a brand might not seem, to some, like a judicious move. For the founders of one new Australian furniture company, however, these are traits with which they feel a particular affinity. The company is named Anomaly, and its inaugural range signals a deviation from the norm – a furniture collection designed by local interior, industrial and product designers, and produced using a rare combination of specialist local manufacturing techniques.
Anomaly is a partnership launched by Axolotl and Evostyle, two family-run manufacturers based in Sydney. Pairing the manufacturing capabilities of Axolotl – a specialist in concrete, metal and glass – with that of Evostyle – with expertise in timber – the Anomaly brand was launched with the opening of a pop-up showroom on Sydney's Oxford Street in early October.
Both manufacturers are already established names within the architecture and design community. Under the direction of brothers Kris and Kim Torma, Axolotl has been producing custom-made surfaces for architecture projects in metal, concrete, glass and timber since 1995. Luke and Louise Ommundson of Evostyle, meanwhile, have established their company as a leading producer of high-quality timber furniture, with a particular focus on woodturning.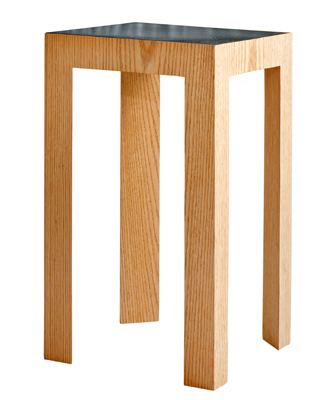 The idea for Anomaly stemmed from a friendship between the four, explains Kris Torma, and the partners saw the potential in their combined specialities. "It was an opportunity to develop our businesses from bespoke projects, to start producing furniture and homeware products that showcase our expertise on a national and global level," he says.
The first products to be released under the Anomaly banner have been designed by David Caon, David Knott and Adam Cornish, Philip Chia, Matthew Sheargold, Facet Studio and Ben Wahrlich – many of whom have previously collaborated with one or other of the manufacturers. Each designer was challenged to deliver products that would appeal to the commercial and hospitality markets, and take advantage of the combined offerings of the manufacturers. Pieces in the collection range from tables and chairs to lighting, mirrors and homewares.
The inaugural collection is the outcome of close collaborations between designer and manufacturer, a process that has seen the designers actively participate from prototype through to finished product. Evostyle's Luke Ommundson explains: "We see the design and production of each product as being a completely integrated process with both the designer and maker. There needs to be full understanding and respect on both sides to achieve the superior products that Anomaly sets out to represent."
The brand's name, Anomaly, hints at the unusual combinations at play in many of the pieces. Applied pattern and texture are paired with robust materials and multiple manufacturing techniques. Facet Studio's Coexistence tables, for example, pair concrete slate with American oak and ply, while David Caon's collection of Ghillie chairs feature ply seats inlaid with concrete and bronze. Though such inlay has been previously applied by Axolotl as a finish in interiors, its application for furniture pieces has only become possible through the joint efforts of the brand's parent companies. Torma says it is the possibilities of working with multiple materials – and with locally based manufacturers – that will set this brand apart from others and also make the collection harder to replicate.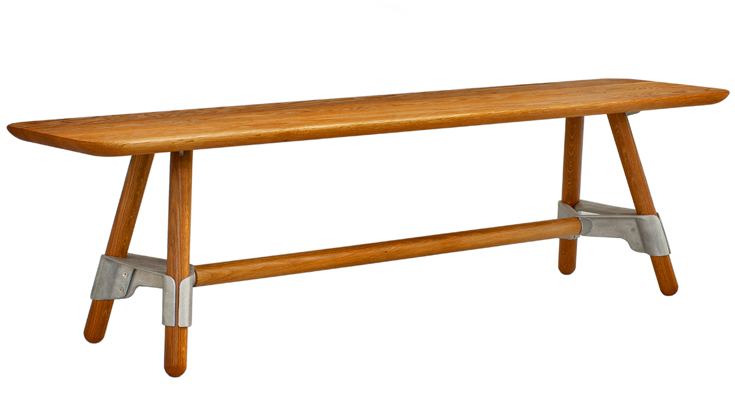 For the designers, the invitation to collaborate with local manufacturers proved hard to resist. Designer Adam Cornish explains, "Because Anomaly combines the manufacturing skills from two very different companies, a unique visual language and design approach can be achieved. And, as both companies are Australian, we have been able to see the prototypes in person, making it a much more hands-on design process. There has also been a nice balance between CNC- controlled manufacturing combined with hand-finishing and low-technology processes, including sand casting and wire brushing."
Cornish has collaborated with friend and fellow designer David Knott to produce the Element series of tables, stools and benches for Anomaly. With a shared interest in simple, industrial furniture and the use of raw, natural material, the duo's pieces feature American ash timber and a sand-cast aluminium bracket – a piece that allows for easy customisation, be it in the choice of timber or the shape and dimensions of the product.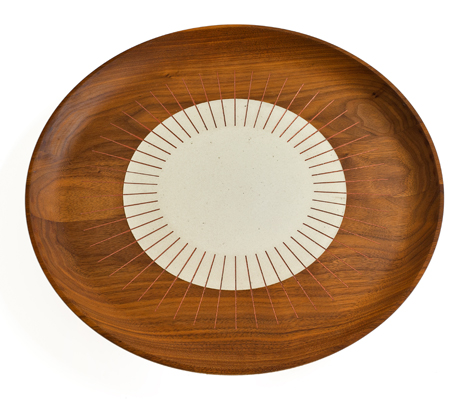 The material contrast is particularly effective in the homewares designed by Matthew Sheargold. Warm oak and walnut is paired with cool concrete in Sheargold's Kintsugi vessels, highlighting the unusual use of concrete in a domestic object. In each piece, delicate patterns of inlaid bronze bring the intricate detailing of Axolotl's architectural finishes into the domestic space, adding a decorative finish to the vessels' otherwise simple forms.
Louise Ommundson adds that the product will be sold directly, rather than through retail channels. "People are becoming more confident buying from a company where they can talk directly to the makers themselves. We see it as a win-win situation for the end user, maker and designer." And for Anomaly's founders, whose respective businesses hinge on specialisation and customisation, offering customers plenty of opportunity to specify custom finishes is a key component of this new side project. Local design, bespoke finishes and the short lead times that stem from local manufacture will help to ensure Anomaly has widespread appeal.