Above: The Sustainable Buildings Research Centre at the University of Wollongong is a global exemplar research and educational facility, designed and constructed based on the principles of the Living Building Challenge, and is currently pursuing Living Building Challenge certification, image courtesy of The Living Future Institute.

The Living Future Institute of Australia, along with Frasers Property Australia, have launched a competition to design a truly sustainable mixed-use retail centre in Melbourne's Burwood East.
The Brickworks Living Building Challenge Design Competition, an Australian first, requires designers to exceed current standards in regards to sustainability within the built environment. The competition prompts entrants to "imagine a building…informed by its bioregion's characteristics, that generates all of its own energy with renewable resources, captures and treats all of its water, is toxic free and beautiful."
Stephen Choi, Vice-Chair of the Living Future Institute of Australia, discussed the need for the retail sector in particular to raise the bar when it comes to sustainability.
"Retail is a sector regrettably grounded in excess and waste. Shopping centre signs buzz at night, instore mannequins are individually lit long after the customers have gone home, and we have somehow got to a point where we call natural daylight and fresh air 'best practice'. In terms of how we design and build, it's a sector in need of a fundamental shift and that is what the Living Building Challenge aims to deliver," he said.
The retail centre is to be built on an old brickworks site and based around a main street, with a 4,800sqm supermarket and community facilities included in the design. Residential, entertainment, and leisure facilities are also planned for the wider brickworks site.
The international competition is based around the Living Building Challenge, which is a building certification program and tool that sets a guideline for the highest standard of sustainability for architecture and design available.
The University of Wollongong's Sustainable Buildings Research Centre, designed by Cox Architecture, was the first building in Australia to work towards meeting the standard set by the Living Building Challenge. The centre also worked to meet a 6 Star Green Star rating, producing more energy than it consumes via solar panels. On-site rain water harvesting systems means the building has net zero water usage, while environmentally safe and locally-sourced materials were used in its construction.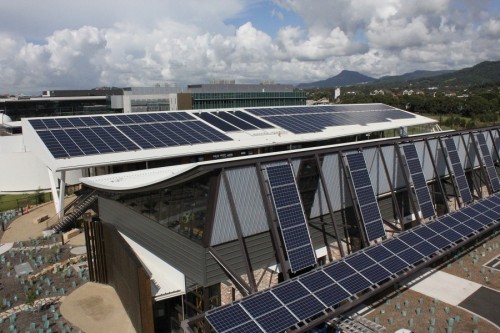 The winners of the Brickworks Living Building Challenge Design Competition will be announced in June and will share in a prize pool of over $30,000.
More information on the competition can be found here.