A challenging site in a magnificent setting – all in a day's work for innovative architecture design studio, Auhaus.
Architects Kate Fitzpatrick and Ben Stibbard share a passion for creating unique spaces – and, after working for another practice on multi-residential buildings, they felt the time had come to refocus on one-off single residential projects. "We just thought that's where our hearts lay," says Fitzpatrick. "In terms of getting really customised design solutions, close relationships with the client and having a result that's more about creating beautiful engaging spaces and not worrying so much about the bottom line."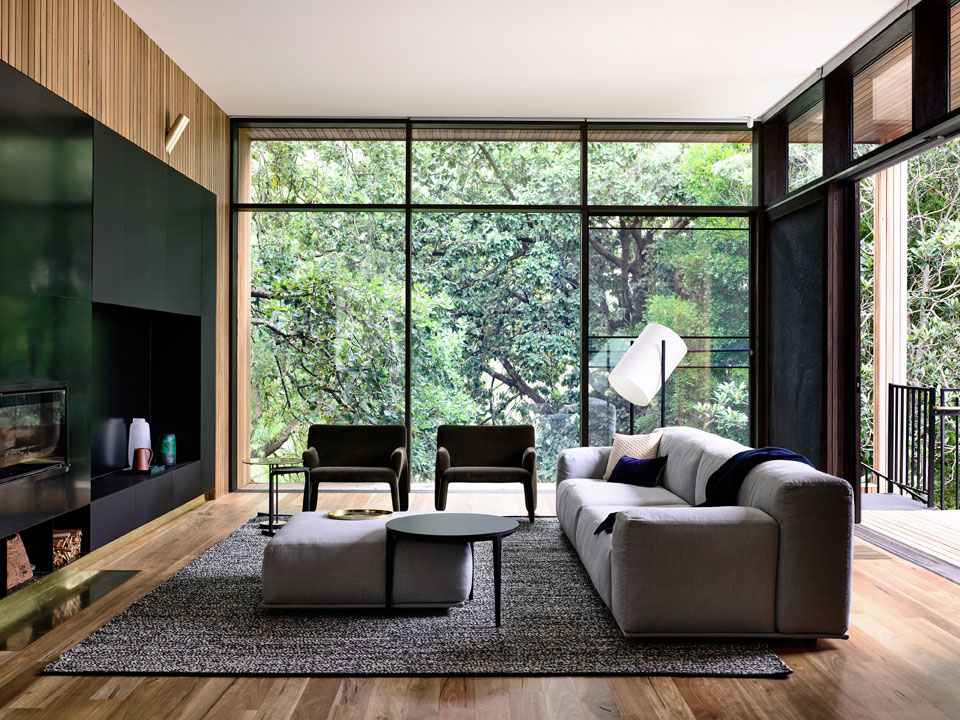 The result was Auhaus, an architecture design studio with a name for creating amazing and truly original homes, each inspired by its site and surrounding landscape as well as the clients' lifestyle. And while Fitzpatrick and Stibbard's ideas are surprising, even challenging, homeowners continue to jump onboard. "We have a lot of really great clients and they trust us to do what we do," says Stibbard.
"You feel like you're in a tree house. The clients were really excited by that." – Kate Fitzpatrick, director, Auhaus Architecture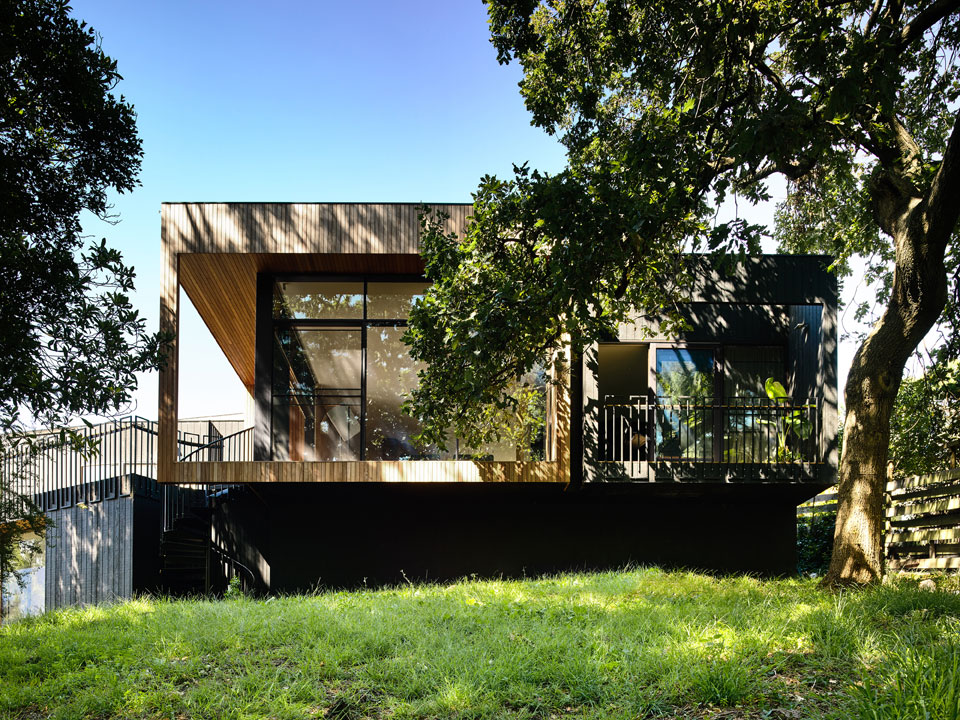 The magnificent home the studio created in Melbourne's leafy Ivanhoe in 2016 was no exception. The 1250-square metre site was extraordinary, with a forest, creek and extremely steep gradient – all of which excited Fitzpatrick and Stibbard no end. And while the owners loved the natural environment, they had no preconceived vision. "They were very openminded about what the design might actually be," says Fitzpatrick. "They wanted something that just engaged very closely with the site itself."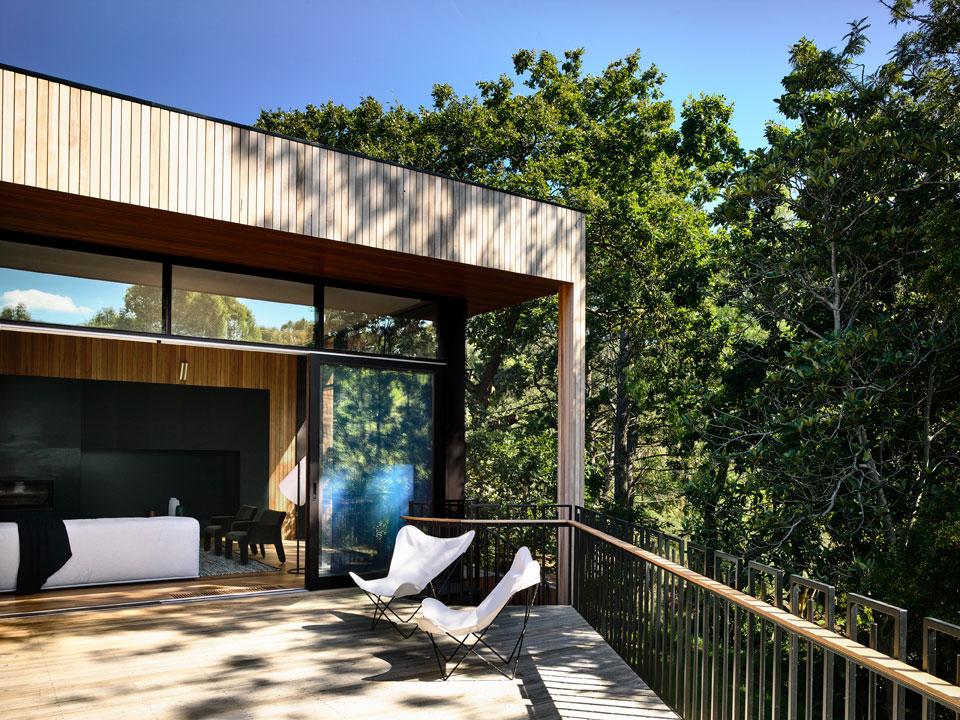 As with all their designs, Fitzpatrick and Stibbard allowed natural pieces of the land to inform the layout. Although it was one of the steeper blocks the pair had encountered, they seized the opportunity to cantilever the home into the forest canopy, capturing a fantastical treetop feel. "You feel like you're in a tree house," says Fitzpatrick. "The clients were really excited by that."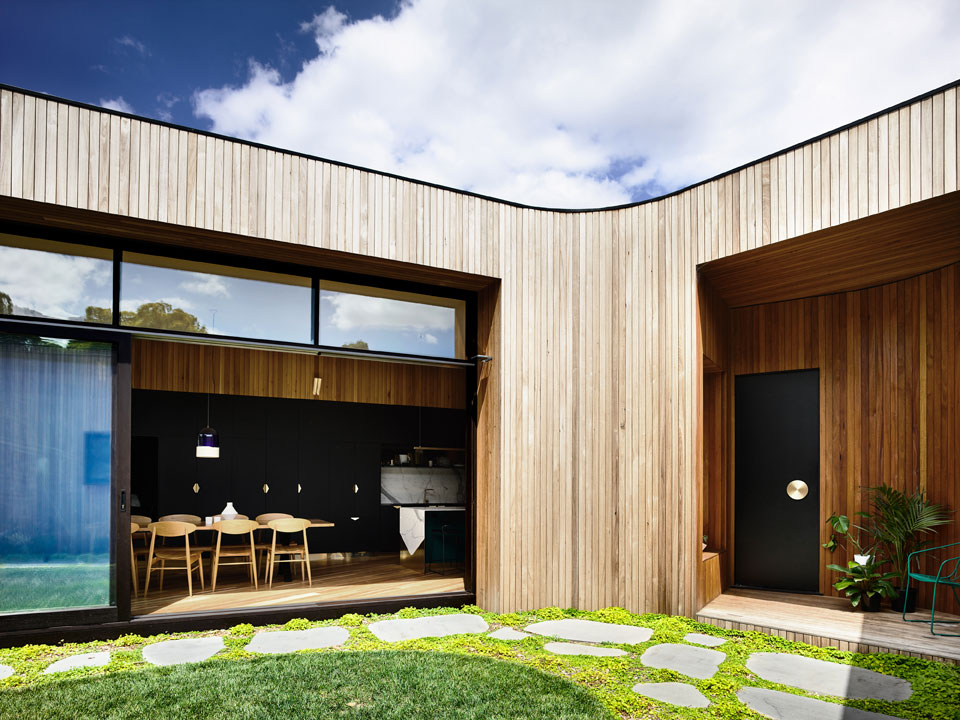 The layout is equally unexpected, with two wings arching around a manicured forecourt. "To enable us to get lots of northern sun into a lot more of the home, without actually looking into the neighbour to the north, we split it apart," says Stibbard. While the garage is at street level, entry is a few metres down, across the courtyard area, through the centre of the arch. The kitchen/dining area runs along one leg of the arch, with large sliding doors opening to the courtyard, while the main living zone swings out to the back, featuring three-and-half-metre ceilings, expansive glass and a wild forest view.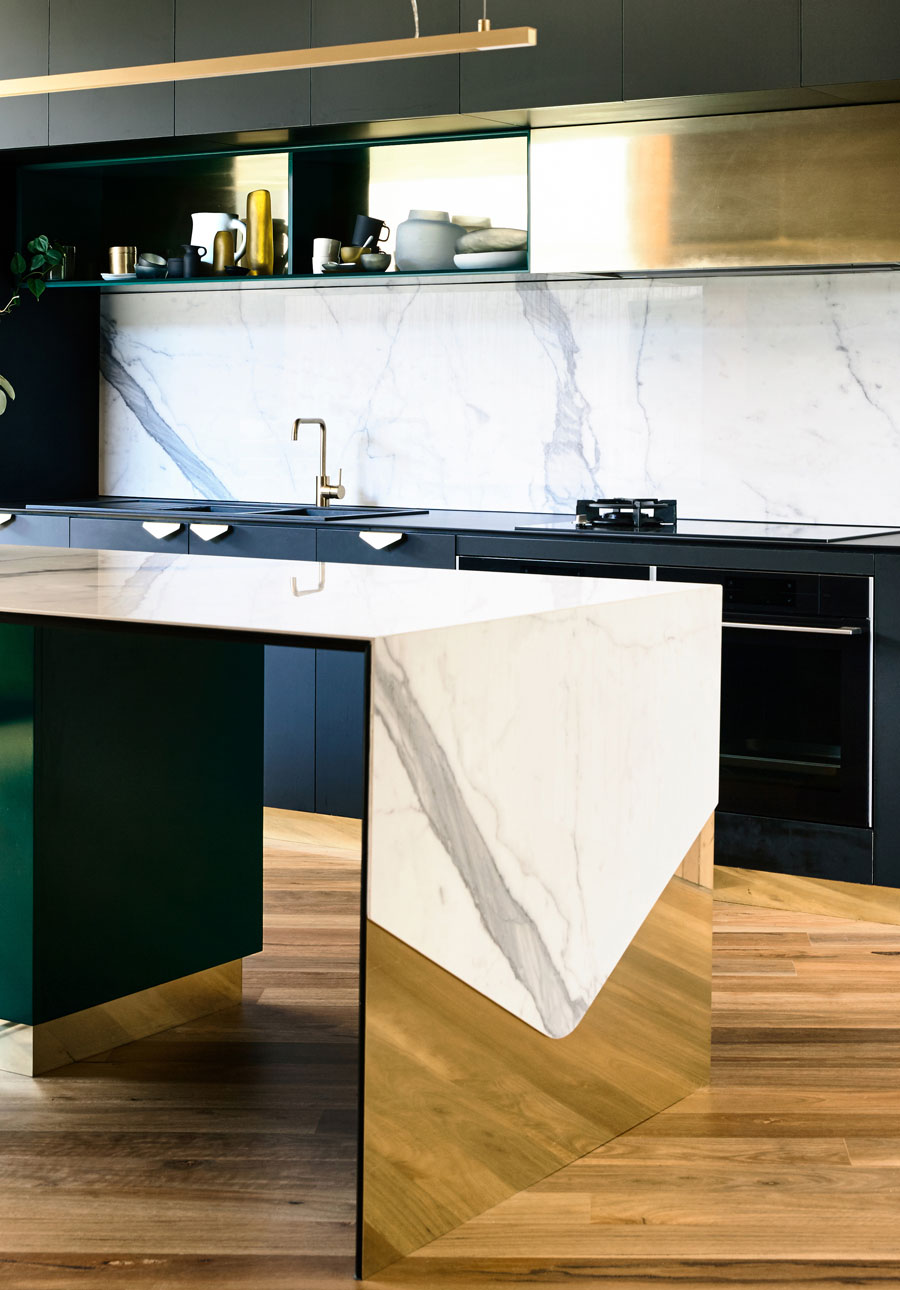 The master suite is off the living zone, separated by a study, while the remaining three bedrooms are situated in the opposite leg. Varying levels and ceiling heights offer a dynamic and liveable family home with interesting nooks and breakout areas – a built-in daybed in the dining area and playroom near the lounge, sunken and cleverly separated by timber slats. "We wanted to create a connection back to the living area and have a little spot," says Fitzpatrick, "It's lower down, you get the views into it, but you don't see any toys or mess." A fabulous timber deck extends the living zone outdoors and, as the land falls away at this point, another living space is situated below.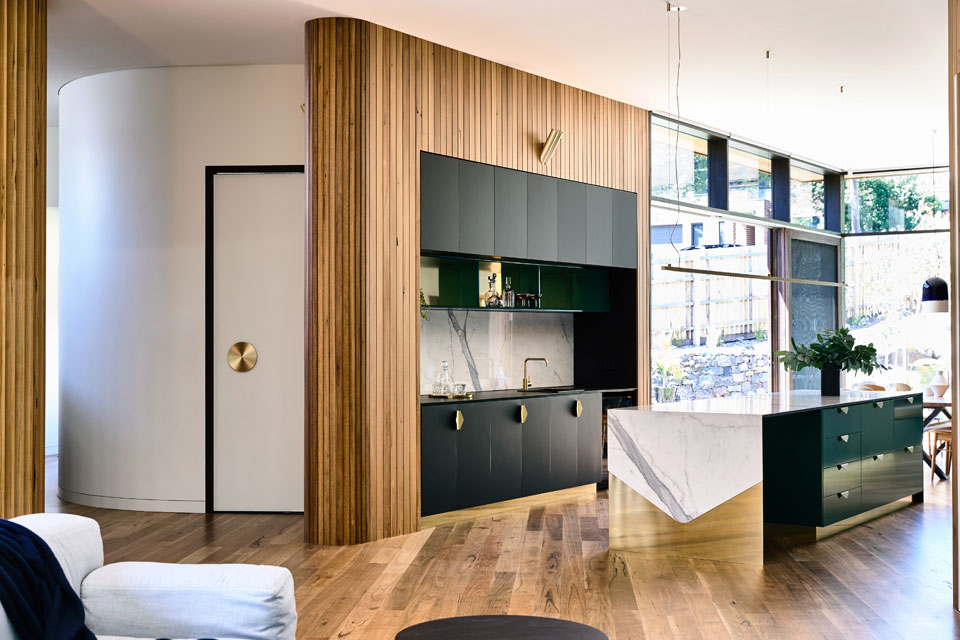 Every corner has been beautifully realised in true modernist style, with materials chosen as a response to land and light rather than current trends. "We're definitely very influenced by modernist architecture," says Fitzpatrick. "I think we're still rustic, not totally – there's a level of refinement – but we definitely value character with complete cleanness of space." The clients favoured a natural material palette so Fitzpatrick and Stibbard used beautiful hardwood timber to great advantage, cleverly blending tones of emerald and black to reflect the surrounding landscape and bring the outside in. "The black focuses your view towards the outdoor areas and we bring the green back in to reflect the leafiness of the landscape as well," says Fitzpatrick. "It just feels quite immersive, the experience of being in the house."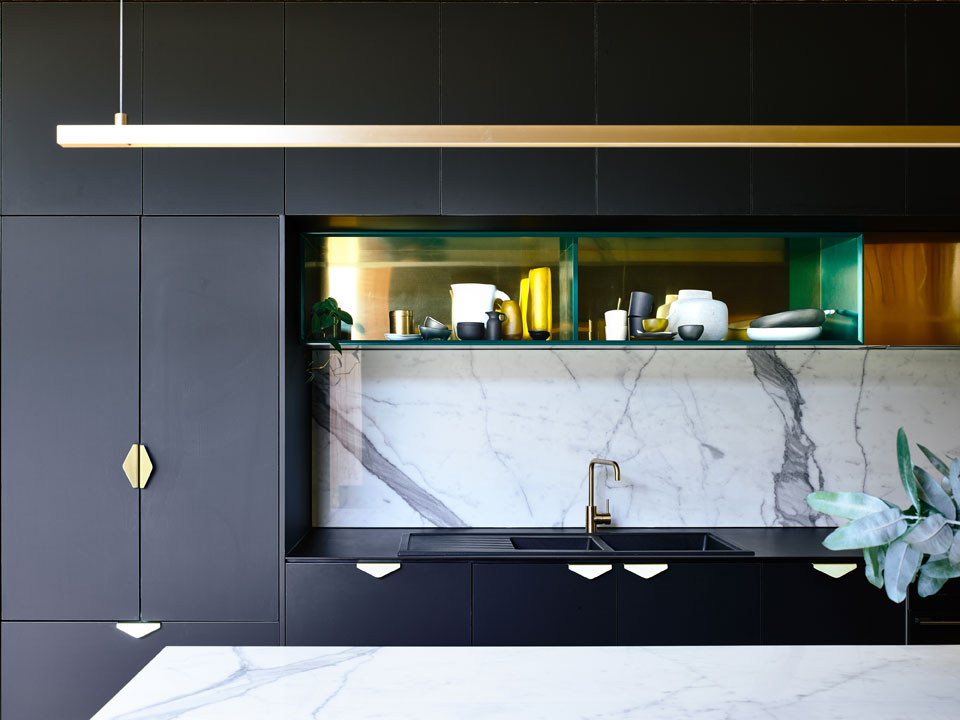 Every element plays a vital role, down to the brass handles and wall lights, specifically fabricated by Auhaus. "We like digging down into the details," says Fitzpatrick. "I guess that's a modernist approach, to design in as much as you possibly can." Every fitting and surface works in harmony, creating a natural flow of space and a finish that is uniquely stylish yet a natural complement to the bushy surrounds. The kitchen features a striking combination of black cabinetry with marble and brass surfaces – a curved motif on the island waterfall edge reflecting the shape of the building's overall form. And, as the clients love to entertain, a quirky bar area was installed opposite in the same stylish materials. "There was no room to put in any kind of butler's pantry, so we thought we'd do it all out in the open," says Fitzpatrick. "They love entertaining, so it just made sense."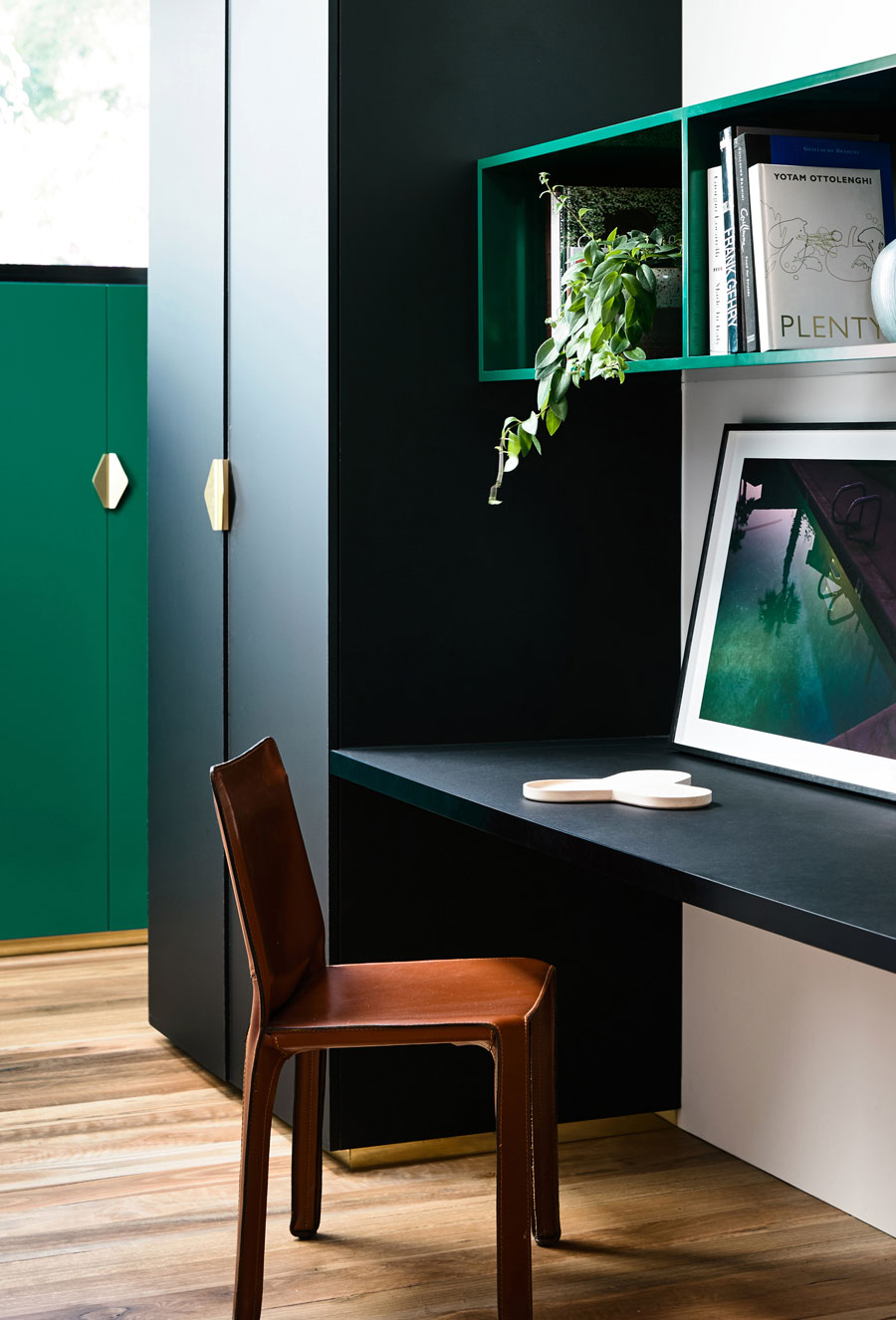 The property has been enormously successful, shortlisted for both the 2017 Victorian Architecture Awards and the 2017 House Awards. More importantly, Stibbard and Fitzpatrick have created a truly original space that reflects its beautiful surrounds while offering a chic yet comfortable lifestyle – and the owners are absolutely thrilled. "They love living in it," says Stibbard. "They're really happy."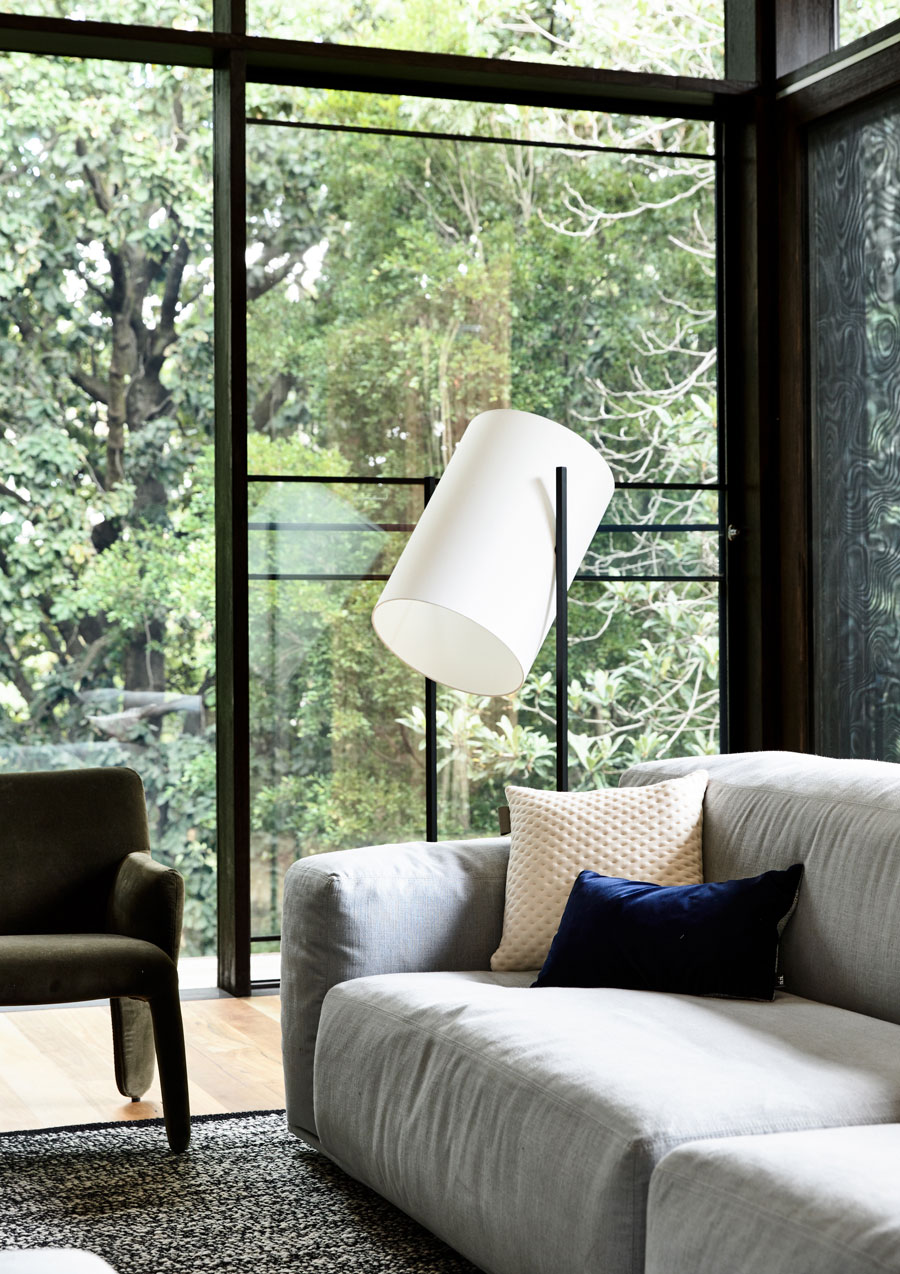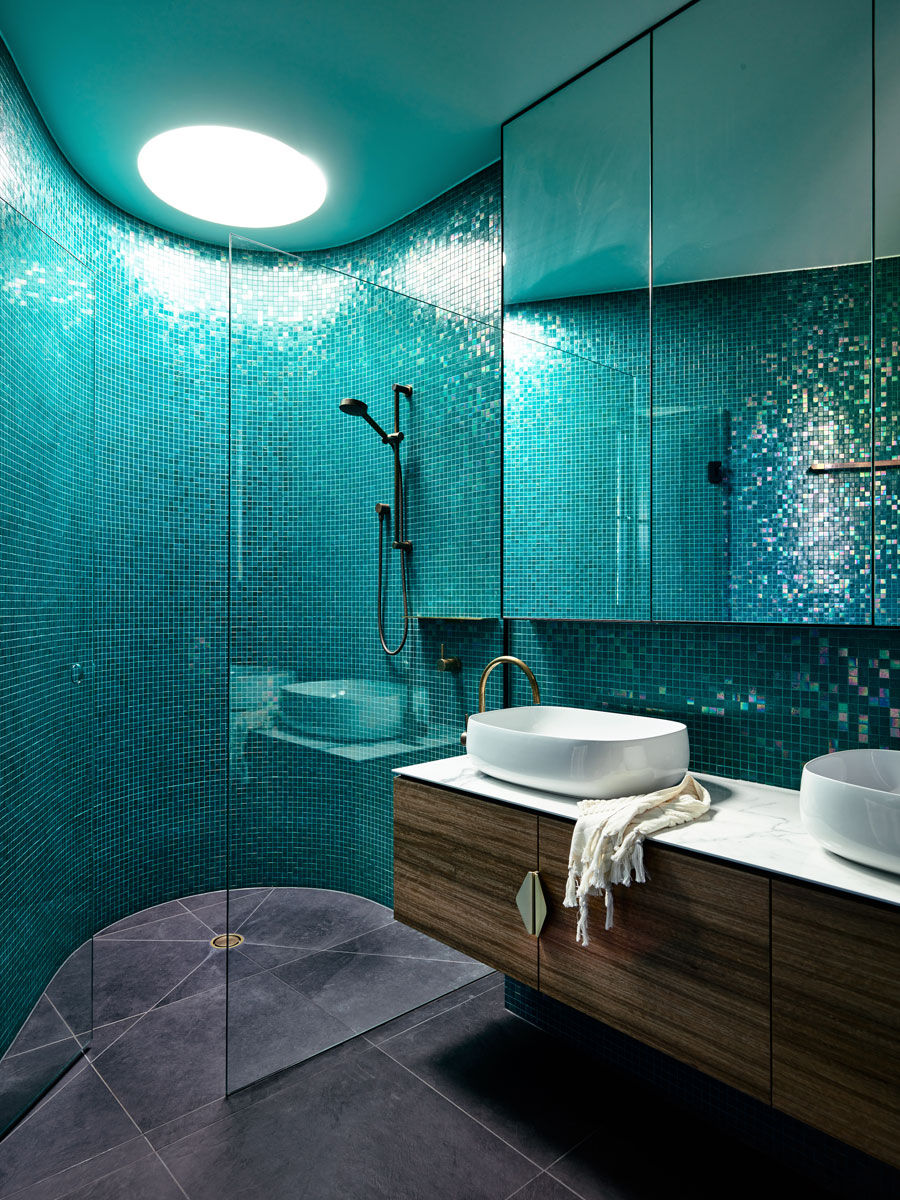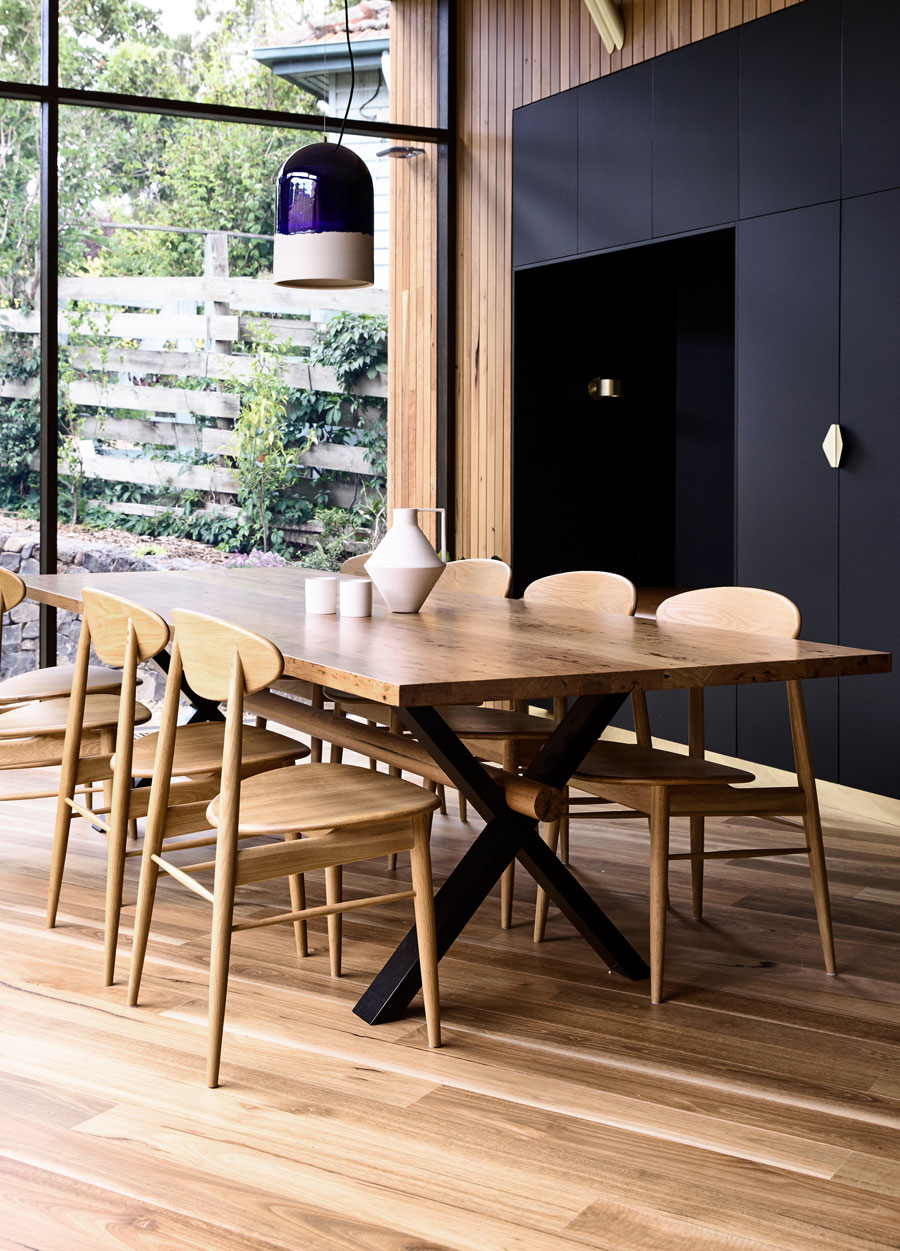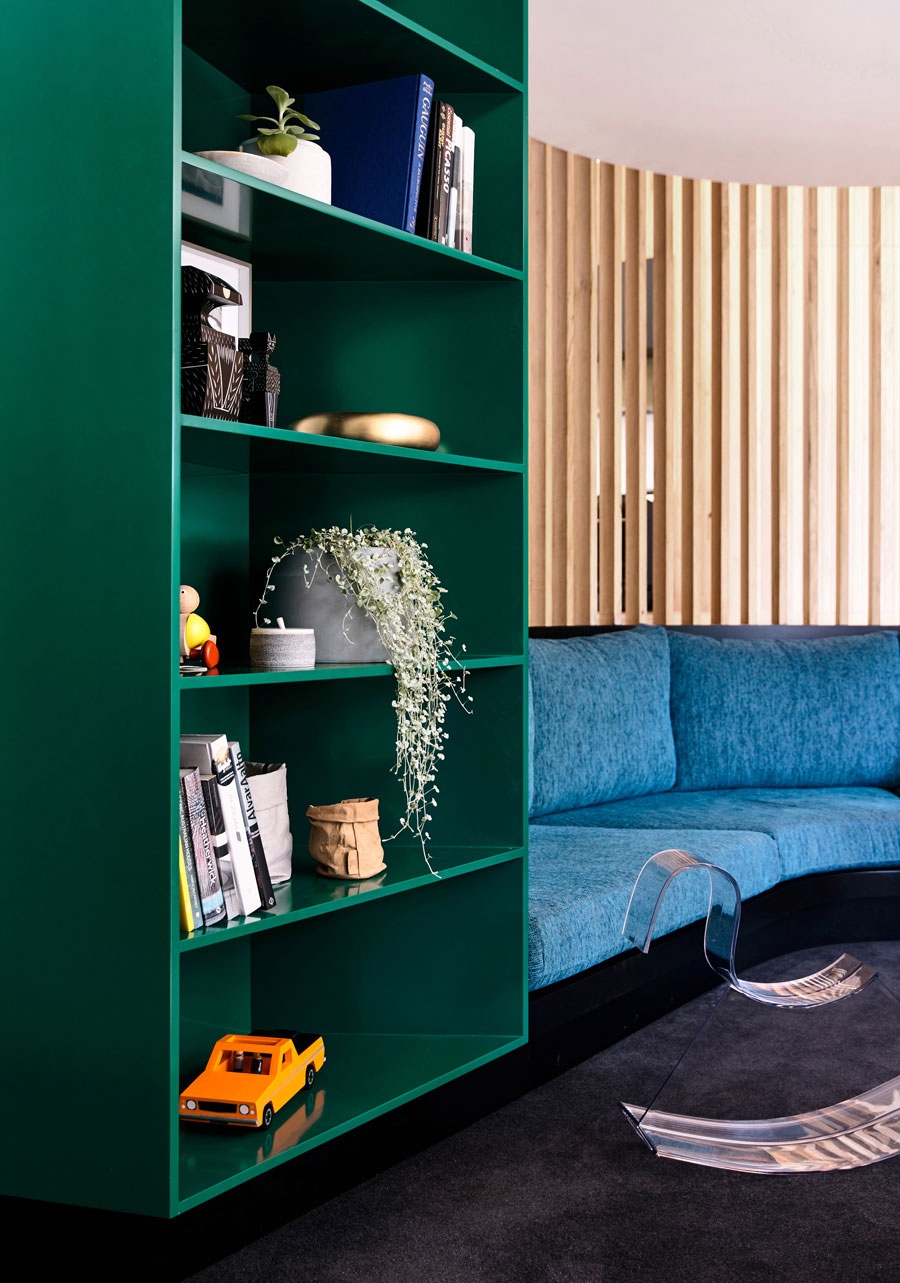 Photography by Derek Swalwell.
Styling by Nina Provan.
auhaus.com.au
This article originally appeared in MEZZANINE #10: The Simple Things Issue. Get your subscription to MEZZANINE here – or digitally through Zinio.
–
Take a look at the Amado house by Make Architecture.