A creative approach to material choice can bring the aesthetics, form and sustainability of a house to life in amazing ways, write Polly Bastow and Tony Stuart of Form Architecture Furniture.
When designing and constructing your house it pays to think deeply about the actual building fabric. What are you going to make the building out of, and why? If you can answer this question for key elements of the construction with less obvious or predictable material choices, you can imbue your home not only with more meaning, surprise, delight and comfort, but potentially greater cost-effectiveness and even lower maintenance.
We grapple with this question in all of our projects, including our own house in the inner Melbourne suburb of Coburg. So here are five creative applications of materials that we live with every day.
Recycled brick with internal plaster finish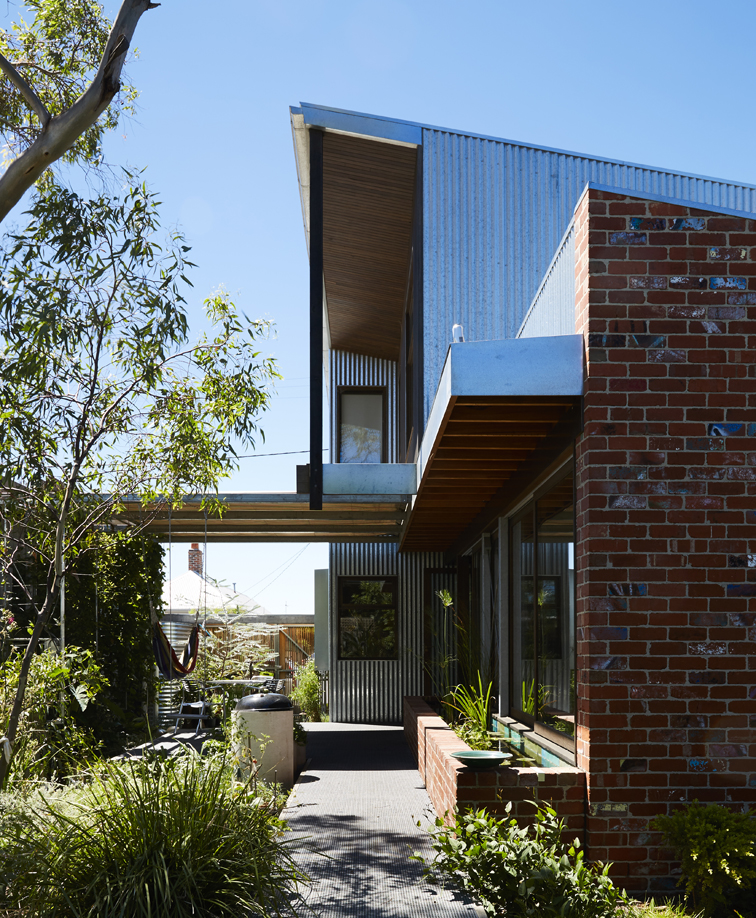 We used recycled bricks from a recently demolished factory up the road, which reduced the carbon footprint of the house. Externally, we got a delightful randomly coloured and patterned effect from remnants of old graffiti and, internally, the bricks' rumbled edges gave a good texture to the wall, especially apparent when light falls on it.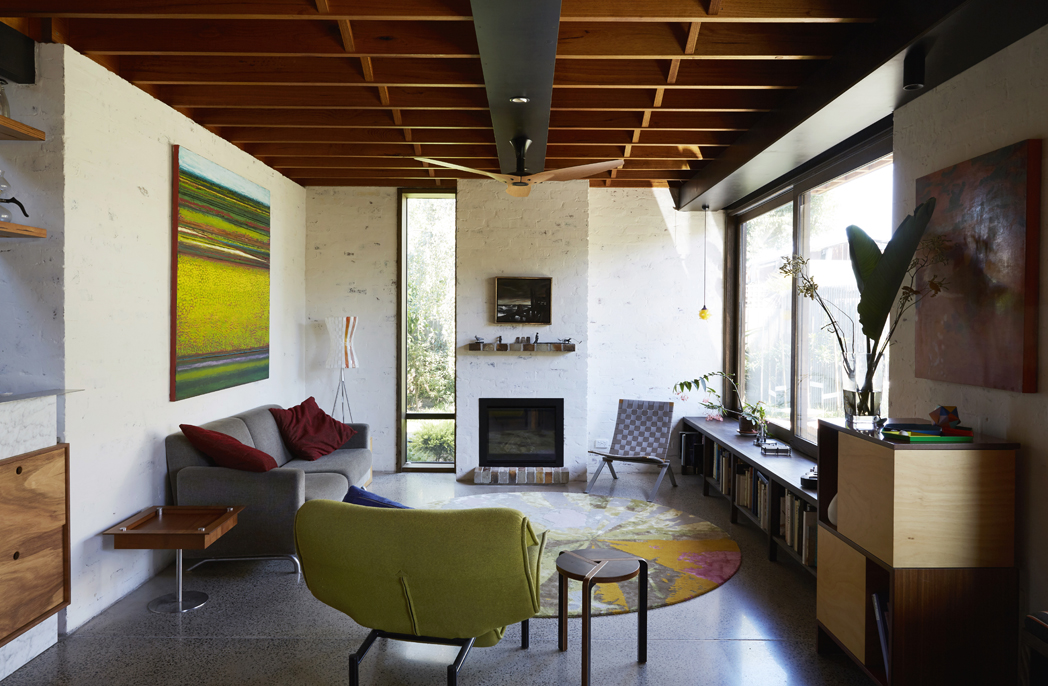 Rather than painting the walls, we chose to bag with plaster, simply smeared onto the wall to enhance the texture. Variations to the opacity can be made easily by adding or subtracting plaster, and repairs can be made if necessary, by simply rubbing a little more plaster on to the wall.
Plywood walls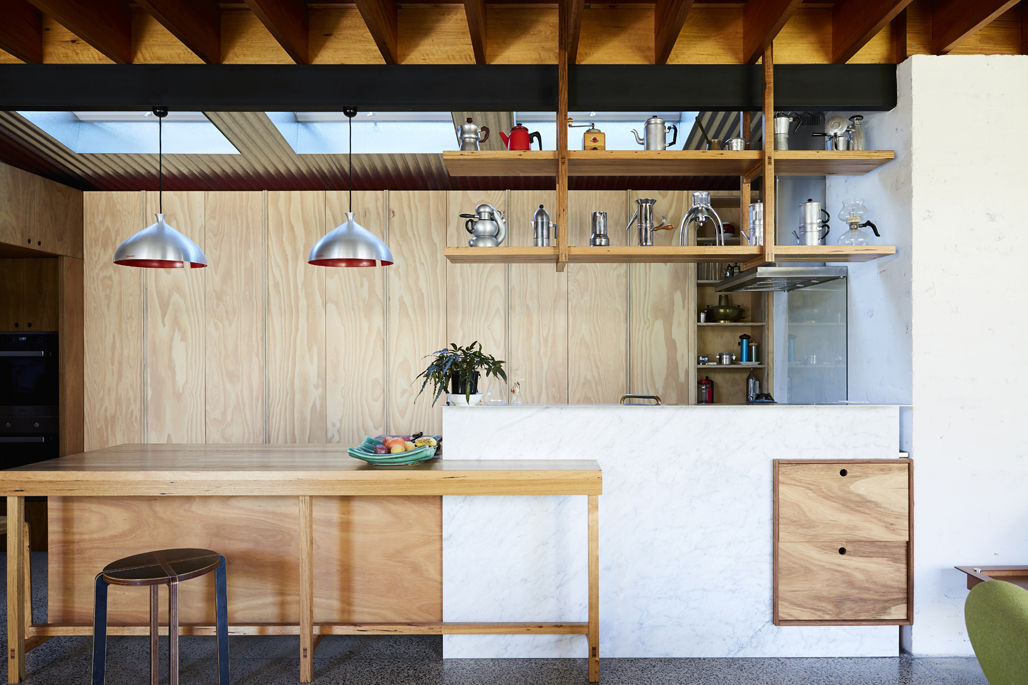 We challenged ourselves to build a home without plasterboard because, while plasterboard has its place, it can often be the unthinking, omnipresent material in contemporary housing. It is a bland material, tarted up with endless fancy applications of plaster decoration and paint; it can be dusty and wasteful in its application, and too often it's used to hide a thousand sins of construction.
In the end, we chose plywood for the interior lining because it's a more sustainable material and it didn't require paint. And it's a stronger surface that brings warmth to an interior and provides visual random interest in the growth ring patterns (although it requires an excellent carpenter to ensure neat, flat panels are affixed on the frame). Over time the plywood will oxidise and darken, so we chose to add a little white to the finish to keep it looking natural.
SIP roofing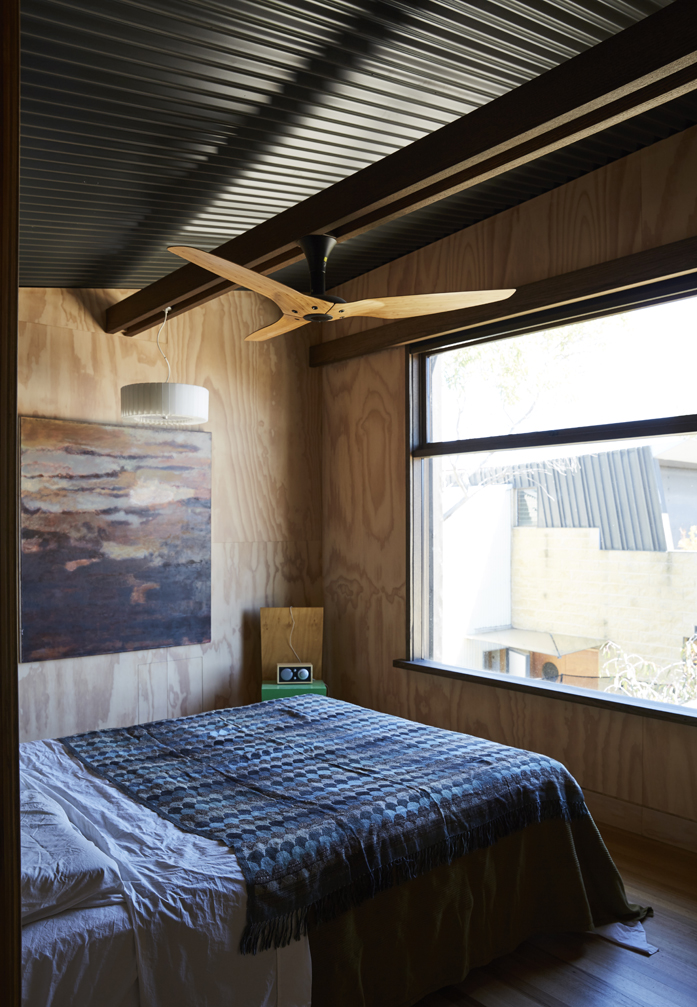 As heat rises, the upper floor of a two-storey house is always hotter than the ground floor. The thermal mass of concrete slab and double-brick walls ameliorate heat gain downstairs, and a key strategy for minimising heat gain upstairs is to combine cross-ventilation and shading with lots of lightweight insulation.
We used SIP (structural insulated panel) roofing – essentially slabs of polystyrene sandwiched between sheets of corrugated steel – which gave us an uninterrupted R-value of five (5) and sped up the roof installation, because the only framing required was a ridge beam. It also gave us the option of Colorbond colours on the ceiling (again, no paint required!).
We went for black panels because, in our opinion, a dark colour can offer an expansive feeling to the ceiling, similar to a dark night sky. This, combined with the way light falls across the ridges of the roofing material, is one of the many delights of the house. (But be warned: SIP roofing can be a little noisy when it rains, so it's not a great option for light sleepers).
Recycled steel doors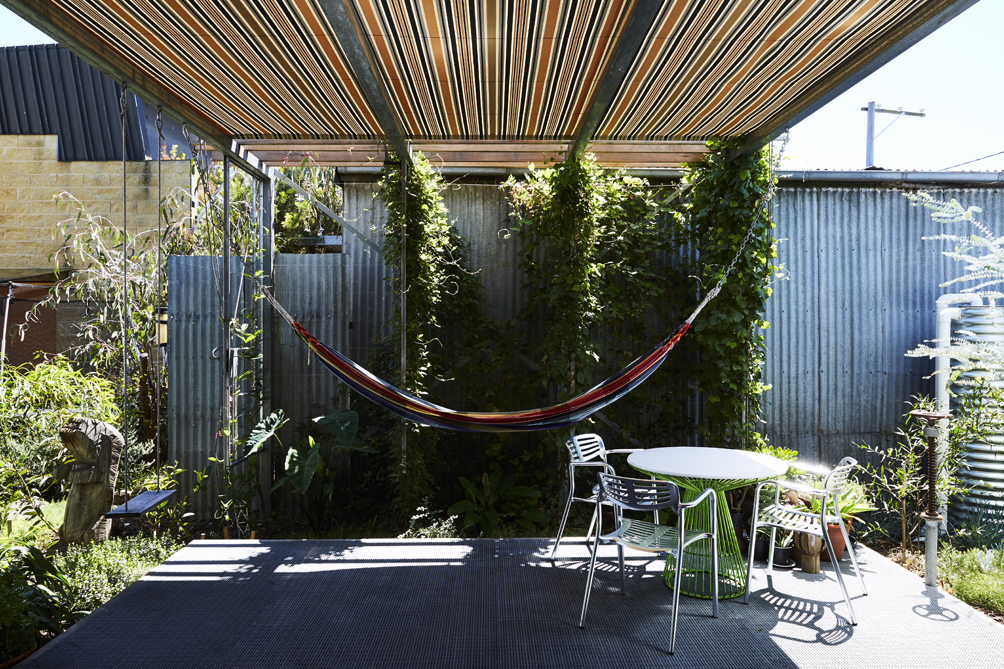 It's always worth considering what materials you have to hand. We had some steel frames, rejected from the site, which we repurposed as pergola wings for vines to climb up, next to our deck.
In fixing these to the steel frame, we created an enhanced vertical framework for garden design with a variety of creepers flowering purple, pink, white and red at different times during the year. It gives us a story behind its construction and beauty to the garden.
Fibreglass mesh decking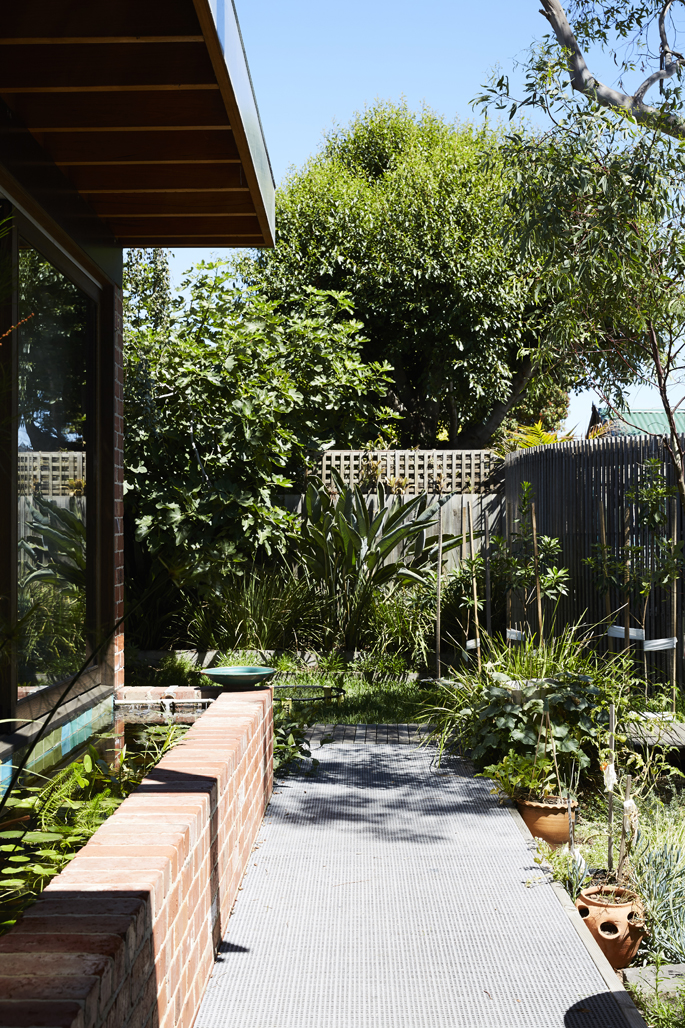 Before deciding on a timber deck, consider how much spare time you have and how much of that time you want to devote to deck maintenance. While the gleaming timber deck has become the clichéd norm of the Aussie backyard, the reality is that it can take a lot of work to keep it looking that way – frequent application of decking oil or Estapol – and it can rot when unventilated or hidden beneath a pot plant. Furthermore, it's often made from rainforest or old-growth timber.
By using the kind of non-slip fibreglass decking material often seen on boardwalks in national parks, we've given ourselves 50 years free of decking maintenance. We can artfully arrange and water pot plants on our deck without fear of rot, and the deck's (literally) gritty aesthetic perfectly complements the industrial, low-maintenance look of the recycled bricks and galvanised iron cladding.
Photography by Chris Middleton.
This article originally appeared in Mezzanine Vol 12, which is available now.