High in the sky at 101 Collins Street in Melbourne, Boston Consulting Group is enjoying its new workplace created by Bates Smart.
There are workplaces and then there are fabulous places to work and the new Melbourne office for Boston Consulting Group (BCG) definitely falls into the latter category. There is every possible amenity and to top it off the views are spectacular with a panorama of Melbourne from every vantage point.
With a workforce of local employees plus visiting interstate and international staff, BCG's brief was to rework a tired interior spread over two floors in an exclusive high-rise situated at the 'Paris End' of Collins Street, Melbourne.
Bates Smart was commissioned to facilitate the renovation with Grant Filipoff leading the team of Rachael McCarthy and Richard Healy and the design was to be a comfortable and contemporary interior that also provided a unique encapsulation of the spirit of Melbourne.
The workplace is spread over two floors, with a combined area of 3000 square metres; however, to realise the concept, the two levels were gutted and the floor plan reworked for ease of flow and use of space.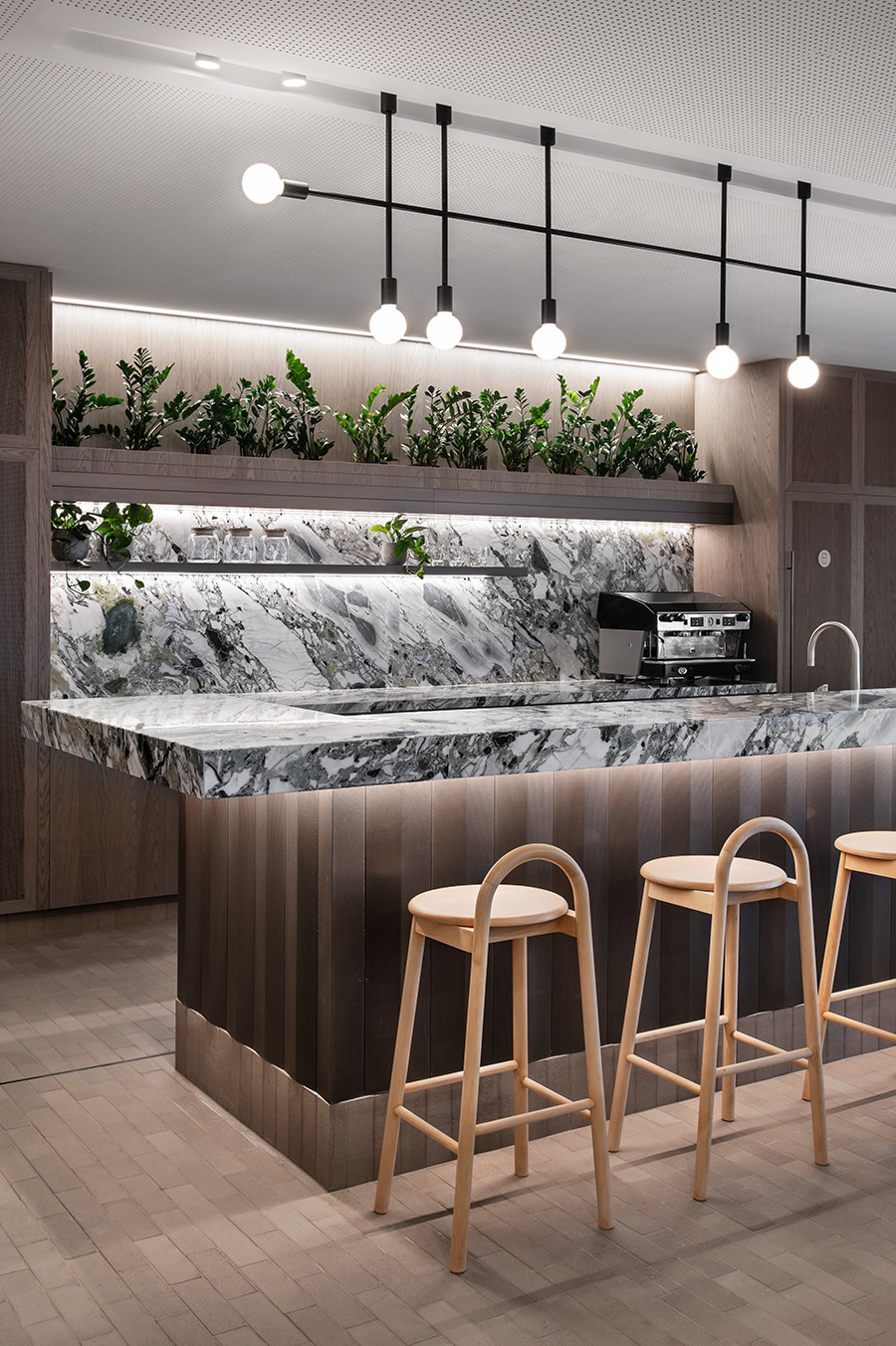 The levels are linked by a black powder-coated, perforated steel sculptural staircase, which has created a double-height void that opens the space and provides room to metaphorically breathe.
Reception is located on the lower floor (a change from the previous floor plan) and the enormous floor-to-ceiling windows provide ample natural light, plus those stellar city views. In the waiting area there is a Zaza three-seat sofa (King Furniture), Bao upholstered armchairs (Walter Knoll, Living Edge), a large solid timber circular coffee table (Cuban, MAP Furniture/Schiavello) and Cylinder side table (Design Nation) that sit perfectly on a large inlaid custom rug (Designer Rugs).
It's all extremely comfortable and welcoming, and the furniture choices are sophisticated but not intimidating. Glass has been used extensively, not only in the enormous windows that flank the internal areas, but to divide rooms and section off areas.
This allows a line of vision through and around zones, and provides connectivity to spaces and people. Moving through the reception area, there is the boardroom, formal and informal meeting rooms and small workspaces situated around the periphery of the floor.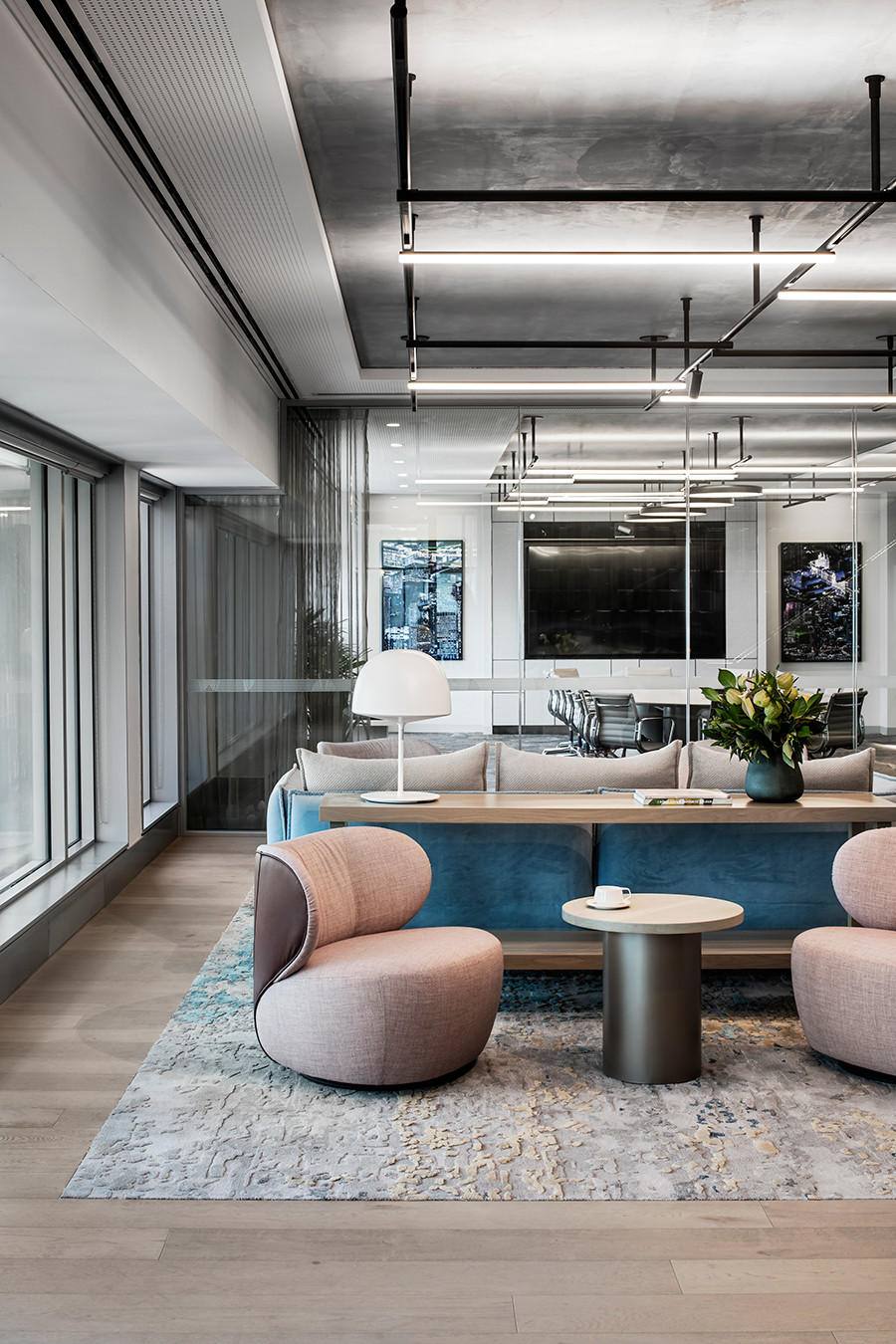 Included in the spatial footprint are training rooms, a wellness area, IT spaces, focus and brainstorming rooms, and a library. These then lead to the larger public work areas, numerous breakout spaces, individual quiet rooms and gathering points for staff. Acoustic ceilings have been installed throughout and help to create an intimacy that can be lacking in modern workplaces these days.
Continuing the fine furnishings, Herman Miller (Living Edge), Vitra (Unifor) and Wilkhahn task chairs have been used throughout and, where possible, the client's own existing chairs, in particular Eames chairs in the boardroom, have been renovated to match new occasional furniture. It is this idea of reuse that is an indication of the clever interior design by Filipoff.
For example, some occasional lounge chairs, original to the last office design, have been placed 'as is', worked into the new design and represent the quality and style in keeping with the new vision.
Moving up to the next level is where this workplace really shines as a place for staff to feel that 'home away from home' atmosphere. At the upper landing to the stairwell is a large breakout area designated for informal gatherings, with a fully equipped kitchen and multiple high and low table groupings. There are lounge chairs (Klara, Moroso, Hub) placed at the windows for individuals to sit and contemplate or make calls to clients and various styles of café tables and chairs for meals (suppliers include Space, KE-ZU, DesignByThem Map Furniture/ Schiavello and Koskela).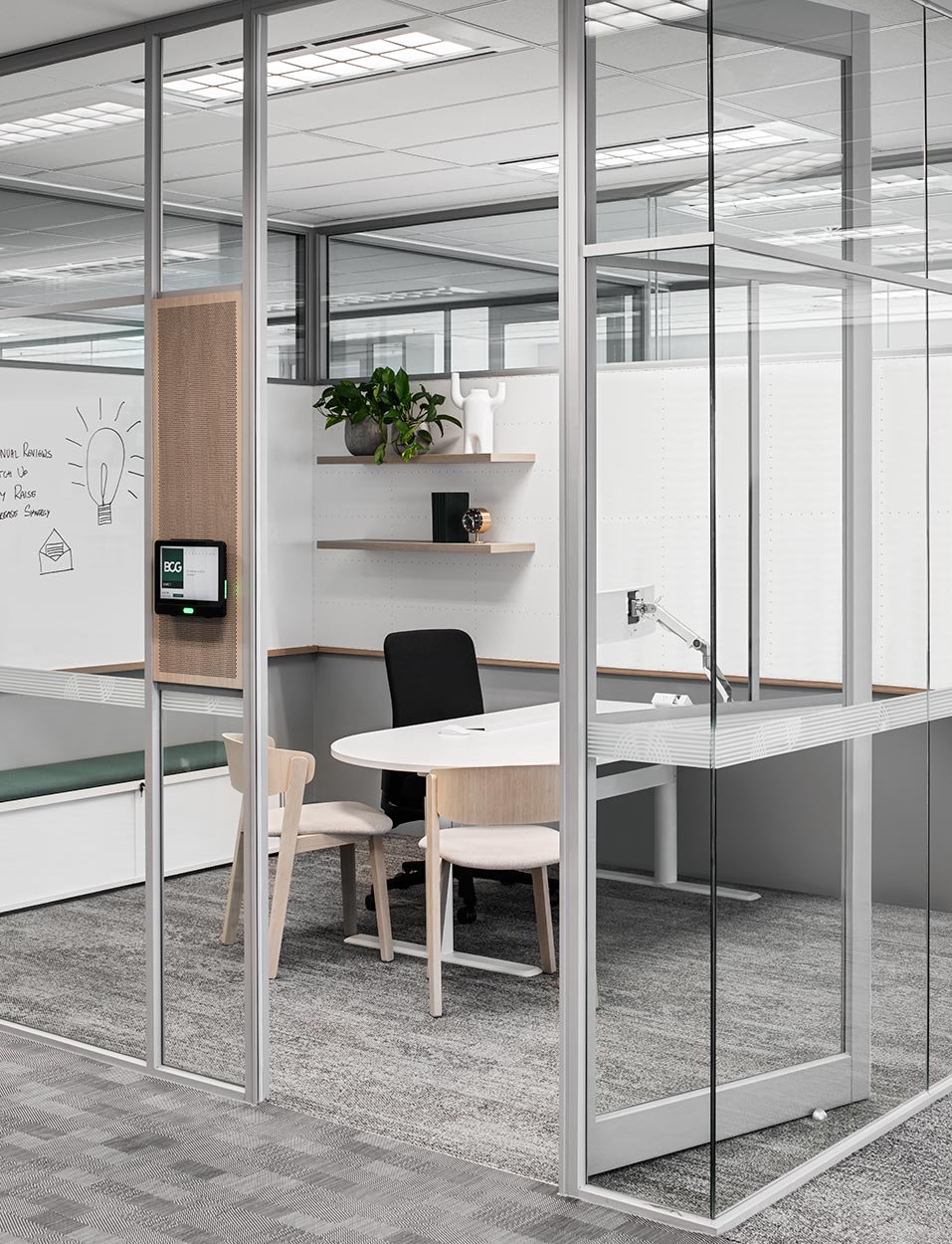 Ever mindful of flexibility, at the end of the room opposite the kitchen bar are custom-designed high tables on castors (Mark Tuckey) that can be moved at a moment's notice to provide extra space for gatherings and events.
The walls showcase graffiti- like graphics of Melbourne street names by artist Tristan Kerr and reinforce the fact that this is the Melbourne office. This informal space is more akin to a great Melbourne laneway café than a kitchen in a workplace and staff use the area constantly, thereby fostering and reinforcing integration within the disparate group of employees of such a large organisation.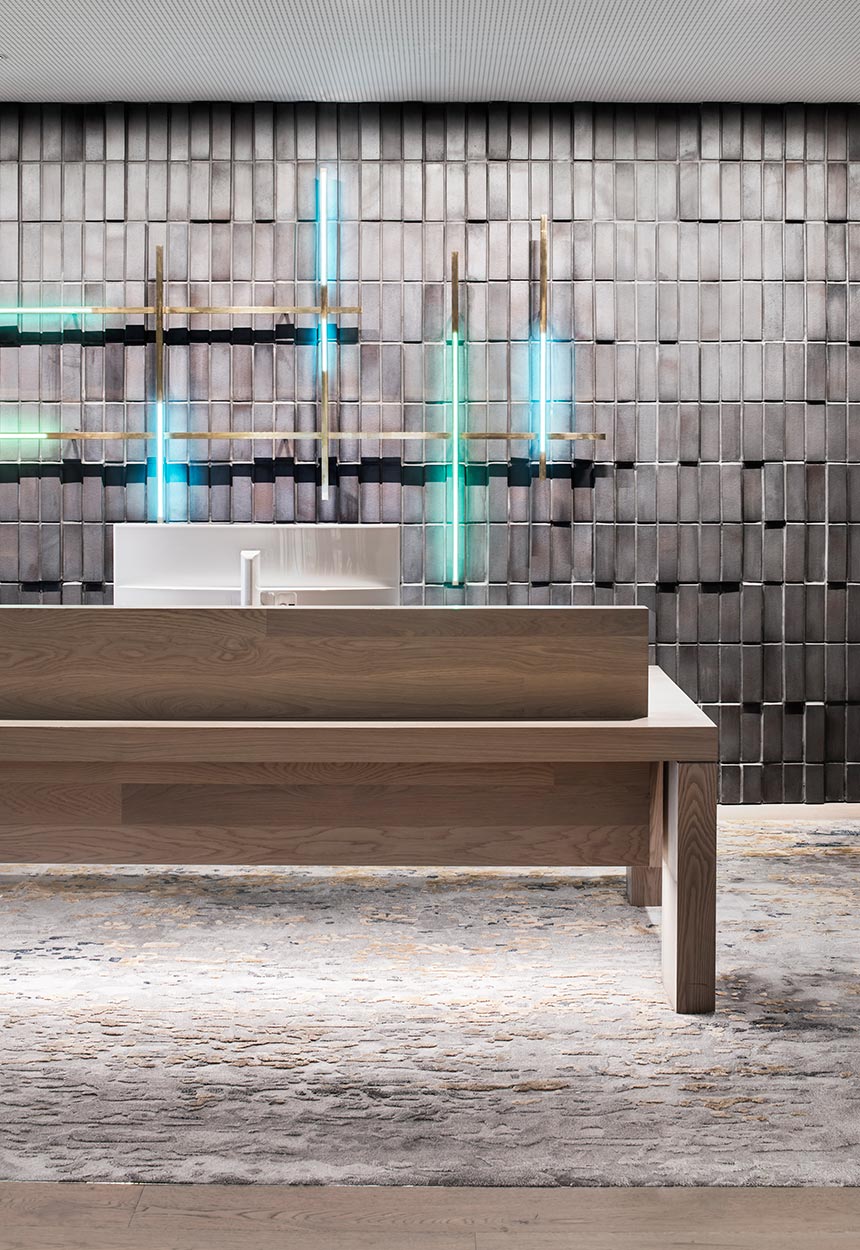 There is a timelessness about the interior of this workplace. It's not about fashion or trends, but rather respect for staff and clients through an understanding of design that supports and enhances a working life. The furniture elements are classic and enduring, but speak of today.
Each area is layered with design and material texture through fabric, furniture and accessories, and there are gems around every corner such as Polar wall sconces (Ross Gardam, Stylecraft), Softscape stools (Helen Kontouris, Stylecraft) and Trace planters (Adam Goodrum, Tait).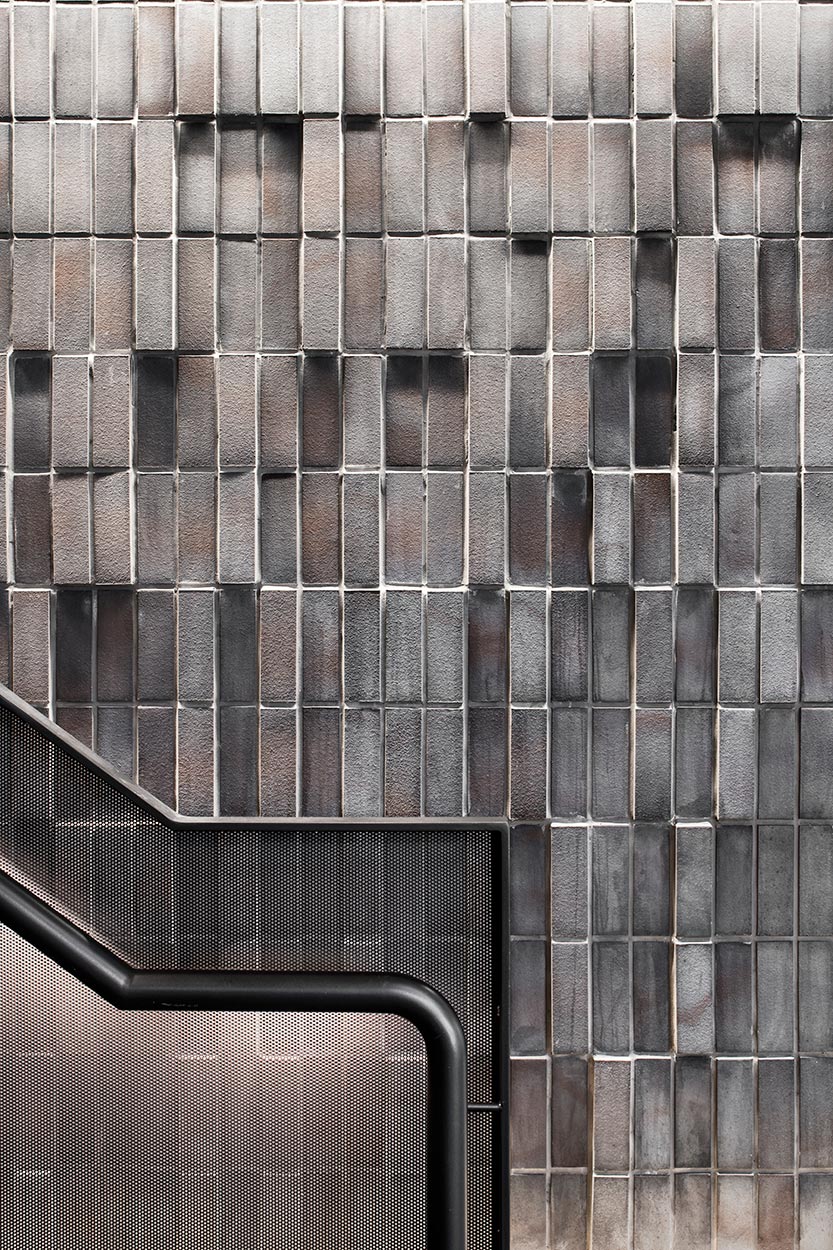 The interior design is exemplified through the detail and, while providing a place to work and achieve, speaks of location.
Once again the splendid work of Bates Smart has hit the mark and another client is enjoying the benefits that fine design can bring to a workplace – an appropriate and accomplished environment that fulfils the brief and provides a community with room to work and grow.
This article originally appeared in inside 106 – available online and digitally through Zinio.
Photography by Tom Blachford