Zenith collaborates with award-winning design studio PTID to create their hybrid showroom, workspace and event forum in Melbourne.
Visitors enter Zenith's new flagship Melbourne concept space through a timber tunnel illuminated by recessed linear lighting. The tunnel opens wide to reveal a light, layered and textural open-plan space in which architectural features and Zenith's workplace displays are in an easy dialogue, the result of the interior company's close collaboration with Melbourne-based studio PTID.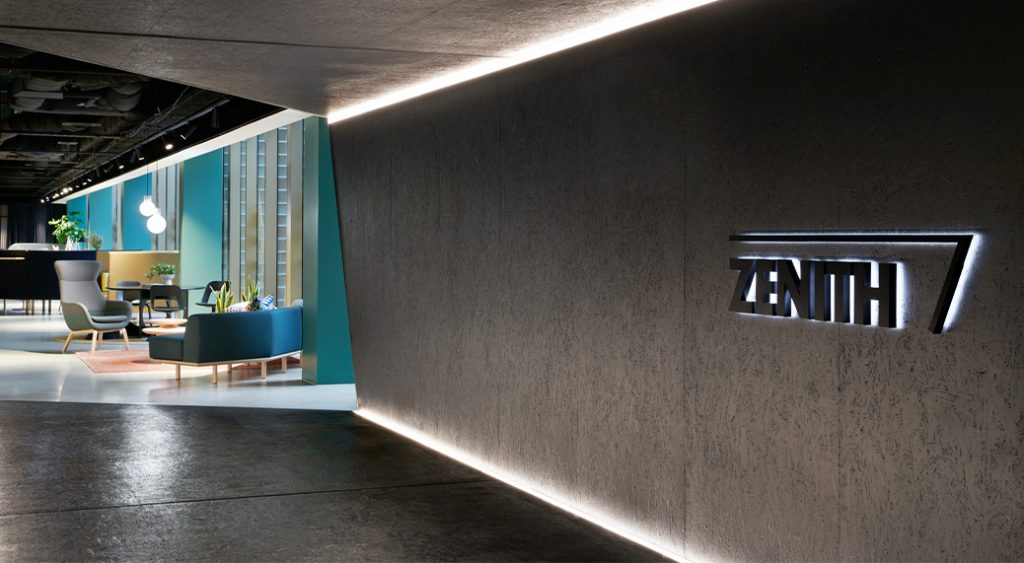 Zenith's modular and flexible furniture are centrepieces of the showroom. Staged in breakout zones, work stations and staggered podiums, these form islands in the vast space.
With a palette of natural timber, deep shades of green and spots of greenery that drapes from the modulating ceiling, this an intentional evocation of the tactility and tones of nature.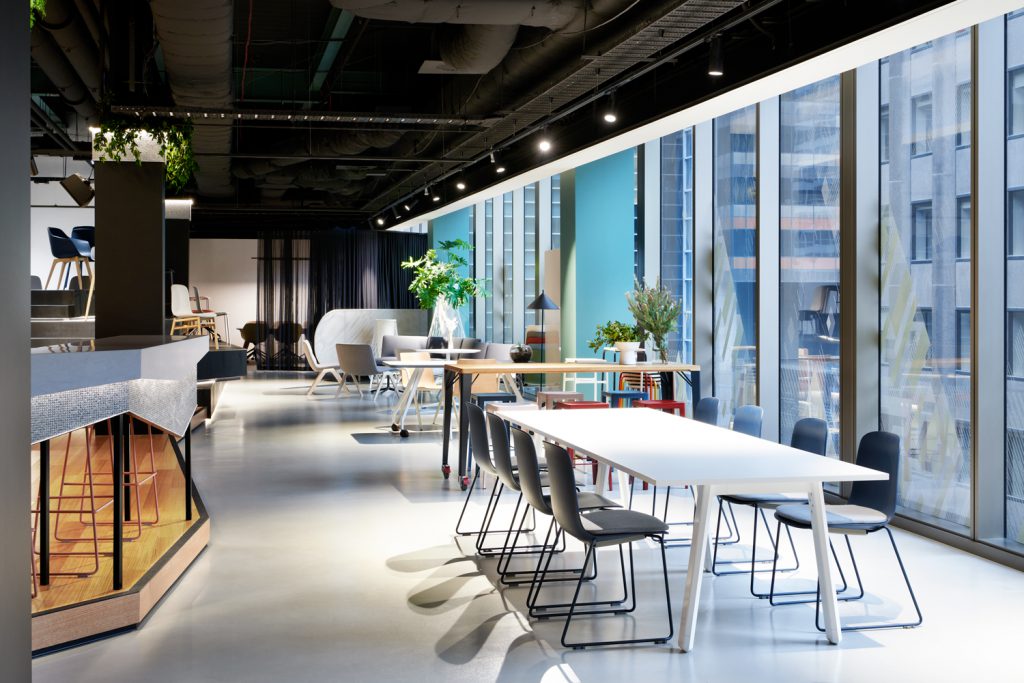 "The Victorian landscape is both a literal reference to the history of Zenith Interiors, but also a metaphor for the robust and long-lasting beauty that the company represents," says PTID senior associate Ben Lornie.
"The flora and fauna of this place is a key design inspiration taking cues into the palate, and using landforms as a design reference for the hospitality area and display form that divides the showroom like a mountain range."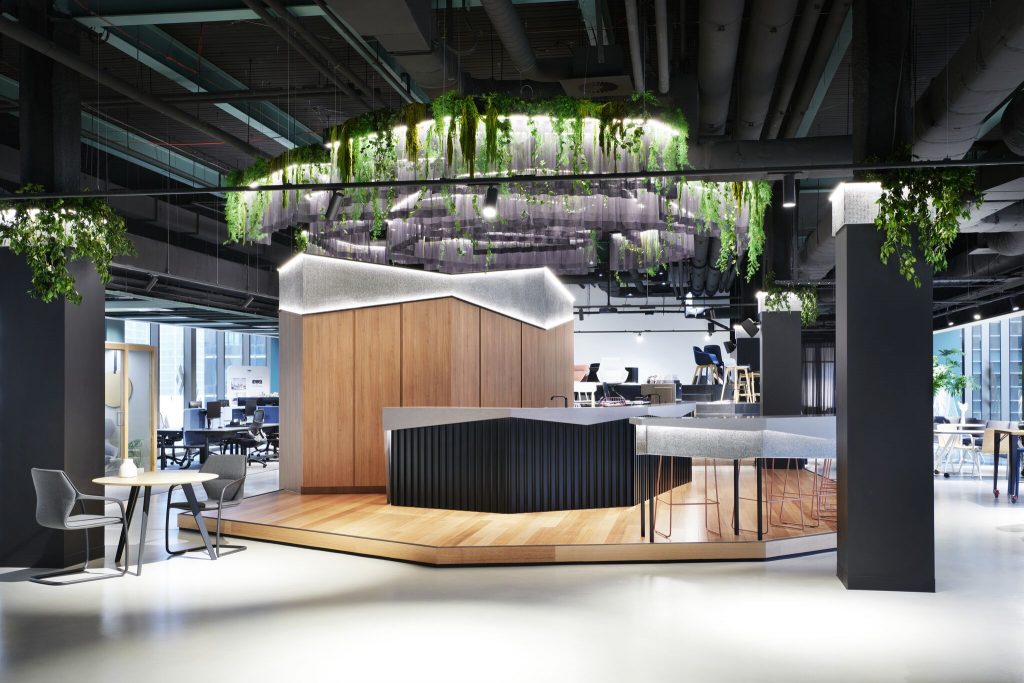 The core of the space is the "social hub" – a space for mingling between designers, clients and staff that is garlanded by hanging plants.
Nestled behind the hub are the event space and the primary display area where Zenith's new and signature chairs are arranged atop the timber podium known by staff as 'The Mountain'.
Descending from the 'The Mountain', there are presentation spaces and meeting areas. This is counterbalanced at the floorplan's opposing end where workstations and collaborative areas create a flexible staff work zone. These demarcated spaces are marked by changes in ceiling height and floor finishes.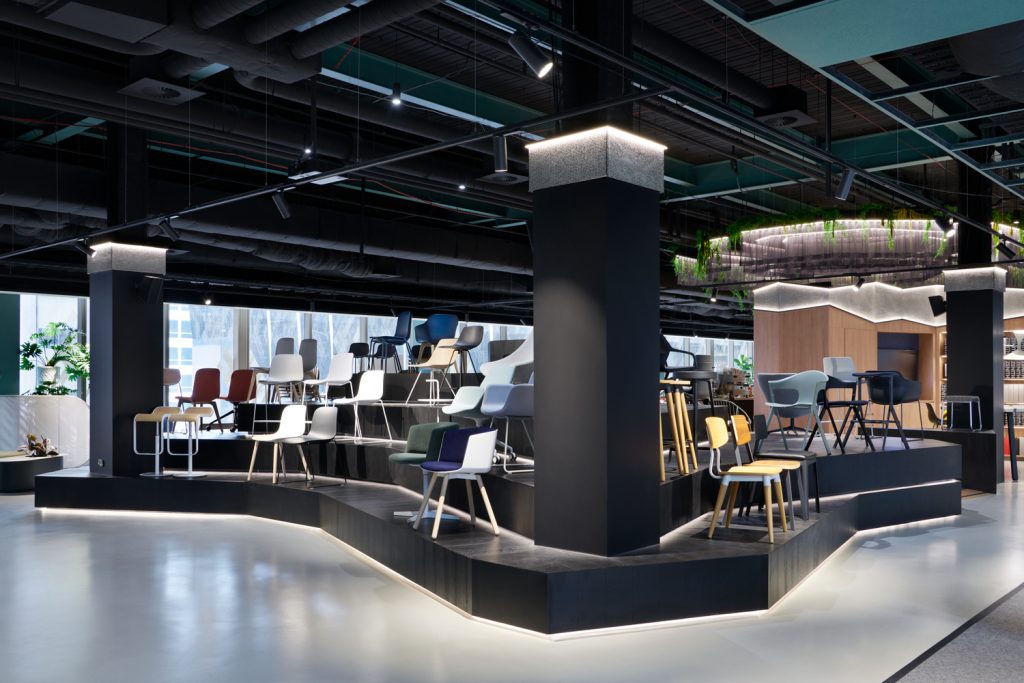 "The whorling floral form of the Victorian Heath is a central visual feature that locates the heart of the showroom around people, hospitality and experience, from which the layers of Zenith's products and experience radiates," says Lornie of this zoning.
The showroom presents a tableau of the future of work, with Zenith's focus on creating designs that will accommodate the user's changing needs on display in every pocket.
Check out Zenith's recent collaboration with Beeline Design on the Ridge Collection.