Written by Jan Henderson, photography by Earl Carter.
Over the past decade, workplace design in Australia has led the world in style, innovation and creativity. Many of the largest companies in Australia have, through their collaboration with designers and architects, spearheaded the workplace design revolution that is now the expected norm. Companies understand that investing in their employees' workplace also reflects their brand, ethics and customers, and these days the quest for best workplace design is an ongoing and ever evolving discipline.
The new Melbourne offices of AGL at Docklands in Melbourne speak volumes about this company's credo. HASSELL was engaged by the energy giant to design the interior of a new build by Mirvac, designed by Grimshaw Architects, which would reflect the AGL brand and provide excellent facilities for its workforce.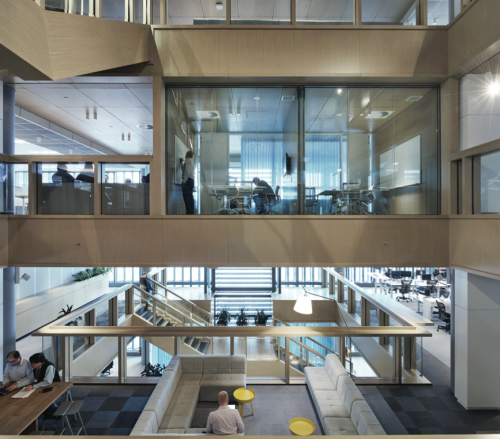 This is no flashy interior, but a carefully considered design that is the essence of good taste, quality and comfort. The offering is complete for a diverse workforce with a variety of needs. The brief required flexibility with furniture and spaces that would allow an increase and decrease of capabilities throughout most areas and also provide the facilities for multiple styles of working for the ever-increasing mobile workforce. This, HASSELL has achieved along with a perfect design of style and substance.
HASSELL has previously completed offices for AGL in Adelaide, Sydney and Melbourne and so through this extended relationship understood its client's requirements. This new commission was the opportunity to put into action the knowledge from the past and create something special for the future.
Jacqui Low, from HASSELL and lead designer on the project, says, "The design incorporates beauty and simplicity, is well built and doesn't have to try too hard. The design is mature with fine furniture pieces that will stand the test of time and there is an understated Scandinavian elegance about the interior."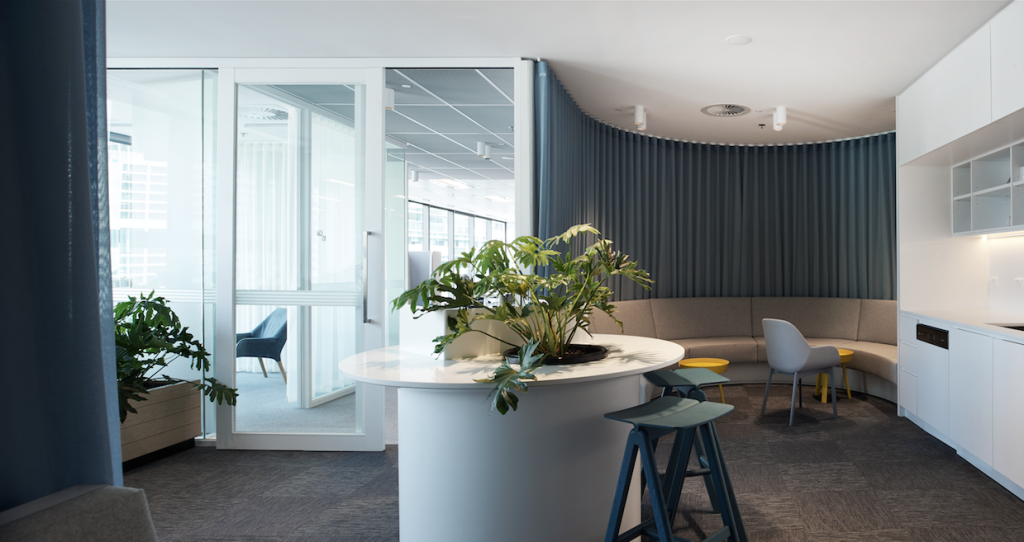 The project encompassed interior design for nine levels for a workforce of some 1500 people. The reception area is located on Level 3 and this comprises the front of house area that has interaction with the public. There is also a café, which has become a local hub and meeting point for employees. Beyond this floor, HASSELL has introduced a floor plan that translates to all but one of the floors above. The interior walls have been painted white, matching the ceilings, which are either plaster or white mesh ceiling tiles – a blank canvas for the palette of greys, charcoal and caramel colours utilised in soft furnishings.
To add softness, accents of blue and cream in drapery (Kvadrat) help to delineate spaces and screen areas. There has been a rigorous approach to the choice of complementary materiality, so that each works cohesively together. Whitewashed oak timber floors (Europlank, Havwoods) have been laid around the perimeter of each floor and they act as a form of delineation or zoning for focus furniture settings.
Carpet tiles (Godfrey Hirst) have been laid throughout all work areas, while there is vinyl flooring on stairs and in kitchens (Gerfor), and Bolon (The Andrews Group) in the hub locations. Joinery is white Laminex and stainless steel (HASSELL designed) with benchtops of white reconstituted stone and powder-coated folded metal. Perforated metal has been used to create focus booths and to create transparency on ceilings to the main corridors and there are planter boxes (HASSELL designed) that add weight to the minimalist style.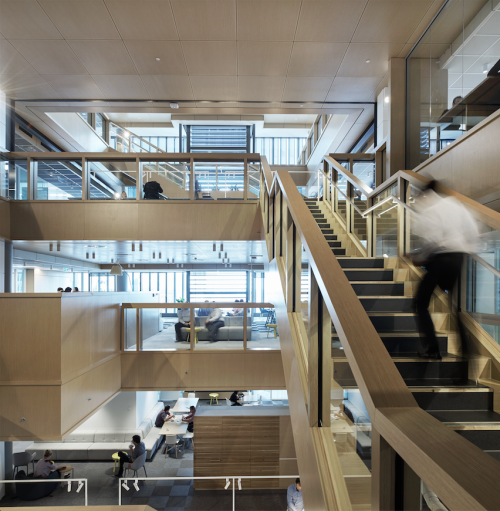 There is a lightness of touch in the design, but the gravitas comes from the furniture that has been chosen. HASSELL's design incorporates elegant and stylish chairs, armchairs, lounges, stools and tables that will stand the test of time. There are a variety of task chairs in the main areas, Mirra (Living Edge), Vitra Physix and Vitra ID Trim chairs (Unifor) while Vitra HAL wood chairs (Unifor), Hay Copenhague barstools (CULT) and Kartell Clap chairs (Space) have been used in the hub locations.
In the more private spaces or 1:1 areas around the perimeter of each floor plan, Adam Goodrum's Plum chair (CULT) and Vitra's Softshell chair (Unifor) work perfectly together. There is nothing flashy or standout about the furnishings – individually and collec- tively they work perfectly together, and this is because quality has been the key driver. This is not an interior that will require a makeover in a few years, but will actually improve with time.
As with every project there are always challenges. In this case the overhead bulkheads on each floor required containment in keeping with the overall vision of the project. HASSELL designed an ingenious solution that included planter boxes above the joinery to help screen and 'green' the ceiling spaces. The use of plants works to break the extension of the ceiling line and rest the eye.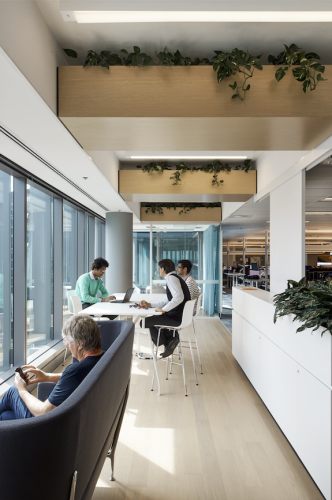 Throughout, workspace areas have been designed to capture the abundant natural light; however, where artificial light was required the smart solutions integrated into the fitout ensures that light is provided only to those areas in need. Both the use of plants and adaptation of light were recognised in the five-star Greenstar certification process for the building.
The HASSELL team has presented a curated interior that complements the architecture of this new building and provides a workplace that is all comfort and amenity. They have inter- preted their client's brief perfectly and encapsulated the AGL brand through this subtle and minimal design. This is a workplace that is cool and calm with a quiet beauty all its own, a workplace for the future to be enjoyed today.