Olana Janfa's recent collaboration with Australian design brand Dowel Jones was an exhibition highlight at Melbourne Design Fair.
Olana Janfa and Dowel Jones joined forces to display 'Dancing Under the Water' – eight pieces manufactured by the Fitzroy-based furniture designer decorated with Janfa's colourful and expressive illustration-based artwork. These furniture pieces range from coffee tables to stool legs and chair components. 
Janfa is an Ethiopian-born artist who emigrated to Norway when he was fifteen years old. He then travelled to Australia on a holiday in 2015, and has called it home ever since.
In addition to his gentle and playful demeanour, the most impressive detail in Janfa's story is that he is completely self-taught. Before launching into the art world five years ago he had never even visited an art gallery. 
Since then, his palpable passion has produced a prolific work ethic – painting daily and often developing three to four paintings a week.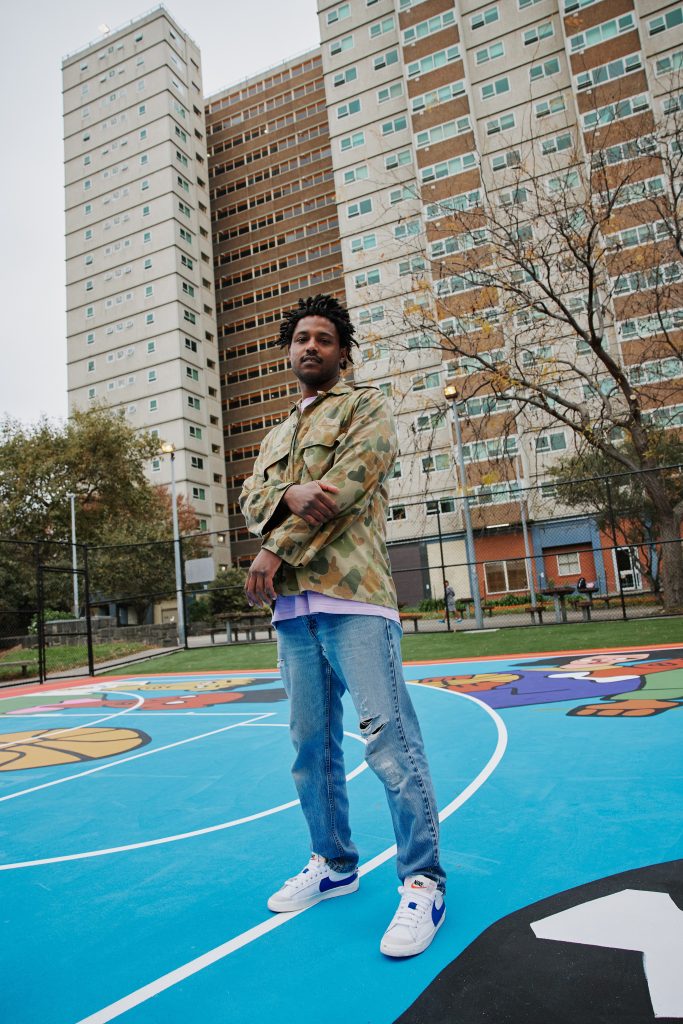 He started painting in 2018 as a vehicle in which to express his experiences as a person of colour in Australia and Europe, and also to reconnect with his culture and background.
'I wanted to create artwork that reminded me of Ethiopia," he says.
His first painting was a reimagination of a visual scene from the Ethiopian bible, which boasts a very distinctive illustration style.
The figures in these scenes appear serene – they have wide, innocent eyes and are painted with warm colours, further imbuing them with an ethereal and angelic quality.
After experimenting with different processes, this illustration style has come to typify Janfa's work, alongside constantly being open to new approaches, and moments of surprise.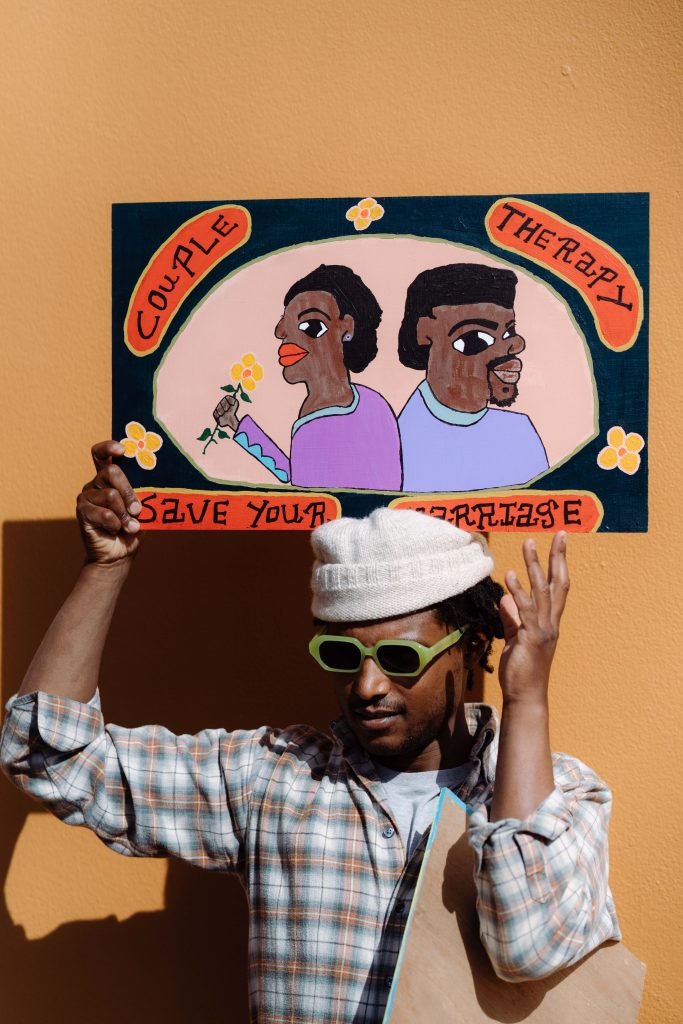 "When I paint, I don't really have an overall idea – I just go with the flow and experiment with sizes and styles," says Janfa.
These almost caricaturesque figures that appear as illustrations in Janfa's work are often the starting block for the remainder of the piece.
"I start with the characters, and then the story and idea comes after," he says.
Another notable feature of Janfa's work are the punchy and comedic phrases that act as accompanying text to the illustrations.
Some are innocuous or directly reference the illustration, such as 'worries and problems' 'democracy' or 'waiting for idea'. Other phrases are bemusing and hint at Janfa's mischievous and tongue-in-cheek humour, such as 'no thoughts just be hot' and 'send money to Africa.'
The captions also highlight Janfa's proud embrace of his slightly broken English, which colours his work with an endearing quality reflective of his warm personality.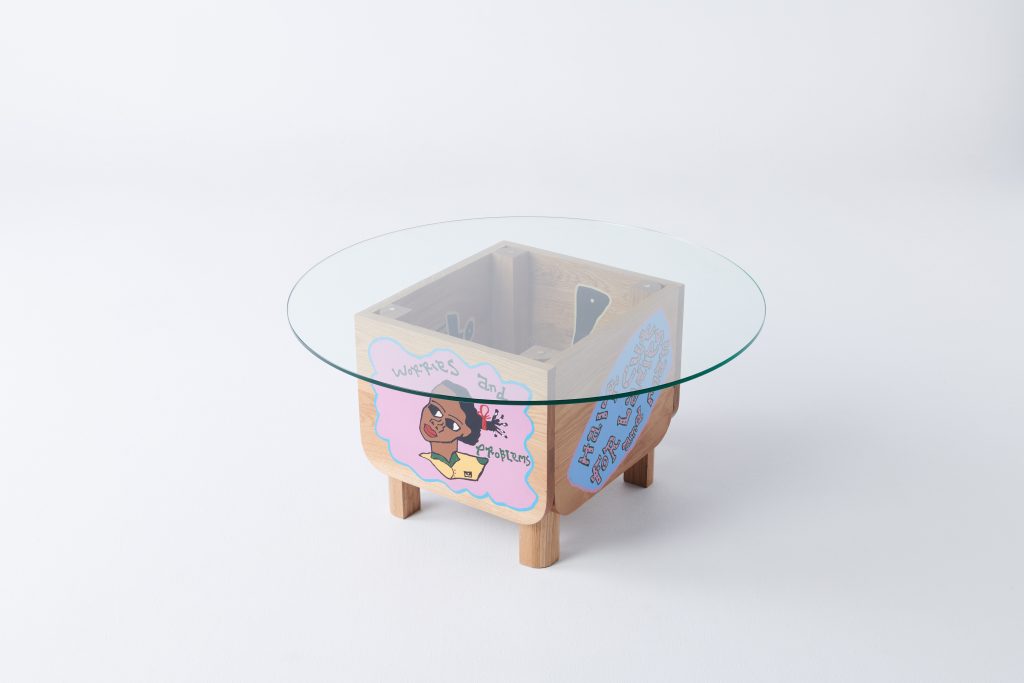 Janfa is skilled at producing thoughtful, multi-faceted artwork. He tackles significant topics such as race, class and culture but in a light-hearted and gentle way – cautious not to lapse into lecturing audiences – using artwork that relies on fun aesthetics. 
'Art allows me to express my daily life – how I live as a person of colour in Australia, and how people see you differently when you don't speak English and look like them," he says.
"It's the only way I feel like I can express myself clearly."
Co-founder of Dowel Jones Dale Hardiman noticed Janfa's work on social media and reached out to see if he would be interested in collaborating with the studio on a furniture design project.
'It was very unexpected as I never thought I'd work with furniture designers – I didn't know what to expect, but Dale really believed in me," says Janfa.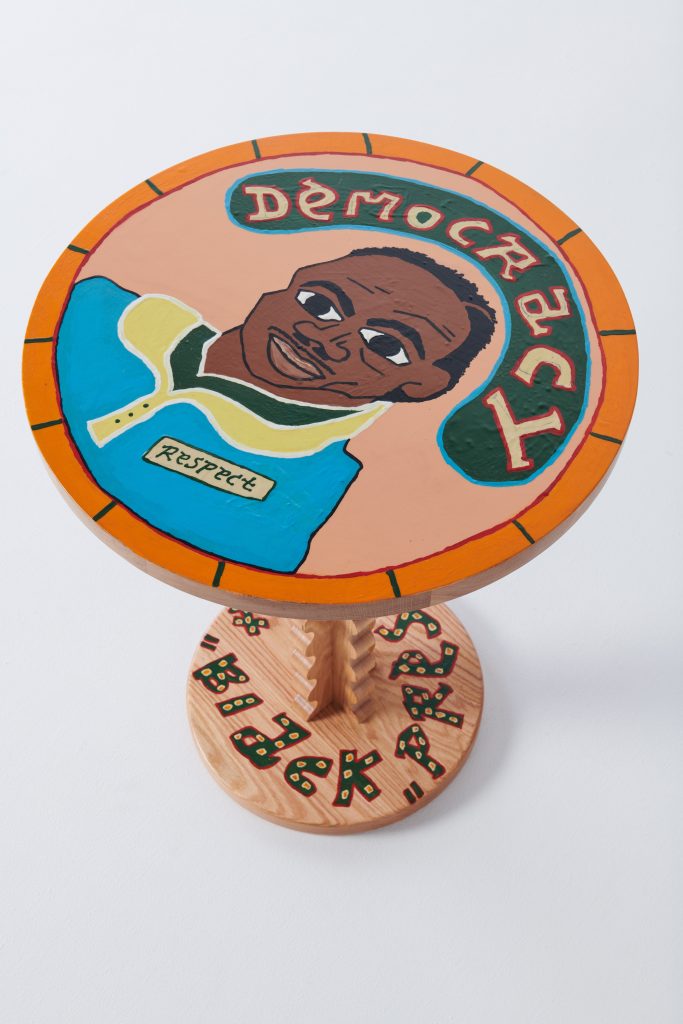 The title of the work came from a desire to clearly express the creative exchange between Janfa and Hardiman.
Furniture and painting are two very different modes of expression and communication, yet 'Dancing Under the Water' saw Janfa and Hardiman move in sync and in harmony.
"When you're dancing under the water, you're not really communicating verbally, yet more with your body language and facial expressions – water provides freedom and movement to create whatever you want," says Janfa.
This theme of fluidity and free movement emerged as a core component behind the collaboration, as Hardiman did not provide Janfa with a brief or vision, and instead strongly encouraged the artist to be autonomous and let loose.
"He designed the furniture, brought it to me, and then said – just dance!" says Janfa.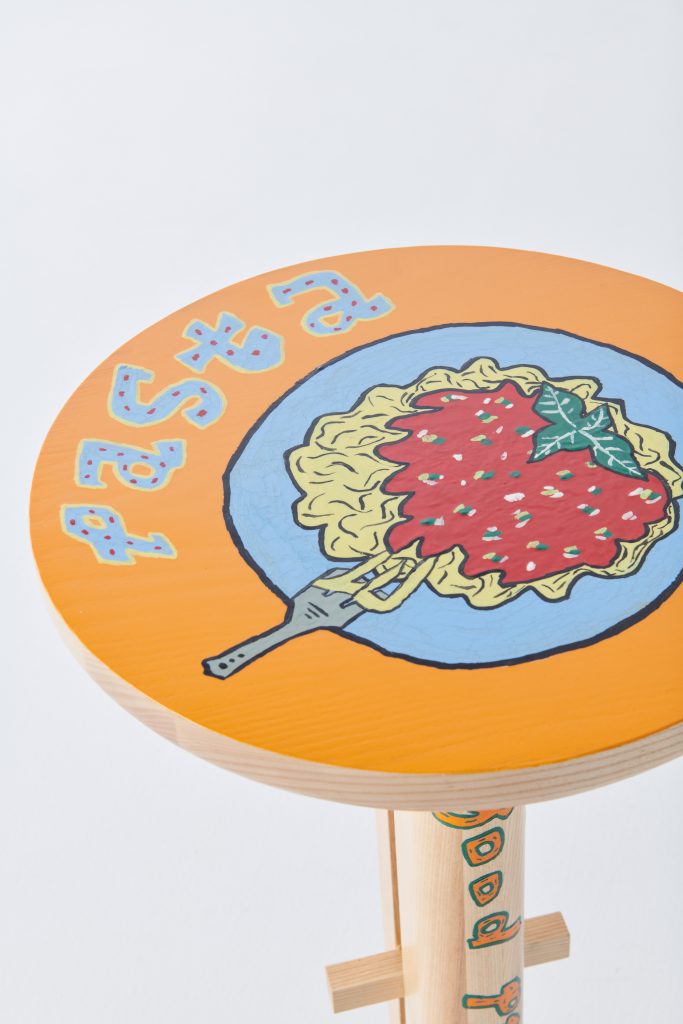 The Thornbury-based artist is experiencing an exciting and vibrant time in his career. His exhibition What is your Gov'ment Name is currently on display at the Melbourne Immigration Museum until 24 August, and he is designing skateboard graphics for Ethiopia Skate, an American-based non-for-profit company that constructs skateparks in Ethiopia.
He also teaches art to schoolchildren from mainly migrant and culturally and linguistically diverse backgrounds, most recently at Westbreen Public School.
Janfa completed a big-ticket item on his career bucket list and collaborated with London-based menswear label Nicholas Daley. It's astonishing that he has only been painting since 2018, so what can we expect from Olana Janfa over the next five years?
"My dream is to have my work recognised overseas in Europe and America – and I also have a big passion for music, so I would love to work with musicians," he says.
Featured Image supplied by Immigration Museum Victoria.
See how Paula Savage took out the 2023 Melbourne Design Week Award.