For its latest South Yarra location, co-working space The Commons tasked Foolscap with a brief to emphasise all those little things you can't get from working at home.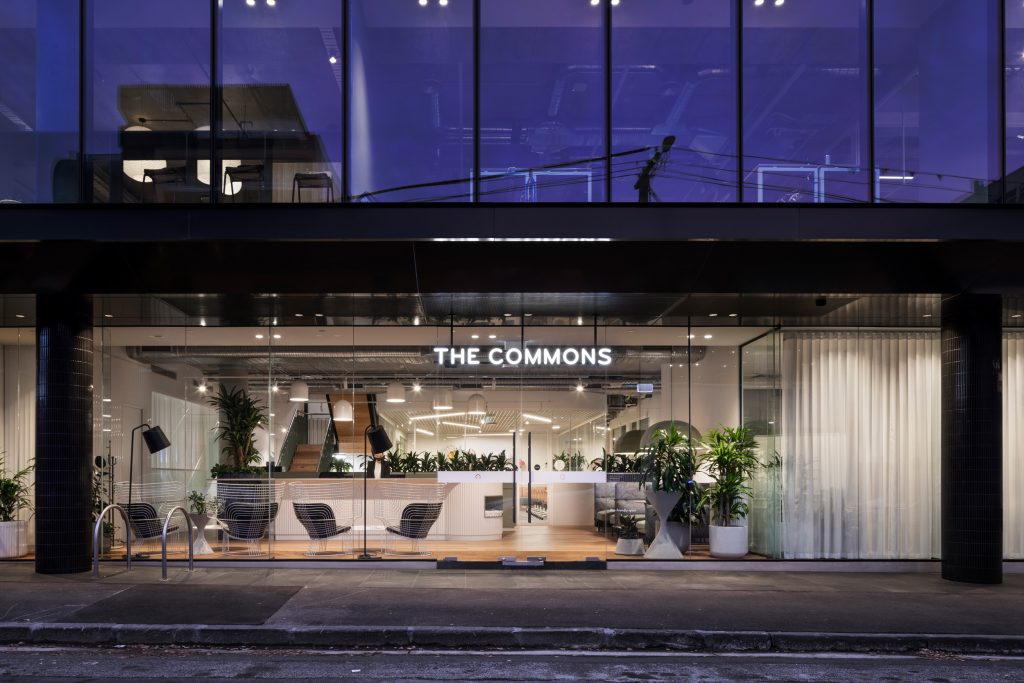 "In the past year, we've seen the typology of working from home emerge in parallel to the office," explains Foolscap founding director Adele Winteridge.
"For [this project], we envisioned a 'third place' for working.
"A place that is less about the hot desk and more about social engagement, separating work from home and getting access to specialist facilities."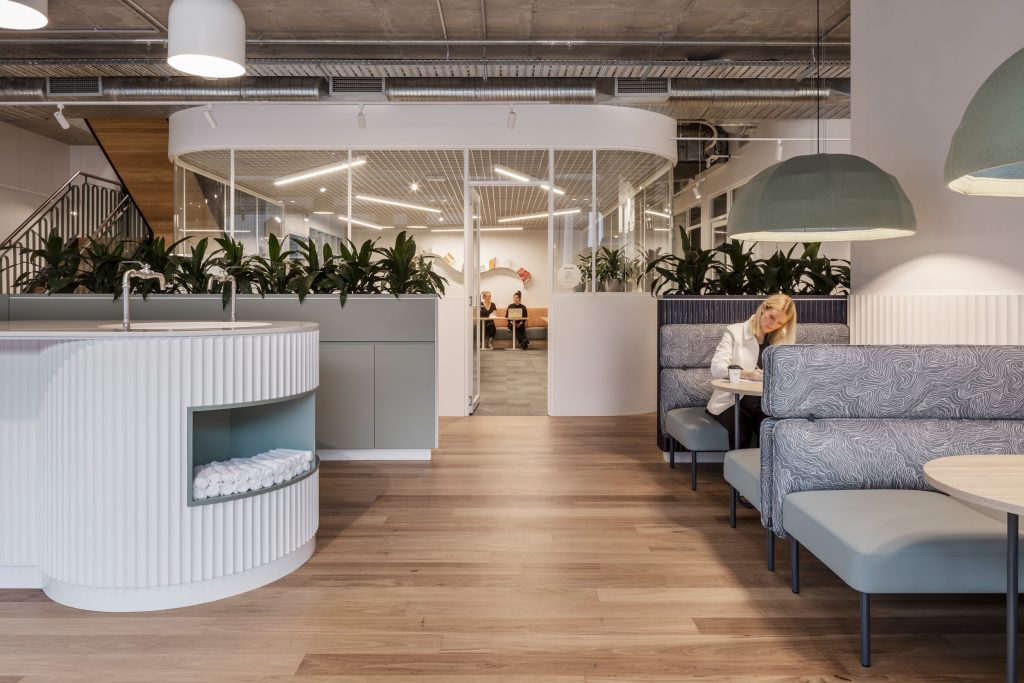 Embracing the theme of "serious fun", Foolscap paid extra attention to the collaborative spaces and social interactions within the co-working hub.
Linear and modular workspaces were broken up by "sculptural and fluid" break-out zones, connected by a custom metal and timber staircase.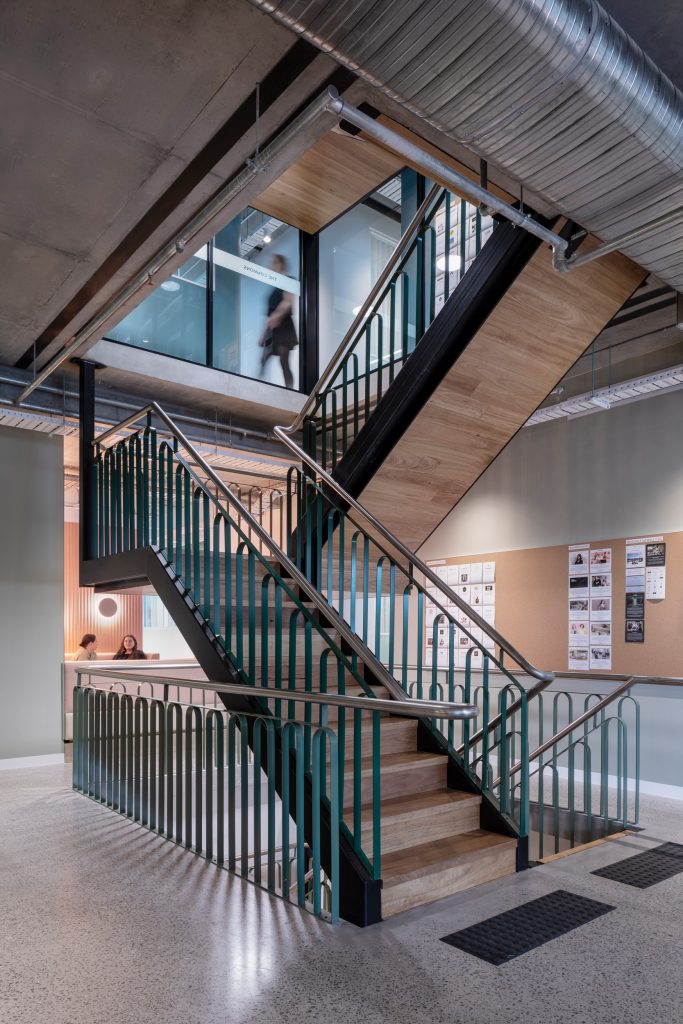 A syncopated floor plate is synergised by a mix of timber, carpet tile and concrete, and a pastel-heavy colour palette, which shifts in "colour, tone and texture" as it moves through the four levels.
Prints by Indigenous artist Jimmy Pike feature in custom wallpaper and textiles, interspersed with brightly coloured leathers from Kvadrat Maharam and Warwick and decorative lighting from ISM Objectives and Space Furniture.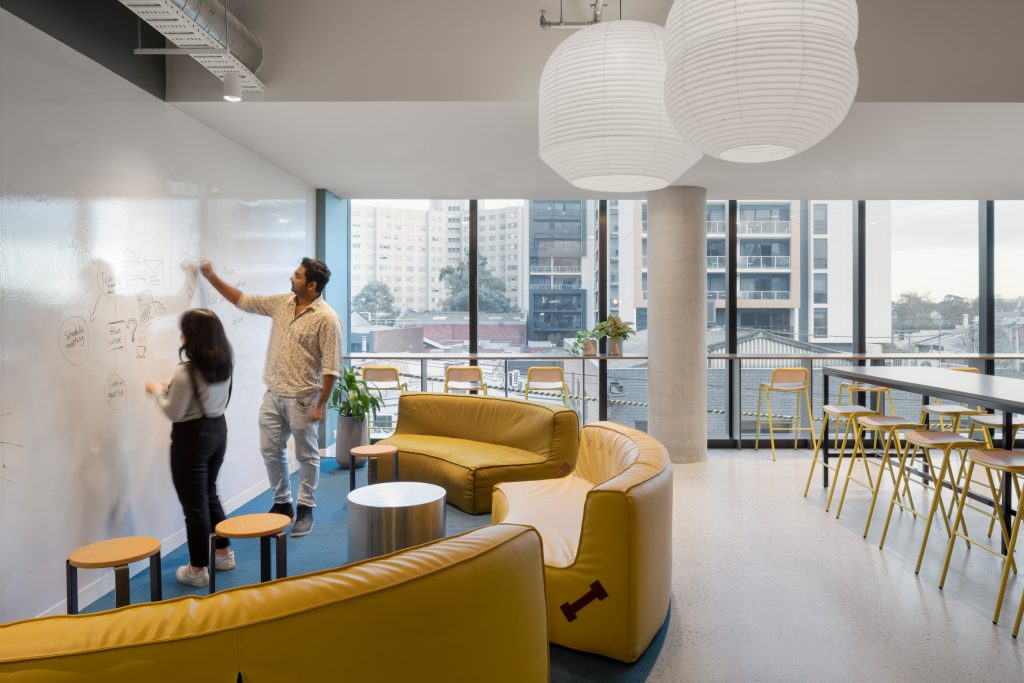 Along with its private offices and shared working spaces, The Commons South Yarra features a series of studios, maker spaces, workshops, meeting rooms and an open air garden.
In one corner of the space, a sunken plush lounge in blue velvet has been set aside for "collaborative catch-ups", while elsewhere, a presentation and team building space featuring reconfigurable seating and easy access to the kitchen is designed for events and workshops.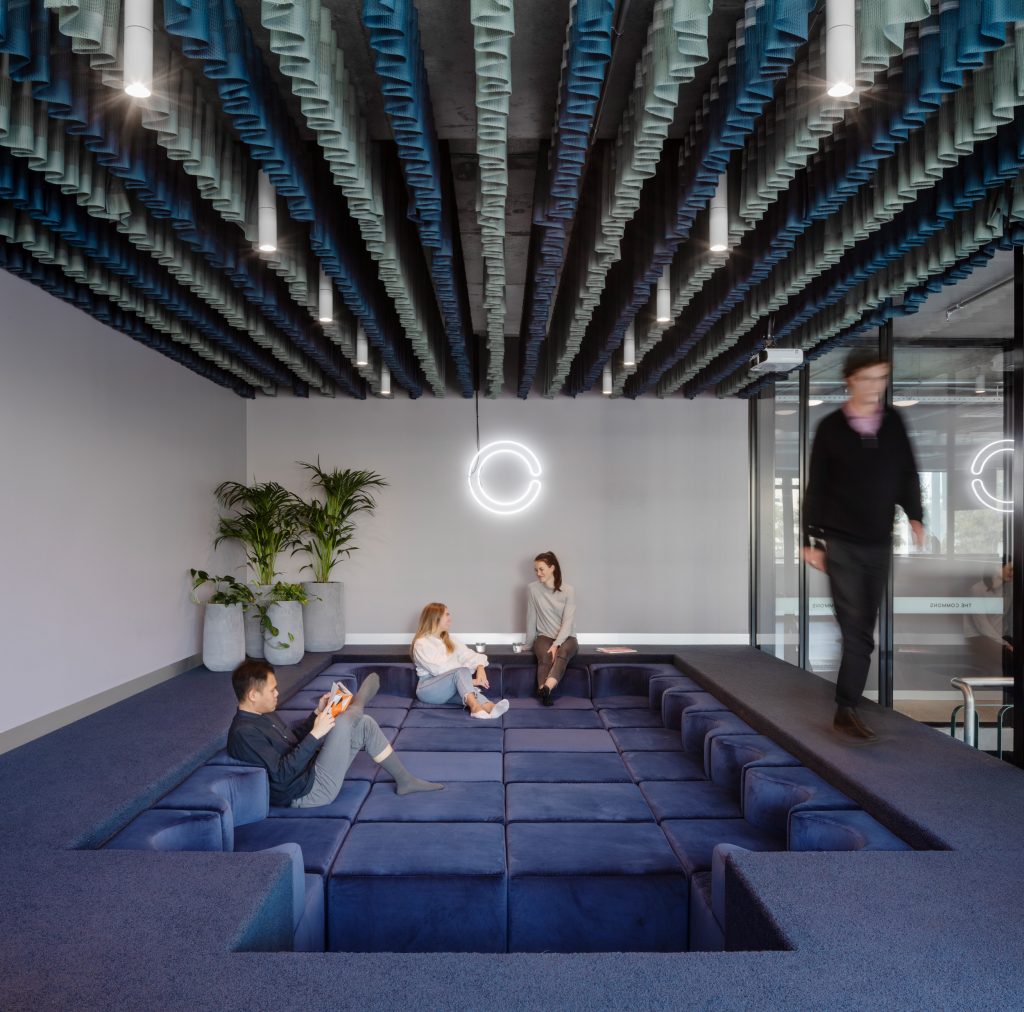 "The Commons South Yarra is a place where you get to choose your own world and revel in constant contrast," explains Winteridge.
"[We imagined] a series of serviceable zones that cater to group and individual needs in a joyous, yet highly multi-functional manner."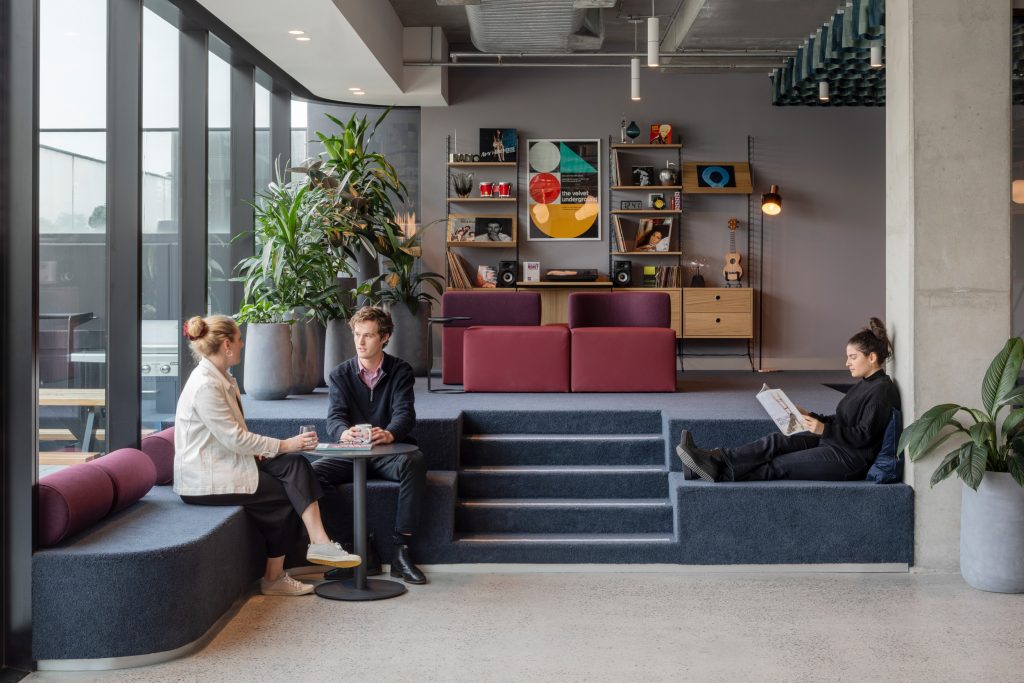 In the kitchen itself, grey laminate cabinetry and a green-tile splash back are paired with yellow and red seating and an island in pink and burgundy.
The "slightly industrial" casual space also features a pool table and arcade machines, alongside a mixture of tables.
Elsewhere the same colour palette is reflected in built-in booths with large bolsters and light-coloured timber tables.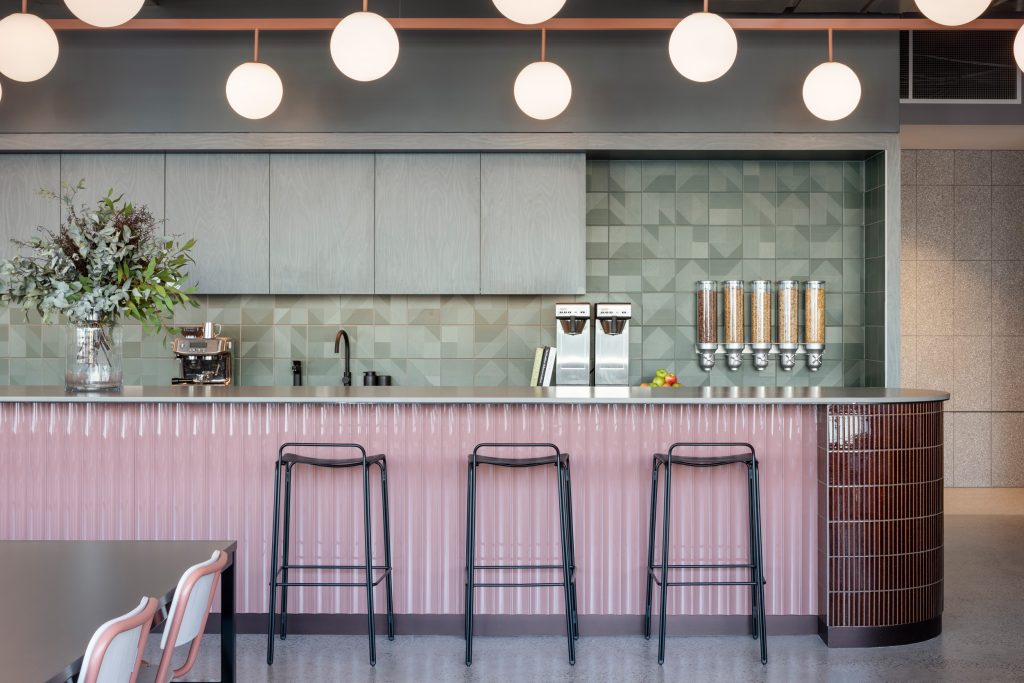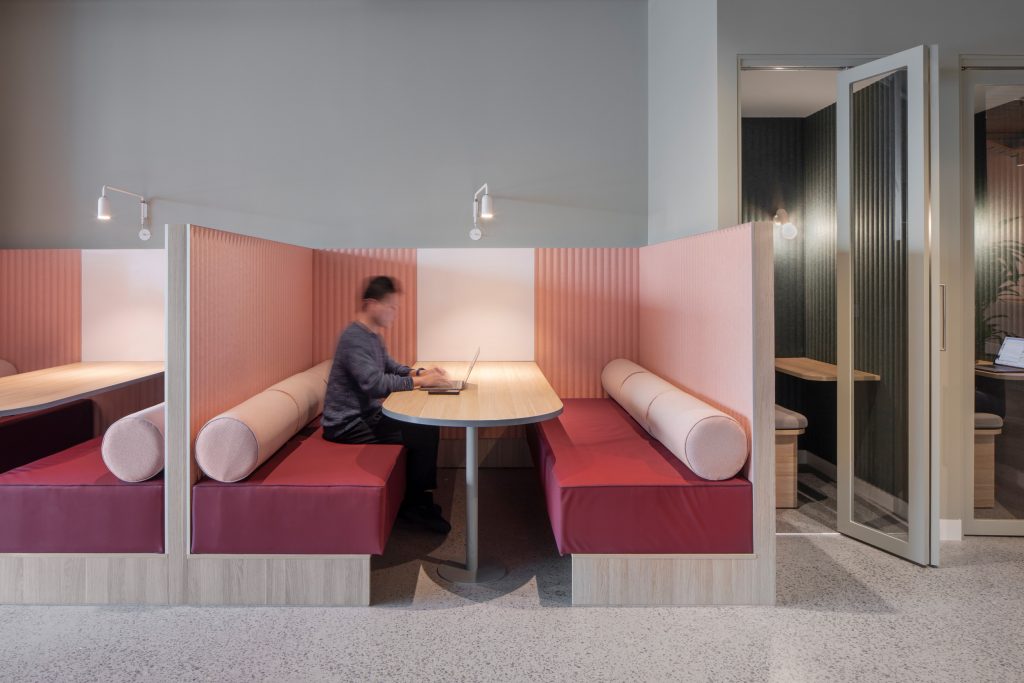 The co-working space also features a workshop for 3D printing and arts and crafts, and a Sensory Room for meditation and yoga in an atmosphere of "softness and quietude.
"Contributing to a hushed sense of calm and clarity is a minimal materials palette," concludes Foolscap.
"Curtain-lined walls, the ambient glow of concealed lighting and passive air circulation [complete the Sensory Room]."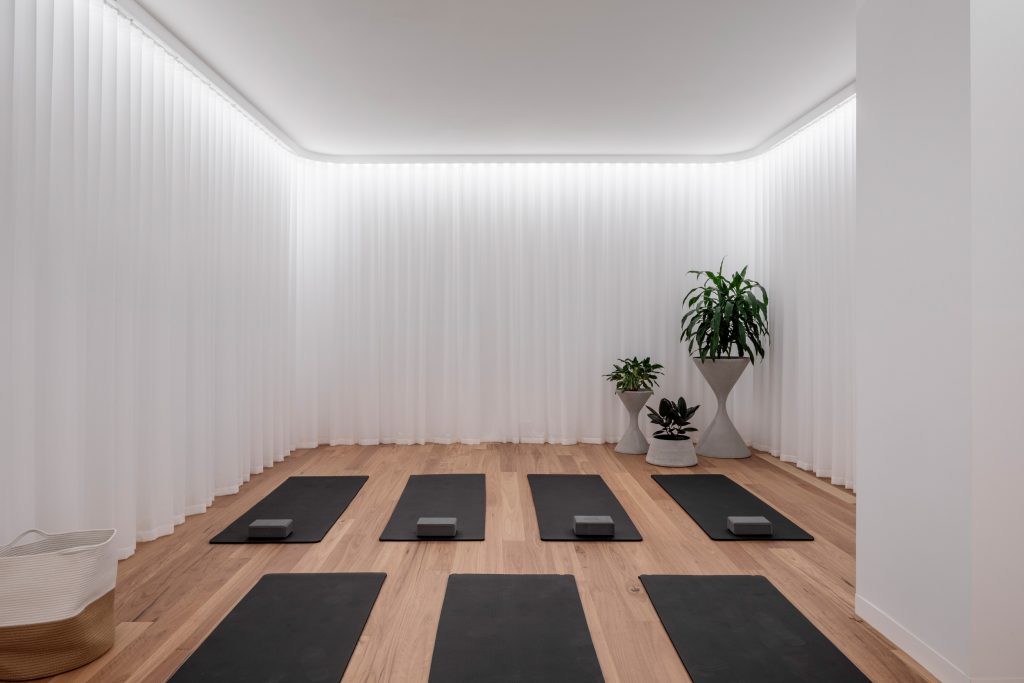 Foolscap Studio is an award-winning interior architecture and design practice focused on creating space that meaningfully contributes to the cultural fabric of a city.
Earlier this year, the studio completed UK-based 1Rebel's first foray in Australia. At the height of the COVID-19 lockdown last year, ADR also spoke to Winteridge about her experiences as a business leader.
Photography: Tatjana Plitt.