Adrenalin. Pumping music. Neon lights. Hard surfaces. A raging nightclub immediately springs to mind – this is the embodied experience of 1Rebel's new gym designed by Foolscap Studio.
What distinguishes UK-based 1Rebel's (1R) first foray in Australia from typical gyms is its innovative approach to design, driven through strategic research into the psychological journey and exercise science.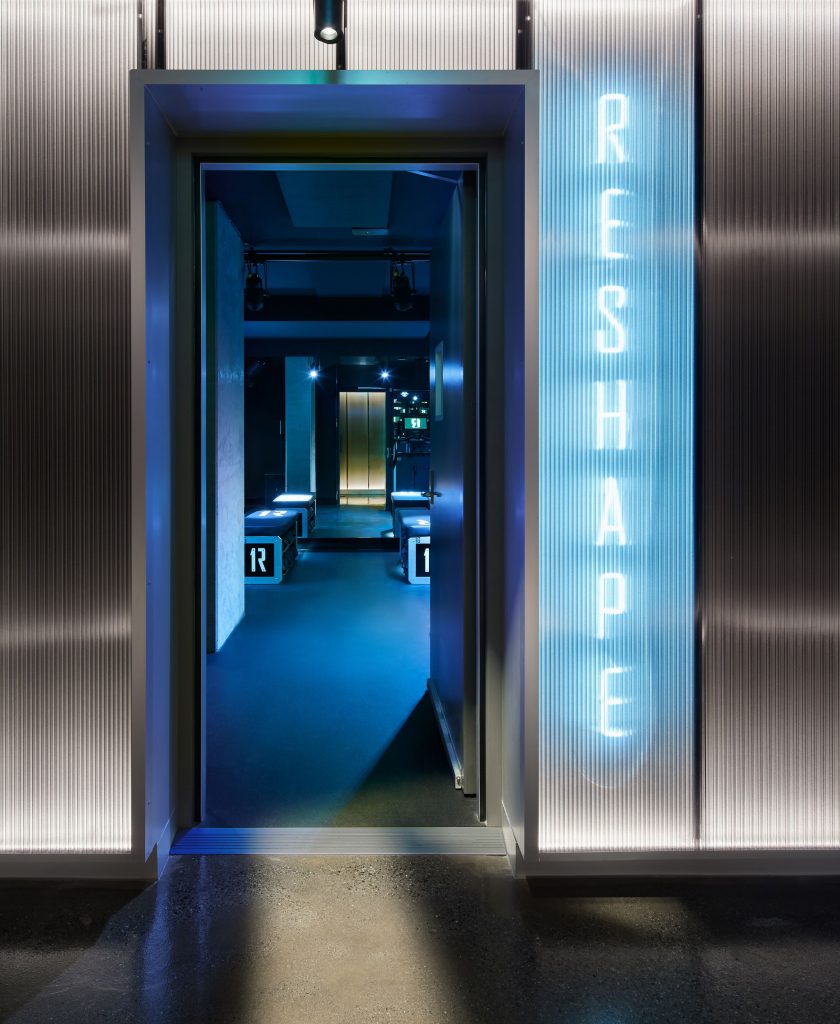 Foolscap Studio director Adèle Winteridge was approached by 1R to harness their "fresh perspective, as a first-time fitness design studio", which was completed in January 2021.
1R co-founder Giles Dean and CEO Amanda Maclean wanted an architect with "no preconceived ideas" says Winteridge – a clean slate to completely transform an unused basement premise in a development site on Chapel Street.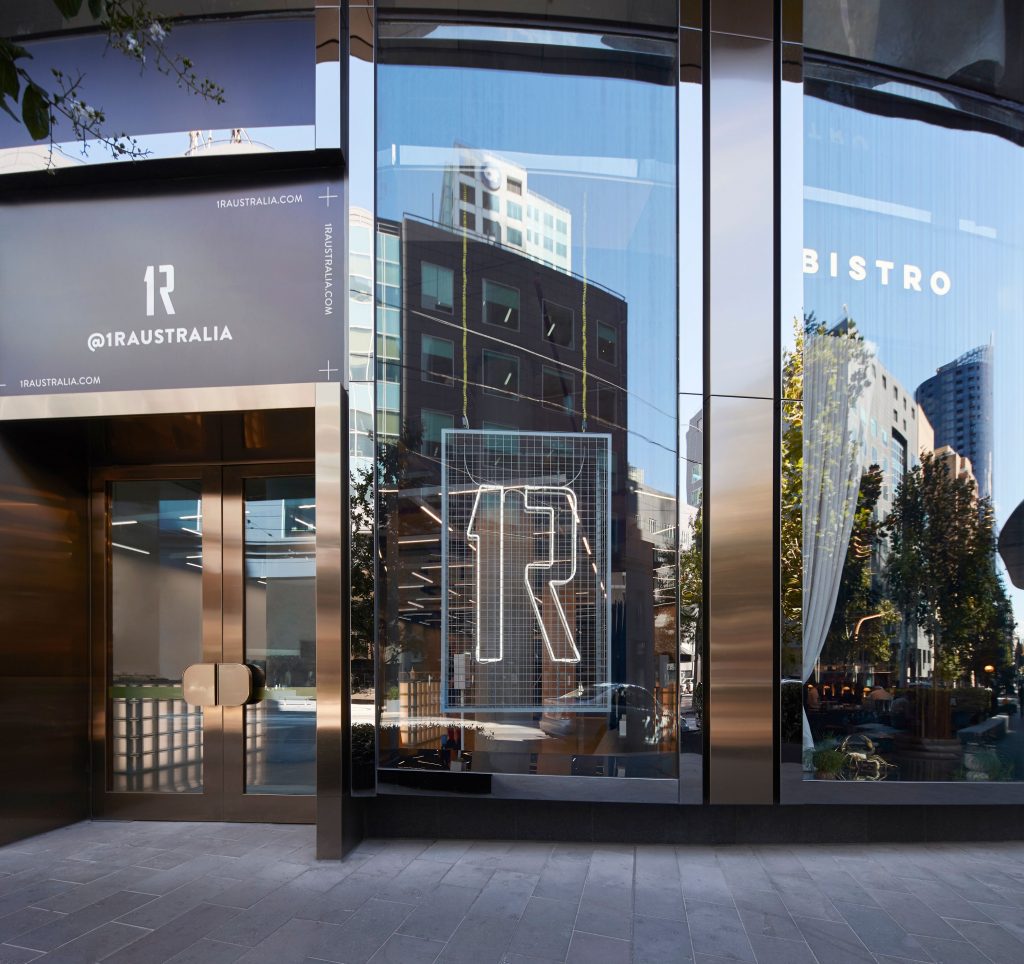 Dean's research into the psychological states of exercise aided Foolscap's creation of sensorial zones, or "worlds" – the world above, and the world below.
"This point of departure – light and dark, the internal and external, above and below," says Winteridge, "created a transformational experience that resonates with mind and body."
Upon entering from Chapel Street, gym-goers are met with a plush façade reminiscent of glamourous retail boutiques in Hong Kong or Tokyo.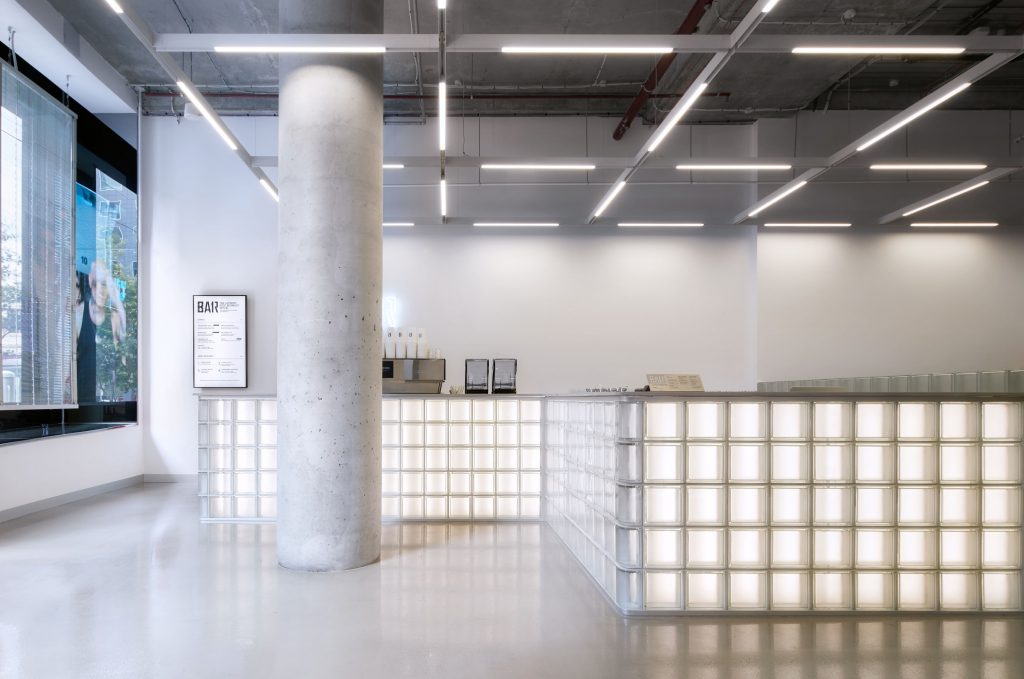 A four by two-metre digital screen displays images of an aspirational wellness lifestyle with a reception entrance featuring polished flooring, exposed structural columns and overhead neon lighting that evokes a raw industrial aesthetic.
The reception counter made from illuminated glass blocks creates an almost euphoric experience of floating through space.
The effect is softening, warming and light as gym-goers begin to contemplate the commitment of what lies beyond and below.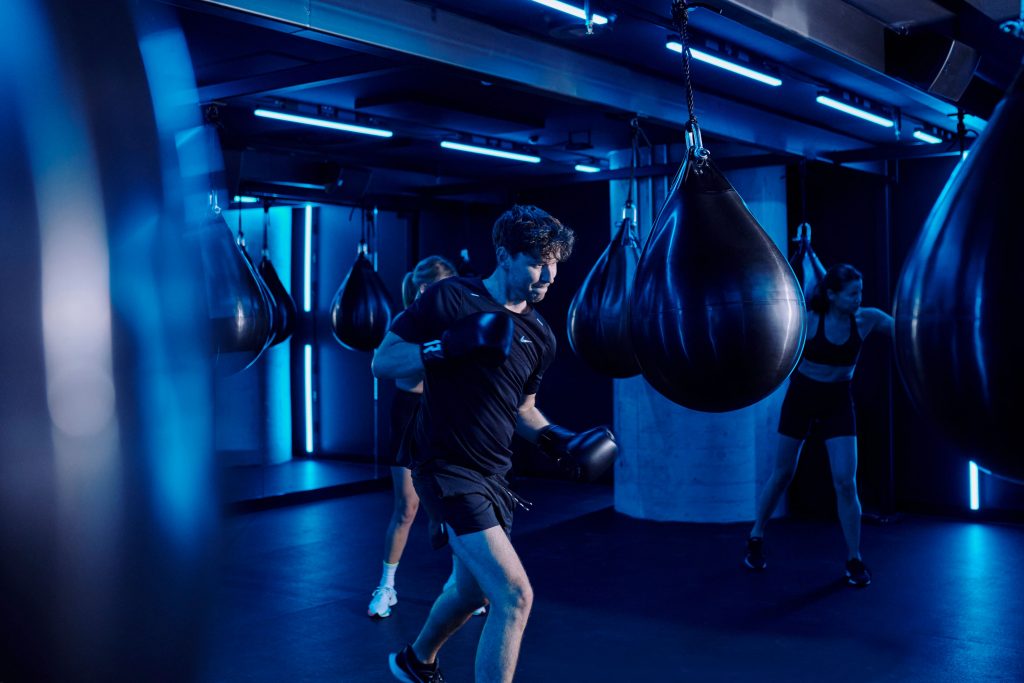 "The act of exercising is a much more internalised process – private and disconnected from the outer world, and once you're through it, there's the euphoria of achievement.
"The stairwell is a portal to the world below," Winteridge says.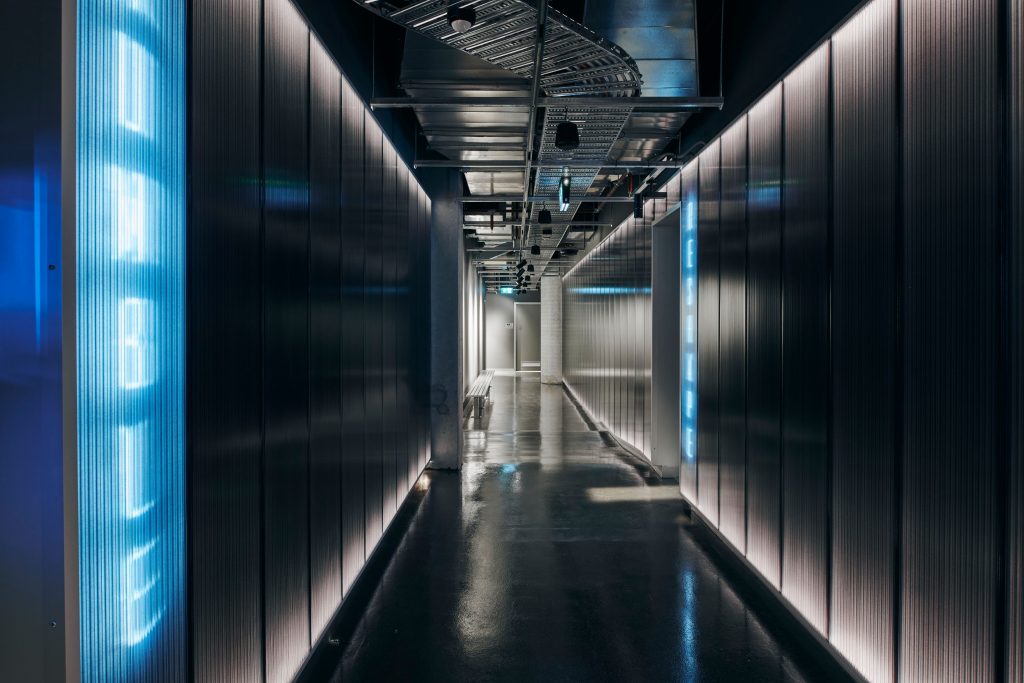 Immediately the individual is transformed – the senses become focused in the darkened spaces, the internal world – you and yourself, seclusion, energy.
To help keep clients cool, Foolscap placed fans over the treadmills in the HIIT studio in addition to the AC system. 
In terms of acoustics, each studio has been designed as its own soundproof box, separated by a 400mm slab to ensure the insulation of different exercise spaces and no sound seepage.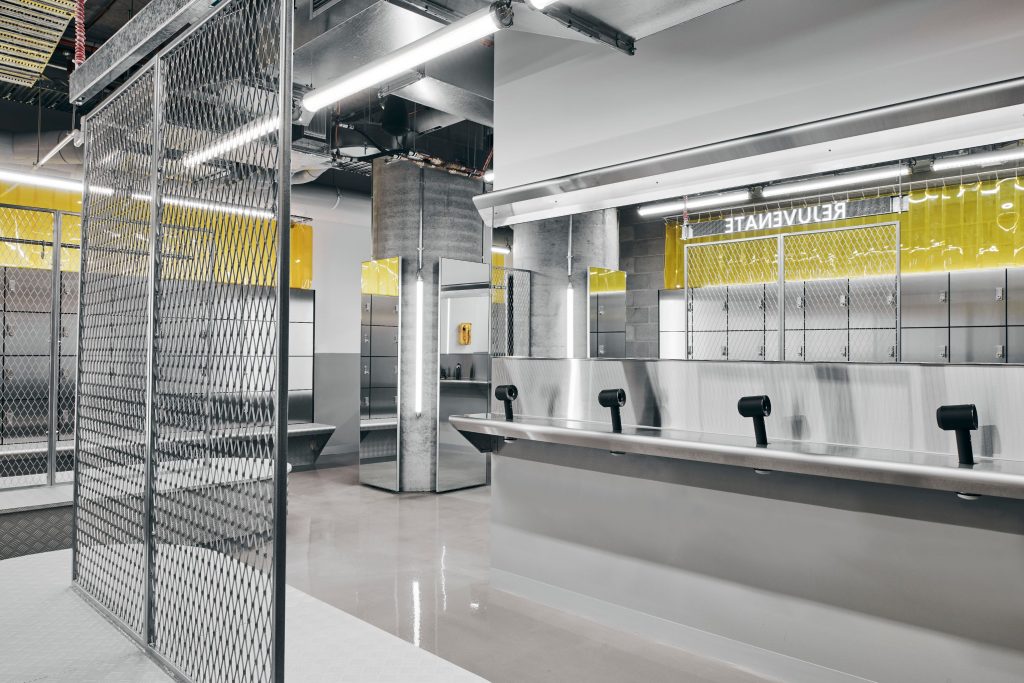 Hyper-industrial bathrooms include all mod cons such as Dyson hairdryers and luxe beauty products, yet the removal of all sensory elements was essential and philosophical.
"It is the space where you are stitching yourself back together," says Winteridge.

"As you enter into the exercise studios you're met with the loudest, craziest nightclub music designed to fuel your workout experience… in contrast to the 'Rejuvenate' zones, or change rooms, where a classical soundscape lulls you into calm – it feels transformative.
"Raw, industrial finishes of polycarbonate cladding, brushed and natural stainless steel, metal mesh and chequer plate aluminium sheeting feel unexpected and yet highly compelling."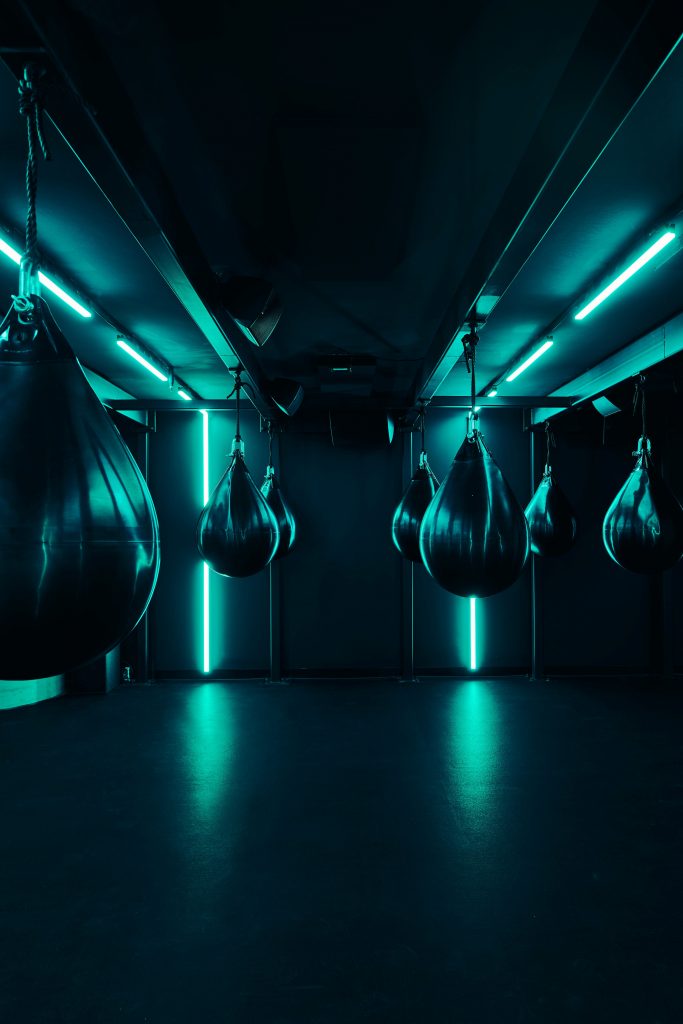 The inclusion of yellow PVC curtain enhances, warms and softens the experience of the utilitarian bathrooms.
These material choices informed not only the functionality of the studio but also the aesthetics and an embodied experience of light and dark.
1R is confident it has disrupted the Australian fitness industry with its philosophical approach, aesthetic and material priorities to enhance physical renewal.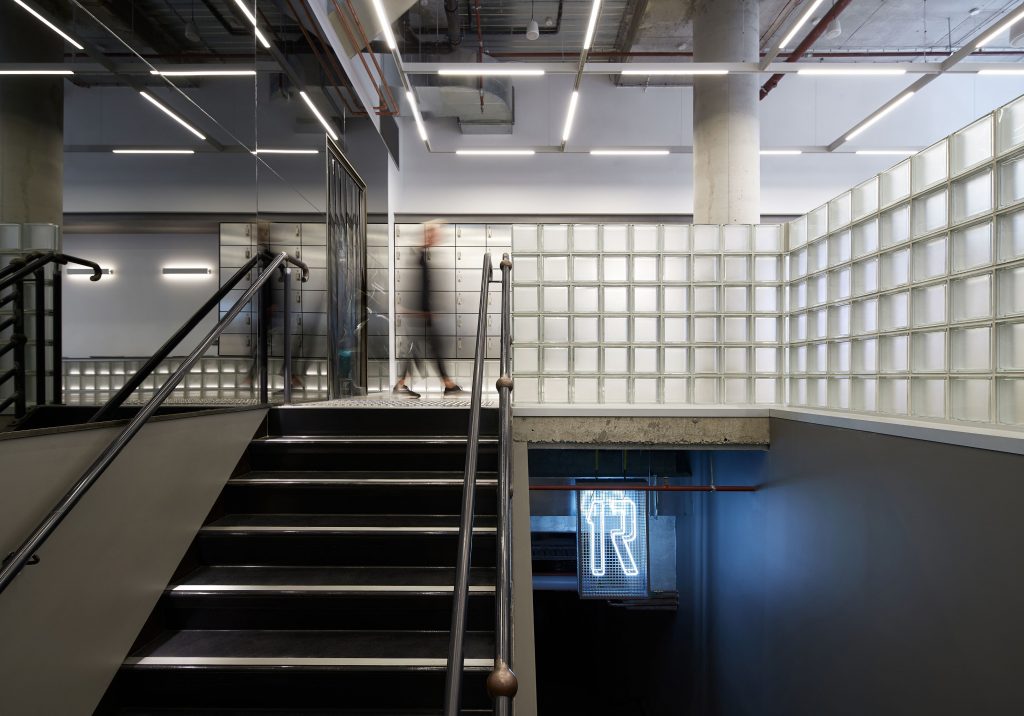 "1R South Yarra posed the perfect opportunity for our client to do something different, play with new ideas, and reinvent themselves while staying true to their rebel brand," Winteridge says.
"It was a truly rewarding project, to learn about high-end fitness design at this level – the next 1Rebel is going to be totally different."
Photography: Simon Shiff and Willem-Dirk du Toit
Foolscap Studio is an award-winning interior architecture and design practice focused on creating space that meaningfully contributes to the cultural fabric of a city.
Last year, Foolscap Studio was awarded Moreland City Council's first Design Excellence Scorecard for "design-conscious, sustainable development with great community benefit" in a residential and mixed-use offering from Milieu Property.