A new project designed by Doherty Design Studio is full of detail and layering of materials that combine to create a consummate and timeless interior.
Located in one of Melbourne's leafy outer suburbs, Heather house sits comfortably within a landscape of tree-lined streets and large family homes that are both old and new. The home itself is a new build completed in 2017 after two years of design and construction and is a major achievement for principal Mardi Doherty of Doherty Design Studio. The clients contacted Doherty having greatly admired previous projects and were adamant that she should oversee every detail of their design, from architecture through to interiors.
As an interior designer, Doherty collaborated with Nassima Design Group and helped to create a home that would embody the desires of her clients and showcase the intention of the interior design. At first glance, the interior of Heather house appears simple; however, on closer inspection, this is a textured and layered delight with myriad finishes, materials and details that blend together so perfectly they become as one.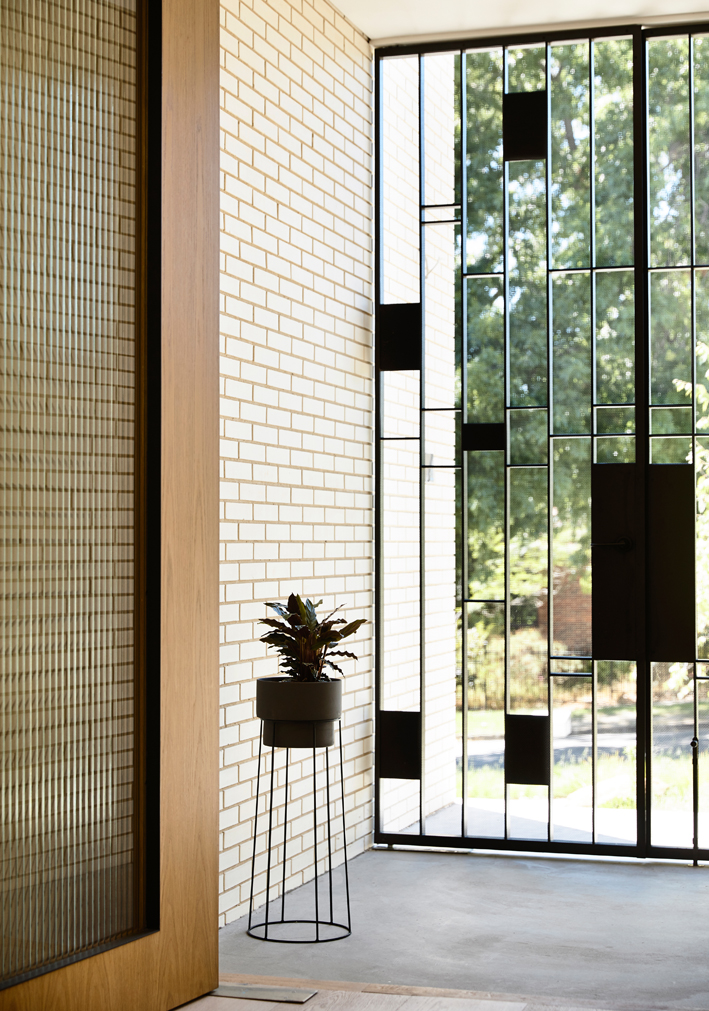 There are references to the art deco period (deferring to the previous house on the site) and motifs have been transferred from and to different areas; timber and steel rub shoulders with onyx and glass, and there is a continuity of colour and materials throughout. The colour palette of white walls and ceilings, grey, beige and caramel with soft green accents complements the inclusions of rubbed brass, black steel and chrome, but they all sit together in complete harmony. The brief for the project was primarily about space and the maximum utilisation of every area.
As a two-storey home there needed to be room enough to accommodate family gatherings of 40 to 50 people and a blending of the outside entertaining areas with the inside. The design was to be sophisticated and warm, but most importantly, family friendly, and the end result embraces all of these requirements but so much more. Doherty's light touch and inherent good taste resound throughout, with arrangements of beautiful and practical furniture pieces and an interesting use of the multiplicity of textures and materials. The floor plan is C-shaped with living and entertaining areas on the ground floor and bedrooms above.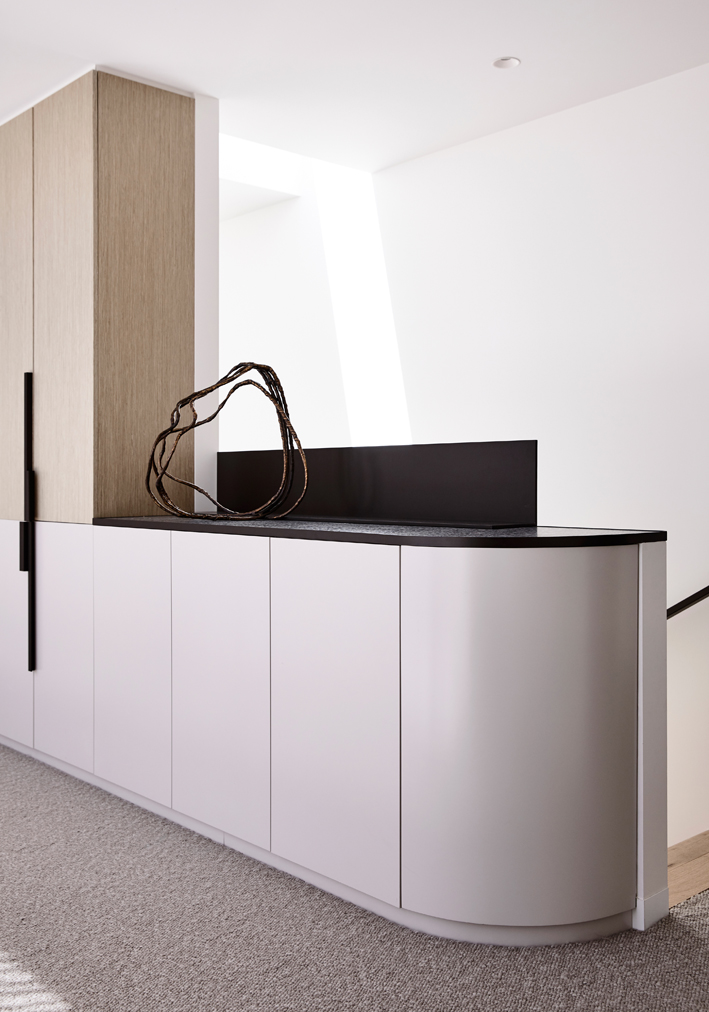 American oak, white smoked timber flooring (Royal Oak Floors) has been laid throughout the ground floor and stairs, while carpet (Galet, Cavalier Bremworth) provides warmth and comfort in the living rooms and bedrooms on the first level. Floor- length semi-transparent curtains have been included over the glass windows and doors and, when drawn open, allow visual connectivity through the whole of the ground floor.
The entrance portico to Heather house is large and a black, powder-coated, geometric patterned steel gate ensures privacy with style. To the side of the doorway is the very sophisticated children's rumpus room, which features furnishings such as a marine blue, three-seat sofa (Pianca, Meizai), Elle swivel chair (GlobeWest), ottomans, stools and occasional tables. Moving through an extra wide hallway there is a surprising element – an integrated bar hidden behind doors close to the rear open plan living space.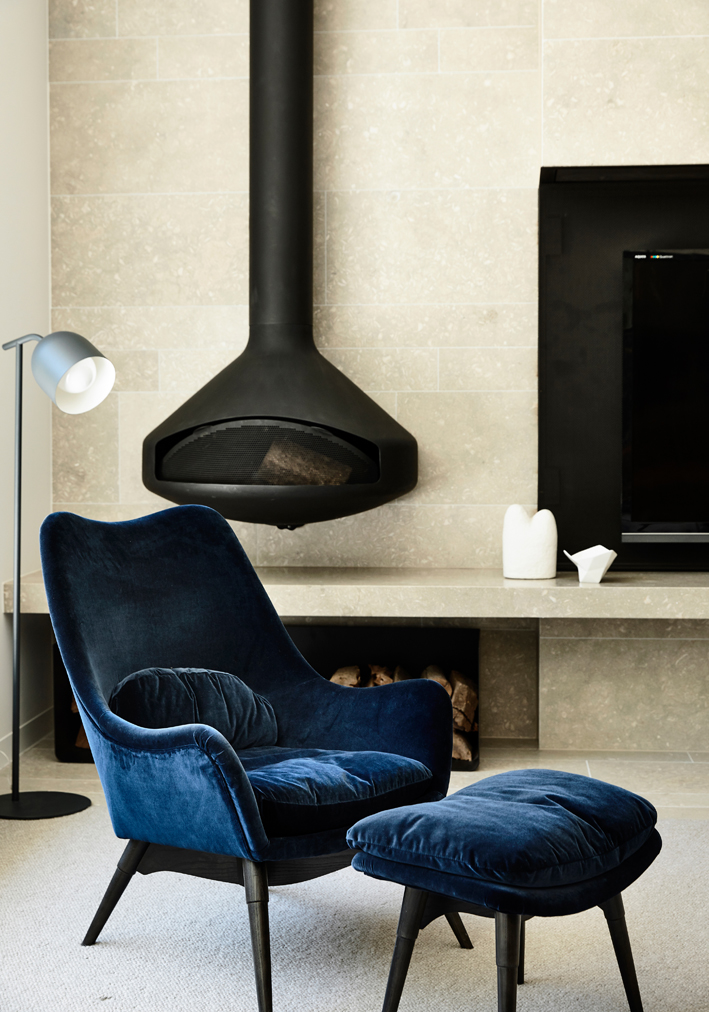 It's an unusual placement, a bar in a hallway, but makes perfect sense as this area is definitely large enough for a crowd, merges with the entertaining areas and has access to the outside for an overflow of guests. At the back of the home there are glass doors that provide connectivity to the landscaped garden and over ground pool; however, it is the kitchen that is the focal point. A spectacular splashback of large rectangular- cut segments of onyx set into black, satin-finished veneered cabinetry catches the eye. The colours of the stone are soft and ethereal with caramel veins on a celadon background and the counterbalance with the black is sublime.
All appliances are Miele and integrated, and there is a reconstituted stone countertop on the island bench (colour Venus, Maximum, Artedomus). Below bench kitchen cabinets have been finished in white 2-pack satin and the rubbed brass half moon finger pulls are a delight. A compact study niche has been set behind doors just a stone's throw from the island bench and allows for a computer catch-up in between meal preparations.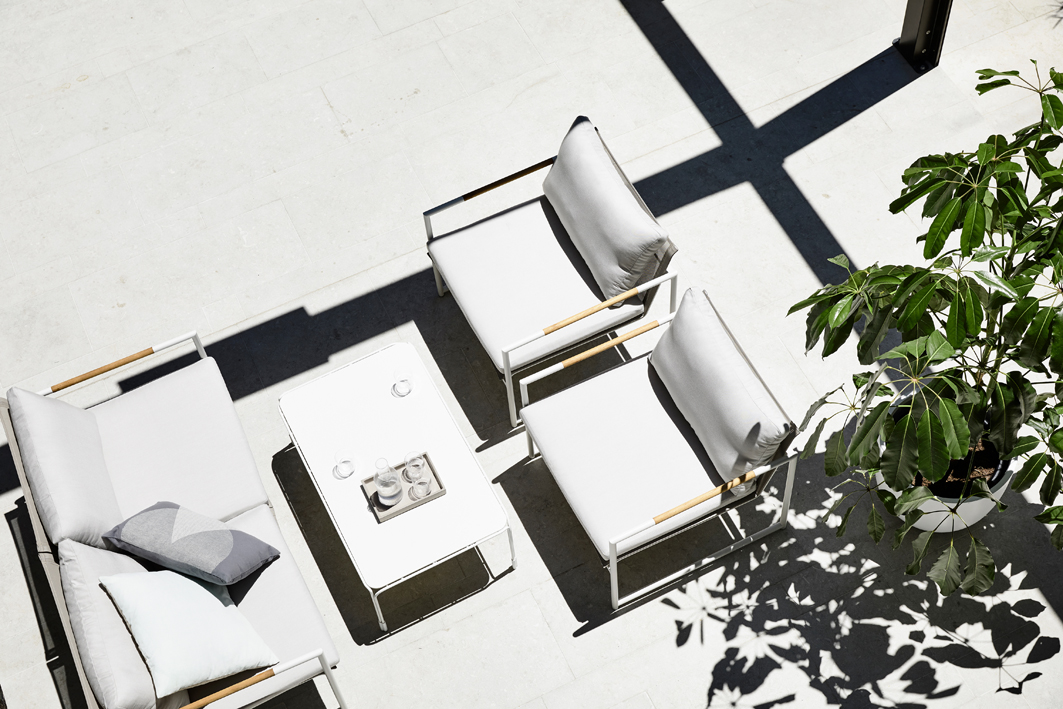 The utility rooms – butler's pantry, laundry, gym and powder room – are located at the side of this area. In the dining area a Ross Didier pedestal-based table (American oak, Liqueur table) sits beneath a stunning pendant chandelier (Discus, Criteria Collection) and the elliptical seats and backs of the Series 430 chairs (colour Velvet, Space) echo the form of the table and provide exquisite comfort. Dividing the dining room and adjoining sunken living room is a black powder-coated steel balustrade with mesh insert that envelops a custom-made caramel leather sofa (colour Verona, Contemporary Leathers).
Opposite the sofa is a wall-hung television and storage cabinet of black, satin-finished veneer with fluted glass inserts and, at the side, a fabulous jet black, Oblica fireplace (Paxfocus). Upstairs, the master bedroom suite is situated above the entrance to the house with fine views of the front garden with large trees and abundant foliage. The bathroom is all that it should be with a freestanding bath that features eye-catching black detail (Cuna, Agape, Artedomus), shower separated by a smoked glass screen and vanity cabinet topped with an onyx slab counter.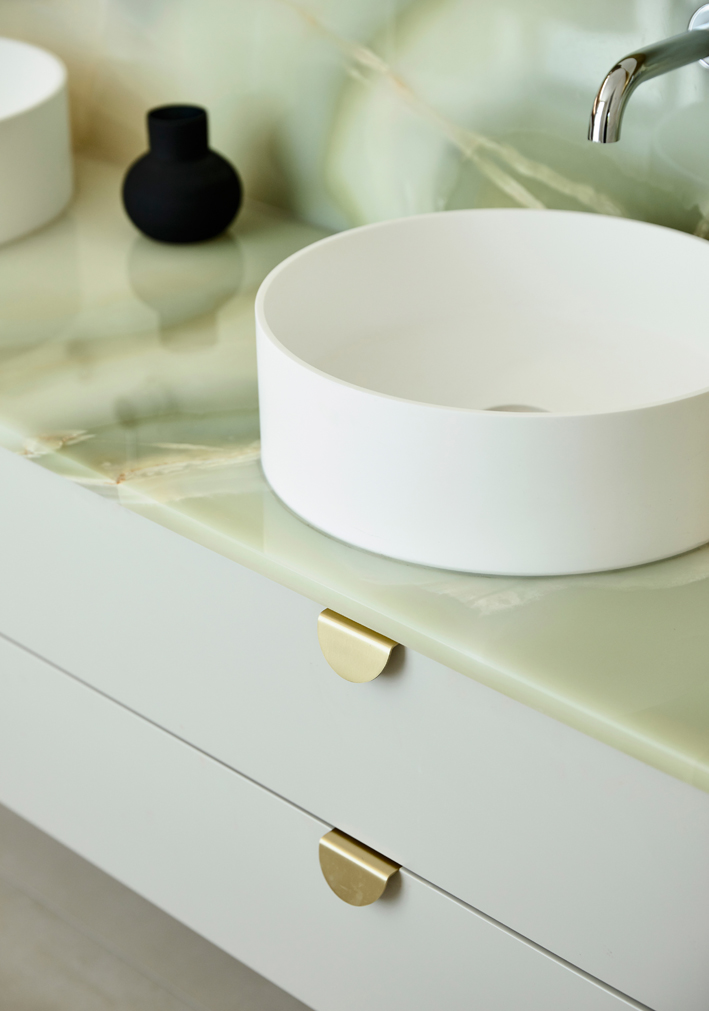 Also on this level are the children's bedrooms, one with en suite and another two separated by a shared bathroom. Within Heather house there is an attention to detail and a continuity of form and materials that enhances functionality. Take the under stairs closet and storage space that is hidden by a geometric black steel and fluted glass screen that echoes the details in the entrance, kitchen and living room.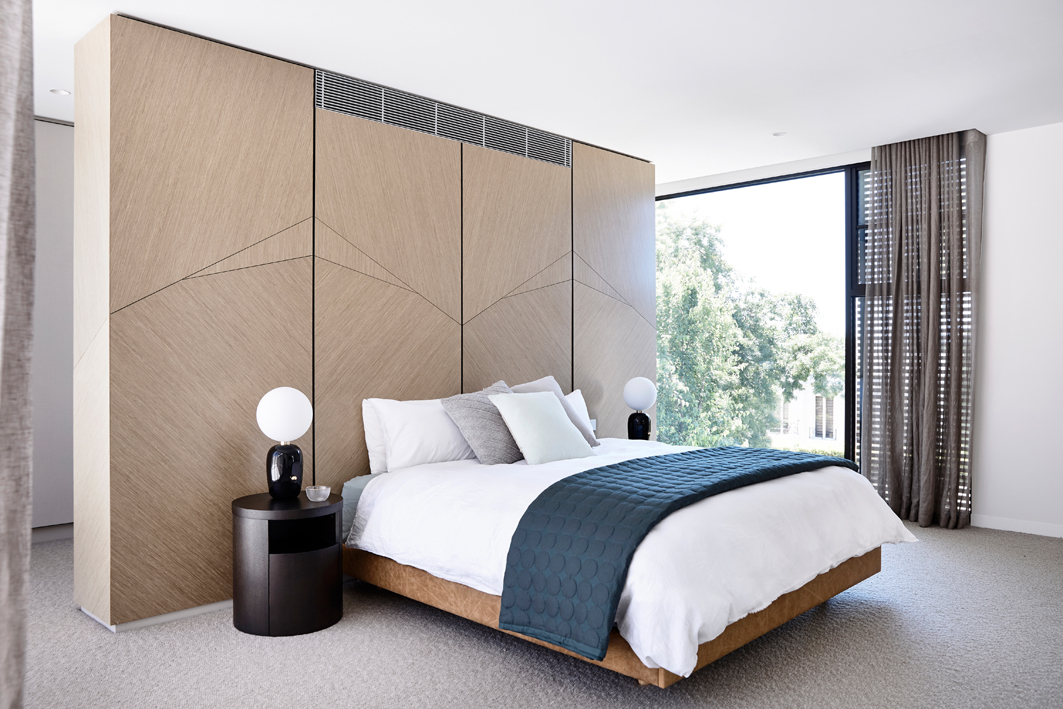 Or the front door handle of onyx with rubbed brass surround that references the kitchen splashback and master vanity counter. Doherty is a designer who captures the art of understated elegance within the interiors she creates and Heather house is a paragon of sophistication and comfort. As a project it more than satisfies the brief and has also created delight and pleasure for her clients. Good design can enhance lifestyle and great design leaves its mark. Heather house is an exemplar and will be enjoyed and admired for years to come.
Photography by Derek Swalwell
This article originally appeared in inside 101 – available online and digitally through Zinio.